If you grew up in the 70's or the 80's you might remember the then very popular magnetic board that consistent of a pen with a metal tip and perhaps a number of stampers that allowed you to write and create pictures based on a 'magic' magnetic based 'ink', that 'wiped' off with a slider across the bottom.
The modern alternative, the paperless jotter or Boogie board, promises to be just as fun and functional as the high tech equivalent of the magnetic drawing board. Lying somewhere on that middle point of pen (or pencil) and paper writing and a full-blown tablet, the Boogie board offers a great early introduction to technology.
For youngest children it offers the ability to simply create pictures with fun and color, and perhaps most importantly, a non-messy solution. Perfect for travelling around with the Boogie board is large enough to offer a decent space to write and draw while being small enough to be portable.
For the grown up, it also allows the quick jotting down of notes, to do lists or even basic reminders. And perhaps most importantly reduces the need to use paper, cutting down on waste.
The applications are endless, sketch your designs, jot your notes, write your shopping list, reminders, mathematical calculations, directions, messages, plans, charts diagrams, game strategy and more.
Boogie Board Options
There are now a number of Boogie Boards available. Depending on the size and style you are after, there is certain one that suits you.
Note: There are two version of the Boogie Board Jot 8.5-inch LCD eWriter, the current version which has a similar profile to the Jot 4.5-inch and a more serious looking tablet.
Which One To Go For
Each Boogie Board has its own feature, for portability and ease of storage a Boogie Board Jot 4.5 will fit nicely. For bigger drawing or writing space, the Original 8.5-inch or the newer Jot 8.5-inch would be ideal. If connectivity is required and you wish to push your sketches, writing and drawing electronically to a mobile device or computer than Sync 9.7-inch is your answer. The Original 10.5-inch is the biggest of the Boogie Boards if size is your utmost priority. If you have little ones, the Play n' Trace will keep them occupied at home or out and about and definitely when riding in the car. Lets take a closer look at each of these eWriting tablets.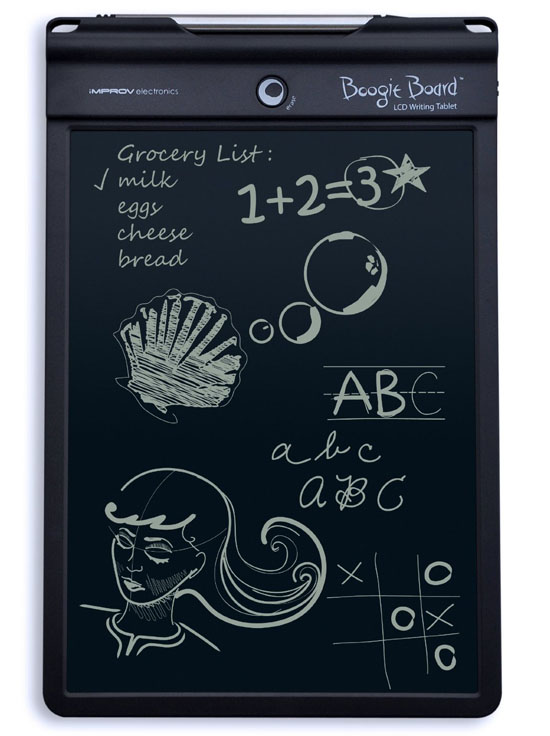 No matter what type of writer you are: Student or business leader, artist or engineer, doctor or contractor – Sync provides a natural feel of writing like pen on paper, with instant access to your notes, drawings and brainstorms on your device or desktop. Easily share those files with the touch of a button or interact live with the virtual whiteboard feature…connect with your writing.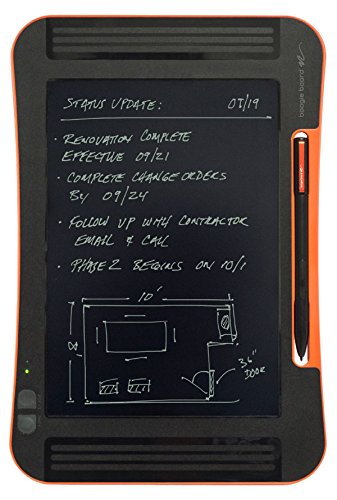 Write just like pen on paper, easily save and "flip to a clean page" with the touch of a button
Sync device stores thousands of files internally and transfers them to your devices when they get in range
Sleek, portable, lightweight design. Durable construction perfect to go everywhere with you
Battery Life: 1 week with 4 hour charge with normal use, rechargeable battery charge with USB cable
Included stylus with built in stylus holder
Easy to use Write, Save, Connect, Access with free app
Bluetooth connect with up to 3 devices
Compatible with Apple, Android and Desktop
Sync Mobile App is free, connecting and accessing notes, lists, drawing and brainstorm diagrams. The app has the following features:
Create custom folders
Easily move files between folders
Share a file as a PDF or as a video file
Creates vector file formats
Edit your files with writing or highlight
Share, post or print your files with the touch of a button
Quickly and easily search and access your files anywhere
Connect your Sync and share your notes live with the virtual whiteboard feature
The original Boogie Board eWriter that started a revolution. Ultra light (4oz.) and thin (1/8"). One just isn't enough. Get one for on the go, in the office and multiple places around the house. Almost anywhere you'd keep memo pads, sticky notes or scrap paper.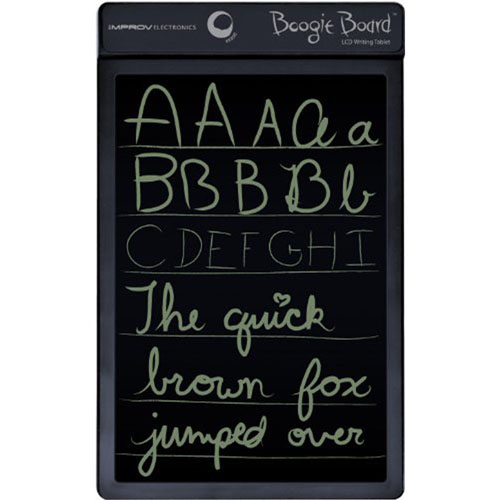 Specifications
Materials: Pressure-sensitive, plastic LCD with scratch-resistant hard coating, plastic case
LCD Size: 8.6in (218mm)
Dimensions: 8.8in x 5.6 x 1/8 (223mm x 142 x 3)
Weight: 4.2oz (119g)
Power:

Non-replaceable

3V watch battery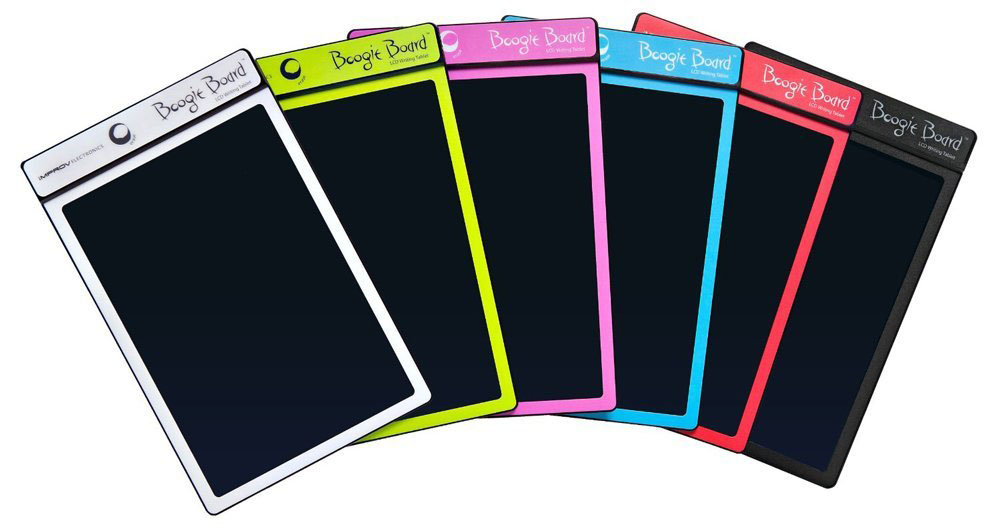 Eliminate the need for paper, scratch pads and sticky notes – simply write and erase. The durable, ultra-lightweight LCD writing screen is engineered to feel just like writing with pen on paper. The image stays as long as you need it to and can be erased with the touch of a button. Create again and again, without the need to charge or connect.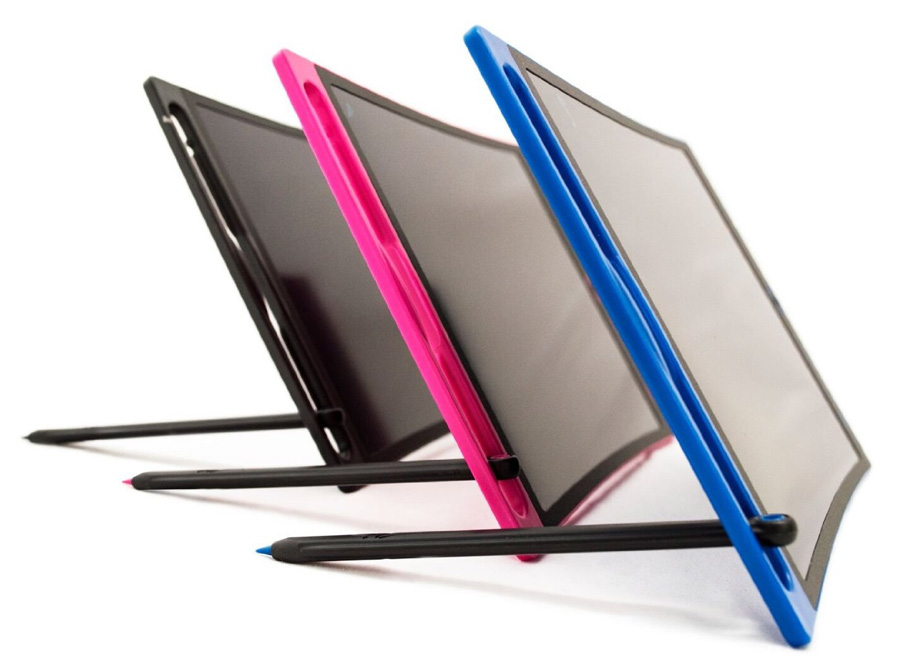 New 50% Brighter Writing: Years in development, the new high contrast writing surface creates an almost luminescent line.
Incredibly thin and lightweight new style and design
Durable construction perfect for all ages at home, office or on the go
Built in magnets
Replaceable coin-cell battery that lasts up to 50,000 erases
Built in stylus dock also creates a convenient kickstand message board
Now Save, Edit & Share with the first ever Jot App (see details below)
The mobile app scans the surface, picking up the outline of the Jot 8.5 eWriter and take an image of the sketch or note on the LCD eWriter. Use the app to take a photo and convert the content into a clean black and white image to save on the iOS device.
Previous Generation: Boogie Board Jot 8.5-inch eWriter
The smaller more compact version from the Jot series, the Boogie Board Jot 4.5-inch LCD eWriter is perfect for carrying in the bag or left on the coffee table for memo, list or notes.
Built in stylus holder with Clip on Stylus designed for precise writing
Sleek, lightweight, portable design
Durable construction designed for on the go use
Perfect size for pockets and purses for quick on the go notes
Thumbtack holes make it easy to hang for quick access
Stackable design perfect for multiple units
The translucent writing surface is designed into an artist's pallet, making it comfortable for hands of all sizes. The durable design allows kids to write, trace and draw anywhere, anything, over and over without the waste of paper. When kids write, they learn.
Artist palette grip and oval design, easy for small hands to hold
Durable design and screen for kids to take anywhere
Replaceable AAA batteries last for 5 years
Twin tip stylus for tracing and filling in
Flat back to lay directly on items being traced
Free iPad activity app designed with a leading scientific research team (see below for details)
5 different accessory packs increase kids creativity adding templates, clings and unique texture stylus's
Play n Trace iPad App
The Free iPad app was designed in conjunction with Excellent Play, a global leader of scientific research and knowledge about play, learning and child development. Designed to encourage children 3 to 10 to use the unique lesson plans and translucent surface to write, trace and draw.
The app features 3 levels of difficulty with each of the following segments: Tracing, Games, Directions, Numbers, Colors & Shapes, Feelings, Letters & Writing.
5 Unique Accessory Packs:
Each Kit Includes:
2 Tracing Background Cling Scenes
6 Tracing Templates (featuring nearly 30 traceable illustrations)
1 Additional Custom Texture Stylus