Looking for a slim power bank that you can slip into your pocket or between your books and take with you in your backpack or suitcase, look no further, here are some of the best ultra slim portable battery chargers.These super slim and lightweight power banks will keep your devices charged many times over. With capacities starting from 5,000mAh going up to 20,000mAh, there is plenty of juice in these external battery chargers to charge even a tablet let alone your smartphone.
To give you an idea of how many times you can charge your devices, a 10,000mAh battery can charge an iPhone 6 up to 3.5 times, Samsung Galaxy S6 up to 2.5 times and iPad mini 3 once. A 20,000mAh battery will do double that, up to 7 times for an iPhone 6, up to 5 times for a Samsung Galaxy S6 and twice for the iPad mini 3 tablet.

Optimising The Battery Life in Your Devices
When it comes to maintaining the battery in your devices, be it tablet or smartphone it pays to keep to a regular charge and discharge cycle. By that we mean, keeping your battery charged to full (100%) then use it to nearly empty, lower than 10% or even lower than 5% before charging it again. Some goes as far as to completely discharge the battery (0%) before charging it to full again.
Keeping a full charge and full discharge cycle is no easy feat. You have to be right next to a wall socket and have your adapter with you when the phone is completely discharged and you might not have all the time to wait for it to fully charge before unplugging.
Also, it is not advisable to keep the phone charging for longer than it needs to, that you should always unplug the phone from the charger when it is fully charged. Irregular charging and discharging, either topping up part way, incomplete discharge, keeping the battery charged longer than it needs to be can cause the battery life to become shorter and shorter.
There is a way around this. We use ultra slim and compact travel chargers with built-in batteries, small enough to fit either in the pocket or in the backpack or suitcase. This solves the issue of having to wait around to charge the phone completely or having to find a wall socket to charge the phone up when the battery runs out.
Some of these super slim batteries even come with its own built-in cable and connector, be it USB or Lightning so no extra cable to carry to fuss around with.
Top 15 Ultra Slim Super Portable External Batter Power Bank
For a balance between portability choose a power bank with around 10,000mAh capacity. Ultra compact power banks up to 5000mAh capacity are the most compact but will require charging often. A couple of examples that strike a balance between portability and charge capacity are shown below.
The Anker PowerCore II Slim 10000 supports QuickCharge 3.0 allowing for quick recharge with up to 4 hours. It also supports intelligent charging of devices, automatically detect and deliver the required charge for optimum high speed charging, up to 3A. It weighs 210 grams and has a pocketable profile with a slim 15mm body.
The RAVPower Slim 100000 also supports QuickCharge 3.0. With the right adapter, it can be topped up quickly within 4 hours. The unit is only 1mm thicker than the Anker PowerCore II Slim. Device compatible with QuickCharge 3.0 can take advantage of fast charging to quickly top up its power.
We now take a quick look at some of the best ultra portable external battery pack:
BONUS: Viivant Portable Charger 5000mAh – 8MM, METAL BODY, SLIMMEST [EDITOR'S FAVOURITE]
Please note that while these are ultra slim battery packs, they are in no way small. Bigger capacity batteries require more surfaces internally resulting in batteries with bigger foot print. Slim batteries achieve this by going long and wide while keeping the height small. See dimensions of the different batteries listed below.
A Closer Look
1. Besiter Maya 5000mAh Series Portable Charger External Battery Pack Power Bank –

10MM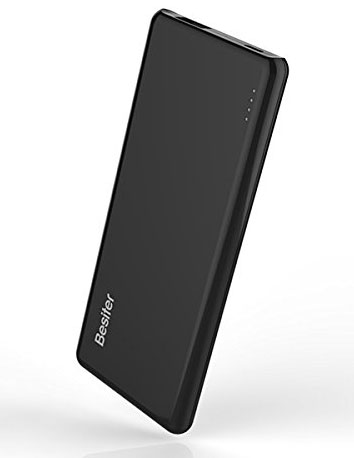 Slimness: 10mm
Fast charging 2.1A USB port
Dimensions & Weight: 13.7 x 1 x 5.7 cm ; 113 g
Check on Amazon: Besiter Maya 5000mAh
2. Anker PowerCore Edge Ultra-High Capacity 20000mAh Portable Charger Slim Design Power Bank –

14MM, METAL BODY, HIGHEST CAPACITY

Fast charging with PowerIQ and VoltageBoost
Slimline design, deluxe metal body, comes with premium travel pouch
Ultra high capacity 20000mAh
Dimensions & Weight: 11.5 x 19.3 x 1.4 cm ; 572 grams
Check on Amazon: Anker PowerCore Edge
3. TROND® Air 4000mAh External Battery Pack Power Bank –

8MM, SLIMMEST, METAL BODY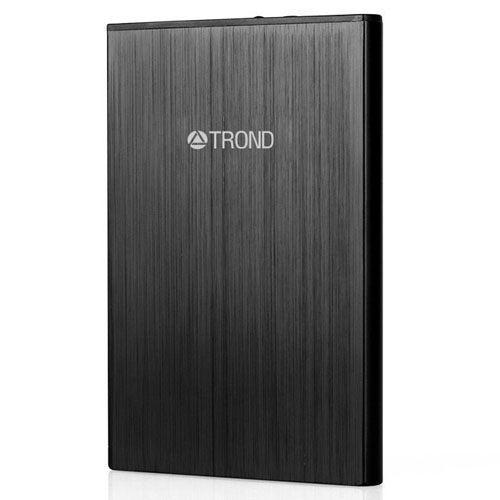 Slimness: 8mm –

ULTRA SLIM

2.4A Smart Charging and 2.0A Fast Recharging
Unibody Brushed Aluminum Housing
Dimensions & Weight: 9.5 x 6.5 x 0.8 cm ; 91 g
Check on Amazon: TROND® Air 4000mAh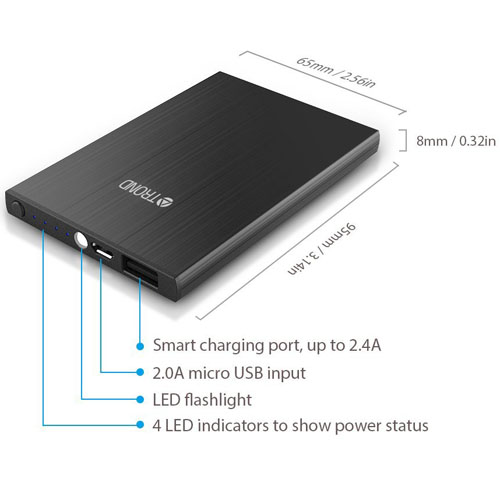 4. Anker PowerCore Slim 5000 Portable Charger –

10MM, LIGHTWEIGHT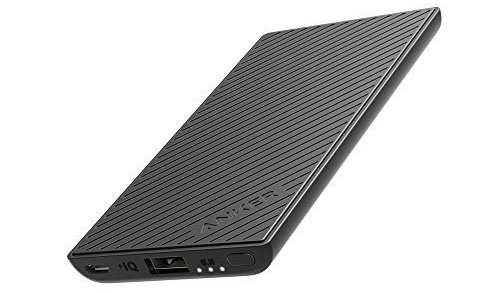 Designed for iPhone 6s with the same width and contours allowing you to hold both the battery and phone together.
5000mAh enough battery capacity to charge iPhone almost twice.
A silicon shield ensures your iPhone and PowerCore remain scratch-free.
Fast charge with PowerIQ for adaptive, max-speed charging for any device up to 2A
Red Dot Design Award Winner for ease of use and innovative features
5 x 2.5 x 0.4 inches, 4.2 ounces. 12.6 x 6.4 x 1 cm ; 118 grams
Check on Amazon: Anker PowerCore Slim 5000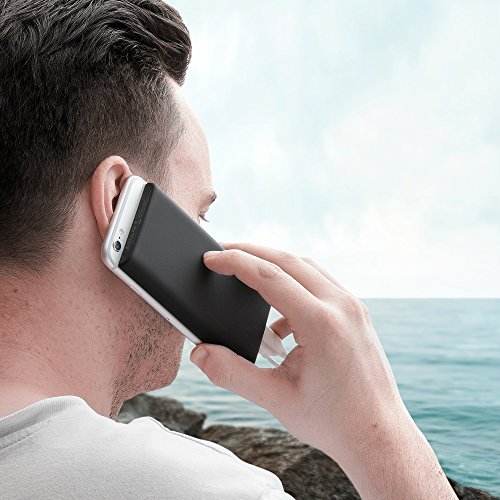 5. Oenbopo Power Bank Ultra Slim Real 12000mAh External Battery Power Bank Portable Charger Backup Pack –

9MM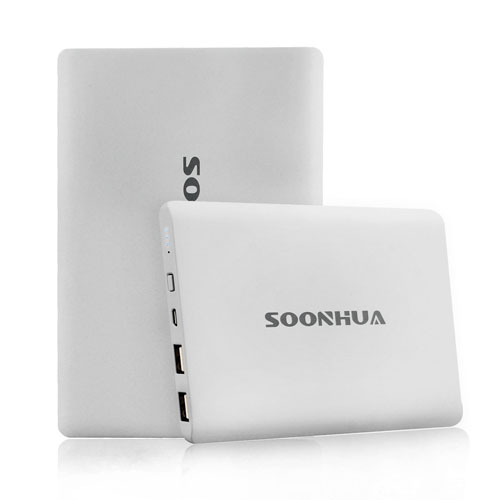 Slimness: 9mm
Dual USB ports (1A and 2A) with LED light with built-in protection for charging, overcharging, short circuit and discharge
Dimensions & Weight: 155 X 106 X 9mm, 250 grams
Check on Amazon: Oenbopo Power Bank Ultra Slim Real
6. Power Theory Ultra Slim 10000mAh Portable Charger External Battery Power Bank Pack –

14MM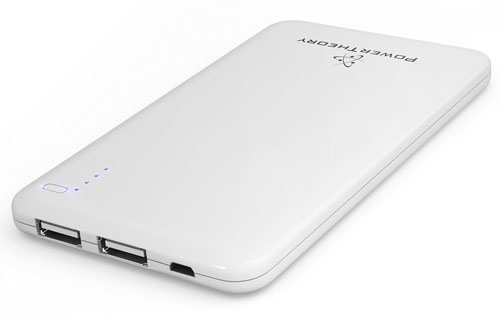 Slimness: 14mm
Dual USB ports (2.1A and 2.5A)
Dimensions & Weight: 132 x 82 x 14mm, 200g
Check on Amazon: Power Theory Ultra Slim 10000mAh
7. Vinsic® 15000mAh Ultra Slim Power Bank External Mobile Battery Charger–

13MM, METAL BODY
Slimness: 13mm with hard plastic and aluminium construction.
Dual Smart USB ports up to 2.4A with built-in digital LED display
Dimensions & Weight: 4.4 x 6.5 x 0.5 inches ; 15 ounces (425 grams)
Available in Gold, Silver, Gray or Red
Check on Amazon: Vinsic® 15000mAh Ultra Slim Power Bank
8. Bluesim® 10000mAh External Battery Pack Portable Charger –

9MM
High capacity of 10000mAh, use a 2.1A adapter for fastest charging time, twice faster than general 1A input.
Ultra-compact size, compact and lightweight designed with 155 * 106* 9mm, fits into any pocket and easy to carry on the go.
Perfectly simple, built-in smart LED indicators clearly displays the power level and charging status.
Dual USB (1.0A + 2.1A) for charging 2 devices simultaneously. 
Check on Amazon: Bluesim® 10000mAh
9. BAKTH External Battery Pack 5000mAh Ultra Slim Power Bank Dual USB Port Portable Battery Charger –

10MM, METAL BODY, BUILT-IN CABLE
Slimness: 10mm
Dual USB ports (1A and 2.1A) with LED battery level indicator
Dimensions & Weight: 12 x 6.7 x 1 cm ; 145 grams
Check on Amazon: BAKTH External Battery Pack 5000mAh
10. EasyAcc 6000mAh Ultra-Slim External Battery Smart Output Power bank Portable Charger –

13MM, BUILT-IN CABLE
Slimness: 13mm
Dual USB Ports (2.4A Maximum) – one output via USB port, one output via built-in Micro USB Cable with Smart Technology
Flashlight function
Dimensions & Weight: 133 x 70 x 13mm, 115 grams
Check on Amazon: EasyAcc 6000mAh Ultra-Slim
11. Solove Titan Power Bank 20000mAh Ultra Slim Dual USB Portable Charger External Battery Pack –

13MM, DIGITAL, METAL BODY, BIGGEST CAPACITY
Slimness: 13mm – 

slim, rounded, metallic  body 

Dual USB Ports (2.1A and 1A) with full protection
Dimensions & Weight: 172 x 122 x 13mm, 530 grams
Available in Gold, Silver, Gray, Red Burgundy, Green or Rose Gold
Check on Amazon: Solove Titan Power Bank 20000mAh
12. TRUE 12,000mAh Highest Rated Power Bank – Premium Ultra-thin Portable External Battery Charger –

13MM, 

METAL BODY
Slimness: 13mm in Aluminium Casing
Dual USB Port charger with 4 LED light battery level indicator
Dimensions: 2.8 x 5 x 0.5 inches (12.7mm), 10.9 ounces (309grams)
Check on Amazon: TRUE 12,000mAh
13. VINSIC 20000mAh Ultra-slim Power Bank, Dual USB Port 2.1A & 1A External Mobile Battery Charger–

12.8MM, DIGITAL, METAL BODY, BIGGEST CAPACITY
Slimness: 12.8mm in hard plastic and aluminium alloy construction
rel="nofollow noopener
Dual USB Port with built-in LED digital indicator
Dimensions & Weight: 17.3 x 1.3 x 12.2 cm ; 449 grams
Check on Amazon: VINSIC 20000mAh
14. DoSHIn® New Ultra-thin Metal Case 20000mAh Battery Charger Power Bank –

9.8

MM, METAL BODY
Capacity: 20000mAh
Dual Output DC 5V, 2A and 1A 
Dimension: 153 x 76 x 9.8mm, 260grams
Check on Amazon: DoSHIn® New Ultra-thin Metal Case 20000mAh
15. Polanfo 12000mAh Power Bank Ultra Slim Compact Polymer Fast Charging –

13MM, DIGITAL, METAL BODY
Slimness: 18mm
Two USB output ports (2.1A and 1A)
Dimensions & Weight: 13.5 x 7.4 x 1.3 cm ; 268 g
Check on Amazon: Polanfo 12000mAh Power Bank
BONUS: Viivant Portable Charger 5000mAh Slim and Fast –

8MM, METAL BODY
Slimness: 7.62mm (8mm) in Aluminium (available in gray, silver or pink)
2 USB ports with 2A charging speed
5.4 x 2.6 x 0.3 inches ; 5.1 ounces (146 g)
Check on Amazon: Viivant Portable Charger 5000mAh