We pick five of the best free web based online photo editors, no software or plug-ins to install, no online payment or lock-in subscription, just good old photo editing right off your browser.
It has been a while since we looked at Free Online Photo Editors. It is time we revisit the subject and check out what is happening in the world on online editing. While these are mainly free editors, and I do mean totally free, some are limited in features until you upgrade to a paid version or is time limited.
Most free tools are also ad supported, after all, everyone has to pay the hosting and bandwidth bills. Others are a lead-on, as they recommend their iOS, Android, Mac or Windows equivalent of the web browser version of their editing tool. Sometimes they 'lead-on' to their professional services, such as printing and processing. No matter which one you pick, these are really powerful editing tools available straight off the web browser, with no software to install. Perfect for the occasional editing work you have to do.
Also, remember that if you have a slow connection and need to edit big photos, it may take a while to upload and download the photo. Some sites may even limit the size of file you upload or the output file size or both.
The Top 5 Best Free Totally Web Based Online Photo Editors
befunky Photo Editor | Collage Maker | Designer –

NO ADS | UPGRADE AVAIL. | APP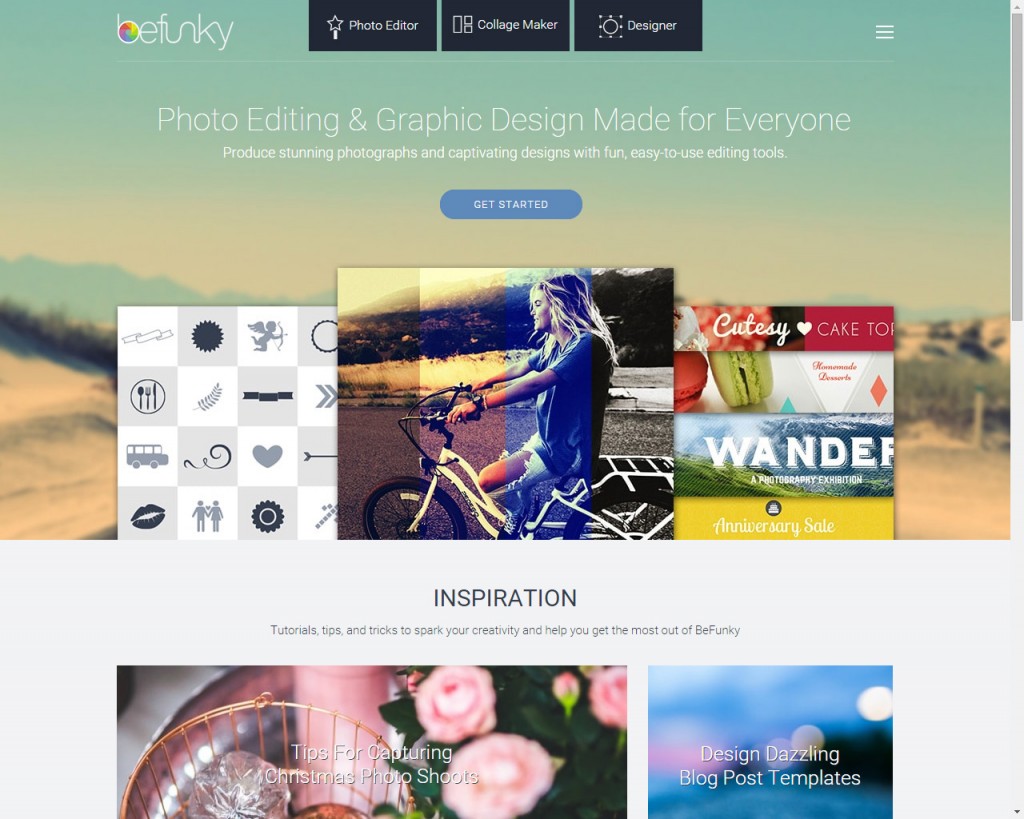 Modern browser based interface
Auto Enhance: YES
Layer Support: YES
Editing: Crop. Resize, Rotate, Cutout, Background, Exposure, Beautify, Color, Sharpen, Vignette, Smoothing, Blur, Funky Focus, Soften, Blur Edge, Tilt, Tint, Levels, Colour Mixer
Touch Up: Wrinkles, Blemish Fix, Bronzer, Blush, Flashspot, Clone, Mascara, Eye Colour, Eye Brighten, Eyebrow Pencil, Fix Redeye, Lipstick, Teeth Whiten, Hair Colour, Reshape, Slimming
Effects: Winter, Chromatic, Black and White, Charcoal, Colour Pinhole, Cooler, Cross Process, Cyanotype, Grunge, HDR, Holga Art, Instant, Line Artopia, Lomo Art, Motion Color, Old Photo, Orton Style, Patriotic, Pinhole, Pop Art, Sepia, Stenciler, Summer, Sunburst, Tilt Shift, Tin Type, United Colours, Warmer, Viewfinder, Vintage Colours.
Artsy Effects: Cartooniser, Gouache, Impressionist, Inkify, Oil Painting, Pointillism, Sketcher, Underpainting, Watercolour
Frames, Graphics, Overlay (Stickers), Text and Textures
UPGRADE and access hundreds of templates, graphic elements, premium effects, goodies and stickers, premium frams, collage and card template.
Pixlr Editor: Interface akin to Photoshop or typical desktop photo editor.
Auto Enhance: NO
Layer Support: YES
Editing: Cut, Copy, Paste, Free transform, free distort, Image resize, Canvas resize, rotate, flip, crop, brightness and contrast, hue and saturation, colour balance, colour vibrance, levels, curves, exposure, auto levels, invert, sepia, solarize, desaturate, old photo, cross process, threshold, posterise, colour lookup.
Manual Editing Tools (from Floating Side Tool Bar): Pencil, Brush, Eraser, Bucket, Gradient, Clone Stamp, Colour Replace, Drawing, Blur, Sharpen, Smudge, Sponge, Dodge, Burn, Red Eye Reduction, Spot Heal, Bloat, Pinch, Colour Picker, Type, Hand and Zoom.
Filters: Blue, Box Blue, Gaussian Blur, Sharpen, Unsharp mask, Denoise, Noise, Diffuse, Scanlines, Halftone, Pixelate, Pointinize, Water swirl, Polar coordinates, Kaleidoscope, Tilt shift, Vignette, Pastels, Glamour glow, Mimic HDR, Hope, Art poster, Heat map, Tri tone, Night vision, Emboss, Engrave, Find edges.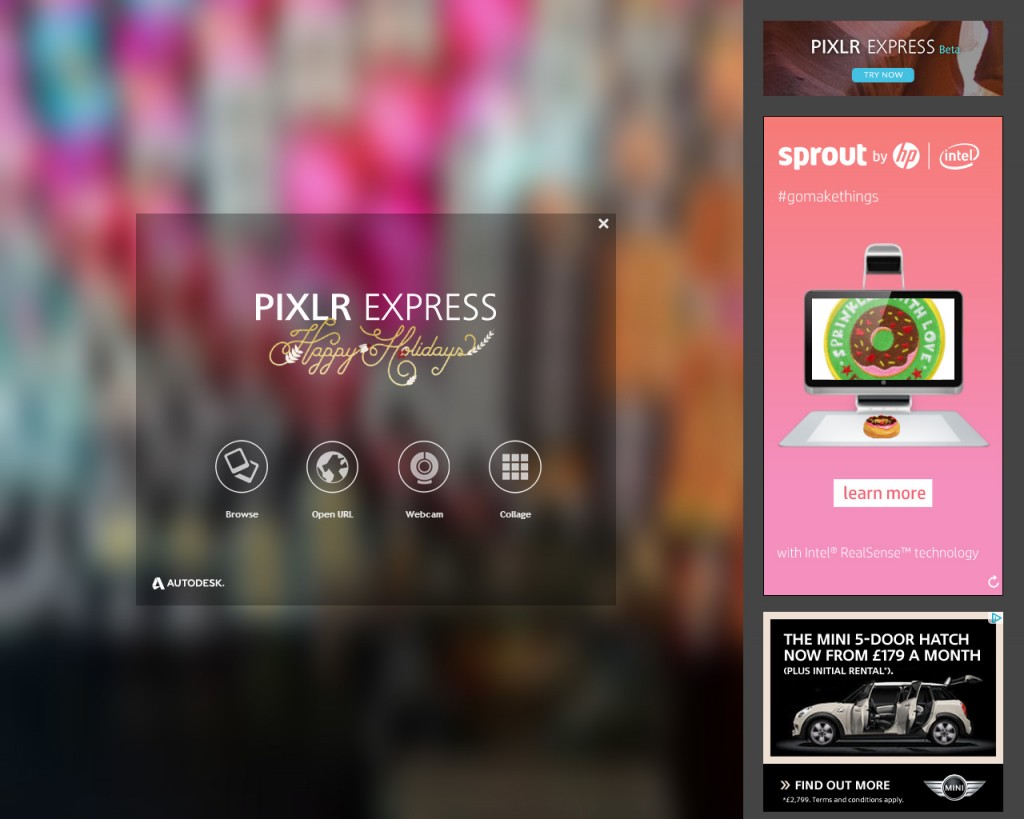 Pixlr Express: Modern Web Browser Interface
Auto Enhance: YES (Auto Fix)
Layer Support: No
Adjustments: Crop, Resize, Rotate, Auto Fix, Colour, Vibrance, Contrast, Blur, Sharpen, Smooth, Red Eye, Brighten, Heal, Airbrush, Liquify, Focal, Splash, History, Doodle, Add Image
Effects: Categories – Atomic, Creative, Default, Soft, Subtle, Too old, unicolour, Vintage. All other effects can be found under the categories listed.
Overlay: Tie dye, Vignette, Leaking HD, Leaks, Light Paint, Neon, Olga, Paper, Retro Poster, Smoke, Space, Bokeh, Canvas, Chem Burn, Colour Correction, Colour Lovers, Default, Fireworks, Flame, Grunge
Borders: Squared, White ripped, Default, Film, Grunge, Icebaby, Ink, Nature, Pattern, Ripped Paper, Rounded Corner
Stickers: Marks, Nature, Price, Pride2015, Summer, Symbols, Tattitude, Tattoos, Zodiac, Abstract, Accessories, Amore, Antiquarian, Antique, Comic, Effects, Inspiration, Kawaii, Love
Type: Dotted, Grunge, Handwritten, Novelty, Retro, Sans, Serif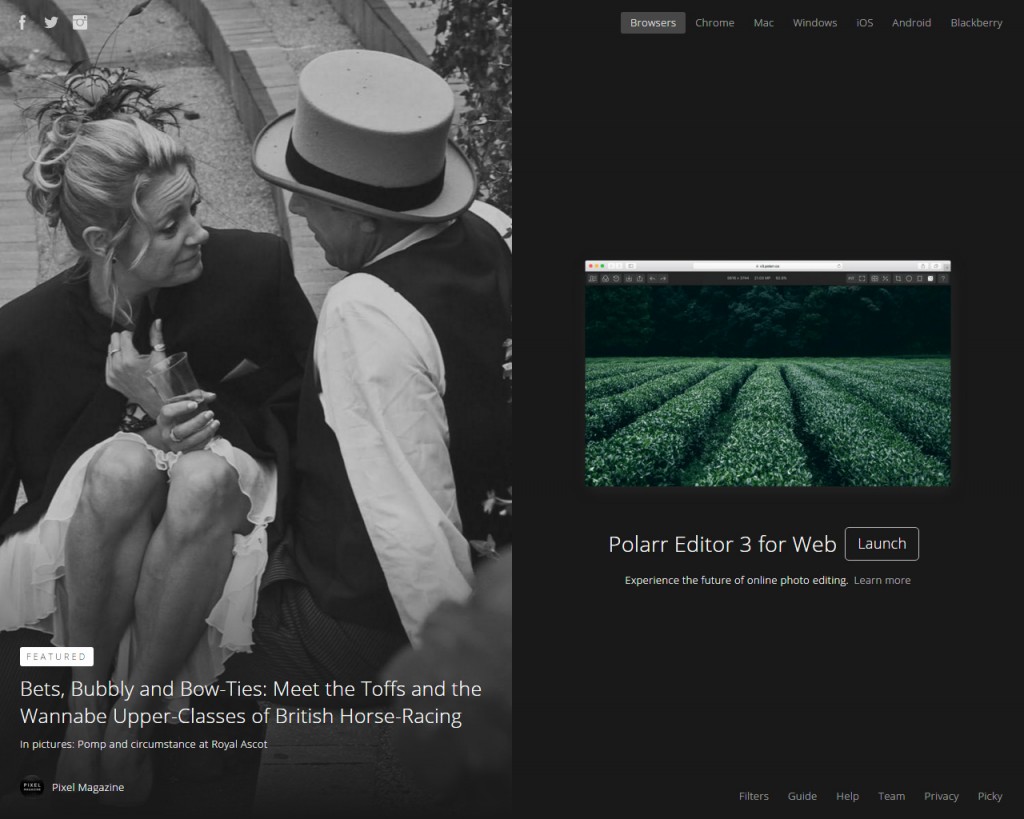 Polar Editor: Interface akin to Lightroom or typical photo processor enhancement tools with quick on screen tutorial.
Auto Enhance: YES
Layer: NO
History: YES
Filters: Categories – Custom, Modern, Art, Film, Infrared Film, Vintage Film, Classic Film, Skin Tone, Adventure, Atmosphere, Decay, Golden Age, Curves. At least 6 to 12 filters under each category
Adjustments: Crop and Straigten, Radial Mask, Gradient Mask, Categories – Color, Light, Detail, Optics, HSL, Curves, Toning. Colour (Temperature, Tint, Vibrance, Saturation), Light (Exposure, Brightness, Contrast, Highlights, Shadows, Whites, Blacks, Diffuse, Dehaze, Clarity, Sharpen, Denoise colour, Denoise Luminance), Optics (Vignette, Grain, Lens), HSL (Hue, Saturation, Luminance), Curves (Red, Green, Blue), Toning (Highlights and Shadows),
Polar Editor is better suited for those who are used to professional editing packages and is a great online equivalent with full desktop interface and no Ads getting in the way.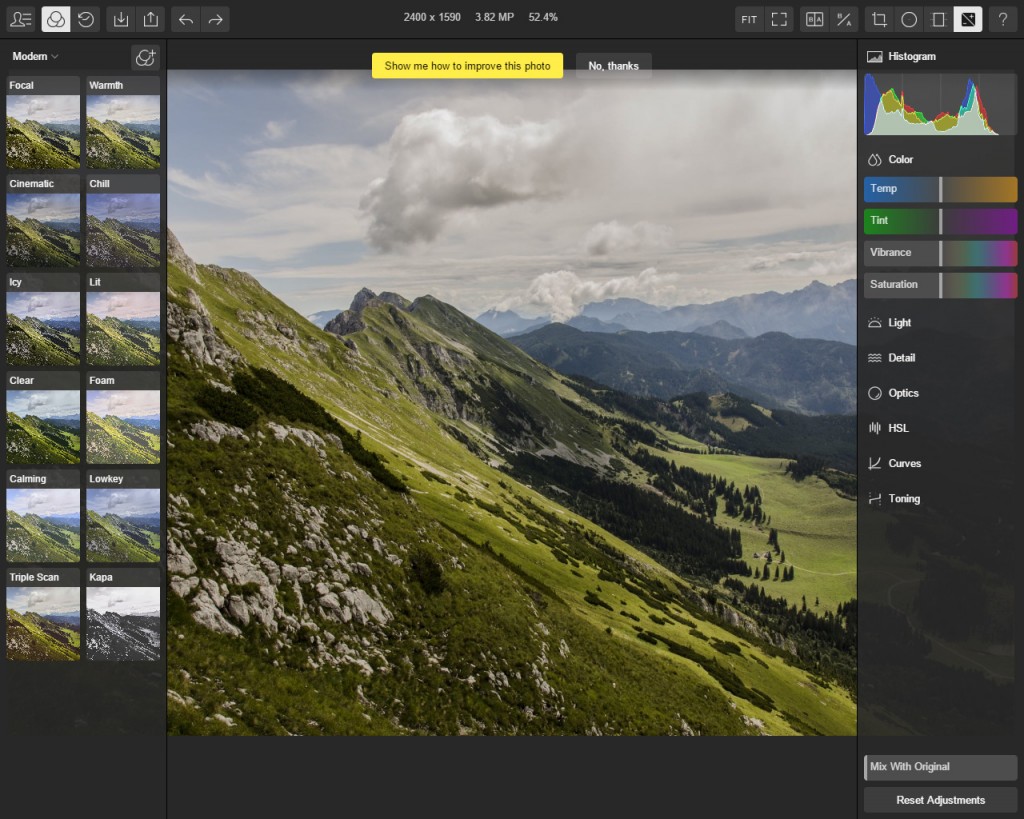 fotostars.me –

NO ADS

(ads on front page only)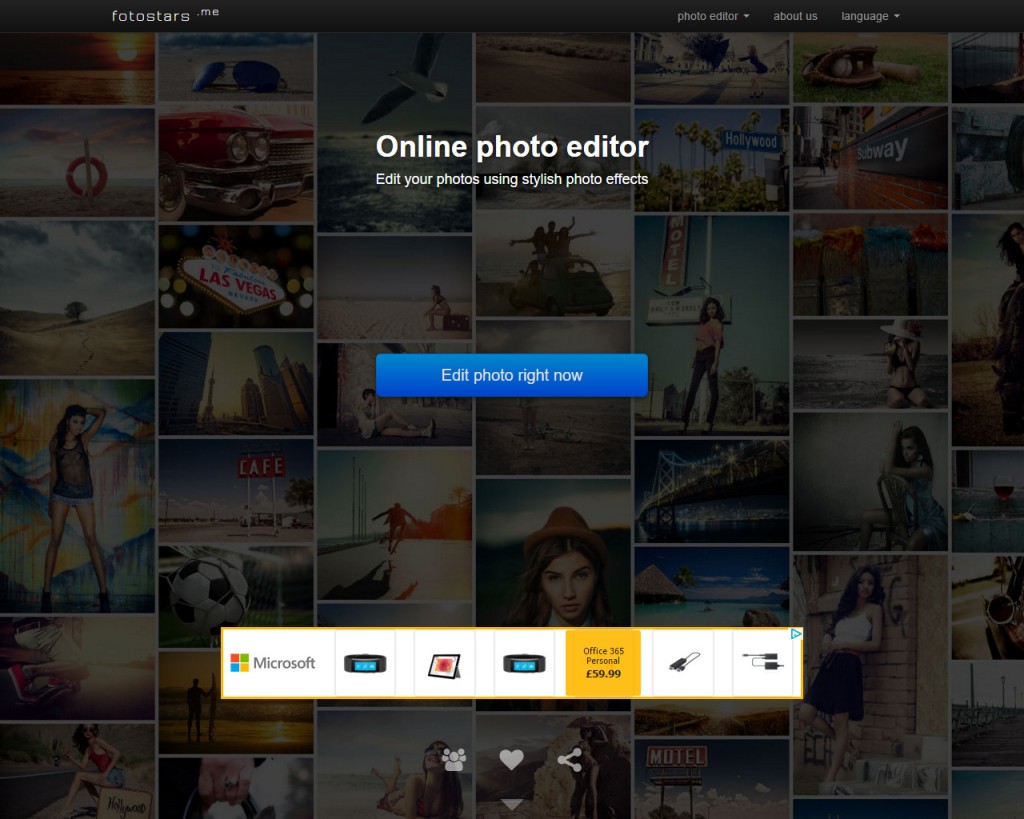 fotostars.me: Modern Web Browser Interface
Auto Enhance: NO
Layer Support: NO
Adjustments: Crop, Resize, Orientation (rotate and flip), Focus (spot and size), Warmth, Blue, Colours (Brightness, Constrast, Red, Green, Blue), Text (demotivator, instant photo, meme, handwritten, poster)
Effects: Categories – Popular, Retro, Vivid, Solar, Gradient, Cinema, Constrast, Light, Black and White, Vintage, Lomography, FXs with at least 2 to 6 effects/filters in each category.
Frames: Categories- Common, Black Borders, Shabby Borders, Film, Retro, Modern, Themed with at least 2 to 6 frames in each category.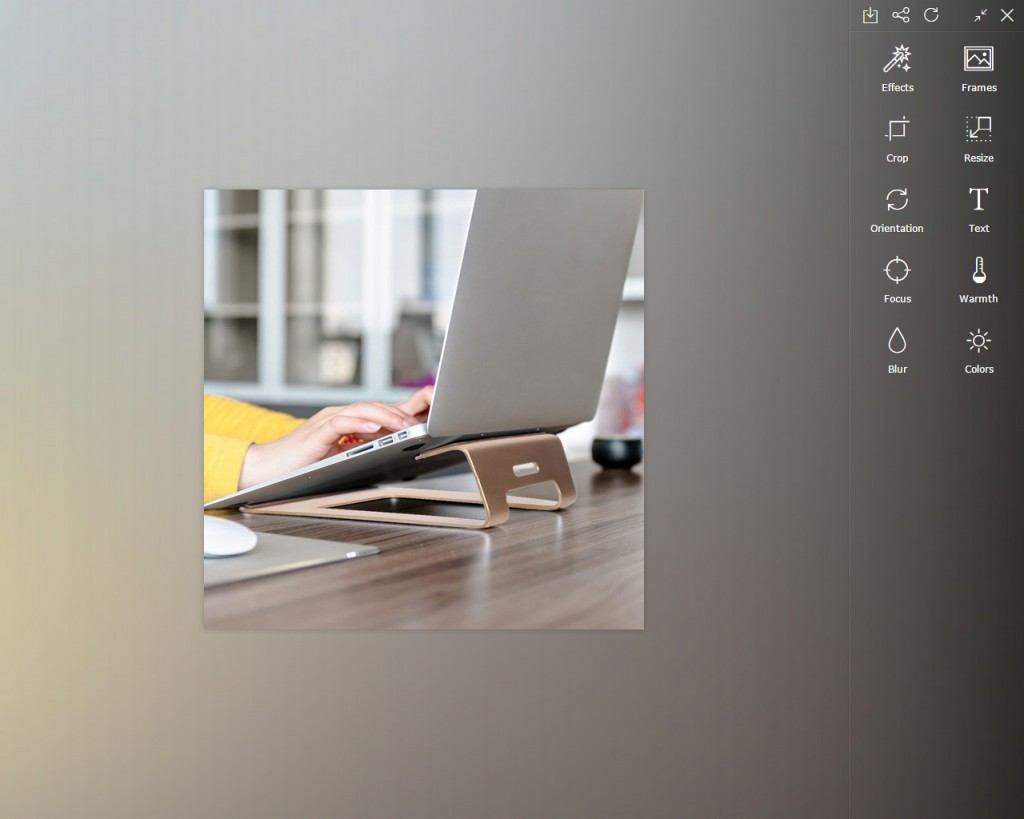 photostars.me is simple and limited in function but enough to satisfy most users with basic needs and do not wish to be bogged down with too many filters.
PicMonkey Edit | Touch Up | Design | Collage –

ADS | UPGRADE AVAIL. | APP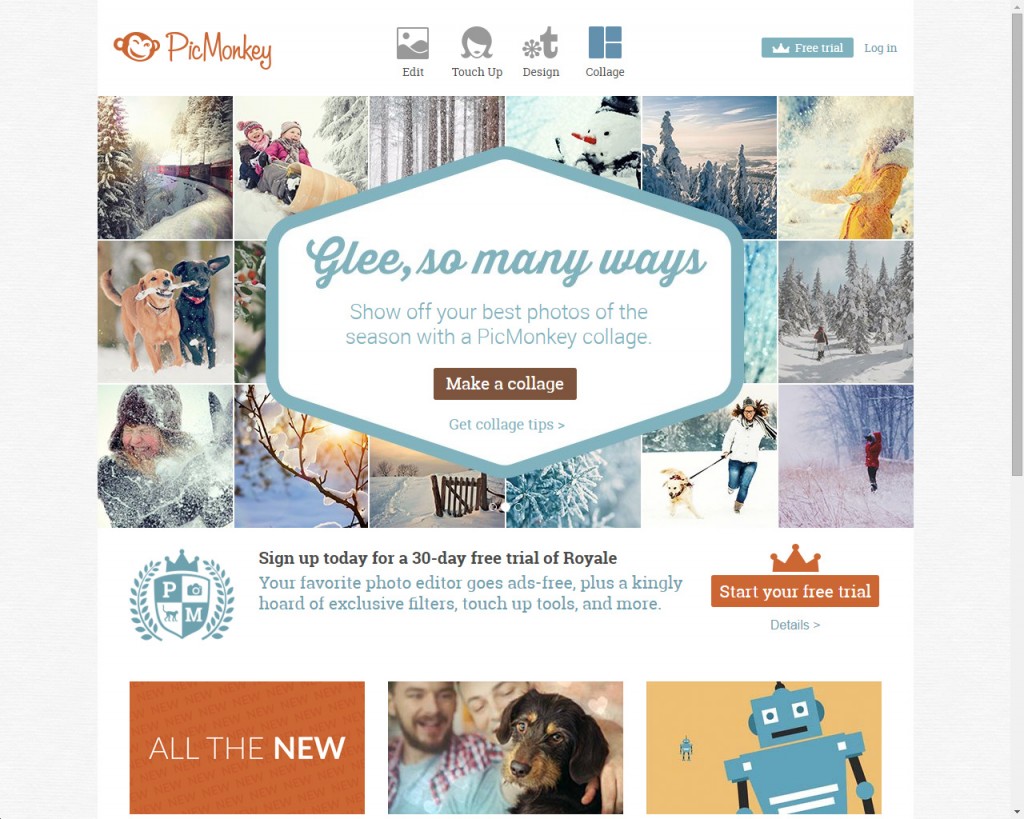 PicMonkey: start with edit, touch up, design or collage using modern web interface.
Auto Enhance: YES
Layer Support: NO
Adjustment: Crop, Canvas Colour, Rotate, Exposure, Colours, Sharpen, Resize
Effects: Orton, Cross Process, Dusk, Intrepid, Rapture, Urbane, Tranquil, Boost, Soften, Black and White, Dark Edges, Frost, Sepia, Daguerreotype, Polaroid Film, Time Machine, Yester Clour, HDR, Cinerama, Lomo, Infrared, Holga, Gritty, Film Stock, Ombre, Tint, Warhol, Burst, Bokeh Shapes, Radiance, Lens Flare, Sunglow, Spotlight, Focal Soften, Focal B&W, Focal Pixelate, Focal Zoom, Fancy Focus, Draw, Film Grain, Posterize, Curves, Levels, Dodge, Burn, Clone (Some effects are only available on premium paid version)
Touch Up: Blemish Fix, Airbrush, Wrinkle Removal, Shine Redue, Blush Boost, Spray Tan, Teeth Whiten, Lip Tint, Eye Brighten, Eye Tint, Mascara, Eyeliner, Eyebrow Pencil, Eye Shadow, Red-eye Remover, Nip Tuck, Weigh Loss, Whisker Grow, Highlights, Clone (some effects are only available on premium paid version)
Text: add own text or use their selection (some font types are only available on premium paid version)
Overlays (Stickers) in the following categories geometric, hearts, dodly hearts, doily hearts, starts, spirographs, symbols, arrows, comic bubbles, nautical, facial hair, lips, sunglasses, hats, happicons, ordinary beast, critters, cutimals, buggles, chick and eggs, sparkle stars, fireworks, smoke and fire, postal, correction marks, dashed and lined, paper scrap, banners, engraved banners, labels, victorian labels, grunge labels, ribbons, buttons, tape, pushpins, corners, garnishes, flourishes, leaves, trees, bough, springs and twings, birds, butterflies, roses, daisies, bursting blossoms, leafy stems, graphic blooms, floral, vintage blossoms, marigolds and roses (some overlays are only available on premium paid version)
Frames, Textures and Themes: a big collection of frames (both free and premium), a big selection of textures (both free and premium) and design themes like sweethearts, winterland, celebrate, school, vampires, zombies, day of the dead, witches, demons, trick or treat, comic heroes and santa land.
PicMonkey means business while it may look playful, clean and easy to use. Jam-packed with features, even if you do not pay to access all of them there are still plenty of free effects, touch ups, text, overlays, frames, textures and themes to use. Paid version removes Ads and limit on features (primo effects, fonts, overlays and touch up tools).
fotor Edit | Collage | Design –

ADS | UPGRADE AVAIL. | APP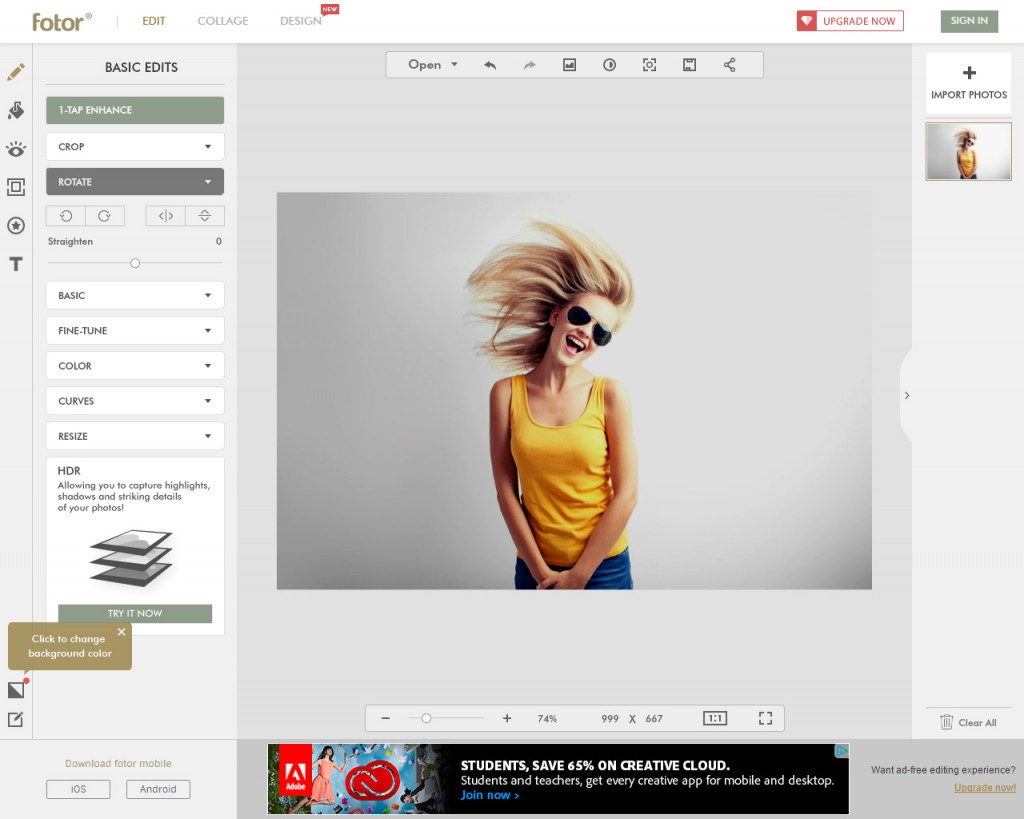 Fotor: Modern web interface. Start in edit, collage or design mode. Edit and Collage is similar to befunky, pixl Express and PicMonkey. Design mode is similar to these Web Apps to Create Picture Quotes and Meme Posters.
Auto Enhance: YES
Adjustments: Crop (freeform, square, standar ratios, screen sizes), Rotate (angular, straighten and flip), Basic (Constrast, Brightness, Saturation, Sharpness), Fine-Tune (Exposure, Highlights, Shadows), Colour (Temperature, Tint), Curves (RGB or individual colour components), Resize, HDR
Effects: Tonnes of effects both free and paid. Effects are grouped under different categories. Free effects are found under the following Classic, Lomo, Vintage, Cool, Scenes, B&W, Lens Flare, Colour Splash, Pixelate and Tilt-Shift with each having up to 14 effects so you are never short of effects even in free mode.
Beauty (Touch Up): Blemish Fix, Smooothing, Wrinkles, Blush, Weight, Reshape, Clone, Eye Shadow, Eyeliner, Mascara, Eyebrow Pencil, Eye Tint, Eye Pop, Red Eye Remover, Lip Tint and Teeth Whitening. Some beauty tools are only available in premium paid version.
Frame: Tonnes of framing options grouped under the following categories; Vintage, Old School, Simple, Retro Cutie,  Borders, Olden, Organic, Deco, Lace Frame, Stamp Frame, Shadow, Gallery Frame, Polaroid, Film Edge, Classy, Cute, Summer and Funky. Some frames are only available in premium paid version.
Stickers (Overlays): stickers are again grouped under different categories, some paid, some free. The free categories are Travel Decals, Party Decals, Delish Decals, Line, Basic Shapes, Arrow, Shield, Floral Symbols, Escrow, Hearts, Balloons, Smooches, Currency Sign, Birthday Cakes, Banners, Streamers, Birthdays, Gifts, Party, Smiley, Comic Relief, Hair, Travel, Weather, Thanksgiving, Comic Christmas and Christmas. Paid stickers are grouped under the headings Cat Tastic, Cat Attack, Benji the Emoji, Zoo Friends, Funky Fifties, Dorky Dogs, Pixelated, Gloss, Sports, Musical Note, Clothes, Geometry, Cute Romance, Fancy Hearts, Alphabet, Garden Flowers, Funky Flowers, Pop Culture, Victorian Design, Crowns, Valentine's Day, Patches, Emo Tommy, Soft Touches, Decos, Giving Thanks, Fotor's Christmas and Crazy Christmas.
In free mode, there is a limitation on photos unloaded for editing. This limit is set at 8 MegaPixel. However, the browser based photo editor will automatically compress the photo before uploading. Alternatively, use the Desktop version to edit photos bigger than 8MP. As with other free editors featured here, even in free mode, there are plenty of effects, overlays, touch-up tools and frames to keep you occupied.
Other Free Online Photo Editors
We will be looking to expand on our list soon, in the mean time, check out our previous article on the subject: Free Online Photo Editors Review