With brushed aluminium finish to complement the stylish look of your MacBook or MacBook Pro, these laptop or notebook stands will add a touch of luxury and design to your desk. A must have accessory for your work space that will last a long time.You deserve only the best and so does your MacBook. While there are many laptop stands in the market, none come close to these laptops stands. With its quality finish and solid construction, these stands are a must have accessory and is guaranteed to serve you for many years, definitely a worthwhile investment.
In our search for the best MacBook laptop stand, we apply the following criteria:
Must be Aluminium or Metallic
Must have brushed or anodized finish
Must be Silver in colour, with options for gray and gold to match the new MacBook 12
Must be sturdy, stable and strong
Must have rubber grip and/or folded edge to stop the machine from slipping
Must have sufficient ventilation for the laptop to avoid overheating
The Top 5 Best MacBook and MacBook Pro Stands
Here is an overview of our laptop stands for MacBooks and MacBook Pros
1. mStand Laptop Stand (Silver)
Also: mStand 360 Laptop Stand with Swivel Base
2. Twelve South ParcSlope MacBook and iPad Pro Stand (Silver)
3. Griffin Technology Elevator Laptop Stand (Silver)
4. Belkin Loft Laptop Stand (Silver and Grey)
5. Stouch Luxury Aluminium Laptop Stand (Gold or Silver)
Now for a closer look at each of these stands:
Single piece, sand-blasted silver anodised body to match Apple hardware
Suitable for MacBook Pro, MacBook Air and MacBook for depth less than 10.4-inch
Raises the notebook screen height to eye level 5.9-inch
Aluminium panel act as heat sink
Keyboard stash under the laptop holder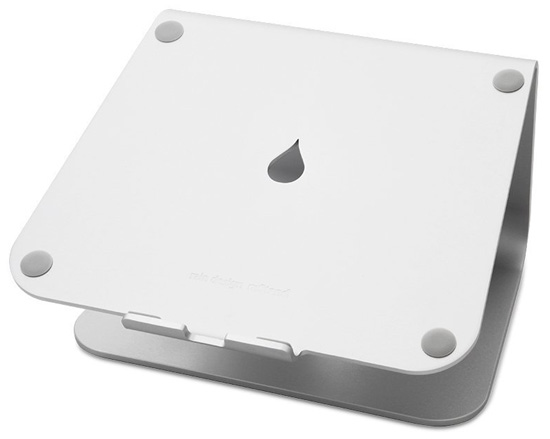 Also: mStand 360 Laptop Stand with Swivel Base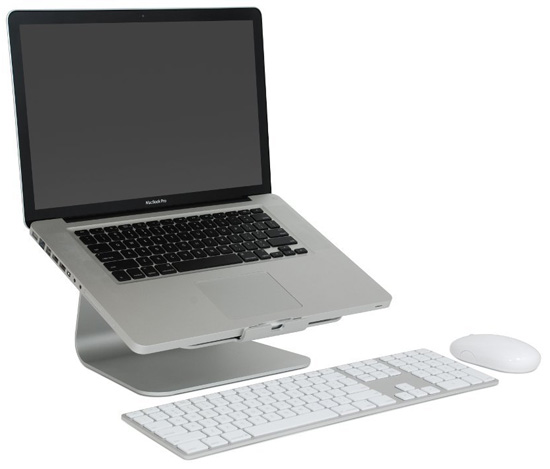 Made from Single piece aluminium for solid construction. Position keyboard and trackpad at a comfortable 18-degrees for typing. Rubber feet and anti-slip cushion protects the laptop. Can also be used for iPad Pro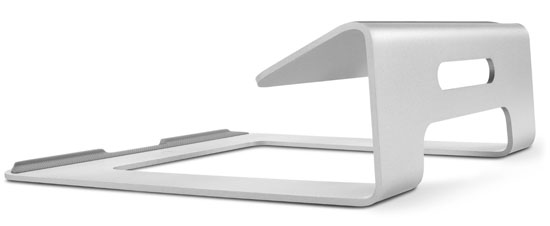 One of the earliest MacBook stand in the market, the 2-piece U-shaped laptop arms with anti-slip cushion held are together with transparent perspex plastic.
Two additional slip on plastic edging wraps the front edge of the laptop.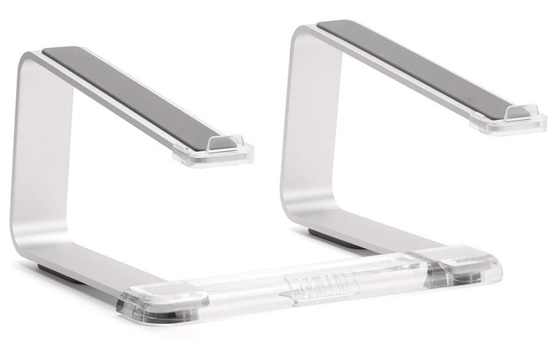 From the maker of desktop and laptop accessories come a two piece laptop stand held together with a plastic insert. The laptop platform not only allows air flow but offers good grip with rubber cushion fitted on all contact surfaces with the laptop. There is space for keyboard or mouse underneath the platform and cable management ring to keep the desk organised and clutter free.
Similar in design to Twelve South above, except that Stouch offers a champagne gold option for those new 12-inch MacBooks
OTHERS
One of the few MacBook stands that offer colour options, available in Silver, Champagne Gold and Dark Grey, The V shape stand is a perfect companion to the new MacBook. While it might be  a little big, length wise, it should work perfectly in complemeting colour and shades.
Also: elago L4 Aluminium Stand for Laptop
Aluminium stand that provides stability for all laptops with screen size from 12 – 17 inches with focus on ventilation, lightweight and portability. The sand-blasted and metallic silver anodized finish matches Apple MacBook Pro & Air and other laptops while it folds up to no more than 6.3-inch in length and weights only 5.8oz perfect for travels.
The U shaped AboveTEK stand is a single piece silver anodized aluminium alloy laptop stand that raises the laptop and provide a space to stash away the keyboard and mouse when not in use to free up desk space. The stand works with 11 to 17-inch laptops. AboveTEK also carries the V Shape stand similar to that of Twelve South and Stouch seen above.
Also: AboveTEK Aluminium Laptop Stand (V Shape)
The L-COOL laptop stand is a three-piece stand with two L shaped stands held together with a cross bar. The two L shaped stands have non-slip cushion and folded edge for more support.
Also: CYK Studio C-Cool Ergonomic Aluminium Laptop Stand
Looks familiar, we have seen the same single piece aluminium stand in our Best MacBook stands list above under the name mStand. Aside from the full base plate instead of one with a rain drop cut out and etched branding, the two are perfectly identical, raising the screen by 6-inches. A swivel version is also available.
Also: The Rise Laptop Swivel Stand by Sewell
From the people that made the mStand in the list of Best MacBook Stands above, the company also markets the stand under the Rain label with swivel base option below.
Also: Rain 360° Laptop Stand