Curved Displays are coming to a workstation near you. Ever wished your work screens can wrap around you.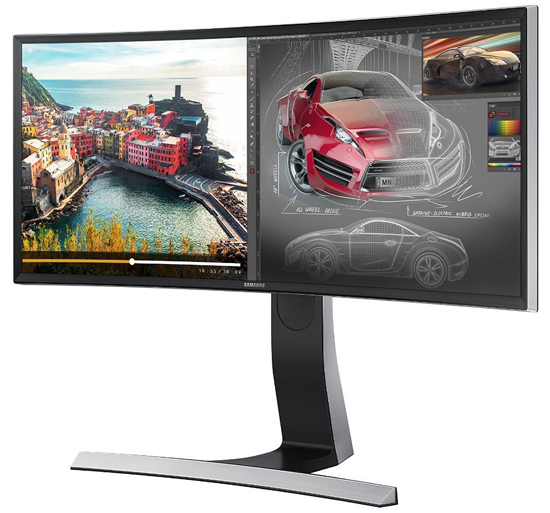 Instead of tilting your multi screen setup to fit into your field of vision and aligning them so the display 'swims' perfectly from left to right, use curved LED monitors instead.
When you have a three screen horizontal setup as your workstation like I do, you would want at least one of these. The curved screen matches the natural curvature of the eye and viewing angle.
Here is an example of a three curved screens setup from Game Crate.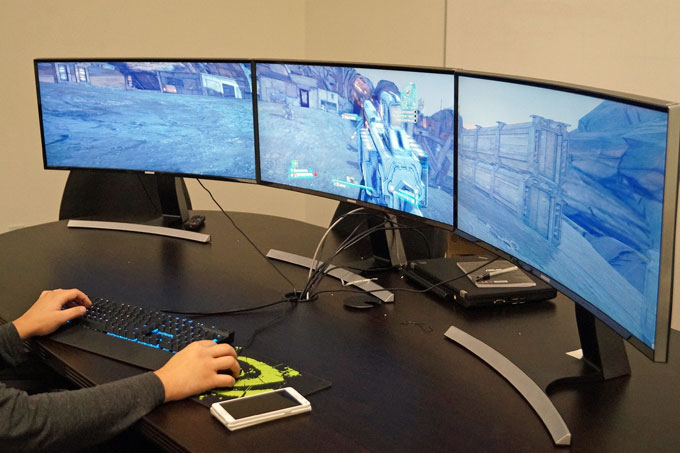 This makes staring at the screen more comfortable and Less tiring while the improved field of vision makes the screen looks bigger compared to a flat screen of the same size.
You will be surprised how cheap these costs now even at sizes of from 27-inch and some with built in curved speakers.
Best 27-inch Curved PC Monitors
Samsung LS27D590C 27-inch Curved LED Full HD PC monitor with built-in Speakers
Full HD Resolution: 1920 x 1080 pixel resolution
4000 R Curvature – The optimal curvature to ensure comfortable viewing on a 27″ screen, delivering a wider field of view that's easy on the eyes
Best-in-Class 3000:1 Static Contrast Ratio – More vivid than conventional monitors to provide truly brilliant pictures with deeper blacks, pristine whites, amazingly bright colours, and less light leakage
Fast 4 ms Response Time / 60 Hz Refresh Rate: See even the fastest on-screen motion clearly and smoothly without any motion blur, judder or ghosting
Game Mode – Instantly adjust your monitor settings for an optimised gaming experience through the on-screen display. Game Mode improves the darkness of the picture so that you can see all the action vividly
Wide Viewing Angle – Delivers a 178 wide viewing angle horizontally and vertically for optimal viewing experience from any angle
Ports: 1 x VGA, 1 x HDMI, audio-in and headphone socket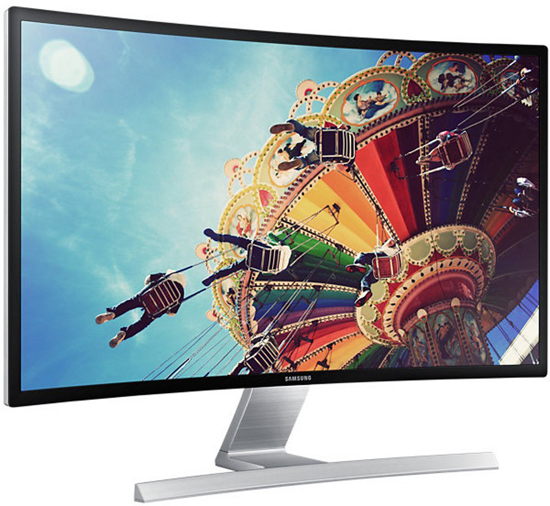 Check Price on Amazon: Samsung LS27D590C 27-inch
A smaller 23.5-inch display, the Samsung LS24E510C 23.5-Inch Full HD LED Curved Monitor is also available.
Dell SE2716H 27-inch Curved LED Full HD PC monitor with built-in Speakers
Full HD Resolution: 1920 x 1080 (Full HD) pixels
The world's thinnest bezels (7.7mm) on a 68.6 cm (27-inch) curved monitor lets you enjoy a near-continual view across multiple screens.

Sturdy stand: With a robust stand, easily tilt your monitor with less worry of wobbling. Elegant looks: A classy black piano finish gives this monitor an eye catching design that would fit with any decor.

Superb audio: Down-firing 9W speakers seamlessly integrate at the base of the monitor screen offering rich and powerful audio
Improve viewing comfort with a more uniform focal distance across the curved screen, thanks to less eye movement which reduces eye fatigue. Experience deeper reds and darker blacks with a superb 3000:1 colour contrast and enjoy the same consistent colours across an ultrawide 178 / 178 viewing angle. Ride the bass with rich and engaging sound from dual 9 watt (18W) integrated speakers.
Stay connected over multiple devices including mobile and gaming via VGA, 2 x HDMI/MHL (combo) and audio-in & headphone ports. 
Check Price on Amazon: Dell SE2716H 27-inch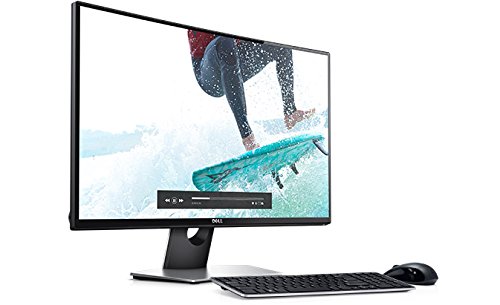 Best 29-inch Curved PC Monitors
Samsung S29E790C 29-inch HD LED Curved Monitor with Speakers
With a best-in-class 3000R curvature and an ultra-wide 21:9 aspect ratio, the Samsung Curved Monitor SE790C delivers unrivaled comfort and truly immersive viewing
Ultra WQHD 2.5 times the pixel density of Full HD, Ultra WQHD offers advanced 3440 x 1440 resolution –

HIGHEST RESOLUTION

3000:1 Static Contrast Ratio – More vivid than conventional monitors to provide truly lifelike pictures with deeper blacks, pristine whites, and amazingly bright colours, with hardly any light leakage.
Wide Viewing Angle: Delivers a 178° wide viewing angle horizontally and vertically for optimal viewing experience from any angle
Built-in Dual Stereo Speakers (7W x 2): The SE790C was created with 7-Watt, 2-channel dual stereo speakers built right into the curve
Vibrant picture quality with Ultra WQHD and a best-in-class contrast ratio
Connectivity: Access a full range of connectivity options with 2 HDMI ports, 1 display port, and 4 USB 3.0 port
Picture-by-Picture lets you view 2 different input sources on one screen while maintaining the picture quality of the original source
Check Price on Amazon: Samsung S29E790C 29-inch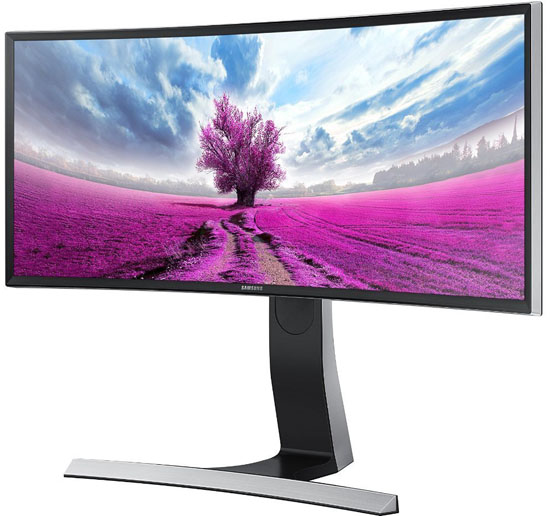 LG 29UC97C-B 29-inch Curved Ultrawide IPS Monitor with Speakers
Screen Ratio: 21:9 Curved Ultra Wide
Ultra Wide-format with a resolution of 2560 x 1080 pixels and thus has a 1.8 times larger screen area than a conventional full HD panel –

HIGHER RESOLUTION

The IPS panel support a viewing angle of 178 – along with the curved design you always have a perfect picture.
2 x 7W stereo speakers
Response Time: 5 ms
1 x DisplayPort, 2 x HDMI, Headphone, Audio in
Check Price on Amazon: LG 29UC97C-B 29-inch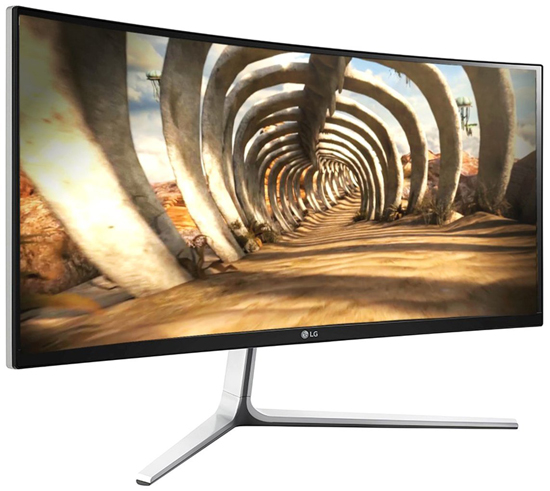 Best 34-inch Curved PC Monitor
LG 34UC97C 34-inch Curved Ultrawide QHD IPS Monitor
Ultra Wide Curved qHD screen with a resolution of 3440 x 1440 and thus has a 2.4 times more screen area than a full HD screen –

HIGHEST RESOLUTION

Screen Ratio: 16:9 format. A single monitor with 20% more pixel power than two 16:9 Full HD monitors together – without disturbing the frame in the middle of the work surface.
Viewing angle of 178 – together with the curved design you always have a perfect picture.
2 x 7W stereo speakers
Response Time: 5 ms
1 x DisplayPort, 2 x HDMI, Headphone, Audio in
Check Price on Amazon: LG 34UC97C 34-inch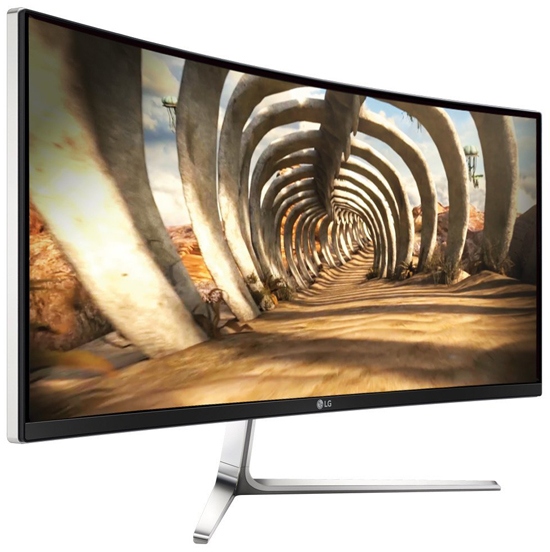 Also LG 34UC87C and LG 34UC87M
Acer Predator XR341CK 34-inch Curved IPS Monitor
UltraWide QHD resolution 3440 x 1440 pixels with IPS display technology –

HIGHEST RESOLUTION

Screen Ratio: 21:9 aspect ratio
Contrast Ratio: 100000000:1 (dynamic)
Horizontal Viewing Angle: 172 degrees
2 x 7W stereo speakers
Picture-in-Picture and Picture-by-Picture display modes let you fully customise your display. Drive the XR Series along with other monitors in a daisy-chain configuration using only one video output.
Response Time: 4 ms
2 x DisplayPort, 1 x HDMI, 4 x USB 3.0 port, Audio in, Headphone
Check Price on Amazon: Acer Predator XR341CK 34-inch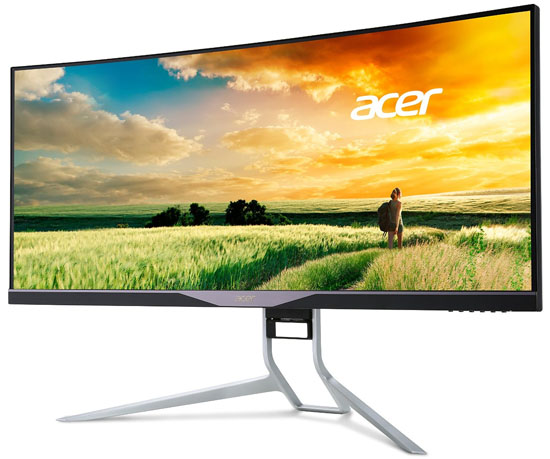 Samsung S34E790C 34-inch Curved LED Monitor
Ultra WQHD: A step up from WQHD and 2.5 times the pixel density of Full HD, Ultra WQHD's advanced 3440 x 1440 resolution –

HIGHEST RESOLUTION

Screen Ratio: 21:9 aspect ratio
Contrast ratio 3000:1 Static Contrast Ratio: More vivid than conventional monitors to provide truly lifelike pictures with deeper blacks, pristine whites, and amazingly bright colours, with hardly any light leakage.
Built-in Dual Stereo Speakers (7W x 2): The SE790C was created with 7-Watt, 2-channel dual stereo speakers built right into the curve
HAS Stand: The SE790C's curved metallic HAS stand is ergonomically designed, allowing for flexible height adjustment up to 100mm
Picture-by-Picture lets you view 2 different input sources on one screen while maintaining the picture quality of the original source. PIP 2.0: Multitask and watch videos with Picture-in-Picture 2.0. You can resize the second picture to cover up to 25% of the screen and position it anywhere you please
Connectivity: Access a full range of connectivity options with 2 HDMI ports, 1 display port, and 4 USB 3.0 port
Check Price on Amazon: Samsung S34E790C 34-inch