Amazon is giving budget tablets a run for their money. The new Amazon Fire 7 or simply known as Fire is Amazon's latest ultra budget, entry-level tablet to rival even some of the unknown brands out there. But will it be good enough.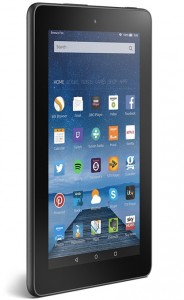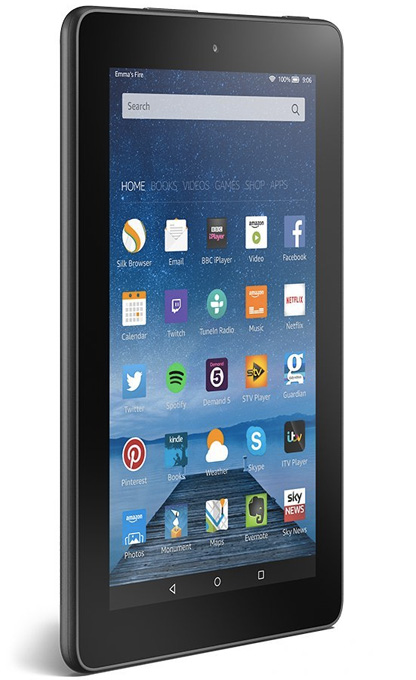 For many who do not wish to spend too much on a tablet and just want one that works for checking emails, browsing the web, being on social media, catch up on some e-reading and watch the odd TV show and movie, Amazon has the answer.
Fire, released at the end of September 2015, has a 7-inch IPS display at 1024 x 600 pixels packing a pixel density of 171ppi (pixel per inch). It may not have the High Definition display or pack as many pixels as a premium device, it is still plenty for a small 7-inch screen. IPS (in-plane switching) technology and advanced polarizing filter offer viewing in the widest possible angle, vivid colours, whiter whites and overall a brilliant display.
Five Reasons to Get the Amazon Fire
Besides the price (nobody can ignore that super low price), here are five other good reasons why you might consider the Amazon Fire.
1. Fast & Reliable
It has a fast quad core processor clocking at 1.3GHz, plenty to power you through all your day-to-day needs. There are sufficient cycles in the CPU to launch apps quickly, play games and video smoothly and perform all your day to day tasks on the tablet without missing a beat.
The Fire family of tablets has been very consistent in its build quality and reliability. No different here with the new Fire. Amazon engineers have worked hard to make sure the tablet holds up against everyday life. It is claimed that the device handles tumbles 1.8 times better (more durable) than compared to the iPad Air 2.
2. Cameras & Free Unlimited Cloud Storage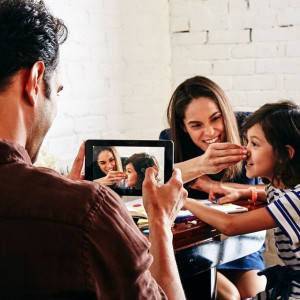 Nothing to shout home about but Fire tablet does come with front and rear facing cameras to let you capture all those life's moments. So the rear facing cameras is only 2MP but it lets you take photos and record 720p HD video. While, the front facing VGA camera is great for Skype calls. Never miss a moment, especially if you have your small Fire tablet with you all the time, why not whip it up to capture all those amazing moments life has to offer.
And there is more. Fire devices come with free unlimited cloud storage for all the photos taken with the tablet so all those captured moments are safely backed up remotely.
3. Great for Consuming Content On the Go
If you are a Prime member, you would want one of these. There is no better time to get a Fire tablet for those who subscribe to Amazon Prime for their next day deliver, instant video streaming (Prime Instant Video), music streaming (Amazon Music) and e-books from your personal library or the Amazon Kindle Owners' Lending Library (choose from over 600,000 titles). After all, it is a content consuming device. There is also Audiobooks by Audible.
4. Download & Cache Movies and TV Shows and Watch Them Offline.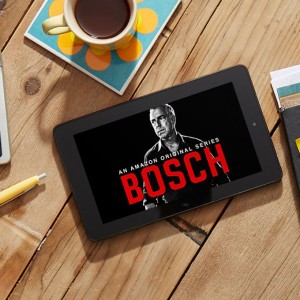 If you are a movie buff or follows TV series on Prime Instant Video, you will be happy to know that you can now access and cache videos and TV shows to watch offline anywhere. You will truly appreciate this feature when you are on long haul flights or away trips to where connections are hard to come by.
Unless you buy the video, the unlimited streaming of Prime video is restricted to the country you are in. If you are in a different country, you can only stream the videos you purchased. The caching to watch offline feature is a welcome for frequent travellers who wants to bring their movies and TV shows with them.
5. Add More Storage Space
While the onboard 8GB storage space is rather limited, the device has a microSD card slot allowing for up to 128GB of additional storage. Great to cache the entire season of your favourite TV shows and not worry about running out of space when you start capturing videos and photos of your multi-hop holidays.
Specifications
7-inch (17.7 cm) touchscreen, 1024 x 600 resolution at 171 ppi, SD video playback, with IPS (in-plane switching) technology and an advanced polarising filter
Quad-Core 3GHz processor
1GB of RAM, 8GB ROM Storage (5GB available to user) with microSD expansion slot for up to 128GB of additional storage + Free Unlimited Cloud Storage for Amazon content and photos captured on Fire Devices.
2MP Rear Camera with 720p HD recording and VGA front camera for Skype calls
Single-band WiFi, mono speaker, built-in microphone
Battery Life: Up to 7 hours of mixed use
Dimensions and Weight: 115 x 191 x 10.6mm, 313 grams
Fire OS 5 "Bellini" packed full of new features including parental supervision to make the tablet kid friendly.
One for Every Room
To sweeten the deal, Amazon is offering a six-pack for the price of five. Yes, you got us right, for a limited time, you can use the promo code FIRE6PACK to buy 5 Fire tablets and get one free.
Amazon has this to day "The breakthrough price of Fire combined with Amazon's durable engineering opens up many new ways for you to upgrade your rooms: in the kitchen as a digital cookbook or to watch your favourite cooking show, in the TV room as an entertainment controller, in the bedroom to watch a movie or check the weather before you get dressed and in your car for backseat entertainment."
As to be expected, Amazon is selling their devices cheap with the aim of make more on the back of selling content (movies, music, TV shows, e-book, apps and beyond). The tablet also lets you access not only Amazon streaming services (Amazon Prime Instant Video and Amazon Music) but other services such as BBC iPlayer, Netflix, TuneIn Radio, Spotify, Demand5, STV Player, ITV Player, Sky New and more, which are mostly free.
So there, if you want a tablet that just works, to consume content and carry out basic everyday tab related activities without burning a hole in your pocket than the Amazon Fire 7 is for you.