With so many external batteries in the market coming in all matter of shapes and sizes, it is not easy to find one in the right size, capacity, built quality and design. We were sent the Zendure A3, described as a rugged power bank to review by the Zendure team.
Disclaimer: This item was sent to us for review.
The Zendure was first launched as a kick-starter project in September 2013 to fund a crush-proof, durable battery pack for the smartphone. The successful crowd-funding enabled Zendure to launch the first Zendure battery. The company has grown a little more since then and have now added a second generation of battery packs to its range.
Zendure A3 External Battery is from a family of power banks designed to be extremely durable. The A3 comes with a 9600mAh capacity battery. As a 2nd generation Zendure battery, it comes with ZEN+ technology, the company's code name for a smart charger.  Other battery sizes in the range are as listed below.
A 9600 mAh battery would typically let you charge a smart phone 3-4 times, and an iPad twice.
First Impressions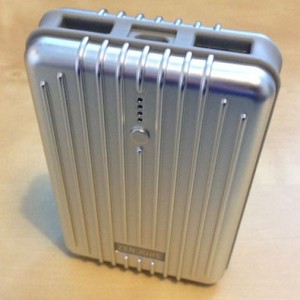 On first look, the design of the battery looks like a modern hard shell suitcase and there are very good reasons for that. The ridges give the body extra strength and rigidity while offering a non-slip grip when handling the device.
The silver paint appears to be very durable and gives it a metallic, stylish finish. It feels both rugged and sturdy. The A3 battery is solidly built, made from good quality material, is a good size and sits well in the palm.
There is a single power button on the front of the case, with two USB charging ports on the top and a smaller micro USB port for charging the battery sandwiched in the middle.
All three ports also sit on a rubber band that doubles as a shock absorbing belt with a slight recess in the middle, again offering a good grip and hold.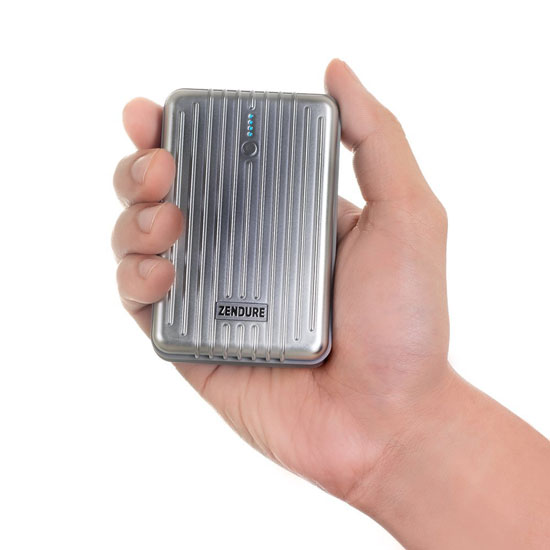 Feature Highlights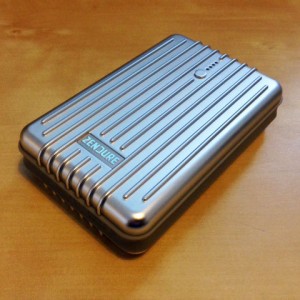 Let's take a look at the technical specifications and how it fares in our review.
The Zendure A3 comes with 2 USB ports has an output total current of 2.1A.
ZEN+ technology automatically detects and switches its output current to a maximum of 2.1A to match the connected device.
This provides users with a peace of mind knowing that the device is protected and not overloaded while also offering the best possible charging speed for the device.
The battery turns itself on automatically when connected, in fact, this feature works so well that it comes on as soon the device is connected.
Zendure claims that it will go to standby when charging is complete. We found that the battery switches to standby close to 100% charge and not exactly at 100%.
On our first attempt, it cut off at 95% while during our second attempt, it stopped at 97%. On both occasions we just had to manually press the power button to keep the charging going for a bit more.
Charging was very quick for new smartphones with quick charge batteries. We saw a 50% charge in under an hour from flat.
Zendure maintains that the battery will keep 95% of its charge for up to 6 months without use. This works well if the battery is to be used as an emergency charger, meaning you can charge it up and keep it stored away and it will still have charge in it when you really need it.
Typical of most battery technologies available today, the Zendure's battery has over 500 charge-discharge cycle, giving it relatively a good life span.
Dimensions: 3.8″ x 2.5″ x 1″ (96mm x 62mm x 24mm)
Weight: 7.2 oz / 200 grams
Ports and Power: 2 x USB charger ports [Out: 5V 2.1A (Max)] and 1 x micro USB charging port [In: 5V 1.5A (Max)]
Included: Cloth Carrying Pouch, 6″ microUSB charging cable, customer care contact sheet and safety information guide.
While we have not put the battery through the series of durability tests, Zendure has demonstrated the strength of its crush proof body on numerous videos online. We share this at the bottom of this review.
Final Thoughts
While we think the battery is great especially in the durability department, Zendure could have taken this a step further to make it dust and water resistant with seals for the ports. Most of us would carry out external batteries on our travels or chuck it in the ruck sack for outings, having it dust and water resistant gives it that extra protection. We know that Zendure sells a weather-proof pouch separately and this may be why the battery has been designed this way.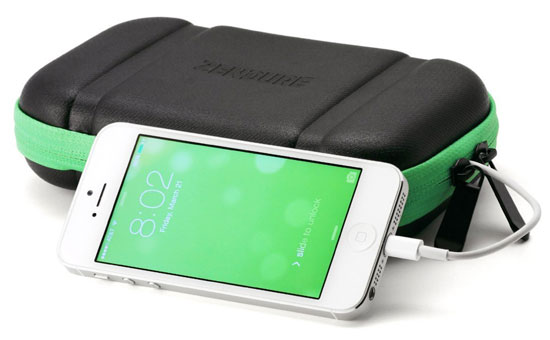 Our other grip is with the automatic standby mode that kicked in a tad too early on our tests leaving the devices not quite fully charged. We are not sure if this is a standard experience with all Zendure A3s or just the one we received for review. We will be testing other Zendure batteries to see if the same happens.
Overall, we think that the Zendure A3 is a good option for travelling and emergency-charging with it's size and weight. The battery charged our iPhone 5 and iPhone 6 up to 4 times from flat. As the battery capacity is quite big at 9600mAh it does take a while to charge. With a 1A wall adapter it will take up to 9 hours to fully charge the power bank. A 1.5A wall adapter will take it down to 6 hours. From experience this sounds about right.
Zendure also offers a High-Speed Power Adapter or Wall Charger with 2 USB ports in matching design although if you are like us with wall adapters flowing out of our ears, you probably won't need one.
Durability Test Video