If you are away for a long trip, from any wall charger or power source, you are going to want one of these ultra high capacity portable battery chargers. Make no mistake at 20,000mAh or more, it is not going to be small, neither is it light but it will charge your smartphone and tablets many times over.A 25,600mAh battery charger will charge an Apple iPhone 6 up to 10 times, Samsung Galaxy S5 for more than 6 times, iPad mini 3 2.5 times or iPad Air twice. You can spend as long away from a wall socket as you want and won't have to be without power.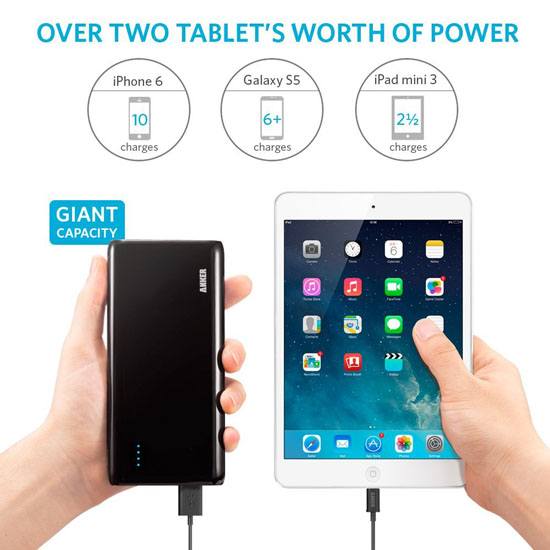 What You Need to Know
Travel chargers with smart ports allows devices to be charge twice as fast. These smart batteries automatically detects the current draw from the device when plugged in and automatically set a suitable current of up to 2.1A for optimum charging. By detecting the device, it allows the power bank to deliver the fastest possible charging speed.
Most ultra high capacity batteries carry 2 to 4 USB charging ports. These ports are sometime marked as 1A, 1.5A or 2.1A. If the device offers smart technology, the ports are unmarked and will automatically adjust its output current to suit the device connected while protecting the device from over current.
The number of ports sometimes up to 4 can be used simultaneously and depending on the maximum output current, these will charge the devices optimally at the highest possible charging speed. Typical total output current range from 3.1A to 4.5A. If more devices are connected, charging time may increase depending on maximum output current.
The battery cells used in these power banks have a fixed life span. Manufacturers claim over 500 charge-recharge cycles. As the battery capacities on any of these power banks are super high, expect to take between 12 to 30 hours to charge them up from flat. The charging time for these power banks depend on the allowed maximum input current (1.5A, 2A, 3A or more) and the wall charger (USB power adapter) used.
With the right power adapter, external battery charger with a maximum input current of 2A or 3A will charge faster than one with a 1.5A total input current. Power adapters also come in different ratings and current output, we recommend getting a suitable power adapter. Using the USB port on desktop or laptop computer will take longer to charge.
These power banks are compatible with the new 12 inch MacBook, 2015 (USB-C cable needed) Apple, certain chromebooks powered by USB, Apple devices (smartphone andt tablets) and Android smartphones, tablets (including the Nexus 7) and other USB-charged devices including some GPS and Bluetooth devices.
This may not be for everyone but some power banks come with multi-voltage DC output suitable for laptops. However, the compatibility of such a device with the laptop it is intended for will need to be verified prior to any purchase decisions. Basically, the voltage level as well and current and the type of DC connector used to charge the laptop needs to be served by the battery in order for this to work.
While these may be heavy and big, the ultra high capacity batteries and the ability to charge all your devices many times over is going to be worth the weight.
Top 10 Best Ultra High Capacity Power Banks [20,000mAh or more]
Zendure A8 Pro 25,600mAh Portable Charger Extremely Durable External Battery –

SMART, RUGGED, DURABLE, SHOCK-PROOF HIGH CAPACITY

Aukey 20,000mAh Portable External Battery Charger Power Bank with AIPower Tech –

SMART, FLASH LIGH, HIGH OUTPUT CURRENT

Anker Astro E6 Ultra-High Capacity 20,800mAh 3-Port (4A Output) Portable Charger with PowerIQ Technology –

SMART, FLASH LIGHT, HIGH OUTPUT CURRENT

Anker Astro E7 Ultra-High Capacity 25,600mAh 3-Port (4A Output) Portable Charger External Battery Power Bank with PowerIQ Technology –

SMART, FLASH LIGHT, HIGH CAPACITY

Aukey 28,000mah Multi-voltage (5v 12v 16v 19v) External Battery Pack with Quick Charge and Aluminum Body Design –

MULTI-VOLTAGE, HIGHEST CAPACITY, ALUMINIUM BODY

Swees® 25,600mAh 3-Smart-USB Power Bank Portable External Battery PowerBank –

SMART, HIGH CAPACITY, METALLIC BODY

VINSIC 20,000mAh Ultra-slim Power Bank, Dual USB Port 2.1A & 1A External Mobile Battery Charger –

ULTRA SLIM, ALUMINIUM BODY

Anker® Astro Pro2 20,000mAh Multi-Voltage (5V 12V 16V 19V) Portable Power Bank –

SMART, MULTI-VOLTAGE, METALLIC BODY
OTHERS
Now for a look at how these compare to one another.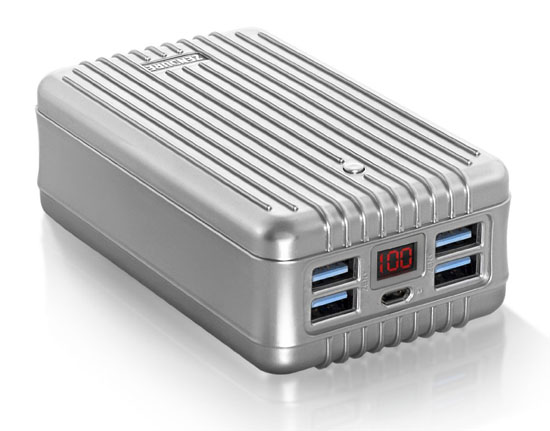 Capacity

: 25,600mAh with LED Digital Battery Level Indicator

Features

: ZEN+ Technology for port sensing of connected devices and automatically fine tune the output current to charge at maximum speed. LED digital display gives clear indication of battery level. Comes pre-charge for use out of the box. Durable and crush proof body made from strong composite material using dual-injection molding process bound together with a shock absorbing central belt. The device switches on automatically to start charging when connected and goes on standby when charging is complete. It is capable of maintaining up to 95% of charge for 6 months. Watch a McLaren Spider run over the batteries.

Outputs

: 4 USB ports, up to 2.1A per port for a total of 3.1A maximum output. MicroUSB input (up to 2A) for charging with cable included.

Dimensions & Weight

: 17oz and 4.7″ x 2.8″ x 1.6″ (119 x 73 x 40 m, 483 grams)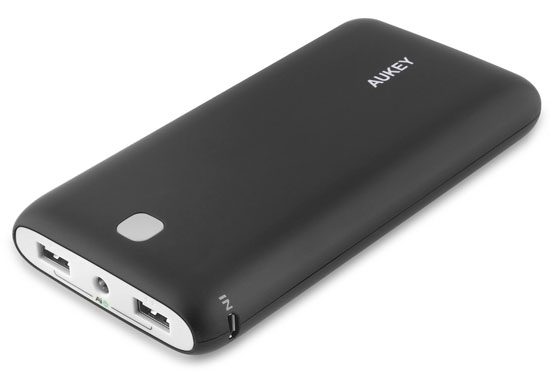 Capacity

: 20,000mAh with 4 Blue LED battery level indicator and built in flash light

Features

: AIPower technology for intelligent charging; detecting the input current of connected devices to maximize both compatibility and charging speed. Available in black or white.

Outputs

: 2 USB ports (up to a total of 3.1A). MicroUSB port for charging (2A max. input) 10 hours with a 2A adapter (not included).

Dimensions & Weight

: 15.5 x 7.9 x 1.5 cm ; 445 g –

LIGHTEST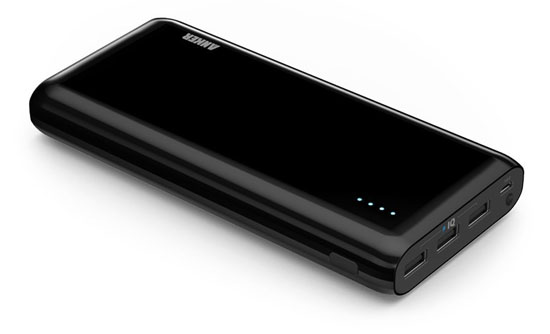 Capacity

: 20,800mAh with 4 LED battery level indicator and built-in flash light

Features

: PowerIQ technology – detects your device to deliver its fastest possible charge up to 3A maximum. To activate the LED flashlight, hold or double click the power meter button.

Outputs

: 3 USB up to 3A per port with a total of 4A through three ports, MicroUSB port for charging with USB cable included. Takes 10-12 hours with a 2A adapter (not included) –

HIGH CURRENT

Dimensions & Weight

: 16.6 x 8 x 2.2 cm ; 449 grams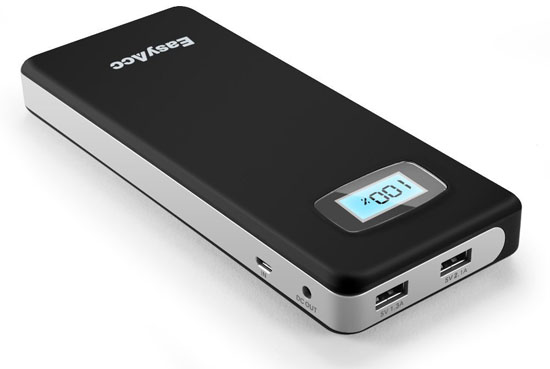 Capacity

: 20,000mAh with LCD Digital Display for power indicator.

Features

: No intelligent ports, only ports with fixed currents as marked. One low current USB (1.3A) port for smartphone, one high current USB (2.1A) port for tablet, and one DC output for Sony DV camera (DC 8.4V 1.0A).

Outputs

: 2 USB ports (1.3A and 2.1A output) and DC port for Sony DV camera (DC 8.4V 1.0A), MicroUSB input port for charging (2A max. input) with charging cable provided.

Dimensions & Weight

: 7.28 x 3.07 x 0.98 inches, 460grams
Capacity

: 25600mAh with 4 LED battery level indicator with built-in flash light, similar to Anker E6 but with higher capacity batteries.

Features

: PowerIQ Technology: Detects your device to deliver its fastest possible charge speed up to 3 amps per port or 4 amps through three ports.

Outputs

: 3 USB ports with maximum of up to 3A per port for a total of 4A through three ports. MicroUSB port (2Am max. input) for charging with cable included –

HIGH CURRENT

Dimensions & Weight

: 16.6 x 8 x 2 cm ; 490grams
Capacity

: 28,000mAh with 4 LED battery level indicator in circular formation. Enough to charge the iPhone for 13 times or the iPad Air for up to 1.5 times.

Features

: Metallic case in brushed aluminium finish is a great touch, lightweight and durable.

Outputs

: 2 USB ports with 1A and 2.1A output for a maximum of 3.1A. DC outputs at 1 DC 12V 16V 19V/ 3.2A (max) port with 10 laptop connectors included. Takes 8 hours to fully charger the battery with supplied power adapter. Built-in multiple intelligent security protections: over-current, over-load and short circuit protection.

Dimensions & Weight

: TBC
Capacity

: 25,600mAh with 4 LED battery level indicator.

Features

: Smart technology to detect connected devices, to determine the current draw and supply this with the right current of up to 2.1A per port to charge it in the fastest possible time.

Outputs

: 3 USB output: up to 2.1A per port, providing 4.5A output (Max) current over 3 ports for the immediate rapid Charging. Can charge three devices at the same time. MicroUSB input: 5V 2A; with full charging time of approximately 14 hours with the use a 2A adapter (not included)

Dimensions & Weight

: 5.94 x 4.21 x 0.63 inches (17 x 10.6 x 1.4 cm) ; Weight: 465grams –

SLIM
Capacity

: 20,000mAh with LED Digital Display battery level indicator.

Features

: Premium and stylish aluminium alloy body in 4 different colours; silver, dark grey, gold and red. The ultra slim body means it will fit into suitcases and back pack easily perfect for business trips, travelling or when you are away from a power outlet.

Outputs

: 2 USB ports (2.1A and 1A ports). MicroSD input port for charging with up to 2A adapter (not included)

Dimensions & Weight

: 17.3 x 1.3 x 12.8 cm ; 449 grams –

SLIMMEST
Capacity

: 22,400mAh with 4 LED battery level indicator and built-in flash light with 3 modes (SOS mode, highlight mode, average light mode).

Features

: The 2nd generation is an upgraded and enhanced version of the original with more powerful battery, but more compact form factor. Available in various colours with different coloured accent.

Outputs

: 3 USB charging Port (2.4A for ipad, 2A for Samsung Tab, 1A for iPhone) for 3 devices simultaneously at top speed. MicroSD input port for charging with up to 2A maximum input (charger not included)

Dimensions & Weight

:   6.2 x 3.1 x 0.8 inch, 0.99lb (80 x 160 x 23mm, 449grams)
Capacity

: 20,000mAh with LED for battery level indicator and DC voltage level indicators (12V, 16V and 19V) for charging laptops.

Features

: Slim and stylish aluminum body ensures efficient heat dissipation, lighter weight, and durability.

Outputs

: 1 USB charging port with 2.1A maximum current.  1 DC multi voltage port 12V / 4A, 16V / 3.5A or 19V / 3A with 10 laptop connectors included.

Dimensions & Weight

: 18.5 x 12.5 x 1.5 cm ; 562 grams –

SLIM