The MacBook has a huge appeal factor due to its design and at 12-inch, it offers the right balance between size and portability. But what are the alternatives and how do they compare with the MacBook from Apple.
So what are the other convertible tablets and 2-in-1 PCs at similar size with a 12-inch display that can match the new MacBook. Here is our quick list:
The obvious selection criteria for a hybrid laptop to match the new Apple MacBook is the size, processing power and ultra portable and ultra slim profile. The laptops from Microsoft, Asus and Acer above are the the closes with high definition screen with generous amount of memory and storage. We may add more to the list as and when they become available so check back soon.
UPDATE: We have since posted a newer article with more competing devices see – Apple MacBook 12 Alternatives: Worthy contenders to the ultraportable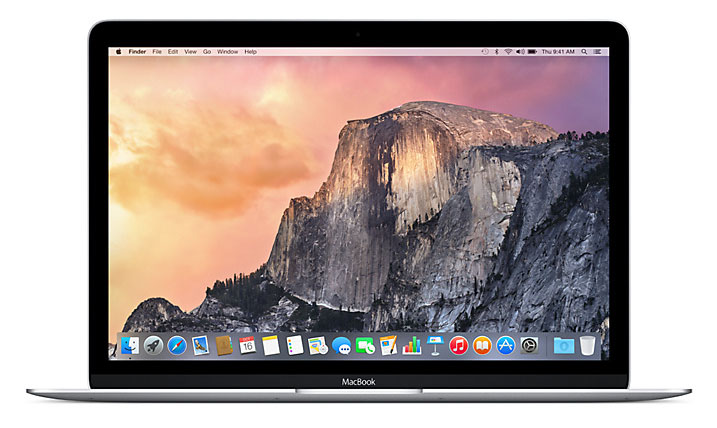 Before we continue, let's look at the specifications of the new MacBook.
12-inch LED backlit Retina display with IPS technology (2304 x 1440 pixels)
Intel Core M 1.1GHz to 2.4GHz with Turbo Boost Dual Core processor –

NEW MOBILE PROCESSOR

8GB memory and 256GB or 512GB storage
Up to 9 hours browsing, up to 10 hours iTunes movie playback
Dimensions & Weight: H13.1 x W280.5 x D196.5 mm, 920 grams
The obvious disadvantage of the new MacBook is the lack of ports such is the price to pay for a clean and ultra slim package. However, this can be addressed with the increasing number of USB-C adapters both from Apple and 3rd party.
And, here is how the convertible tablets and 2-in-1 PCs compare with the new MacBook:
Probably the closest contender to the MacBook is the Surface Pro 3. It is the only tablet with integrated kick back stand. While the keyboard is available to purchase separately, to complete the 2-in-1 experience and to go up against the MacBook, we would recommend buying this at the point of purchase. The obvious advantage over the MacBook would be that it is a convertible tablet. You have 2 devices instead of one, a tablet when you need it to be and a laptop with
12-inch Full HD+ touchscreen display (2160 x 1440) –

HIGHEST RESOLUTION

Intel Core i3, i5 or i7 processor (4th Gen)* – see below for actual speed
4GB or 8GB memory and 64GB, 128GB, 256GB or 512GB SSD storage –

MORE MEMORY & STORAGE OPTIONS

Up to 9 hours battery life –

BEST BATTERY LIFE

Dimensions & Weight: 11.50 x 7.93 x 0.36 in (292.10 x 201.42 x 9.14 mm), 1.76lbs (0.79kg)
*Processor & Storage Pairs:
64GB/Intel i3 version:
4th generation Intel Core i3-4020Y 1.5GHz with Intel HD Graphics 4200
128GB and 256GB/Intel i5 version:
4th generation Intel Core i5-4300U 1.9GHz (with Turbo Boost Technology up to 2.9GHz) with Intel HD Graphics 4400
128GB, 256GB and 512GB/Intel i7 version:
4th generation Intel Core i7-4650U 1.7GHz (with Turbo Boost Technology up to 3.3GHZ) with Intel HD Graphics 5000
Here is your typical Asus Transformer convertible tablet with detachable keyboard. This is easily the most elegant Transformer to date with metallic effect edges on both the keyboard and tablet, slim bezel and clean rounded corners.
12.5-inch Full HD touchscreen (1920 x 1080)
Intel Core M-5Y10c 0.8GHz with Turbo Boost Technology up to 2.0GHz –

NEW MOBILE CPU

4GB memory and 128GB SSD storage
Up to 8 hours battery life –

GOOD BATTERY LIFE

Dimensions & Weight: Tablet + dock: 12.51 x 7.54 x 0.64 in (317.80 x 191.60 x 16.50 mm) and 3.19 lbs (1.44 kg), Tablet only: 12.51 x 7.54 x 0.29 in (317.80 x 191.60 x 7.60 mm) and 1.60 lbs (0.72 kg) –

LIGHTEST & SLIMMEST TABLET
The Acer Aspire stands out from the rest with its detachable keyboard that forgo the touch pad, this would mean one would rely solely on the touch screen for pointing, scrolling and clicking or carry a separate wireless touch pad or mouse. The keyboard detaches from the base allowing the screen to stand on its own in laptop mode giving its users the ability to move the keyboard further away from the screen much like a wireless keyboard. However, without a track pad, the screen will have to be positioned at touch-reach.
12.5-inch Full HD Touch Screen (1920 x 1080)
Intel Core M-5Y10a Dual-core 800MHz – 

NEW MOBILE CPU

4GB memory and 60GB SSD storage
Up to 6 hours battery life
Dimensions & Weight: 317 x 220.6 x 16.5 mm, 1.4kg