Purely for personal reasons, I have been thinking about replacing the sleeve for my MacBook Air and wondered what is available. Sleeves are best suited for MacBook Air as they provides protection from scuffs and bumps minus the bulk.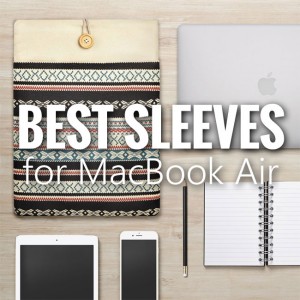 You can either use it on its own or pop it into a bag and not worry about it taking too much space. Using a sleeve lets me use my existing work case that looks nothing like a Laptop Case or Bag reducing the risk of theft.
To my surprise, MacBook Air sleeves have come down in price. When before, I had only a few options to choose from, now, there are over two dozen different options available. Truly, spoilt for choice.
Best Budget MacBook Air Sleeves
To make choosing earlier, these sleeves are grouped by either leather or non-leather (neoprene, felt, soft shell, nylon, canvas or other fabric). The list begins with non-leather sleeves and ends with 7 leather sleeves
Others
Let's take a closer look at each of the 25 best value sleeves for MacBook Air 11 and 13.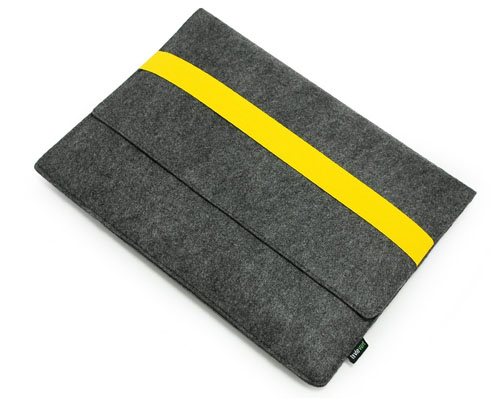 Made from soft, lightweight and sturdy felt material that protects your MacBook from scratches and bumps.
Slides easily into backpack, brief case or luggage bag.
Yellow or orange elastic bands to secure the flap, keeping the MacBook away from dust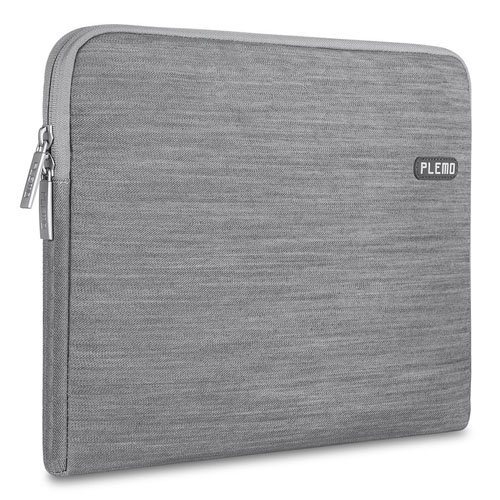 fully padded and lined for bump and shock absorption and protection
Denim fabric outer layer with top loading zipper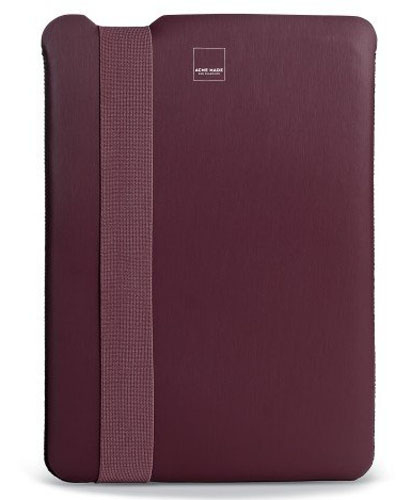 Fresh colour options, stylish rounded corners and elastic band to complete the cool looks.
Unique StretchShell Neoprene material that is both water and stain resistant.
Dimensions: 25.2 x 0.9 x 35.7 cm (9.9 x 0.4 x 14.1 in). Top loading option also available, see Acme Made The Skinny Sleeve below
Felt sleeve with 2 internal pockets (3:1 ratio split) perfect for smartphone and small tablet or accessories.
Microfibre cloth lined interior to prevent felt fabric loss and keep the laptop clean
Lightweight and slim (for laptops up to 8mm). Dimensions: 340x 250x 8 mm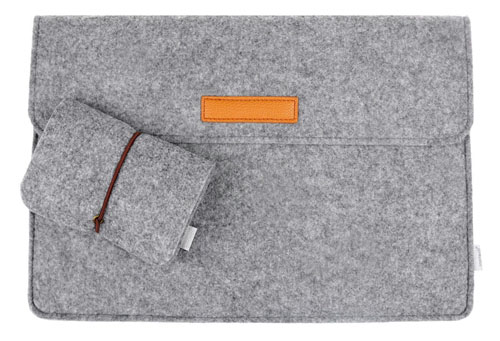 Another felt case with built-in pocket for magazine, books or tablet. Additional two back pockets for smaller items; smartphones and accessories.
Lined with microfibre cloth, mold-proof, wear resistant and protects the MacBook from scratches
Dimensions 33.5*21.5cm for MacBook Air 11 and 35*24cm for MacBook Air 13
Small accessories bag in matching colour included. Lime Green option also available.

Tensaerlite technology for maximum impact protection with outer rim bumper
Fur-lined interior walls, slim and sleek exterior. Provides super snug fit with magnetic clasp to keep the case shut.
The only thing to not is to avoid placing your laptop on the sleeve and trying to work on it as doing so will keep the laptop in sleep mode.
Choice of vibrant neon colours, protects MacBook from accidental knocks and scratches
Light weight lycra soft sleeve with flap that folds over side loading opening
Colours Available: Deep Purple, Aqua Blue, Neon Yellow and Pink
Sleeve with internal plush lining and side pocket that fits an iPad.
Extra padding around the edges for all round protection.
Top loading zipper and side pocket with zipper keeps the dust out. Reflective Thule Logo.
Dimensions: 34 x 4.3 x 23.1 cm (MBA11), 36.3 x 4.3 x 26.4 cm (MBA13)
Another cool range from Acme Made with fresh colour but this time in top loading profile.
Ultra thin design with unique StretchShell neoprene material that is both water and stain resistant
Stylish elastic band keeps the MacBook securely in the sleeve. Check out the different dimensions before making your purchase.
Zip and peel coloured zipper with full lining that does not scratch the laptop
Shockproof design with round the edge bumper and shock absorbing memory form
Canvas with bohemian motifs (different designs available) sleeve with two compartments, the main and a second for side pocket for magazines, books or tablets.
Side loading opening with string and button to secure the laptop
A small matching pouch bag is included for accessories
Integrated carry handle and size pocket
Both main and side compartments are secured with zipper
Padded sleeve protects against drops and knocks. Available in black, red or blue.
Meant for bigger machines and more a shell than a sleeve, the Thule Mobile Crossover Case is semi-rigid, water resistant and weather proof.
Internal elastic strap keeps the laptop in place and the clamshell profile lets you use the MacBook while still in the case.
Cloth based padded sleeve with faux leather trim.
Zip for both top loading main compartment and side pocket in horizontal profile.
Brand patch on cotton fabric material completes the iconic design
Fleece lined interior with extra padded around the edge bumpers
Ultra thin canvas sleep available in two colours. Top loading profile with magnetic flap
Dimensions: 38.1 x 1.3 x 27.9 cm
Available in choice of lively and fresh neon colours.
form-fitting sleep with seamless wrap of impact foam padding for top to bottom protection.
woven webbing along each side adds subtle texture and design.
Available in different colours (light blue, gray, black and tan) and patterns.
Neoprene sleeve with anti-slip design that prevents laptop from slipping and dropping
Top-loading design with zipper, side storage pocket with zipper and additional accessory bag in matching colour
Envelope profile case with velcro fasterner both eye catching and functional.
Slim and lighweight design with leather exterior and fabric lining interior.
Slip on top loading sleeve suitable for use with a second outer case.
Soft interior keeping the MacBook scratch free.
Premium quality, full-grain, soft European Analine leather. Individually handcrafted in Europe by leather artisans
Colour Options: Black with Black Stitching, Black with Red Stitching, Chestnut with Brown Stitching, Burgundy with Burgundy Stitching, Purple with Cream Stitching
Genuine leather exterior, high gloss patent leather in black or red also available. Tapered design to fit MacBook Air.
Dimensions: 34.5 x 25 x 3 cm (MBA13), 32 x 22 x 3 cm (MBA11)
Padded interior with velveteen lining, flap cover fastens with 2 press studs
Available in the widest choice of colours. Made using top quality PU leather, the Sugg Leather Sleeve comes with lifetime guarantee.
Flap with soft magnetic catch over top loading sleeve keeps the MacBook secure and hides a business card holder.
Soft nubuck fibre interior keeps the MacBook Air from scrathes.
A back full width pocket for magazine, paper or smartphone
High quality leather sleeve in distressed brown with soft suede fibre interor
Flap with magnetic catch over top loading sleeve
Slimlined tapered design to fit MacBook Air
Not exactly a leather case but a variation of the felt sleeves we have seen so far.
With leather trim and flap secured with a magnetic catch keeps the laptop in place.
The real leather is placed at the bottom of the sleeve where you would typically handle the sleeve while giving it extra durability and wear resistance
OTHERS
Incase Neoprene Classic Sleeve for MacBook Air 13
AmazonBasics Laptop Sleeve for 11 and 13-inch