The new MacBook from Apple is currently the world's most efficient laptop. Running at only 5Watt of power, it does not require active cooling so no noisy fans and even slimmer body compared to the MacBook Air 13. Is the smaller foot print, lighter body and colour options enough to make you pay the extra for it?
When considering an ultra portable laptop, with the new MacBook (Silver) profile so closely resembling the MacBook Air 13 which would you go for? We take a look at the advantages the two ultra book has over each other for an informed decision when considering an ultra portable from Apple.
To make your decision easier we highlight the key differences: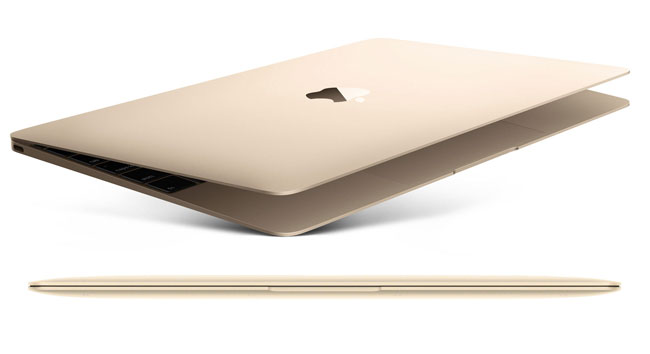 Owing to the screen size, the new MacBook is smaller and lighter
The new MacBook has Retina screen with higher resolution and pixel density
MacBook uses the new generation, more efficient processor, offering more processor options
The new MacBook is thinner overall, smaller footprint and lighter at 0.92kg
MacBook has more memory at 8GB and bigger starting storage at 256GB
MacBook uses the new generation USB-C port, single port everything (power, video and expansion)
The new MacBook uses Force Touch trackpad with haptic response that mimics a click and hard tapping gives options)
MacBook has more colour options; Silver, Gold, Space Grey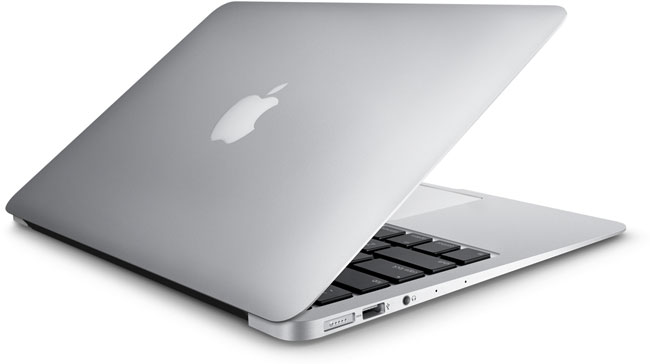 MacBook Air 13 has bigger screen but not Retina display
MacBook Air 13 has same aspect ratio as the new MacBook
MacBook Air 13 has higher clock speed and even higher Turbo Boost speed
MacBook Air 13 has thinner taper but not as thin as MacBook overall, bigger footprint and heavier at 1.35kg
MacBook Air 13 has more storage options but smaller starting storage, 128GB and less starting memory, 4GB
MacBook Air 13 has better battery life of up to 12 hours compared to 9-10 hours on the MacBook
MacBook Air 13 has more connectivity ports (2 x USB 3.0, Thunderbolt 2 (MiniDisplay) and separate MagSafe 2 power port)
MacBook Air 13 has SDXC card slot for memory expansion or simply to transfer images or video from camera.
The new one port approach, USB-C for everything may be restrictive but it does make the MacBook look tidier and smaller. The ability to squeeze so many features typically found on a big laptop including that Retina display into an ultra slim, ultra lightweight body is a marvel on its own.
And it does not stop there, the MacBook even manages more memory at 8GB, a bigger starting storage capacity at 256GB and uses the new force touch trackpad. However, it does not have the same battery life, no built in ports (you will need separate adapters for the single USB-C port), no SDXC card slot and independent MagSafe power port found on the MacBook Air.
If you like all things new, small and shiny especially when you can now get them in three different colours; Silver, Gold and Space Grey to match your new iPhone 6 or iPad Air then the MacBook is for you. But if you would prefer a bigger screen, more battery life and more connectivity options (without paying for adapters and the hassle of carrying extra bigs around) then stick the MacBook Air is your choice and you can even pocket the price difference.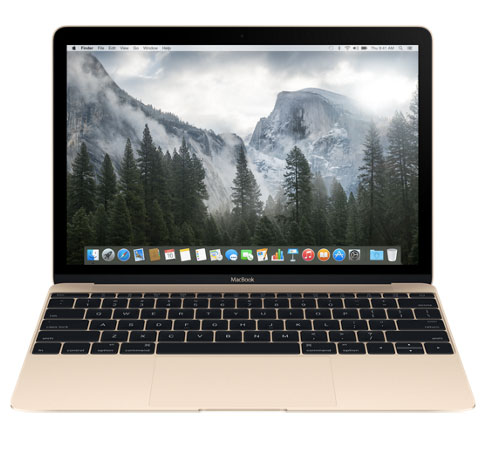 Direct Comparison Table
See our direct spec-by-spec comparison table below for more information:
MacBook (12-inch)
MacBook Air (13-inch)
12‑inch (diagonal) LED‑backlit Retina display2304 x 1440 resolution at 226 pixels per inch with support for millions of colours [

HIGHER RESOLUTION & PIXEL DENSITY

]16:10 aspect ratio
13.3‑inch (diagonal) LED‑backlit widescreen display [

BIGGER SCREEN

]1440 x 900 pixels16:10 aspect ratio
1.1GHz, 1.2GHz, or 1.3GHz dual‑core Intel Core M processor
Turbo Boost up to 2.9GHz4MB shared L3 cache.

Choices

:

1.1GHz dual-core Intel Core M processor (Turbo Boost up to 2.4GHz) with 4MB shared L3 cache

1.2GHz dual-core Intel Core M processor (Turbo Boost up to 2.6GHz) with 4MB shared L3 cache

1.3GHz dual-core Intel Core M processor (Turbo Boost up to 2.9GHz) with 4MB shared L3 cache.

[NEW GENERATION, MORE EFFICIENT, MORE PROCESSOR OPTIONS]

1.6GHz dual‑core Intel Core i5 or 2.2GHz dual‑core Intel Core i7 processor
Turbo Boost up to 3.2GHz3MB/4MB shared L3 cache.

Choices

:

1.6GHz dual-core Intel Core i5 (Turbo Boost up to 2.7GHz) with 3MB shared L3 cache

2.2GHz dual-core Intel Core i7 (Turbo Boost up to 3.2GHz) with 4MB shared L3 cache.

[HIGHER CLOCK SPEEDS, HIGHER TURBO BOOST SPEED]

0.14 to 0.52 inch thin (0.35–1.31 cm) [

SLIMMER OVERALL

]Height: 0.35–1.31 cm (0.14–0.52 inches)Width: 28.05 cm (11.04 inches)

Depth: 19.65 cm (7.74 inches) [SMALLER FOOTPRINT]

Weight: 0.92 kg (2.03 pounds) [LIGHTER]

0.11 to 0.68 inch thin (0.3–1.7 cm) [

THINNER

 TAPER

]Height: 0.3-1.7 cm (0.11-0.68 inches)Width: 32.5 cm (12.8 inches)

Depth: 22.7 cm (8.94 inches) [BIGGER FOOTPRINT]

Weight: 1.35 kg (2.96 pounds) [HEAVIER]

8GB memory of 1600MHz LPDDR3 onboard memory – [

MORE MEMORY

]
4GB or 8GB memory – [

LESS MEMORY

]
256GB, 512GB (Up to 512GB flash storage) – [

BIGGER STARTING STORAGE

]
128GB, 256GB, 512GB (Up to 512GB flash storage)
Intel HD Graphics 5300Dual display and video mirroring: simultaneously supports full native resolution on the built-in display and up to 3840×2160 pixels on an external display, both at millions of colours
Intel HD Graphics 6000Dual display and video mirroring: Simultaneously supports full native resolution on the built-in display and up to 3840×2160 pixels on an external display, both at millions of colours
Up to 9 hours wireless web3Up to 10 hours iTunes movie playback3Integrated 39.7‑watt‑hour lithium‑polymer battery

29W USB‑C Power Adapter with cable management system

USB‑C power port

Up to 12 hours wireless webUp to 12 hours iTunes movie playback [

BETTER BATTERY LIFE

]Integrated 54‑watt‑hour lithium‑polymer battery

45W MagSafe 2 Power Adapter with cable management system

MagSafe 2 power port

Port(s) and Connectivity [

SINGLE PORT

]:USB-C port –USB3.1 Gen 1 (up to 5 Gbps),

Native DisplayPort 1.2 video output,

VGA output using USB-C VGA Multiport Adapter (sold separately),

HDMI video output using USB-C Digital AV Multiport Adapter (sold separately)

802.11ac Wi‑Fi

Bluetooth 4.0 wireless technology

FaceTime camera – 480p FaceTime camera

Full‑size backlit keyboard with butterfly mechanism

Force Touch trackpad [FORCE TOUCH]

External USB SuperDrive (requires adapter; sold separately)

Port(s) and Connectivity [

MORE PORTS

]:Two USB 3 portsThunderbolt 2 port

802.11ac Wi‑Fi

Bluetooth 4.0 wireless technology

FaceTime HD camera 720p FaceTime camera

Full‑size backlit keyboard

Multi‑Touch trackpad [NO FORCE TOUCH]

SDXC card slot [MEMORY CARD READER]

External USB SuperDrive (sold separately)

OS X Yosemite
Photos, iMovie, GarageBand, Pages, Numbers, Keynote
Colour Option [

MORE OPTIONS

]:Gold, Silver, Space Grey
Colour Option:Silver
Price: from £1049 (USD 1299)
Price: from £849 (USD 999) [

CHEAPER

]
NOTE: This article is an adaptation of The New MacBook vs MacBook Air: Battle of the razor thin ultrabooks