Nothing says quality, solid build and premium design more than our 8 best premium 10-inch tablets. From major manufacturers such as Apple, Samsung, Amazon, Sony, Microsoft, Google, and Lenovo; these tablets carry the state of art in technology and design with no holds barred.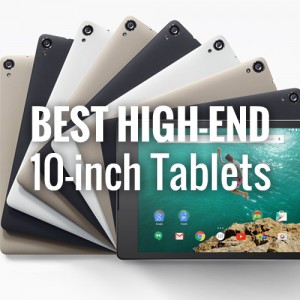 While most flagship tablets from major manufacturers comes with a 10-inch display, some favours the smaller 8 or 9-inch screens as with Amazon, Apple and Google. Others push the 10 or 10.1-inch limit to settle at 10.5-inch and 10.8-inch as with Samsung and Microsoft respectively.
While there is no real formula when picking a 10-inch tablet, we like to think that a good decision can be reached based on collated information, useful comparisons and a heart for the brand (brand loyalty is a real factor given the many 'factions' among the users). Having said that, at the end of the day, it is truly a personal preference, when faced with a great line-up such as one found below.
Top 8 Best Flagship 10-inch Tablets 2015 Compared
Some of the following tablets are not quite 10-inch but premium nonetheless, here are 5 more tablets for your consideration. Let's look at the 8 best high-end tablets in the market:
Also consider,
Let's look at the spec by spec comparison between the tablets.
DISPLAY
The Apple iPad portfolio have grown since iPad 2. Currently, there are 4 different iPads to choose from, with the latest and fastest being the iPad Air 2 with A8X chip. The others are the original iPad Air, the iPad mini 3, iPad mini 2 and iPad mini. The iPad Air 2 is Apple's flagship tablet with the latest A8X chip with 64-bit architecture and M8 motion co-processor and Touch ID sensor. If you are after a smaller iPad, check out our comparison between the iPad mini 3 and iPad mini 2 from an education perspective.
CPU
There is a push towards squeezing multiple processors on the same die, such is the case for tablets with Octa-Core processors. These processors carry not one quad-core processors but two with differing clock speed to offer the balance between performance and efficiency. These new generation Octa-Core processors switches between to different cores depending on the computing tasks. We see this on the Samsung Galaxy TabS and TabPRO with their home grown Exynos 5 Octa and the Sony Xperia Z4 with Qualcomm Snapdragon 810 Octa-Core processor.
MEMORY & STORAGE
CAMERAS
CONNECTIVITY & PORTS
BATTERY LIFE
DIMENSIONS & WEIGHT
SENSORS
Apple iPad Air 2 – A-GPS, GLONASS (3G/LTE model only), Accelerometer, Three-axis gyro, Ambient Light Sensor, Barometer, Fingerprint Sensor (Touch ID)
Samsung Galaxy Tab S – GPS, GLONASS, Accelerometer; Gyroscope, Light Sensor, Geo-magnetic, Hall Sensor, Infrared; Fingerprint Sensor
Amazon Fire HDX 8.9 – A-GPS (4G Model), Accelerometer; Gyroscope, Light Sensor
Sony Xperia Z4 – A-GPS, GLONASS, FM Radio with RDS, Accelerometer, gyro, proximity, compass, barometer
Microsoft Surface 3 – Ambient light sensor, Proximity sensor, Accelerometer, Gyroscope, Magnetometer
Lenovo Yoga 2 – GPS, Accelerometer, compass
Samsung Galaxy TabPRO – GPS, GLONASS, Accelerometer, Geo-magnetic, Gyro-sensor, Light Sensor, Hall Sensor and Infrared
Google Nexus 9 – Accelerometer, Gyroscope, Magnetometer, Compass GPS, Ambient light sensor
COLOUR OPTIONS
OPERATING SYSTEMS
Most if not all tablets will be getting the Android update up to Lollipop, please check with the manufacturer for further details.
OTHER NOTABLE FEATURES
Note that this article is adapted from a similar article posted on our other blog, Colour My Living.
Gallery