We have taken a look at 8-inch Tablet (Android and Windows) and bigger than 10-inch Android Tablets but never quite considered the 7-inch tablet properly.  Now while many are opting for Phablets, with screen sizes between 6.0-inch to 6.8-inch, these are still premium devices compared to the low cost of a 7-inch tablet. Here, we check out 5 not 10 best 7-inch small tablets still out there.
UPDATED: Jun 2022
Granted that you can't make any phone calls from one of these, they are typically 3 or 4 times cheaper than your standard phablet. Smartphones with big displays are catching up in terms of display size some close if not bigger than 7-inch. The iPhone Pro Max has a display size of 6.7-inch while the Galaxy S Ultra has a display size of 6.8-inch. This has disrupted the market for small tablets.
There is also a big shift in the tablet market with manufacturers favouring instead to sell bigger tablets, 8-inch or bigger. Even once considered big, 10.1-inch tablets are going the same way too with manufacturers introducing bigger, sometimes 11 or 12-inch even 13-inch tablets. This new direction means fewer grip friendly 7-inch devices out there.
So over time, we have had to change the list from 10 down to 5 given the lack of good 7-inch small tablets out there.
Best 7-inch Tablets
So what are you options? We compare 5 not 10 of the best 7-inch Tablets in the market.
Now for a closer look.
1. Lenovo Tab M7 7-inch Tablet Gen 3
The Lenovo Tab like the Amazon Fire 7 has been around for a while. Its' bigger and more popular siblings like the Tab M10 HD, Tab M10 FHD Plus and Tab P11 Pro are dominating the company's attention where producing and selling tablets are concerned. Now in its third iteration, the tablet is still a clear favourite among those looking for a small tablet for portability.
It doesn't skimp on quality either. Encased in an all-metal chassis, the tablet feels every bit as premium as a mid-range or high end device. Needless to say, it has the performance and long battery life to go with it. Powered by MediaTek MT8166 quad-core 2.0GHz processor with 2GB RAM memory and 32GB storage, there is enough processing cycles in it to stream movies, watch TV shows, read books, play the odd games and run all the apps you can find on Google Play.
The 7-inch display is sufficient for its intended purposes but is nothing to shout about. At HD resolution packing 1024 x 600 pixels and 350 nits maximum brightness it is not exactly the best. Still, the device is equipped with Dolby Atmos audio systems, 5MP rear and 2MP front camera, WiFi, Bluetooth, 10 hours battery life and microphone combo jack. There is even a microSD card slot that supports up to 2TB exFAT storage.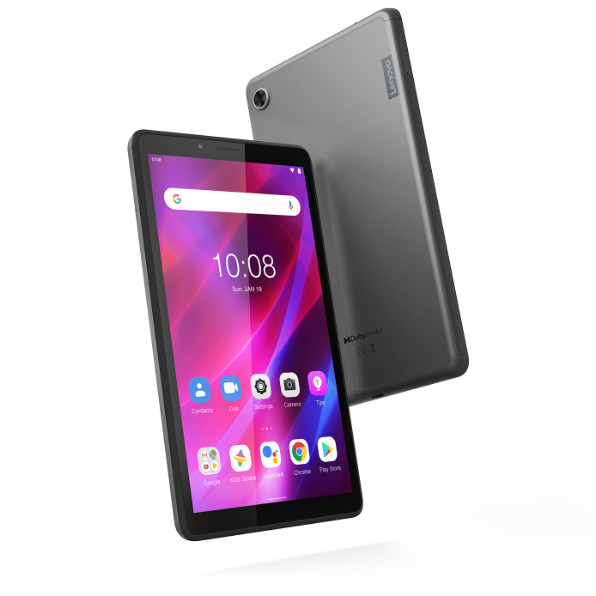 Search Amazon Fire 7 on Amazon
2. Amazon Fire 7 Tablet Gen 12 (2022)
The latest Fire 7 tablet released in 2022 is available with 16GB or 32GB storage and in black, denim blue or rose pink. Naturally, you get some money off with lock screen ads from Amazon making the tablet a real bargain. It also features a microSD slot with up to 1TB supported expansion. And with a battery life of up to 10 hours on a charge, it is not far off from the Tab M7 above. In fact this 12th generation Fire 7 is also powered by a 2.0GHz quad core processor, likely to be the same MediaTek chip used on most budget tablets. This is also mated with 2GB of RAM memory. Even the 7-inch IPS panel shares the same 1024 x600 resolution as the Tab M7. Design wise, it does not look as swish as the Tab M7 but Amazon claims that the plastic chassis is twice as durable as the iPad mini 5.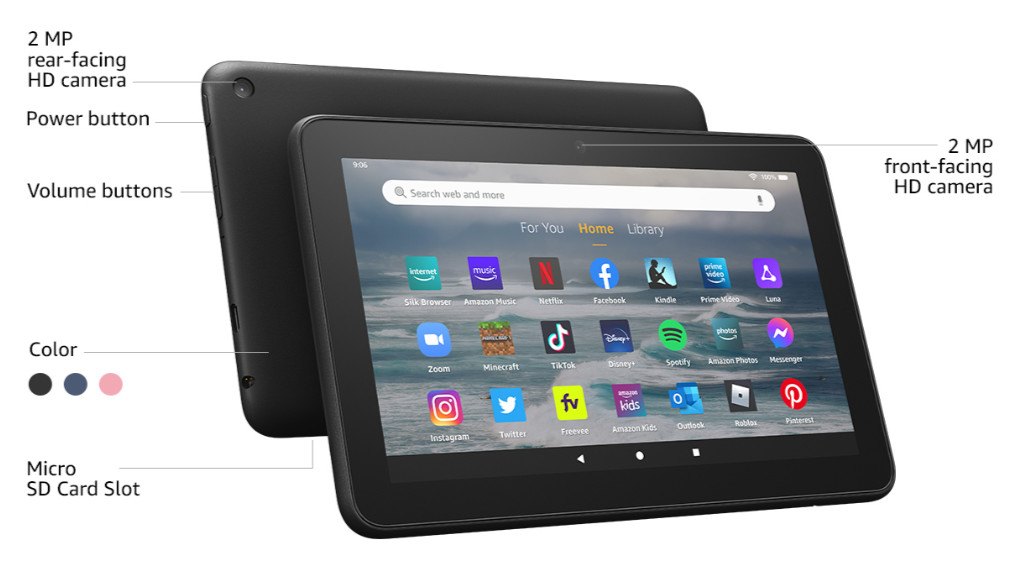 Search Amazon Fire 7 on Amazon
3. Amazon Fire 7 Kids Tablet (2022)
A kid proof edition complete with soft foam bumper is also available from Amazon. Specification wise, it is exactly the same as the standard 12th generation model above apart from the fancy bumper with integrated stand. What you get is 1 year of Amazon Kids+ subscription included in the price so you have got to really want this for your kids and to pay the extra. After the year, charges are $2.99 per month and that best you apps, games, books and videos from Disney, PBS Kids and HOMER. Other child friendly features include Parent Dashboard to set kids age, educational goals and time limits. This is also where you grant access to mindless streaming content from Netflix and Disney+.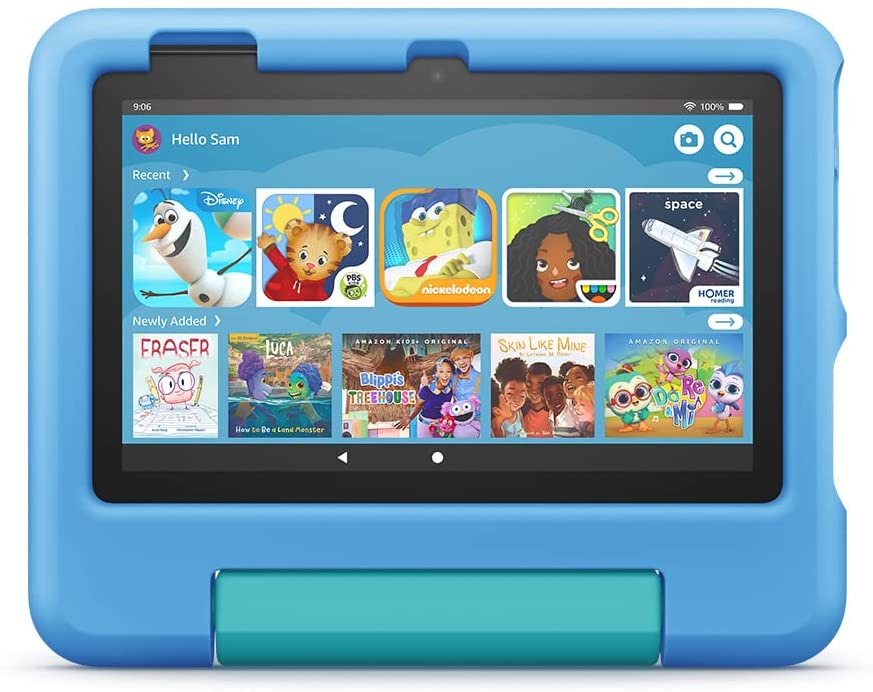 Search Amazon Fire 7 Kids on Amazon
4. Apple iPad mini 5 2019 7.9-inch
Not the 2021 edition with 8.3-inch display but the previous iPad mini 2019 with 7.9-inch Retina display. In all fairness, this is more an 8-inch tablet than it is a 7-inch but we couldn't leave this wonderful tablet out. Limited in numbers or until stock lasts, this is your best 7ish inch iPad around. The tablet is the first iPad mini to support 1st generation Apple Pencil and is the gateway to Apples iPad OS and the App Store for designed for iPad apps and games.
At its core, the iPad mini 5 is powered by the still very capable A12 Bionic chip. This will run anything from the most demanding games to Photoshop CC. With up to 10 hours battery per charge, it is just as well, as you might not want to put this device down and that is how good it is. Nothing on our list comes close. With its Retina display, modern connectivity options like Dual Band AC WiF and Bluetooth 5 as well as powerful cameras; 8MP rear and 7MP front, you have a very capable tablet that is more than just your everyday device.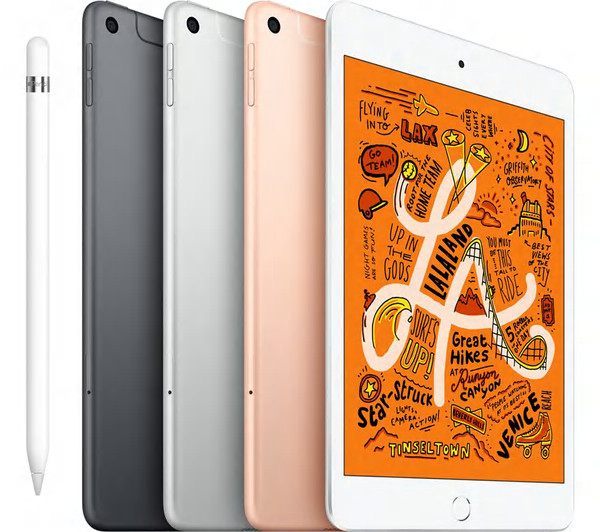 Search Apple iPad mini on Amazon
5. Venturer Voyager 7-inch Tablet
An ultra budget entry, the Venturer Voyager 7-inch is one to go for. Also come with Android 10 Go Edition, the same OS found on Lenovo Tab M7 above, it lets you access all the Google Play apps including stream all the movies and TV shows you can watch. The 7-inch screen is like those on Tab M7 and Fire 7 with its 1024 x 600 pixel resolution. Even and processor and storage are pretty much a like, quad-core processor with 2GB memory and 16GB storage. The real bummer is the 5 hours battery life but you get what you pay for.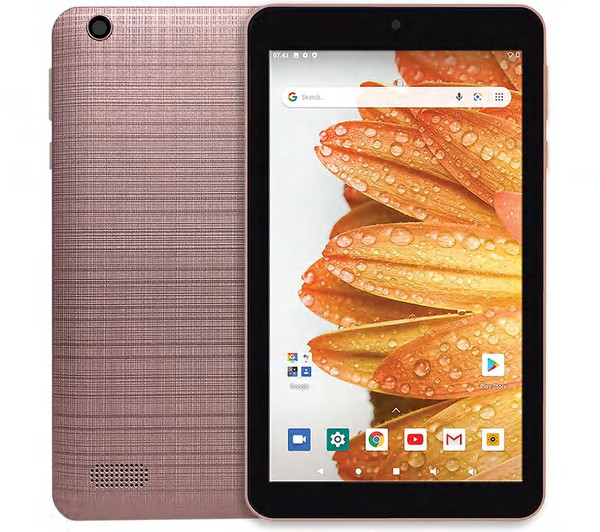 Search Venturer Voyager 7 on Amazon
MORE
Here are previous generations 7-inch tablets by various manufacturers listed for your reference.
Lenovo Tab M7 Gen 2 Tablet
Amazon Fire 7 Tablet
VANKYO MatrixPad S7 Tablet
VANKYO Matrix Pad Z1 Tablet
Pritom 7 Tablet
Lenovo Tab 2 A7 Tablet
LG G Pad V400 Snapdragon 7-inch Tablet
Lenovo S5000 7-inch Tablet (Silver Grey Metal)
Amazon Fire HD 7 Tablet
Acer Iconia B1 7-inch Tablet
Linx 7-inch Tablet
Lenovo IdeaTab A7-50 7-inch Tablet (Midnight Blue)
Samsung Galaxy Tab 4 7-inch Tablet (White/Black)
Asus MeMO Pad 7 (ME176CX) 7-inch Tablet
HP Stream 7 32GB Windows 8.1 Tablet
Asus Google Nexus 7 Tablet
Lenovo A1000L 7-inch Tablet (Black)
Samsung Galaxy Tab 3 7-inch Tablet