The high performance storage based on flash memory or better known as Solid State Drives (SSD) have come a long way. Gone are the days where we are limited to small capacity drives such 128GB or 256GB. We can now get huge SSDs from 500GB to 1TB.
The increasingly competitive SSD market, mass production and maturing technology also see of cost of SSD dropping over the years.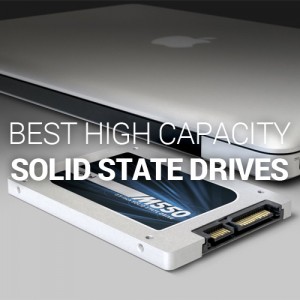 What was once thought as impossible, a high capacity SSD that can match the size of its disc and spindle counterpart is now available. SSD drives are a great way to upgrade the performance of your machine be it a laptop of desktop. If you are still running on conventional Hard Disk Drive, you will see much improvement in moving to Solid State Drive. If anything, this is the only upgrade you laptop will ever need.
You can now find SSD at 1TB and 960GB (approximately 40GB short of 1TB) in the market. While there are only a handful of manufacturers offering these, we can see that there is increasing demand for them which can only be a good thing.
Benefits of Solid State Drives
The benefits are:
Faster boot-up and wake-up time
Faster application load time with RAIN (Redundant Array of Independent NAND)
Faster read and write, moving and transferring files will be significantly faster with high I/O and throughput performance of up to 550MB/s
Consistently high performance with Native Write Acceleration
Lower power consumption and therefore better on the battery if you are running a laptop. Typically, SSDs are up to 95% more energy efficient and could translate to 50 minutes more battery life on mobile devices
Protection: provides four layers of defense against data corruption with mutistep data integrity algorithm
Secure: SSD supports AES 256-bit Hardware Encryption allowing you to encrypt the drive to keep your personal files and sensitive information secure.
Please note that some of the features listed here are manufacturer specific.
The Best 1TB and 960GB Solid State Drives in 2015
Here are the top 5 best high capacity SSD drives in the market right now.
Others
1TB and 960GB Performance Compared
While you can usually find users' average benchmark results based on reports from fitted Solid State Drives in real world applications and operating systems on sites such as  UserBenchmark for SSDs with smaller capacity (up to 512GB), not many are available for those bigger than 512GB. We have to rely on manufacturer's reported performance for sequential read and write as well as random read and write.
Please note that these are in no way a true reflection of the performance in 'real-world'. Often there are many factors such as processor speed, chipset, memory, operating system and type of application that decides the true performance of an SSD. But still, they are a good starting point in comparing between the SSDs in our line-up. The best overall performer is the Samsung 850 PRO 1TB followed by SanDisk Extreme PRO, Crucial MX200 SSD and SanDisk Ultra II. The Samsung 840 EVO and 850 EVO are on par.
Our Line-up
Here is a quick look at our line-up again. For the most up to date prices, please click on the links below:
Others
Cheap Alternatives – Solid State Hybrid Drives (SSHD)
These high capacity Solid State Drives don't come cheap. The conventional; spindle and disc based 2.5-inch hard disk drive is much cheaper per 1TB capacity. These SSDs cost 7 to 9 times more for the same capacity. Granted that they are a lot faster than the conventional drives, it is still a lot of money.
Luckily there is a middle ground. If you are after the high performance of SSD and still like the affordable and huge storage from the conventional disk drive, you could get a Solid State Hybrid Drive (SSHD). These are available at only a fraction of the price of a SSD. Here are a couple of 1TB SSHD in the market:
Both SSHD above comes with 8GB of Solid State Flash that provides boot-up and performance of a solid state drive couple with 1TB of storage space using the cost efficient hard disk drive giving you both performance and space without the cost of a full size SSD.
SSHDs are reported to be up to 3x faster than tranditional Hard Disk Drives. It uses a flash management and adaptive memory technology to monitor frequently used files and store these in the solid state memory for quicker read and write time.
It still applies the same SATA 6GB/s interace as the other SSDs above to take advantage of the fastest hard drive controllers out there. Users will see the benefits immediately in the faster boot up time, better performance in running multiple applications and better file I/O with read and write intensive applications that handles big files such as Photo and Video editors.