Fresh from looking at the Best High Capacity Solid State Drives (SSD), we are on to something a little smaller and a whole lot cheaper. Around a third of the price of 1TB and 960GB SSDs, equally fast and energy efficient, these budget 256GB, 250GB and 240GB are the choice SSD upgrades among Technophiles looking to improve the performance of their laptops be it a MacBook Pro or a Windows 8 PC.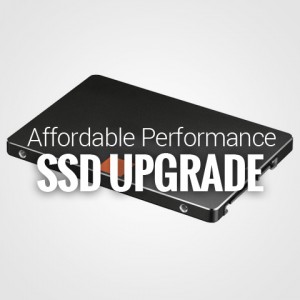 They say the best way to upgrade your laptop is to increase its memory, but the real performance comes from 'breaking' the limitations of your storage drive. Most laptops are equipped with the traditional spindle and discs hard drives also known as Hard Disk Drive (HDD). While these low cost drives provide a huge amount of storage, they are no where near the speed of the Solid State Drive.
SSD vs HDD
To give you an idea of the performance gains from going with SSD, a typical Hard Disk Drive has an I/O throughput performance between 50-120MB/s (read or write speed). The SSD on the other hand is normally above 200MB/s with high performing SSD reaching up to 555MB/s. That's up to 10X faster and if you consider both read and write speed, you get up to 20X the performance gain. This allows you to:
Improve file opening speed up to 30%
Boot up quickly, around 15 seconds
Faster file transfer, copy and move large files quickly by almost a third
Find files (or emails), bring up file & folder properties, thumbnails and lists quicker by up to 8 times
Instantaneous data access time is up to 100 times faster, no random read latency with read write heads. All data on SSD can be accessed at once. Higher Input/Output Operations per Second (IOPS).
Application start up time is shorter, typically it takes only half the time or less to start Adobe Photoshop and PowerPoint compared to their HDD counterparts.
Other benefits of SSD over HDD
smaller & lighter; sometimes supplied with a spacer tray or carriage to support and fill up the gap for the HDD that it replaces, SSDs are smaller and therefore lighter e.g. 77 grams vs 750 grams
more efficient with typical SSD consuming less than 2W while HDDs consume 6W or more.
easier on the battery and therefore leaving you with a longer battery if you upgrade
runs cooler and silent; less heat dissipated by flash memory chips compared to spinning components and as there are no moving parts, does not click or whirl.
more durable as there are no mechanical or moving parts. SSD has NAND flash memory soldered onto circuit boards unlike HDD with its spinning disks platter and moving read write heads and actuator arm which can be damaged, SSD are shock resistant.
If you are into gaming, SSD provides a better gaming performance with faster loading time and smoother transitions from level to level. Depending on the game, load time can be reduced by up to 8 times.
Overall a smoother and quicker computing experienced with SSD when compared to HDD.
Affordable and Best Value 240GB, 250GB and 256GB Solid State Drives
9 out of 10 of the SSDs on our list is under a hundred. Anyone can upgrade and start to enjoy the performance and benefits of SSD. While there are smaller and cheaper SSDs at 120GB and 128GB starting from under fifty, we would not recommend this as an upgrade as they would be too small for today's high resolution contents, both images and videos. Unless you have very specific needs for a small SSD, we are afraid that you would be running out of space pretty soon going with anything smaller than 250GB.
The Top 10 Best 240GB, 250GB and 256GB Solid State Drives listed below receive no less than 4.7 Stars from existing users through review and feedback. For the latest prices on Amazon, use the links below:
Others
The Performance: Samsung vs. SanDisk vs. Crucial vs. Kingston
The following table is a snapshot of the Average User Benchmarks as submitted by real world users. These values changes and the average is recalculated as more and more users submit their benchmark results. Still, they are a good starting point in comparing the performance between the SSDs in our line-up.
While manufacturers claim the speed and performance of their drives in their specifications, in reality things are a little different. Often there are many factors such as processor speed, chipset, memory, operating system and type of application that decide the true performance of your overall system. If you have an old machine, you may not reap the full benefit of a high performing SSD.
Let's look at how our SSDs compare.
Source: For a more accurate and up to date result, please visit UserBenchmark.
Our Line-Up
Here is a quick look at our line-up again. For the most up to date prices, please click on the links below:
Others