While we are on the subject of portable hard drives, let's look at ones with the Thunderbolt interface for Macs.
Choosing a Portable Thunderbolt Hard Drive
Let's look at the technologies powering the portable thunderbolt hard drives in the market today.
USB3.0 vs Thunderbolt
Thunderbolt is twice as fast as USB 3.0, there I said it.
While USB 3.0 is fast, at 5GBps (640MBps) which is 10 times faster than the USB 2.0 it replaces, it is still slow compared to the Thunderbolt connection.
At 10 Gbps, Thunderbolt technology is up to 20x faster than USB 2.0 and up to 12x faster than FireWire 800. Transferring high definition movies and other large files now can take seconds versus minutes when compared with older interface technologies.
USB3.0 vs Thunderbolt 2
Now, the next generation Thunderbolt 2 which is already on the Mac Pro, MacBook Pro, Mac mini and iMac with 5K display has twice the speed of the original Thunderbolt I/O bringing it up to 20 Gbps, using two 10Gbps channels. Unless specified, it is safe to assume that most portable hard drives are based on the first generation Thunderbolt.
This means, it is 4 times faster than the USB 3.0 and 20 times faster than USB 2.0 with a whole load of bandwidth to support high performance external disks, video capture device, external display and PCI Express cards using a Thunderbolt chassis for hardware expansion (Gigabit Ethernet, Fibre Channel network, USB and Firewire peripherals).
2.5″ Hard Disk Drive vs Solid State Drive
While the transfer rate for Thunderbolt is 10 Gb/s and USB 3.0 is 5 Gb/s, the real performance of the device, apart from external factors such as operating system, software configuration and capacity is the hardware itself. These portable hard drives can be based on either the conventional 2.5″ Hard Disk Drive with mechanical read head and spinning disks or Solid State Drive where NAND flash memory chips are used. The difference in performance is huge and with that the cost per Gigabyte.
Typical high performing 2.5″ Hard Disk transfer rate or throughput (read or write) is between 100MB/s to 130MB/s. High performing Solid State Drives can achieve between 340MB/s to 440MB/s, more than 3 times the throughput of conventional disk drives.
So if you work on a Mac and wishes to take full advantage of the speed available to you then why not get a portable external Thunderbolt hard drive.
Top 10 Best External Thunderbolt Portable Hard Drives
Let's take a quick look at our line-up of portable Thunderbolt hard drives.
Now for a closer look at each of these in comparison: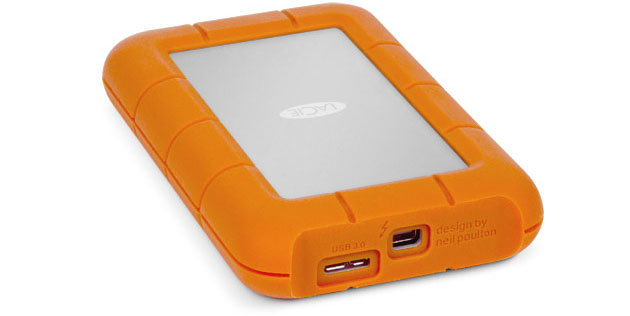 Universal connectivity with Thunderbolt and USB 3.0 and bus-powered for complete mobility
Speed up to 385MB/s (Solid State Drive), transfer a 10GB Video in 27 seconds compared to 4 minutes 39 seconds over USB 2.0 (38MB/s)
Complete data protection: MIL-compliant survives drops up to 1.2 meters (4 feet) and is vibrations and shock resistance.
Included software suite includes Automatic Backup and Password Protection with military grade AES 256-bit encryption.
Dimensions: 89 x 140 x 24 mm / 3.5 x 5.5 x 0.97 inch, 260 grams
Also available: Lacie Rugged Dual Interface (Thunderbolt, USB3.0) 500GB SSD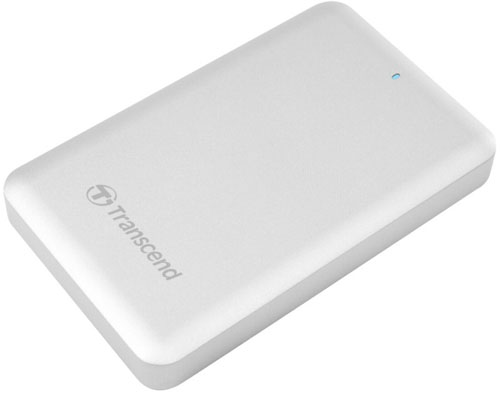 Universal connectivity with Thunderbolt and USB 3.0 and bus-powered for complete mobility, sturdy metallic design to complement the Mac
2.5″ SATA Hard Drive with a huge 2TB capacity (TS2TSJM300)
Transcend Elite Software keep important files organised, protected and up to date
Dimensions: 125.9mm x 78.2mm x 17.2 mm (4.96″ x 3.08″ x 0.68″) , 240 grams
Universal connectivity with Thunderbolt and USB 3.0 and bus-powered for complete mobility, sturdy metallic design to complement the Mac
Fast Solid State Drive with up to 440MB/s read speed (performance varies by capacity, user hardware and system configuration)
Dimensions: 121.2mm x 75.2mm x 13.5 mm (4.77″ x 2.96″ x 0.53″), 136 grams
Also available: Transcend StoreJet 500 512GB SSD, Transcend StoreJet 500 256GB SSD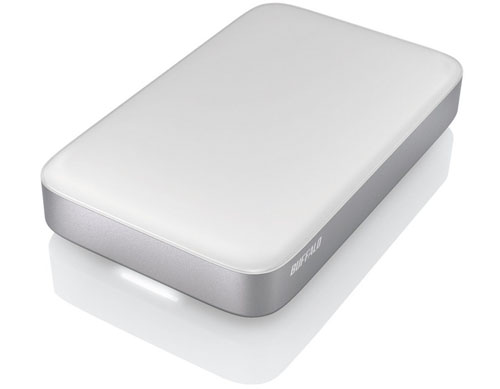 Universal connectivity with Thunderbolt and USB 3.0 and bus-powered for complete mobility, in sleek aluminium housing
2.5″ SATA Hard Disk Drive
Dimensions: 3.17 x 5.12 x 0.91 in (23 mm), 263 grams
Also available: Buffalo MiniStation Thunderbolt 2TB
Universal connectivity with Thunderbolt and USB 3.0 and bus-powered for complete mobility, in sleek aluminium housing
Solid State Drive
Dimensions: 80.5 x 130 x 23 mm, 260 grams
Also available: Buffalo MiniStation Thunderbolt 128GB SSD
Universal connectivity with Thunderbolt and USB 3.0 and bus-powered for complete mobility
SATA Hard Disk Drive 5400 RPM/ 64MB Cache. Performance: 1TB hard disk 110 MB/s, 2TB hard disk 122 MB/s
Complete data protection: MIL-compliant survives drops up to 1.2 meters (4 feet) and is vibrations and shock resistance.
Included software suite includes Automatic Backup and Password Protection with military grade AES 256-bit encryption.
Also available LaCie Rugged Dual Interface (Thunderbolt, USB 3.0) 2TB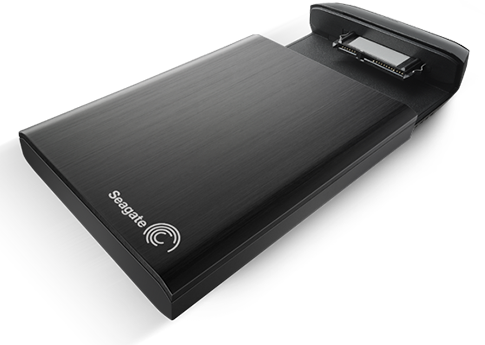 Seagate Backup Plus Thunderbolt portable drive for Mac features a unique adapter system that lets you upgrade or change the drive's interface
Seagate Dashboard preloaded, premium software to share and save files associated with online social networks, Flickr, Facebook and YouTube and automatically download copies of your photos, movies and more from the site as backup.
Includes Thunderbolt adapter and cable. Completely bus powered and compatible with Time Machine software
Dimensions: 5.1 x 3.2 x 1.1 inches (27.9mm) ; 9 ounces (255 grams)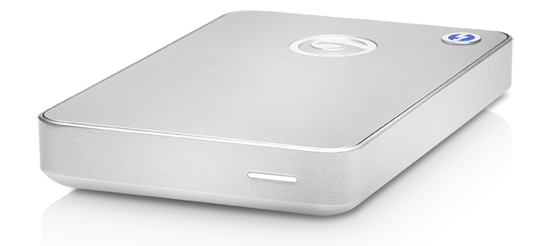 Universal connectivity with Thunderbolt and USB 3.0 and bus-powered for complete mobility in stylish aluminium enclosure
Formatted for Mac, Apple Time Machine compatible, Thunderbolt cable included
Data transfer rate up to 136 MB/s
Dimensions: 5″ x 3.27″ x .71″ / 127 x 83 x 18 mm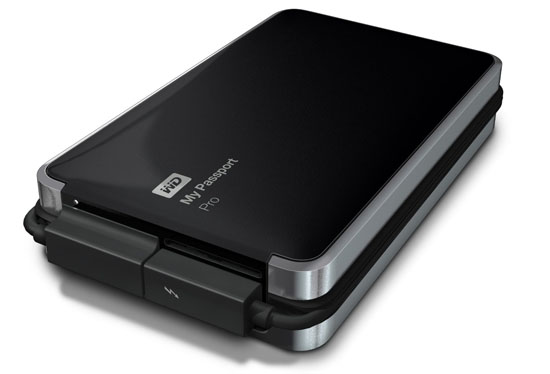 Combines two drives in an anodized all aluminium enclosure and shipped with RAID 0 (Stripping) configuration for maximum speed and capacity but can be reconfigured to RAID 1 (Mirror) to duplicate your data keeping two copies, one on each drive.
Bus powered with integrated cable, preformatted to HFS+ J for Mac  and works with Apple Time Machine for backup.
233 MB/s achieved on the 2 TB model. 230 MB/s achieved on the 4 TB model. Performance may vary based on hardware and system configuration
Dimensions: 143.4 x 88.5 x 28.7 mm (2TB), 143.4 x 88.5 x 44.2 mm (4TB)
Also available WD My Passport Pro Portable 4TB RAID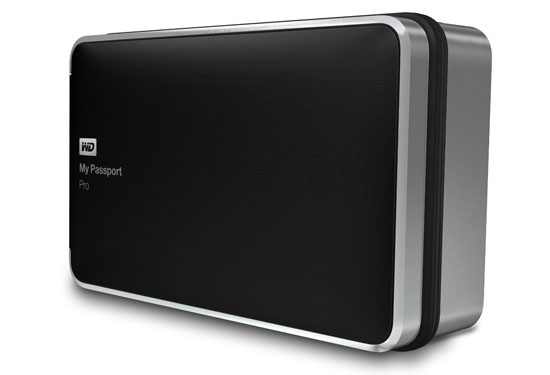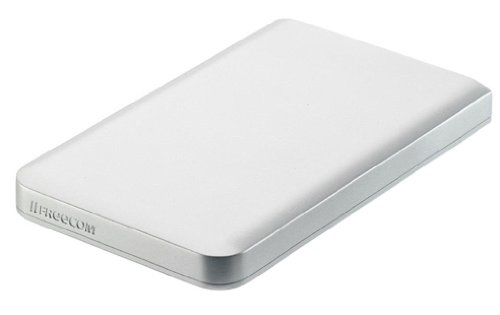 Universal connectivity with Thunderbolt and USB 3.0 and bus-powered for complete mobility in strong, ultra lightweight and very durable Magnesium casing
Bus powered, thunderbolt cable included, Mac HFS+ formatted and supports Time Machine for backup
Dimensions: 12 x 8.1 x 1 cm (slimline version) / 12 x 8.1 x 1.5 cm, weight: 170 g (slimline version) / 200 g

Universal connectivity with Thunderbolt and USB 3.0 and bus-powered for complete mobility in strong, solid metal enclosure
Transfer rate up to 420MB/s with 256GB SSD and 512GB SSD model
IP64 certification – dust and splash proof, Thunderbolt and USB 3.0 Cables included, HFS+ preformatted ready for Mac
Dimensions: 83 x 21 x 131 mm / 3.3 x 0.8 x 5.2 in, 270g / 9.5 oz
Also available Elgato thunderbolt Drive+ 512GB SSD
Our Line-up
Here is a quick look at our line-up again. For the most up to date prices, please click on the links below: