10.1-inch tablets are becoming the norm these days but what if you are looking for an even bigger Windows tablet. What are you options, what's out there?
No, we are not talking about convertible laptops or laptop hybrids. We are only considering tablets that work independent of a keyboard or base. These large tablets are still very much tablets in their hearts.
While some may come with a dockable keyboard, generally known as 2-in-1 touch screen laptops but these are machines with a proper tablet profile and not just any ultra-book with touch screen that flips or twists into a tablet. If you are after those check out Windows 8 Hybrid 2-in-1 Tablets and Laptops.
If you are still here then take a look at the list below.
Top 8 Best Windows 8.1 Tablets with LARGER than 10-inch Display
We found 8 tablets based on Windows 8.1 operating system matching our bigger than 10.1-inch criteria.
Reasons to Get a Windows Tablet
Microsoft joins the big screen game with the latest Surface Pro 3. The Windows tablet is now available with a 12″ display at 2160 x 1440 pixel resolution at 3:2 ratio. The 12″ ClearType Full HD Plus screen is a step up from the display on Surface Pro 2, a 10.6-inch display at 1920 x 1080 with ClearType Full HD.
This is also a clear indication of the company's response to market trends and need for a bigger than 10-inch tablets. If this is not enough to convince you to get a bigger tablet, read on:
While Android and iOS tablets can get away with sizes up to 10-inch, for Windows tablets, it's a little different. We see most Android and iOS devices as means of accessing and consuming content. The Metro UI and full desktop experience on Windows 8.1 makes these mobile devices a little more than just your standard content consuming tablet.
Beyond tablet: Windows 8.1 tablets comes with dual mode operations; you can run it as a tablet or desktop. It not only lets you run Windows Store apps on the Metro UI (tablet mode), it also provides you with the good old Windows desktop (desktop mode) to run existing Windows applications.
Power and performance of a laptop: With powerful processors and huge memory, it can take on some real intensive computing tasks such as HD video and photo editing. The new generation Intel Quad Core processors are not only powerful but good on the batteries giving you hours of use between charge.
Familiar: if you already use a Windows PC at home or work, you would already be familiar with Microsoft's Windows 8.1 operating system. While the Metro UI may need some time to get use to, it works well as a tablet with touch interface. The Live Tiles pre-fetch nuggets of information so you get a preview at the Start Screen. There are tonnes of free and paid apps from Windows Store to make the most of your tablet. And, if you are moving from Windows 7 or earlier to Windows 8.1 you will love the option of switching to the traditional desktop mode.
A single device: instead of having a tablet and a PC, these tablets are now powerful enough to carry out the 'duties' of both a tablet and desktop. The consolidated approach also meant, the data is in the same place and there is no need to rely on the cloud to sync your data across different devices. Althought, Microsoft still provide OneDrive (previously SkyDrive) for remote storage.
Compatible with existing PC accessories: no problem finding the right drivers for all your accessories (unless they are really old). Windows 8.1 tablet uses Windows 8 or Windows 7 drivers for your printers, scanners, cameras or DVD drives so there is no need to buy specific hardware that supports tablet printing.
Optional docking station, included keyboard or stylus turn your tablet into an ultra portable laptop making it easy to perform your everyday tasks and not just restricted to the touch interface.
Create your own workstation: Apart from Bluetooth connectivity, most windows tablets has at least one USB port that lets you add your own accessories: keyboard, touch pad, mouse and other input devices. A simple and affordable USB hub with your desktop accessories connected will turn your tablet quickly into a desktop. You can even connect it to a High Definition TV or big screen monitor with the right HDMI adapter and cable.
We would also like to add that with so many manufacturers offering their own version of a Windows tablet and competing among each other, this provides the consumers with a wide range of options at relatively low prices. See post on Best Small Windows 8.1 Tablets.
A Closer Look
Let's take a more detailed look at each of the Windows tablet with bigger screens.
Following the success of the small sibling Transformer Book T100 with 10.1-inch, Asus launches the Transformer Book T200 with an 11.6-inch screen. With 10.4 hours battery life, the T200 provides all day computing. The keyboard dock comes with a smart drive bay that lets you add extra storage up to 1TB hard disk easily. The dock connects to the tablet using a single piece stainless steel hinge for strength and style.
What You Need to Know
Intel Atom BayTrail Z3775 Processor Quad Core 1.46GHz (Turbo Boost to 2.39GHz)
11.6-inch IPS display with 178 degrees viewing angle, HD resolution at 1366 x 768 pixels multi-touch screen
4GB RAM memory, 32GB eMMC or 64GB eMMC or 32GB eMMC with 500GB HDD storage and microSDXC slot for expansion
Cameras: 2MP front facing, 5MP rear facing
Connectivity: Wireless Dual band (2.4GHz and 5GHz) 802.11ABGN WiFi, BT 4.0, Miracast, microHDMI, microUSB, GPS, GLONASS, 4G LTE option available.
Battery Life: 10.4 hours with Polymer Battery –

GOOD BATTERY LIFE

Full size keyboard dock with gesture enabled large trackpad complete with USB2.0 port, USB 3.0 port and Ethernet port
Dimensions and Weight: 305 x 194 x 11.95 mm (WxDxH), 750 grams 1.5 kg docked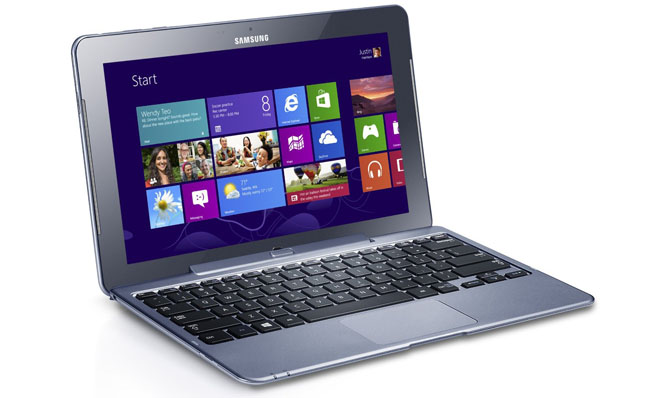 One of the thinnest and lightest tablet in the market with a screen this size, the Samsung XE500 may not have the fastest processor or a lot of memory but it does have a lot going for it at this price. You get a decent battery life, the S-pen, both front and rear facing cameras, a super slim tablet at 9.9mm and the tablet itself weights only 744 grams, also the lightest in our line-up.
Processor: Intel Atom Processor Z2760 1.8GHz Dual Core 1MB L2 Cache, with Intel Graphics Media Accelerator
Memory: 2GB RAM LPDDR2 800MHz
Storage: 64GB eMMC
Display: 11.6-inch HD LED Display (1366 x 768)
Connectivity: 802.11 a/b/g/n, micro HDMI, USB2.0 port, MicroSD slot, headphone/mic combo, dock port, DC-in, S-pen included for note annnotation, integrated stereo speakers and microphone [STYLUS]
Cameras: 2.0MP front facing 8MP rear facing with flash
Sensors: Ambient Light, Accelerometer, Compass, Gyro
Battery Life: 13 hours –

GOOD BATTERY LIFE

Dimensions: 296 x 184 x 9.9 mm
Weight: 744 grams
Windows 8 Pro (32bit)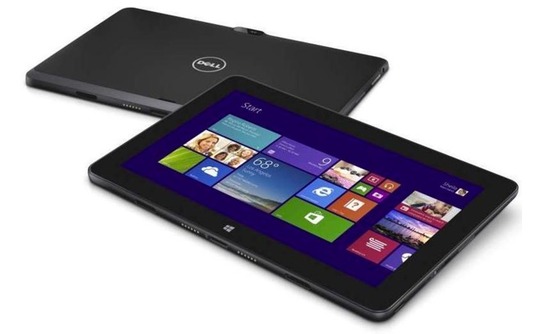 Dell Venue 11 Pro and Dell Venue 11 Pro 7000 series with its 10.8-inch screen is the smallest in our line-up which still pack s a Full HD screen at 1920 x 1080 resolution. The Windows 8.1 Pro 64bit tablet powered by either a cut down, cost effective Intel Atom processor or the faster Intel Core i5-4300Y meant you have a choice between price and performance.
What You Need to Know
Intel Atom Processor Z3770 (2MB Cache, up to 2.4 GHz Quad-Core) or Intel® Core™ i5-4300Y Processor (3MB Cache, 1.6 GHz, Dual Core)
10.8-inch IPS Display with Full HD 1920 x 1080 pixels and 10 point capacitive touch
2GB RAM or 8GB RAM with 32GB or 256GB storage and microSD expansion up to 64GB
Cameras: 2MP front facing, 8MP rear facing
Connectivity: Dual Band 2×2 802.11n/ac, 3G Optional, USB3.0, mini HDMI, NFC, Noble Security Lock Slot.
Dimensions and Weight: Thickness: 10.2mm Width:176.8mm Length: 297.7mm 771.5 grams or 790 grams
The powerful tablet with a keyboard, is pretty impressive both in specs and design. The 11.6-inch provides a Full HD viewing experience. Lenovo has also brought across the multi-mode idea from the Yoga series (see below) to the Miix 2. You will have the option of docking and using the tablet in laptop mode albeit in a fixed angle, in stand mode to enjoy music, movies or video chat and in tablet mode when undocked.
When not in use, you can click the keyboard dock and tablet shut together. There are no hinges that flip or twist, just angular docking slots on the keyboard for the tablet.
What You Need to Know
Intel Core i3-4012Y Processor( 1.50GHz 1600MHz 3MB) or Intel Core i5-4202Y Processor( 1.60GHz 1600MHz 3MB)
11.6-inch Full HD LED Multitouch display (1920 x 1080) IPS with 178 degrees wide angle viewing
Up to 8GB Memory, Up to 128GB SSD (with Micro SD Card Support)
Cameras: 2MP front facing, 8MP rear facing
Connectivity: 802.11a/b/g/n WiFi, Bluetooth 4.0, 2 USB 2.0, Micro-SD, MicroSIM, Micro HDMI, Audio Combo Jack
Battery Life: up to 6 hours WiFi browsing, 5 hours FHD video 1080p playback with 6800 mAh li-polymer battery
Dimensions and Weight: 11mm think, 0.8kg tablet only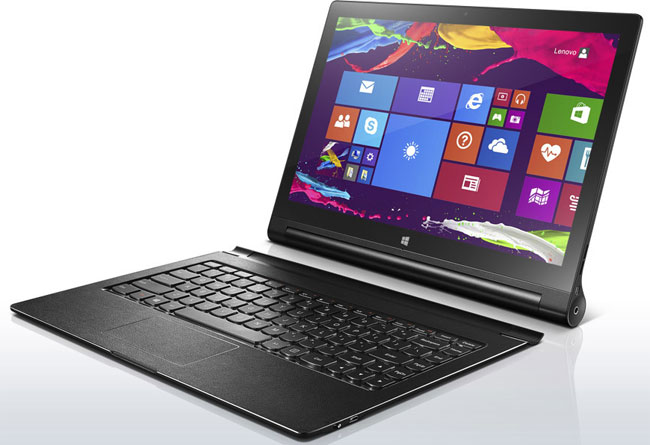 The second Lenovo on our list, here is a design that most people are familiar with. Seen first on the Yoga Tablet spotting the Android OS, here is a Windows version. The Tablet looks a lot more grown up in black with its rolled edge and embedded kick stand that also doubles up as a hanger to support more ways to use the tablet.
There is a lot more to the rolled edge that just good for gripping or as a weighted stand, it comes with a high capacity battery that gives the tablet it's super long battery life between charge of up to 15 hours. It also serves as speaker chambers for a pair of front firing premium speakers with JBL subwoofer. That' not all, the audio system supports Dolby Surround and Wolfson Master HiFi codec for the best listening experience.
At 13.3-inch, it has the biggest display in our line-up at super high QHD resolution (2560 x 1440). While the processor is not the fastest, it is sufficient for what it is. Unfortunately, there is only a front facing camera in the Yoga Tablet 2. And, while in the Lenovo Yoga Tablet 2 Android edition, there is a built-in projector, you guessed it, in the rolled edge this is absent in the Windows edition.
What You Need to Know
Intel® Atom™ Processor Z3745 1.33GHz (2M Cache, 4 cores, Turbo Boost up to 1.86GHz)
4GB RAM, 64GB Storage with Micro SD expansion slot supporting up to 64GB
13.3-inch QHD (2560 x 1440) IPS display with capacitive 10-point multitouch screen –

HIGHEST RESOLUTION

Camera: 1.6MP HD front facing camera
Connectivity: 802.11 a/b/g/n MiMo Dual Band WiFi, Bluetooth 4.0, Micro HDMI, Micro USB, 2.5mm audio jack, G-sensor, e-compass, ambient light, hall and vibration
Battery Life: Up to 15 hours or 14 days standby with 12,800 mAh battery –

LONGEST BATTERY LIFE

Dimension and Weight: 324.1 x 221 x 3.7-14 mm, 1 kg
Note: Image shown with optional keyboard.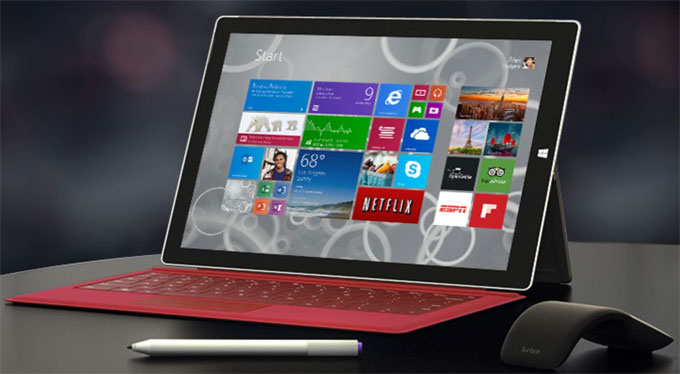 As with Surface Pro 2, Microsoft offers five different models. As with the second generation Surface Pro, the tablet features a kick stand capable or multiple positions offering different ways to use the tablet. There is also a premium aluminium stylus called the Surface Pen that provides a closer to actual pen writing experience with new digitizer, palm block technology and quick input capture.
A must have accessory is the Surface Pro Type Cover, one of the thinnest keyboards in the market that turns your Surface Pro 3 into a premium laptop. The 5 models different in speed of processor, memory and storage capacity. The combination of which are as follows;
4GB RAM 64GB SSD i3
4GB RAM 128GB SSD i5 –

RECOMMENDED

8GB RAM 256GB SSD i5
8GB RAM 256GB SSD i7
8GB RAM 512GB SSD i7  –

BIGGEST STORAGE
What You Need to Know
4h Generation Intel Core processor family i3, i5 or i7
12-inch Clear Type Full HD Plus with resolution at 2160 x 1440
4GB RAM with 64GB or 128GB storage, 8GB RAM with 256GB or 612GB storage
Camera: 5MP rear facing, 5MP front facing cameras
Connectivity: WiFi 802.11 a/b/g/n/ac, Bluetooth 4.0 Low Energy technology, Full size USB 3.0 port, microSD slot, headphone jack, mini Display Port, Cover port, Digital Compass, Ambient Light Sensor, Accelerometer, Gyroscope, Magnetometer. stereo speakers with Dolby sound.
Battery Life: up to 9 hours of web browsing
Dimension and Weight: (292.1mm x 201.4mm x 9.1mm), 800 grams
Note: Image shown with optional keyboard and mouse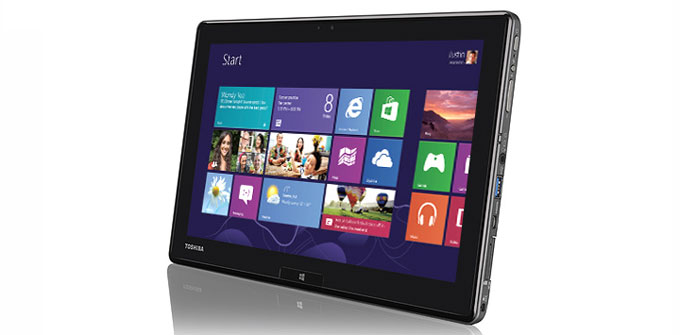 Available in two processor options, the Intel Celeron 847 running at 1.1GHz or the Intel Core i5 3439Y running at 1.5GHz with both spotting 4GB RAM and 128GB SSD storage. The Toshiba WT310 is a no nonsense professional tablet built for business professionals. Also note that WT310-106 Model comes supplied with optional digitiser pen.
What You Need to Know
Intel Core i5-3439Y 1.5GHz with Turbo Boost to 2.3GHz
4GB RAM and 128GB SSD Storage with microSD slot –

MORE STORAGE

11.6-inch IPS FullHD non-reflective High Brightness touch display at 1,920 x 1,080 pixels resolution with Wide Viewing Angle on hardened IOX Glass.
Cameras: 1.0MP rear facing, 3.0MP front facing cameras
Connectivity: 1 x USB 3.0, 1 micro HDMI, 1 external headphone/microphone combo, built in microphone with echo and noise cancellation
Battery Life: up to 5 hours (Mobile Mark™ 2012)
Dimension and Weight: 29.9 x 1.2 x 18.9 cm, 825 grams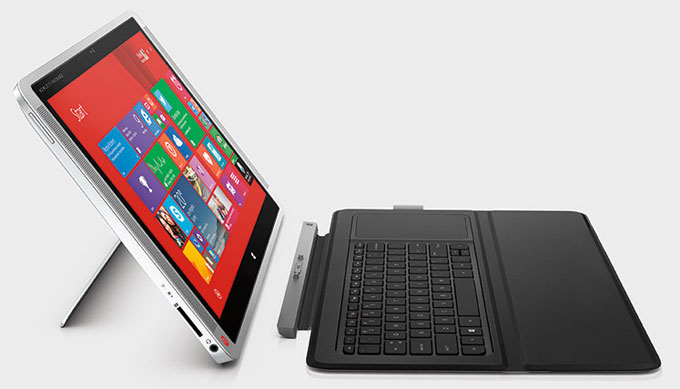 While a smaller HP Envy X2 11 is also available, for the purpose of this comparison we will only look at the HP Envy x2 13 and 15. The tablets includes an adjustable multi-angled kick stand. The included backlit Bluetooth keyboard comes with its own battery. For sound, you have a pair of front firing Beats Audio speakers embedded into the side bezels. The Envies uses the new generation Intel Core M Dual Core processor.
Intel Core M 5Y10 processor 800MHz (TurboBoost to 2GHz) 4MB Cache with Intel Graphics 5300
13.3-inch or 15.6-inch Full HD IPS WLED backlit touch screen (1920 x 1080)
4GB RAM Memory, 128GB SSD Storage or 500GB with 8GB SSD, 1 microSD expansion slot up to 64GB –

MORE STORAGE

Camera: HP TrueVision Full HD WVGA Webcam front facing only with integrated dual digital microphone
Connectivity: Dual band 802.11 abgnac WiFi, Bluetooth 4.0, Miracast compatible, 1HDMI, 2 USB 3.0, Accelerometer, Gyroscope, eCompass
Battery life: 2 cell /3-cell Li-ion Polymer battery, 7/8 hours
Dimensions and Weight:

HP Envy x2 13: 35.54 x 21.56 x 1.4 cm (tablet) 35.74 x 21.76 x 1.9 cm (tablet and base) 1.27 kg (tablet) 1.83 kg (tablet and base)
HP Envy x2 15: 20.5 x 414.5 x 245.3 mm (H x W x D) (tablet & keyboard) 1.83 kg (tablet) 2.46 kg (tablet & keyboard) –

BIGGEST SCREEN

Detachable Wireless Bluetooth soft cover backlit keyboard that includes HP imagepad, a multi-touch gesture pad. This is at the bottom center for the 13.3-inch version and top right corner for the 15.3″ version.
The Line-up
Here is a quick look at our line-up again. For the most up to date prices, please click on the links below – IN THIS COMPARISON:
Final Thoughts
The idea of a big tablet is not new. During the days of Windows Tablet based on Windows XP Tablet PC Edition and then Windows Vista and Windows 7 with it's inherent support for pen input device we have seen the likes of HP, Compaq, Toshiba, Fujitsu and Panasonic with their take on the tablet with screen sizes ranging from 10.4 to  14.1-inch with some even bigger. While most of these may be hybrids or convertibles, they represent the early stages of the tablet evolution.
Fast forward to now, we see sleeker, higher performing and more efficient tablets capable of handling processor and memory intensive tasks while allowing you to run for hours, some even for the entire day. These tablets come in thinner, lighter and more compact profile giving users the portability they need to go about their day. But which of these tablets would you go for?
The biggest question you would ask yourself when considering one of these tablets is are you a heavy or light user. To make it easy for you, we have listed the tablets according to how you see yourself using the tablet.
Light to Medium Computing Tasks
Medium to Heavy Computing Tasks
See our article on Windows 8 Hybrid 2-in-1 Tablets for more 10 or 11-inch Windows 8 tablets
We hope you enjoyed reading the list of big screen tablets that we have compiled here. If you know of any good big screen Windows tablet and would like for us to include it here, please leave us a comment below.