Not long ago, we wrote an article on the best budget 10-inch tablets in the market. Since then, things have changed and more big screen tablets have joined the scene. No we are not talking super cheap knock-offs but tablets from reputable and reliable brands that offer products that really work at a pocket friendly price.
You may think that for a decent big tablet, you will need to pay decent money but wait till you see our list below.
Top 10 Best Value 10-inch Tablets of 2015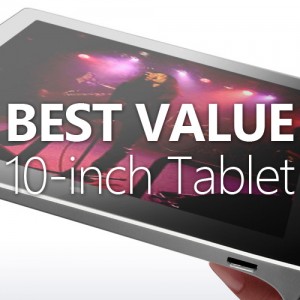 Majority of the low cost tablets are based on the Android OS. There is one tablet based on Windows 8.1 in our list and a Convertible Tablet from Asus.
The list of budget 10-inch tablets below is dominated by Lenovo with 4 offerings including the high end Lenovo Yoga HD+
Let's look at a spec by spec comparison between our 10-inch tablets.
A Closer Look
Processor
Memory and Storage
Display
Camera(s)
Battery Life
Interface & Sensors
Dimensions and Weight
Colours
Operating System
Our Line-up
Here is a quick look at our line-up again. For the most up to date prices, please click on the links below:
Lenovo TAB 2 A10 10.1-inch Tablet