Tired of the old PowerPoint presentation? Want to make an impact and a lasting impression with your students or teachers? Then, check out these video creation tools that lets you create great animated presentations in next to no time.
Slide transitions, zoom and pan just doesn't cut it any more. If you want to grab viewers attention, you have to animate.
BUT don't for a second, think that you need to fork out a lot of money to get a fully fledged animation package that take ages to learn just to create your first animated video. There are plenty of tools out there that you can use.
Five out of 8 of our highly rated animation tools are actually FREE to begin with. While the subscription based offers provide an education license for individual teacher, students or the whole establishment.
Top 8 Best Animated Content and Video Creation Tools for Education
Here is the line-up
UPDATE: Animoto (from FREE), Animaker (from FREE), Explee (from $25) and Voki (from $2.5)
Let's take a look a each of these in detail.
For a comparison of the Free Plans; Creaza vs PowToon vs Mixeek vs Wideo vs Moovly, see bottom of the article.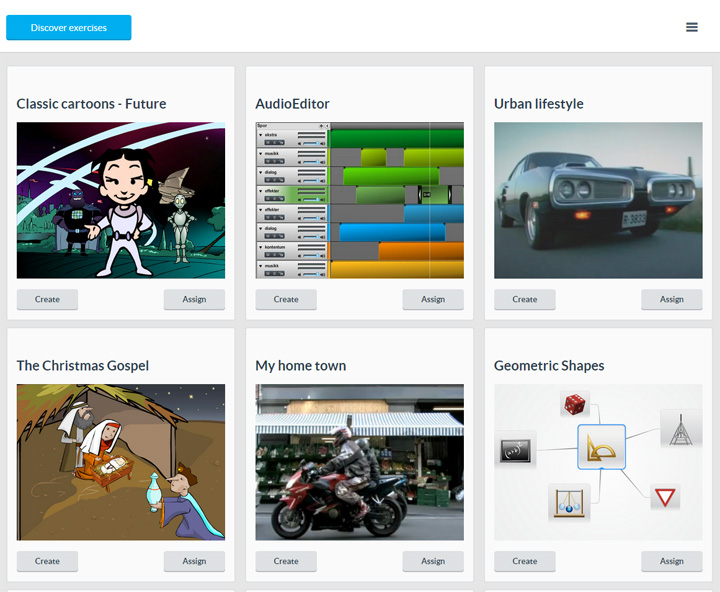 Creaza is not one but four different tools Cartoonist, MovieEditor, AudioEditor and Mindomo with access to more than 30 built-in themes with contents to choose from. You can either create a presentation or exercise from scratch or pick one of the ready made exercises to customise then assign or simply assign it to your students. Let's look at each of the tools in turn.
Cartoonist is an online animation tool for the creation of digital stories that you can then share with your teacher or student. The tool's library includes professionally created backgrounds, ready made characters, props, images and text editor. Set about to create your own comic strips or digital narratives to excite your students. There is even an iPad app called Creaza Cartoonist to start creating great content on the tablet.
Next, we have MovieEditor, an online video editor that supports editing of multiple audio and graphics on top of the video track that you upload in any format. It lets you add advanced effects, transitions and animated titles and when you are done, export this to high resolution MP4 or to YouTube.
Then there is AudioEditor, the online audio editor for recording, slicing and mixing audio to produce your own audio clips and soundscapes. This is a great tool to mix your own radio station, pre-record you news broadcast, edit your interviews and when you are done, publish this as a podcast. It lets you place multiple sound files along a timeline and record sound to add as a track.
Finally, Mindomo, an online mind mapping tool, great for visual learning, improve creativity and problem solving. It lets you sort and categorise information and knowledge. Information can be in textual format or links and media files. You can add images from Flickr, Google, Bing or Wikipedia. It also supports adding clips from YouTube, Vimeo, Creaza or upload your own. The tool also lets you record sound and add this directly to the map. When you are ready, you can either export this as a PDF or picture format. If you wish to present your finding there is Mindomo Presenter.
Sign up now to start using Creaza for free or get a quote for Creaza Premium for your school, college, university or local education authority.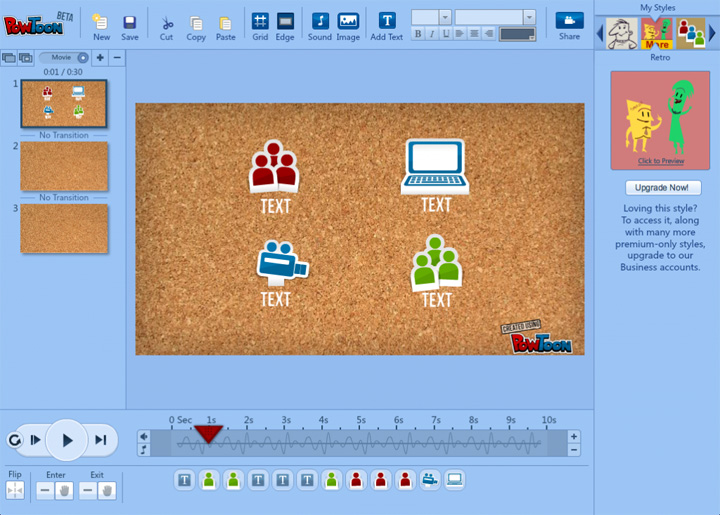 Create animated videos and presentations with this online too. Used by big names such as Starbucks, Cisco, Pfizer and Ebay, the tool is completely free to sign up. The Powtoon experience is also customised for Student, Teacher, Video Artist or Animator, Small Business Owner, Entrepreneur and Marketing Professional.
Once you have logged in, use one of the ready made Powtoons and there are hundreds of them in different categories. Categories suitable for Education include Animated Greeting Card, Personal Resume, Explainer Video, Stats, Events, School, About Us, Training, Fundraising, Product showcase, Infographics and Tutorial.
You can also start from scratch, not completely from a blank sheet but there is that option if you want. You can start by choosing from a set of themes to give you the library of objects and background that you can use.
The app interface is relatively easy to follow and there is a quick start tutorial video to get you going. Add a slide then Drag and drop your objects (text, video clips or images) into each of them, add your message, increase the timeline, preview and save your animated presentation and more in one easy window.
Free Plan
With the free mode, you will have limited option on the type of objects you can pull into your presentation; Powtoon watermark, Standard Quality video with no export to HD, up to 5 minutes video length only and limited to 10 tunes and 10 styles. You will also have to use the video with PowToon branding and you have no monetization rights on the video. You can however import your own artwork.
Education Plan
Education establishment can enjoy a different price plan, starting from just $1 a month for single user, $8 a month for a teacher and 60 students or $2 a month for teacher only. See Education Plans for further details.
Apart from the subscription plans (education, business, personal etc), you can also opt to Pay Per Published presentation. You can buy a lot of 5, 10 or 25 publishes.
Wideo [from FREE]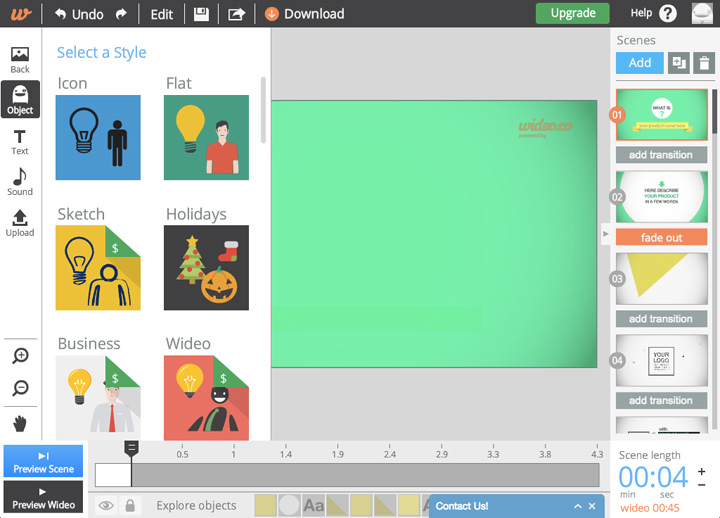 Start from scratch or choose a template. While the number of templates is rather limited, it's clear enough to put you in the right direction. When using the web app for the first time, you will get a quick tutorial video to help you navigate and use the app.
The web interface is one of the easier and simplest that we have seen. The slide navigator is on the right while the object menu on the left. From the left menu, choose one of the following to drag and drop into the menu; object, text and sound or upload your own images, sounds and backgrounds.
Animating an object is easy, drag and drop an option, then click on the object and choose "Animate object" from the pop-up menu, click 'Define Start' then drag the object to its new position, you can also change the size and rotate the object at the end point. Once ready click on Confirm movement. You then get to decide the start and end time of this animation on the timeline.
Free Plan
All subscription plans including the free package, lets you export your presentation to YouTube, upload unlimited audio and images (JPG, PNG, GIF), access the templates galleries and configure privacy settings.
The free Lite plan allows you to create presentation of up to 45 seconds long, access 10 tracks from the music library and 380 objects from the image library.
The next package up, the Startup plan, $9 per month, lets you create presentation up to 3 minutes long, access to 20 tracks and 700 images. You also get unlimited download in web quality (480px).
For the ultimate package, the Pro plan at $49 per month, you get to create presentations up to 15 minutes long, access to more than 50 tracks and more than 1300 images. With the Pro, you also get unlimited Full HD (1920px). downloads, unbranded Wideo, monetisation rights and premium support.
Check out the templates and see what is available or check out the samples to see what is possible. There is also a tutorial to get started and make your first video on Wideo.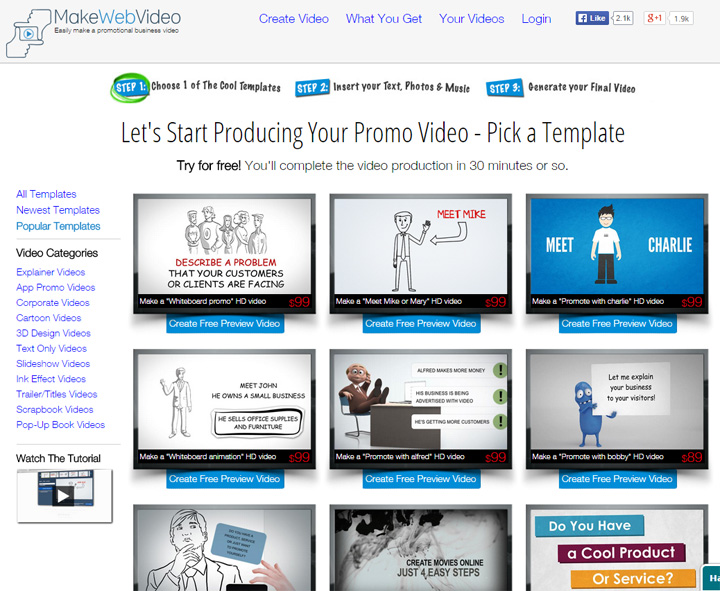 With Make Web Video, you preview, choose and pay for the template, insert your text, photos and generate your final video. There are no recurring charges, monthly subscription or complex pricing plans.
You simply pick the template you want to use, pay and start editing. The one off payment gives you a MP4 video produced with Adobe After Effects using your chosen high quality template complete with 3D graphics and special effects.
What this means is that you go away with a Full HD video (1920 x 1080) without watermark. The price will include royalty free music, video hosting and video player.
The process couldn't be simpler. Sign up and create your free preview videos with the chosen template. When you are ready to publish, you pay to purchase the Full HD video.
GoAnimate [from $39 per month]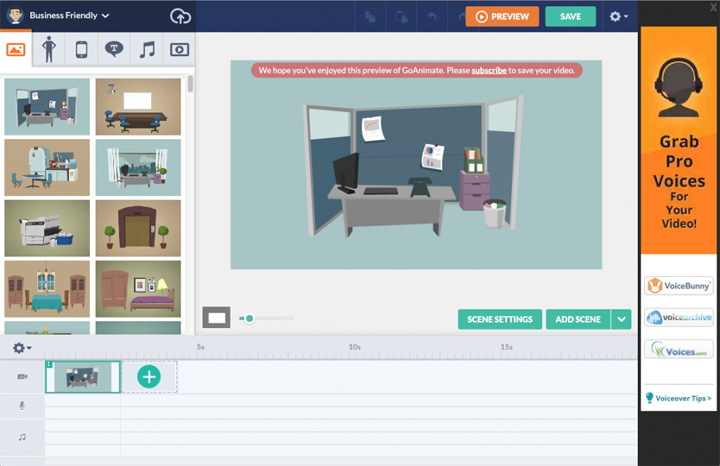 Create professional looking animations and videos with GoAnimate. Unfortunately there is no free plan so you will just have to sign up to try an dsee if you like it. There is a wide range of styles and themes to choose from. There is the typical whiteboard animation, business friendly charts and visuals, comedy, cartoon, stick figure, anime, peeps, ninja, space and more.
Upon sign up, you get a quick on screen tutorial. Start by choosing a scene or background. Drag and drop this onto your presentation.
Then click on the Character tab, browse, choose and drag your character to the scene. Control the character by clicking to reveal additional options.
You can flip your character, move it backward and forward in the scene or simply delete. Next, you choose the character action. These are divided into different categories.
Most options have background elements, props and even other characters built-in. Simply click on one and it will be applied automatically. Next, choose the Dialog tab for your character to add voice to it.
There are four ways to add voice to your character. You can record this directly using a microphone or headset, upload a file, retrieve an already uploaded file or use the text-to-speech function.
Bear in mind that the characters can only perform one action and speak one line per scene.
Once done, you can move on to the next scene (or slide) and repeat the steps above by clicking on the + sign to extend the timeline. You can then continue to add actions and speech in the next scene.
When choosing an action that involves movements, you can choose the end position of your character by dragging moving this to the desired end point. If you want the character to move off the scene, drag it outside of your editing area.
Now you can go back to edit your previous scene by simply clicking on the scene on the timeline, then select the character and update the action there. When you are ready, click Preview to look at the video.
The tutorial is actually very clever as it lets you create your presentation as you go.
The Plans
The three tiered subscription plan starts with GoPublish, then there is GoPremium and GoTeam. With GoPublish, you can create animation videos up to 720p with watermark, while GoPremium gives you Full HD at 1080p without watermark. The GoTeam plan lets you add 3 or more users so you can collaborate on each project and work in groups.
The standard features across the plans include export to YouTube and other sides, produce unlimited videos, unlimited hosting and playback, unlimited downloads and exports, import audio, images and flash as well as access all features and libraries.
The features stacks up as you go with a higher plan. With GoPremium, you also get to add clickable links, remove or replace the watermark and transfer the commercial rights to a client with Rigth Transfer $79. Finally, the GoTeam gives you Group Management and Project Collaboration features.
Check out the price plan.
Mixeek [FREE]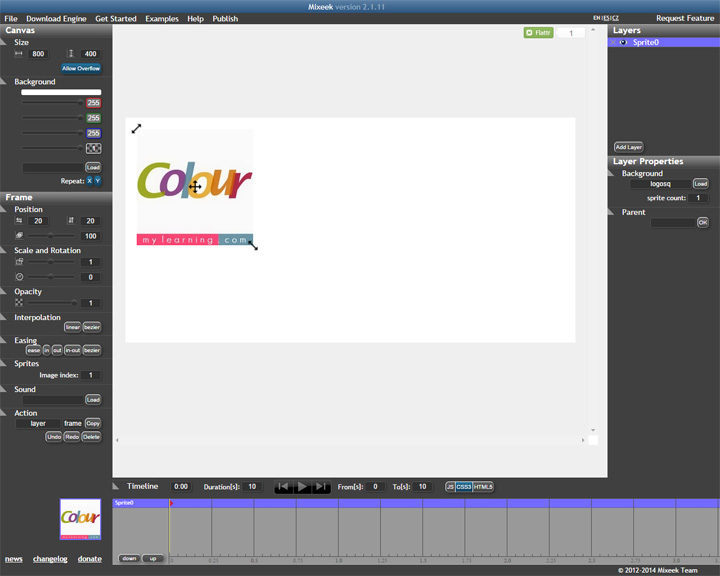 Available to download or as an online tool, Mixeek offers an alternative to those who don't mind working things out. Reserved for the tinkerers and savvy online users with time to experiment and learn to use this powerful this CSS3 and HTML5 animation tool.
Mixeek is completely free, all you need is to register for it. For their work, the developers invite you to donate for their work.
VideoScribe [from small monthly fee]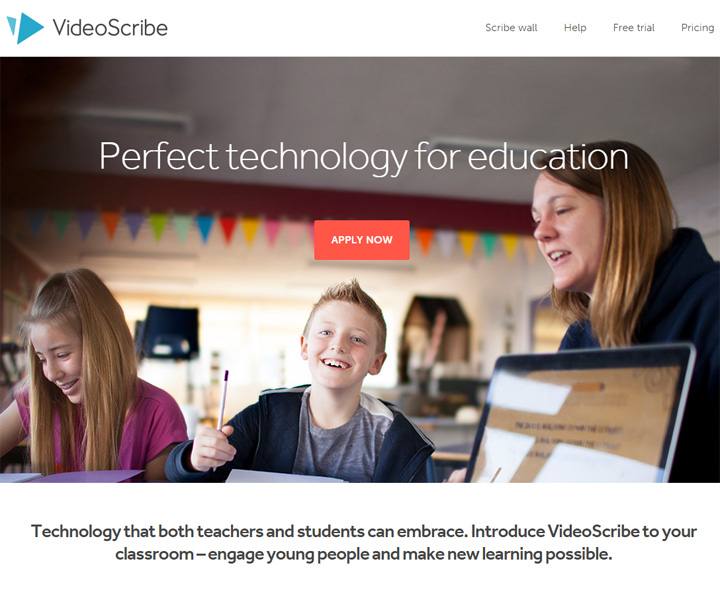 Video Animation Tool from Sparkol you can register for a free 7 day trial then from a small monthly fee per month. Unfortunately, there is no Free Plan.
You have probably seen this many times online, an animation built solely on whiteboard animation style with hand drawn line art or cartoon to illustrate the presentation, usually in black and white.
VideoScribe is one of those tools to help create such a presentation. With ready made clip arts and easy drag and drop interface, you will be up with your first VideoScribe in no time.
To start, you will need to download and install the application locally on to your computer. While your files will be hosted in the cloud, the application runs mostly locally.
Start by creating a canvas, a giant whiteboard, then add your image with options from the library (locally or online) or upload you own. You can preview the images before adding this.
It will then take a small section on your timeline. You can increase or decrease the speed of the drawing. Double clicking on the image lets you see the image properties.
You can add text elements, sound track, music and voice over to complete your animation.
In presentation mode, Video Scribe will zoom in and out of each element then finish by showing you the complete picture before moving to the next scene.
It is recommended that you record your voice over first before working on the Video Scribe so that you can time your scenes and text accordingly.
The other option is to record the voice over live for each scene by clicking record and watching a preview of the scene, so you can pace yourself with the visual cues.
The application lets you save your presentation locally or online. There is also the save as PDF or export the presentation.
VideoScribe also offers apps for iPad, iPhone, Android and Kindle.
The Plans
There are no tiered plans only straightforward time limited subscription.
You can pay small fee per month for a year's contract or a little so that you can cancel any time. There is also a one off payment package for life.
Any of the above subscription lets you access unlimited cloud storage, download the video to your computers, commercial license, software updates and priority support.
You can find out about their Education Plan or as individual with their pay monthly, yearly or one-off options.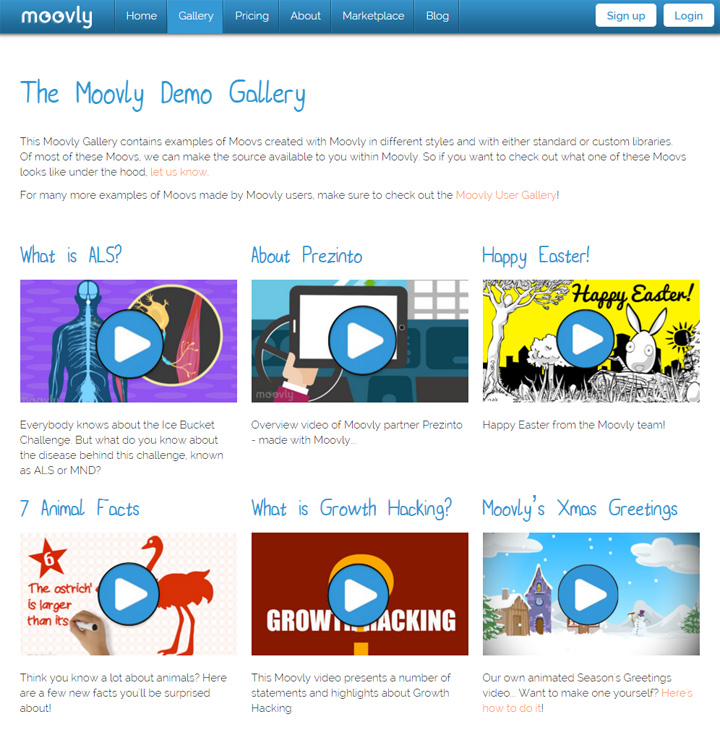 With Moovly, you can create animated videos and multimedia content easily. Sign up for free and start creating your very own animated video.
Everything is done online so there is no application to install. You will start with an on screen interactive tour of the application that shows you all the steps needed to create animated content.
First drag and drop an object from the Moovly library on the left menu. You can position or resize by clicking and dragging the center of the object of corners as well as rotate this.
Then check the timing of the object in the timeline. You can increase or decrease the time the object appears by dragging the time bar of the object.
Next, choose an animation for the object by clicking on Choose animation and select from the drop down menu. You can also expand the timing and duration of the animation effect.
To add text, click on the Text icon on the top bar, then click on the stage to place the text and start typing. You can choose different format settings for your text from the right sidebar menu.
Finally, you can choose to upload your own sound file, images or record your voice over to add to the animation. Pro plan users get to upload video clips.
At any point in time, you can click on the play button to preview your video.
Free Plan
The Free plan lets you create unlimited videos up to 10 minutes long which is plenty. However, you can only export this in Standard Definition (480p) and have access to the Doodle Market library and the Infographics library. Higher plan has more libraries.
As standard, all options allows you to export your video to YouTube or Facebook, upload you own images and sound and add voice-overs.
Premium Plans
The Plus plan ($9.95 per month) lets you upload video clips, remove watermark and remove the outro. The Pro plan has all the features of the free and Plus plan as well as the ability to copy and save scenes and access to the Moovly affiliate programs.
You can also enquire about the Education Programme to get Moovly licenses at a discount for individuals (teachers, students, professors) and groups (schools).
BONUS: One More Thing
While Animoto is not really an animation tool but we couldn't resist listing it here. The sheer simplicity of the tool where you upload a bunch of photos, some video clips, pick a song, pick a style and let Animoto mix it up to create a stunning video slideshow deserves a mention. It's easy, quick and free to sign up and has the following features:
Animoto LITE
30 second video length limit
web quality only, get the PRO plan for HD
limited video styles to choose from
over 300 tracks to choose from
cloud hosted
no option to save locally to burn to CD (only availalbe in PLUS and PRO plan)
and Animaker (from FREE), Explee (from $25) and Voki (from $2.5)
Comparing the Free Plans: Creaza vs PowToon vs Mixeek vs Wideo vs Moovly vs Animoto vs Animaker
Let's compare the free plans from Creaza, PowToon, Mixeek, Wideo and Moovly.
Creaza FREE
Use Cartoonist to create comic strips, MovieEditor to edit videos, AudioEditor to mix music and Mindomo for brainstorming and mind mapping.
Access to ready made exercises to assign to students
Access to Portfolio where you will find your work, work assigned by you and your files
Join more than 600,000 users from all over the world
30 built-in themes (templates) with content to choose from
Available in 9 different languages
Nothing to install, all applications are online.
PowToon FREE
5 mins Max Length
SD Quality
No download of video, export to YouTube
Unlimited Storage
10 tunes from Music Library
10 styles from Style Library
Upload Images
Upload Sounds
Add Voice-over
Wideo Lite
45 second Max Length
Export to YouTube
10 Tracks from the Music Library
380 Images from the Image Library
Upload Images
Upload Sounds
Add Voice-over
Privacy Settings
Mixeek FREE
Design and execute web animations
Create interactive animated web applications
Based on JavaScript, CSS3 and HTML5
Use the Online HTML5 Designer or download to install
Exported JavaScript file can be added to websites and viewed across common browsers.
Responsive design that works with different devices
Moovly FREE
Create Unlimited Videos
10 mins Max Length [LONGEST VIDEO LENGTH]
SD – 480p Quality Videos
2 Standard Libraries for objects
100MB or 20 items storage limit
Export to YouTube and Facebook
Upload Images
Upload Sounds
Add Voice-over
Animoto LITE
30 second video length limit
web quality only, get the PRO plan for HD
limited video styles to choose from
over 300 tracks to choose from
cloud hosted
no option to save locally to burn to CD (only availalbe in PLUS and PRO plan)
Create unlimited videos for free but branded)
2 minutes maximum length
Up to 5 exports per month
SD Quality Upload to YouTube
No download on free plan
Access to fewer sound effects, music, characters and props.
Upload own assets for video
Project version and commercial rights in higher paid plans only