Samsung has ditched the polycarbonate body and faux chrome rims with the introduction of Samsung Galaxy Alpha. Focusing more on aesthetics, build quality, performance and comfort,the first thing you will notice about the Alpha is its metallic frame and how thin the device is. But how does it compare to its flagship Galaxy S5.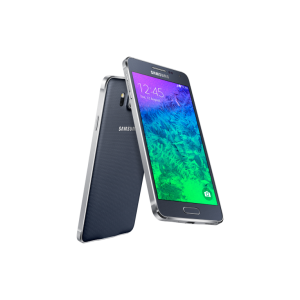 The metallic frame that wraps the Alpha gives the smartphone a premium feel. A first for Samsung in anticipation of the launch of a new and bigger iPhone 6 that since the fourth generation has adopted a metal frame.
Samsung has always had an 'upper-hand' with its big screen offerings and wasn't too bothered about low cost plastic chassis. Now that Apple is catching with with a 4.7″ display on iPhone 6 and a 5.5″ on iPhone 6 Plus, Samsung have to up their game. Having sat comfortably in the big screen smartphone market until now. So something has to change.
Priced at the same level as the Galaxy S5, we would like to see the Alpha it set to take on a separate road map to that of the S series.
Specifications
Processor: 1.8GHz, 1.3GHz Octa-Core Processor [

MULTI-CORE, MULTI CPU

]
Memory: 2GB
Storage: 32GB
Display: 4.7-inch HD 1280 x 720 Super AMOLED display 16M colours [

LOWER RESOLUTION, SMALLER DISPLAY

]
Camera: 12.0MP CMOS Auto Focus rear facing camera with LED flash with UHD 4K(3840×2160) video recording at 30fps, 2.1MP CMOS front facing
Connectivity: 4G LTE FDD, 3G, Dual Band WiFi 802.11 a/b/g/n/ac, Bluetooth 4.0, USB2.0, Glonass, GPS, Beidou, NFC [

FASTER 4G

]
Sensors: 

HR Sensor, Proximity Sensor, Geomagnetic Sensor, Fingerprint Sensor, Hall Sensor, Gyro Sensor, Accelerometer, Light Sensor, 

Glonass, GPS, Beidou
Battery: 9-11 hours
Dimensions: 132.4 x 65.5 x 6.7 mm [

THINNER, SMALLER

]
Weight: 115 g [

LIGHTER

]
OS: Android
Colours: Available in 5 colours (frosted gold, sleek silver, charcoal black, dazzling white, scuba blue)
Features
Faster 4G, Multi-processor technology, HDR camera, fast autofocus
Metallic Frame, Fingerprint log-in, Advanced Camera, S-Health with its heart rate sensor.
Ultra Power Saving mode with up to 24 hours standby on 10% battery life
security protection keeps personal information safe by hiding this in a separate location that can only be accessed via finger print login.
Support S Voice
Supports wearable devices with Gear Fit Manager and Gear Manager
CML Rating: 5 Stars
Specifications
Processor: 2.5GHz Quad-Core processor
Memory: 2GB
Storage: 16/32GB expandable up to 128GB with MicroSD slot
Display: 5.1-inch Full HD 1920 x 1080 resolution Super AMOLED 16M colour display
Camera: 16.0MP Auto Focus CMOS rear facing camera with UHD 4K (3840 x 2160) at 30fps video recording support and flash LED, 2.0MP Auto Focus CMOS front facing camera
Connectivity: 4G, 3G, 802.11a/b/g/n/ac, Dual Band 2.4 + 5GHz, VHT80 MIMO, WiFi Direct, Bluetooth 4.0, NFC, USB 3.0
Sensors: Gesture Sensor, Fingerprint Sensor, HR Sensor, Hall Sensor, Accelerometer, Geomagnetic Sensor, Gyro Sensor, Light Sensor, Barometer, Proximity Sensor,  GPS, Glonass, Beidou MHL2.1
Battery: 10 – 13 hours 2800mAh [

LONGER

]
Dimensions: 142.0 x 72.5 x 8.1 mm
Weight: 145 g
Colours: Available in 4 colours (Charcoal Black, Copper Gold, Electric Blue, Shimmery White)
Features
Ultra Power Saving Mode with up to 24 hours standby on 10% battery life
IP67 certified Dust and Water Resistant
Fast Auto Focus and
Selective Auto Focus
Advanced Camera HDR
Heart Rate Sensor and
S Health App
CML RATING: 4 Stars
Final thoughts
The Samsung Galaxy Alpha is a welcome addition to Samsung's Portfolio of Galaxies. First with a metal frame, the finely crafted and elegant phone not only looks good but is ultra slim at 6.7mm and offers the right size and weight for single hand operation with comfortable and excellent grip. This is definitely a step in the right direction for Samsung, towards a more premium and high quality feel already enjoyed by Apple, HTC and Sony users.
Another Flagship Smartphone from Samsung
Adopting the dual processor technology approach like those found in high-end tablets such as the Samsung Galaxy Tab S and Galaxy TabPRO, the device gives you a balance of power and battery life. Coupled with Samsung's Ultra Power Saving Mode, there is plenty of battery life per charge from this phone when it need it.
Apart from the screen size, processor, support for faster 4G LTE and good looks, there isn't much else which is different between the two. The Alpha includes all the standard features and functions in the Samsung Galaxy S5 albeit in a smaller, head turning and luxury package.
This makes the Galaxy Alpha every bit a flagship that is the Samsung Galaxy S5. So where does that leave us. Is Samsung keeping this dual flagship approach or will it merge the two lines in future?
Should I get the Samsung Galaxy Alpha
If you are not one for a bulky phone and big screen, the Samsung Galaxy Alpha is the one for you. If you own a Samsung Galaxy S5, there is definitely no great benefit in switching to an Alpha.
While the price for Samsung Galaxy S5 has come down significantly, the price of the Alpha is still high given that it is just introduced.