Dell has posted on their website ahead of the Christmas shopping season, the new Dell Venue 8 Android Tablet. It is to be the world's thinnest tablet, at only 6mm thin.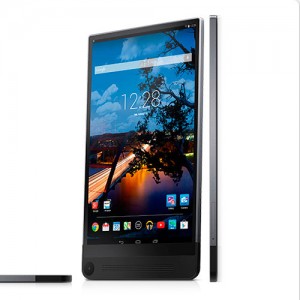 On first look, the 8.4-inch tablet has an OLED edge-to-edge touch screen display at ultra high resolution of 2560 x 1600. With that you can safely say that this is going to be a high-end offering from Dell.
It looks like a scaled up smartphone or phablet, with its ultra narrow bezels on both sides and top, while the front facing speakers resides on the bottom of the screen next to the front facing camera when held in portrait mode.
Judging from the images, the finish and materials as well as the precision and likely laser cut speakers grill and buttons, this is bound to capture the attention of fashion conscious users or those looking for cutting edge design.
It will also be the first tablet to use Intel RealSense Snapshot Depth Camera, with three rear facing cameras in a triangular placement with to 720p cameras near the center and an 8 MegaPixel camera near the bottom edge.
Together with the Dell Gallery and that 4 Million Pixel OLED infinity edge-to-edge display, it is going to make your photos pop up with depth mapping, measurements and 3D editing using the RealSense engine.
We have also learned that in the true tradition of Dell and its range of accessories, the Venue 8 will have an optional Dell Cast adapter. The adapter will let you connect to a TV or monitor or turn a screen into your desktop as well as connect with a keyboard and mouse turning your Android tablet into a desktop PC.