Here is a quick way to build your own networked sound system at home using one of these wireless multi-room sound systems. No cabling, drilling or messy renovation. No big budget installation and costly setup fees. 
These off-the-shelf speakers will connect to your wireless network and play tunes from virtually anywhere and you can add them to more rooms as you go.
What is a Wireless Multi-Room Sound System
With the latest wireless enabled speakers, you can now build you own network of speakers, one in each room and control them from your mobile devices. It doesn't have to be a big setup from go.
You can start with one, say for the living room and slowly add to the network more and more speakers for your multi-room system. Soon, you will have one in the dining, kitchen, study, home office, bedrooms and even bathroom.
These speakers are capable of playing music from different sources:
Music from your mobile device, tablet or smartphone
Music from Streaming services e.g. Spotify
Music from Internet Radio e.g. Radio 4
Music from Auxiliary (analogue) input from your TV or CD player
Music from your own collection on your MAC, PC, Media Server or NAS
Each speaker (in the different rooms) can play its own tunes or they can all be made to play the same tune in party mode. An experience you can only get in a multi-storey department store.
The beauty of this system is that it's compact, doesn't take up a lot of room but produces room filling Hi-Fi sound comparable to bigger sound systems.
It is designed to be place anywhere in the room without being seen as out of place.
However, the real advantage is that it is wireless. Apart from the power cable, there is no wiring required unless you are looking to hook up your own players via the auxiliary port.
Even in multi-point / multi-speakers in a room set up, simply add more speakers. Just a few years ago, building a multi-room sound system would require miles of cabling.
Why Do I Want a Multi-Room Sound System
All manufacturers offer speakers of varying sizes to suit the room size or for portability. How you use these speakers are only limited by your own imagination but here are some ideas:
Add one in each room to start
Add more than one speaker or bigger speaker in big rooms (kitchen, dining, study) for fuller sound
Add a small speaker in the shower or bathroom
Add small speakers in your bookshelf
Speakers in bedrooms can double up as alarm clock
Create your wireless home entertainment sound system for HDTV
Create your wireless surround sound system save the nightmare of cabling to the opposite end of the room
Portable speakers can be used outdoor (within WiFi range) e.g. the garden
Individual rooms can have its own music or switch on the party mode to get every speakers in the house to play the same tune
Browse and play from your favorite playlist, music service, own music collection or from the central Media Server anywhere in the house.
How To Get Started
A simple setup involves one wireless speaker, a wireless hub (for some systems), a mobile device with controller app installed and connected to your home wireless network.
The controller app also doubles up as a setup guide with step by step instruction on how to get your up and running in minutes.
Power up your speaker and wireless hub and create your first room in your speaker empire.
So what are your options, let's look at the 5 multi-room speaker systems currently available in the market.
Top 5 Best Multi-Room Speaker System
Here are your multi-room options and alternatives. You may find that once you have decided, you are sort of 'locked-in' when looking to expand your speaker network. So we have done the leg work for you by comparing between the different systems. Here are the top 5 multi-room wireless speaker systems currently in the market:
The biggest of the Sonos PLAY range is the PLAY:5, a complete stereo speaker system with 5 speakers and a sub woofer built-in giving you crisp, deep and rich room filling sound.
The speaker can also be paired to create a spatial stereo arrangement for the impression that the sounds are coming from different corners; left to right and vice versa.
Sonos PLAY:3 as its name suggest has three speakers each with its own amplifier and can be place horizontally or vertically, sat on a flat surface or mounted, something you will find in the other systems as well.
As with PLAY:5 it can also be used in pairs and is mostly likely to be used as surround speakers for a home entertainment setup. Adding more speakers to your home is easy with a simple push button setup.
For a more compact design or the more space conscious, the PLAY:1 which stands only 16cm tall is your answer. Driven by a two speaker system, each with its own amplifier, these ultra compact speakers can be placed anywhere but don't be deceived by its size, it can still produce a big and powerful sound for a small to average size room. As with PLAY:5 and PLAY:3, the PLAY:1 can also be paired.
While the Sonos system uses your home's wireless network, it requires a hub to work, called the Sonos Bridge. The hub connects directly to your home router for Internet access and creates its own dedicated WiFi network for Sonos speakers.
You can also get the Sonos PLAYBAR and Sonos SUB and extra wireless speakers to complete a 5.1-channel surround sound home entertainment system.
At the center of the Sonos system is the Sonos App. Available for iOS, Android, MAC or PC, it lets you configure and control all the speakers; access and play your tunes (local or network), stream Internet radio or tunes from music services. Use it to play different songs in each room or combine all the speakers to play the same music throughout the house.
Features:
Connections

 – Wireless access to your music library (local or network), Internet radio and music streaming services. Auxiliary input on PLAY:5. Wall mount with separate bracket for PLAY:3 and PLAY:1

Networking 

– Direct Ethernet switch port, WiFi via Sonos Bridge (separate hardware)
App: Sonos App (iOS and Android), PC and MAC
CML Says: Ease of setup with bridge, SUB and PLAYBAR together with PLAY speakers makes a good Home Entertainment System although once you add them all up, can be pricier than any HES in the market. Still, it offers incredible sound and matured app. Prices are tightly controlled by vendors.
Based on Qualcomm's AllPlay technology, Panasonic SC-ALL8 and ALL3 connects to your home WiFi network to stream music from your smartphone or tablet, Internet radio, computer or on-line music streaming services (Napster and Spotify to name a few).
It features Panasonic's Nano Double Bamboo Layer speakers with SC-ALL8 powered by 5 speakers while the SC-ALL3 powered by 4 speakers. Both speakers have dedicated subwoofer to create that room filling, distortion free sound and powerful bass.
The SC-ALL8 can be wall mounted with bracket available separately while the SC-ALL3 can be oriented horizontally or vertically when placed on a flat surface.
The AllPlay technology allows for the multi-room system to be set up as multi-zone for individual music feed or in party-mode, where all speakers in the house plays from the same feed.
If you wish to enabled your existing players and speakers to add this to your multi-room system, Panasonic has the answer in the form of SC-ALL1C. Connect the unit to turn your existing sound system into an AllPlay compatible system and start streaming your music collection (local or network), listen to internet radio or music service.
The SC-ALL1C can also be placed horizontally or vertically. It features a gold plated analogue audio terminal, a high class DAC and can be controlled with the Panasonic Music Streaming App.
Features:
Wall mountable
5 speakers (1 subwoofer / 2 woofers / 2 tweeters)
LincsD-Amp 2nd generation
XBS Mater (XBS / H.Bass / Multi Band Gain Control)
80W power output
Panasonic Music Streaming App
WiFi 5GHz/2.4GHz
Two way design – vertical and horizontal
4 speakers (2 woofers / 2 tweeters)
LincsD-Amp 2nd generation
XBS Mater (XBS / H.Bass / Multi Band Gain Control)
40W power output
Panasonic Music Streaming App
WiFi 5GHz/2.4GHz
SH-ALL1C
Two way design – vertical and horizontal
192kHz/24bit Burr Brown TI DAC
Gold coating terminal
Panasonic Music Streaming App
WiFi 5GHz/2.4GHz
App: (iOS and Android)
CML Says: It takes more than being able to build speakers and sound systems when it comes to a multi-room system. Using Qualcomm's AllPlay is an ol'timer's best bet in making in roads where others such as Sonos has thread for years. However, the poorly rated app is not a good start.
Gallery: Panasonic SC-ALL3
Gallery: Panasonic SC-ALL8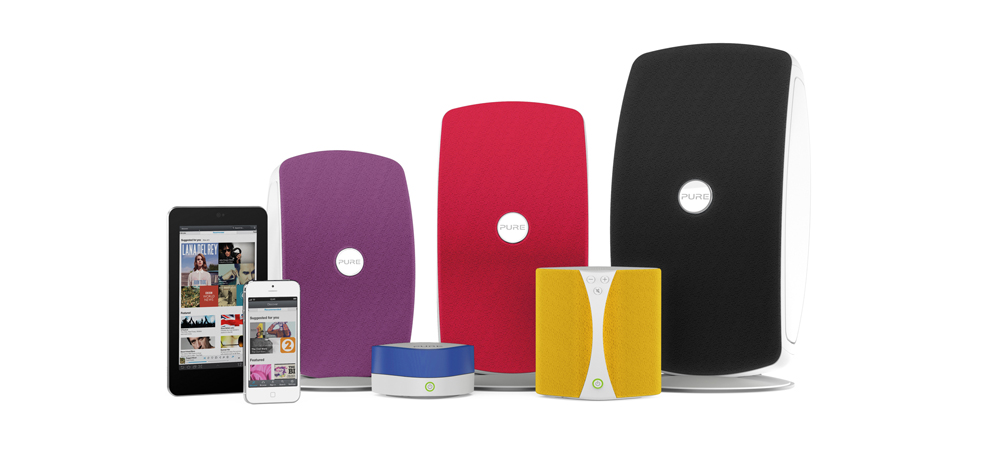 The PURE Jongo Wireless Multi-room family comes with bright optional coloured grille option (lilac, royal blue, lime green, burnt orange, mango yellow) or the more subtle tones (salted caramel, sandstone, slate, nettle and black) Listen to any music, in any room with the Any App. It lets you stream music or Internet radio from your device to one or many speakers.
As with Samsung (below), it offers both WiFi and Bluetooth Connectivity. Over bluetooth, you can stream from any music app or streaming services such as Pure Connect, Pandora, Rdio, Deezer and Spotify are supported. Multiple speakers over Blyetooth is also supported using Bluetooth Caskeid, an audio synchronisation technology for multiple speaker playback. It combines the use of both Bluetooth and WiFi, with Bluetooth feed from your mobile device sent to multiple speakers over the WiFi network.
Instead of two or three speaker offerings, Jongo's range comes in four different sizes, starting with Jongo S3 – a small portable speaker with built-in battery and 10 hours battery life, Jongo T2 – a compact system, Jongo T4 – medium sized system and Jongo T6 the largest most powerful option in the range.
Using the Pure Connect App on your tablet or smartphone, stream all your tracks stored on your device, play from over 20,000 radio stations and 200,000 on-demand podcasts and programmes or listen to on-demand music service.
The Jongo A2 adaptor lets you connect existing or old HiFi system to the WiFi network, adding it to your multi-room setup so nothing goes to waste. Once connected, your existing Player and Speaker can stream music just like all the other Jongo speakers around the house.
Wall brackets, portrait stands and replacement grilles are available for the T series speakers.
Features:
Networking – Bluetooth for direct connection and WiFi connectivity
App: Pure Connect (iOS and Android)
CML Says: Many online retailers have slashed their prices making Pure's Jongo range the most affordable in comparison to the other systems featured here. Still, these are decent speakers now made even better value for money and with its' Bluetooth and WiFi connectivity, its also easy to use.
Samsung M5 and M7
As with Sonos, at the heart of Samsung's Multi-Room system is the Samsung WAM250, a multi-room hub that connects to your home router and wirelessly share music between multiple Samsung wireless speakers. It lets you control the different play mode, Zone Play (individual music streams) or Party Play (simultaneously play the same music over all speakers)
The bigger Samsung M7 is driven by 5 digitally amplified speakers while the M5 is powered by 3 speakers. Both M5 and M7 can be placed horizontally or vertically, the speaker switches automatically to mono mode when used vertically. It can be used alone and paired with another speaker for bigger stereo effect.
As with all the systems we see here, you control the speakers using an app on your mobile device or desktop, available for iOS, Android, Windows and MAC.
Features:
Connections

– play tracks from smartphones, tablets, laptops and TVs via Bluetooth or WiFi. Listen to your own local music collection (on your phone, tablet or computer), access your collection on the network (DLNA), internet radio or playlists on music services; Spotify or Deezer.

Networking

– Bluetooth for direct connection and WiFi connectivity (separate Hub required)
App: (iOS and Android)
CML Says: Samsung's advantage and strength is in the Home Entertainment Systems where it dominates with its HDTVs and Video Players. Elsewhere, tablets and smartphones but speakers, not quite. Still, it is a good attempt in bringing all the devices together and lower online retailers pricing may persuade you to get them if you are already a Samsung fan.
Bose SoundTouch WiFi Music System
Clear crisp sound you would expect from a name such as Bose. We have seen Bose's SoundLink speakers; portable speakers with Bluetooth connectivity and the old Bose's favourite, the Wave system redesigned to include music streaming capabilities over WiFi, radio (both FM and DAB) and CD player now known as the Wave SoundTouch.

The SoundTouch technology is now available across the board from speakers to amplifiers to home cinema systems. But here, we are interested in the  SoundTouch 30 for bigger rooms, SoundTouch 20  for average sized room and SoundTouch Portable for portability.


Features:
Connections

 – Wireless access to your music library, Internet radio and music streaming services. There is also an auxiliary input across all models. SoundTouch Portable comes with built-in rechargeable batteries and as its name suggests, designed for portability.

Networking

 – Direct to WiFi no additional hardware required.

Controls

 – infra-red remote control included, works with app using drag and drop to create six preset playlists, these can then be called up using one of the six buttons on the top of the speaker. Giving you one touch access to your favourite music. Use each speaker to play different tunes or use the party mode to play the same music over all speakers simultaneously
App: SoundTouch Controller App (iOS and Android)
CML Says: As with Sonos, BOSE pricing strategy leaves very little room for maneuver . The system is quick and easy to use and the programmable buttons that lets you set your own songs, albums, playlist or internet radio station takes the hassle of starting and connecting via an app on a device.
Gallery: Bose SoundTouch 30
Gallery: Bose SoundTouch 20
Gallery: Bose SoundTouch Portable
Our Line-up
Here is a quick look at our line-up again. For the most up to date prices, please click on the links below:
Other multi-room speakers