During my good old days of assembling custom-built PCs, Asus was always a good choice for motherboards and later for display adapters. Asus was a big name in performance kits and upgrades. Not long after, they went into laptops (especially desktop replacements and gaming rigs) and then netbooks in a big way.
When Google's Android came into being, Asus was there once again with a multitude of tablets. They have since introduced the Transformer tablet (tablet with keyboard with battery built-in) based on Android OS and then Windows 8.1 OS, tablets with very close and confusing names, MemoPad and tablet-smartphone hybrids; Padfone and Fonepad. The former is a smartphone that slots into the back of a tablet screen to act as a convergence device and the later is a tablet with phone function built-in (with 3G data and calling abilities).
You can more or less guess that it won't be long before Asus enters the smartphone market in a big way. That time is now. Zenfone was launch in early July 2014. Asus has decided to bring not one but three smartphones to the launch. The ZenFone 4, ZenFone 5 and ZenFone 6.
Fast forward to January 2015, Asus announced the release of its second generation ZenFone known simply as ZenFone 2. While the first generation ZenFone uses the numbers 4, 5 and 6 to correspond to the screen sizes, in the second, the number 2 no longer refers to the screen size but the generation. This makes more sense bringing the ZenFone trade name in line with the likes of Apple and Samsung with their iPhone 6 and Galaxy S6.
While they already have their foot in the door with the introduction of Padfone and Padfone mini, Zenfone is simply Asus's way of saying, we are in the smartphone market in a big way. On first look, the Zenfones are pretty impressive. Asus's ZenUI, the custom skin over Android 4.4 KitKat looks minimalist and smart. Flat icons and thin type face gives it the modern feel. The Zenfone 2 starts you off with Android 5.0 (Lollipop) and Asus has confirmed Android 5.0 updates for its first generation ZenFones. But what else is on offer.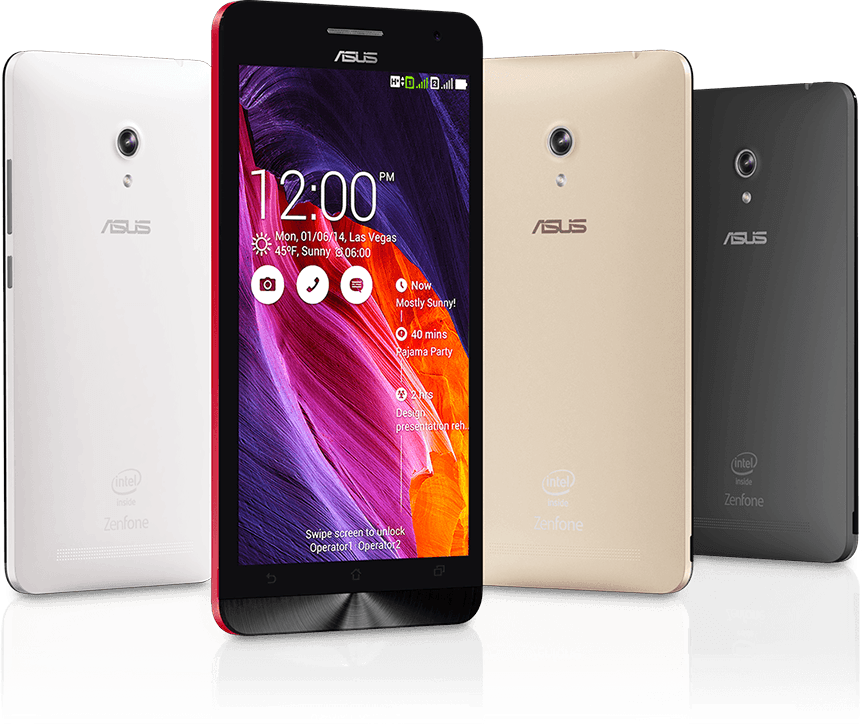 1st Generation ZenFone
2nd Generation ZenFone
The Top 10 Things You Need To Know About Asus ZenFone
1. Budget and Mid-range
The Asus ZenFone range presents a great value for those whom are budget conscious. The 5-inch model easily rival that of Moto G, Lenovo smartphones or Google's own Nexus 5 in terms of specifications. The ZenFone 6 which would go head to head with some of the best phablets in the market look promising too. So while the phones are priced in the budget to mid-range segment, the specs are more like those in the mid-range to high end models from its competitors. The Zenfone 2 however is only available in 5-inch and 5.5-inch.
2. Stylish Design
While one might think that given the price range, the phones would be bland and boring (see Nexus 5) but the opposite is true for ZenFones.
The ZenFone's design won the Reddot Award 2014, one of the top 3 most prestigious awards in the world for industrial design, with international recognition.
Not only is the ZenFone stylish, it has a premium feel to it thanks to the narrow side bezel and metallic front bezel. This metallic front bezel has concentric circles cut into it, finished with 0.13mm precision polished edge using 45 degrees CNC diamond cut technology. This gives the phone its elegant look and feel.
3. Thin and Light
With only 5.5mm thin at the edges (ZenFone 5 and 6) and weight starting from 115 grams (ZenFone 5) the ZenFone range is ultra thin and ultra light. The thickness varies towards the middle of the back plate with its middle section being the thickest at 11.2mm on the ZenFone 4, 10.3mm on the ZenFone 5 and 9.9mm on the ZenFone 6.
As for its weight, even the giant 6-inch phablet, the ZenFone 6 is only 196 grams while the ZenFone 5 weighs 145 grams.
4. Based on the Intel Atom range of processors
Unlike most competitors, Asus has chosen instead to use the Intel's Atom processors for its smartphones. The ZenFone 4 starts with the Intel Atom Processor Z2520 at 1.2GHz. While the ZenFone 5 uses the Intel Atom Processor Z2560 at 1.6GHz. Finally, the ZenFone 6 uses the chart topping Intel Atom Processor Z2580 at 2.0GHz.
These dual core SoC processors from Intel codenamed Cloverview (32nm) is the sibling of Intel's successful Bay Trail SoC range, the quad core Atom processors found in todays top selling tablets. With that comes Intel's processor technology for multimedia support (MMX, SSE, SSE2, SSE3,SSSE3) and Enhanced Intel SpeedStep Technology for power when you need it as well as XD bit, Hyper-Threading and Intel Burst Performance Technology.
Note: SoC meant the GPU, memory controller and processor are integrated onto the processor die, keeping everything closer and smaller.
5. The Super Simple Skin called ZenUI
Nobody likes clutters. The whole idea of Zen is minimalist living, and the ZenFone does not disappoint. The customised Android Skin from Asus is aptly called the ZenUI. The idea is that the interface is designed around making the users life easier with intuitive and quickly recognisable flat icons, attractive colour schemes, minimalist and borderless home screen and app screen (for some of the included apps) as well as useful widget that are designed in the same way to make the ZenUI experience seamless.
Whether you are typing a message, accessing the quick settings, checking the weather on the home screen, using SuperNote, Omlet instant messaging, PC Link, Remote Link, Calendar and many other included apps, the nice and clean interface is to make working on the phone easier for you. Oh, and you get to choose from a list of colour schemes to suit your mood.
Asus claims to have designed over 1000 feature improvements to the stock Android with ZenUI, so this is not just a prettified interface.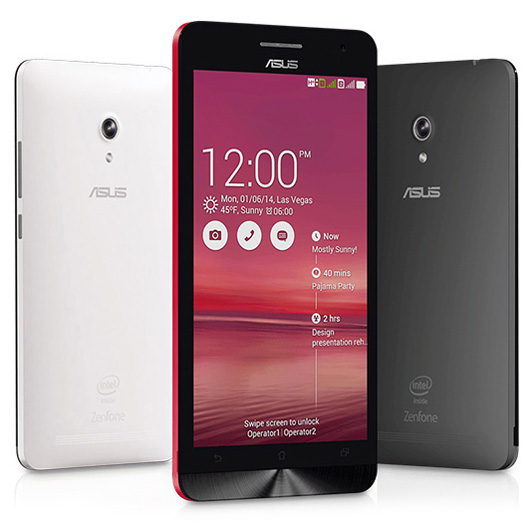 6. Battery Saving Mode
To keep you going through the day and when you need every drop of juice from your battery, activating the Ultra-Saving Mode lets you increase and prolong the battery life. It does this by turning off the Internet data connection automatically when the device goes on standby. When you start using the phone again, it will reconnect to the Internet immediately and resume normal operation. This improves the battery life.
The other two modes that you can use are Optimized and Customised. The first lets you maximise the battery life through optimising data usage to make efficient use of energy while the later lets you decide the settings that suits you. In customised mode, you can set the screen brightness and application management to improve battery life.
7. From What's On to What's Next
We love the Google Now feature on Android. Asus has taken this further by integrating your upcoming events, date & time, weather and access to basic tasks such as camera, phone, messaging on the Lock Screen and Home Screen.
Based on the minimalist ZenUI, these attractive flat icon, ultra thin and sometimes big text on the screen as well as clever layouts gives you all the important information in a card view. Your events are arrange in a timeline order with quick reminder and timer. VIP contacts's birthday or anniversary, new missed calls, new emails and new messages are also shown so you access these easily.
8. The OpenCloud
Asus's OpenCloud is the ZenFone's answer to syncing data between your smartphone and the cloud so you can access the same data on other devices such as you laptop, tablet or other smartphones (yes, some of use do have more than one smartphone).
The difference between this cloud storage app and others is the fact that it integrates with may other cloud storage clients. Asus's Open Cloud is essentially a hub for not only Asus's Webstorage service (5GB for lifetime) but users can connect their Google Drive, Dropbox, SkyDrive, Asus HomeCloud and many other services.
The app works with many native built-in applications such as Gallery, Music, File manager and Camera allowing for sharing and synchronising of photos, music, video and files over different platforms.
9. Tonnes of Camera Features and Great Sound
Buyers typically see Poor Quality Camera and Rubbish Sound as a Trade-off on Budget Phones
One of the weakest link in budget and mid range smartphone is its camera. Asus tries to change this with what it calls the PixelMaster camera. With its software, the camera is capable of 18 camera modes to capture images optimised for different scenes with its 13MP BSI sensor, f/2.0 aperture and 5-element lens. The sensor and lens arrangement provides sharp, clear, detail and best picture quality.
The Image Signal Processor (ISP) and burst technology lets users take 15 shots continuously in 1 second while the PixelMaster technology combines Pixel Merging and Image Optimisation algorithm to increase light sensitivity and reduce noise to better deal with low light image capture and generate brighter and better quality photos.
Some of the 18 camera modes are; Selfie, HDR, Beautification, Depth of Field, Smart Remove, Panorama, Low Light Mode, Time Rewind, Miniature, All Smiles, Time Rewind, GIF Animation, Pencil Effect and more.
The other feature that budget smartphones struggle with is the audio department. Most budget smartphones typically have poor audio performance and buyers typically sees this and the poor quality camera as a trade-off. Asus is here to dispel this again with SonicMaster. The ZenFone produces crystal clear sound using two microphones for noise reduction and echo cancellation. The SonicMaster technology is a joint development between Asus and Bang&Olufsen to give the ZenFone powerful volume, wider range sounds, true-to-life surround, deeper and richer base, distinct vocals and all round clearer sound.
10. It Works with Glove On
You might not feel the need to use your phone with gloves on but when you do especially in colder climate, there is nothing stopping you from doing this. The ultra sensitive touch panel lets its users type comfortably on the screen. ZenFone's touch screen can detect even the slightest electric and magnetic change and works with and without your gloves on.
Not only that, the device is also fine tuned using a combination of hardware software tweaks to give users an incredible 60ms touch screen response time. Working on the ZenFone will feel a lot more responsive.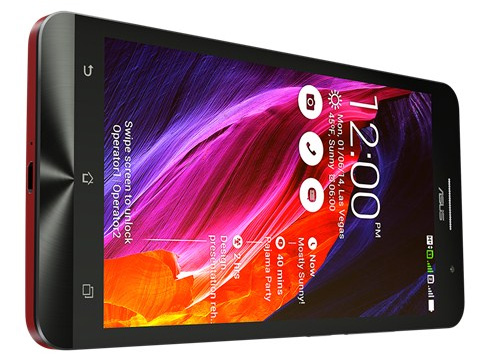 Final Thoughts
Given the number of issues faced by the first generation ZenFone users especially with the battery life and sound, it is easy to see how Asus had to revive the line again with the next generation ZenFone 2. The first to be launched is the Asus ZenFone 2 ZE550ML and ZE551ML
Finally, if all that still doesn't do it for you, check out the most up to date prices from the links below:
2nd Generation ZenFone
Platform
Android 5.0 (Lollipop)
Dimensions
77.2 x 152.5 x 3.9 ~ 10.9 mm (WxDxH)
Weight
170 g
CPU
Intel Atom Quad Core Z3560 (1.8GHz), PowerVR G6430, with OpenGL 3.0 support
Memory
2GB LPDDR3 RAM
Storage
16GB eMMC Flash
5GB free lifetime ASUS WebStorage
Memory Slot
MicroSD card (up to 64 GB)
Modem
Intel 7262 + Intel 2230
Connectivity Technology
WLAN 802.11a/b/g/n/ac
USB
Bluetooth V4.0
Dual Micro SIM card
Network Standard
UMTS/WCDMA/TD-SCDMA/TDD-LTE/FDD-LTE
Data Rate:
HSPA+: UL 5.76 / DL 42 Mbps
DC-HSPA+: UL 5.76 / DL 42 Mbps
LTE Cat4:UL 50 / DL 150 Mbps
2G bands
EDGE/GPRS/GSM :
850/900/1800/1900
3G bands
WCDMA :
850/900/1900/2100
TD-SCDMA: (CN/IN Only)
1900 ~ 2100
4G bands
LTE band 1(2100), 2(1900) 3 (1800), 5(850), 8(900)
Navigation
GPS/GLONASS/QZSS/SBAS/BDS
Display
5.5inches, HD 1280×720,IPS
Corning Gorilla Glass 3
Battery
3000 mAh Li-Polymer (non-removable)
Camera
Front: 5 Mega-Pixel, Fix Focus, Wide View, PixelMaster
Rear: 13 Mega-Pixel, Auto Focus, PixelMaster
Sensor
G-Sensor/E-Compass/Proximity/Ambient Light Sensor
Note
Supports BoostMaster fast charging (optional adapter required)
Platform
Android 5.0 (Lollipop)
Colour
Black/Red/Gray/Gold
Dimensions
77.2 x 152.5 x 3.9 mm (WxDxH) ~ 10.9 mm
Weight
170 g
CPU

Intel® Atom™ Quad Core Z3580 (2.3GHz)

, PowerVR G6430, with OpenGL 3.0 support or Intel® Atom™ Quad Core Z3560 (1.8GHz), PowerVR G6430, with OpenGL 3.0 support
Memory
2GB/

4GB

LPDDR3 RAM
Storage
16/32/

64GB

eMMC Flash, 5GB free lifetime ASUS WebStorage
Memory Slot
MicroSD card (up to 64GB)
Modem
Intel 7262 + Intel 2230
Connectivity
WLAN 802.11ac, USB, Bluetooth V4.0, NFC, Dual Micro SIM Card
Network Standard
2G(EDGE?GPRS/GSM), 3G(YMTS/HSPA+, DC-HSPA+), 4G (LTE Cat4)
Navigation
GPS/GLONASS/QZSS/SBAS/BDS
Display
5.5inches,

Full HD 1920×1080

,IPS on Corning® Gorilla® Glass 3
Battery
3000 mAh Li-Polymer (non-removable)
Camera
Front 5 Mega-Pixel, Fix Focus, Wide View, PixelMaster and
Rear 13 Mega-Pixel, Auto Focus, PixelMaster
Sensor
G-Sensor/E-Compass/Gyroscope/Proximity/Ambient Light Sensor