Following a full-on health and fitness daily regime, working out and training, exercising at the gym or simply wanting to make sure that you stay healthy and keeping track of your daily activities, here are 5 best health and fitness activity tracking wristbands to get you started.Generally, these wristbands perform the following functions:
activity tracker (rest, moving or sleeping)
pedometer or step counter calculates the steps taken and distance traveled
calories burned, moving and resting time
sleep monitor lets you see you sleep pattern at night
set goals (sleep, steps, exercise, calories burned, distance traveled)
most devices are water proof so you can take this to swimming and shows time of the day
log and sends this wirelessly to an App (and/or) Internet portal so you can access your personal dashboard and track your activities either online or via an app
We will look at the following and how they compare:
Garmin vivofit 2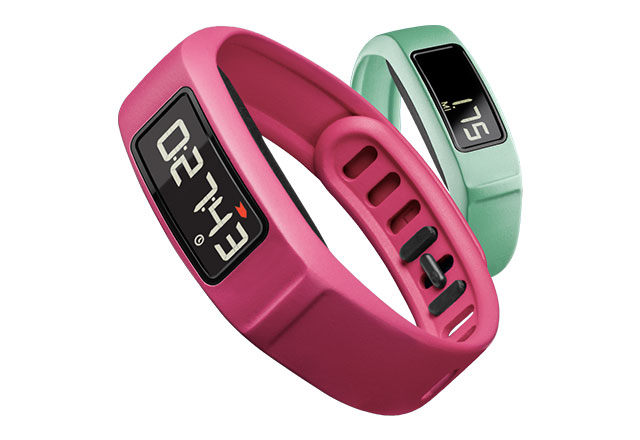 The predecessor to the original Garmin vivofit, the vivofit 2 does not look very different from the previous generation with all the features you love from the first generation vivofit.
Time
Steps taken, distance traveled, calories burned, activity tracker and monitor sleep
Learn your activity level and propose a personalised daily goal
Inactivity alert with red bars appearing after 1 hour and builds up if you do not start moving
Battery life: over 1 year
Sync with Garmin Connect to save, plan and share progress
Can be paired with a heart rate monitor
Check Price on Amazon: Garmin vivofit 2
See first generation Garmin vivofit at the bottom of the article
Misfit Speedo Shine –

FOR SWIMMERS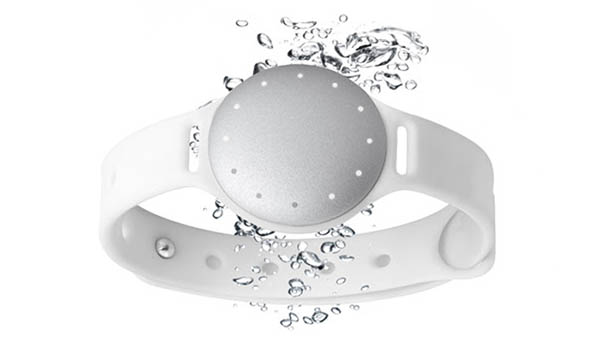 The Misfit Speedo Shine fitness and sleep monitor is the activity tracker designed with swimmers in mind, water proof to 50 meters and made from durable aircraft-grade aluminium. It tracks lap count and swim distance with industry leading accuracy and works for all stroke types.
Swim Lap Counting
Activity Tracker: steps, distance, calories
Automatic monitoring of sleep quality and duration
LED display for time
Battery Life: up to 6 months with CR2032 coin cell
Sync via Bluetooth with Misfit App (iOS or Android)
Check Price on Amazon: Misfit Speedo Shine
Also see Misfit Shine at the bottom of the article
Fitbit Charge HR Wireless –

HEART RATE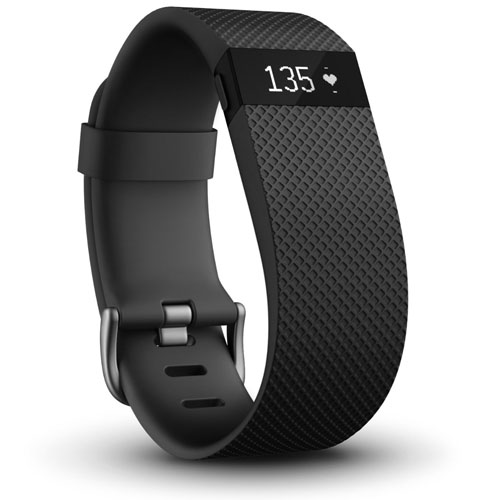 Fitbit Charge is a heart rate monitor and activity tracker wristband with a scrolling OLED display, the highest model in wristband range from Fitbit second only to Fitbit Surge, a performance wrist watch.
PurePulse Heart Rate continuous monitor
All Day Activity tracks workouts, steps, distance, calories burned, floor climbed and time
Caller ID and Watch with daily stats and time on OLED display
Track Exercise; record workouts and real time exercise stats and summaries
Battery Life: over 5 days
Monitor Sleep automatically and set a silent alarm
Sync Wirelessly and automatically to smartphone and computer
Check Price on Amazon: Fitbit Charge HR
Also see Fitbit Flex at the bottom of the article
Polar Loop 2 Activity Tracker
The Polar Loop lets you track your daily activities using motion analysis technology. You can set targets for yourself by choosing the different levels of activity from low to high intensities and work towards them.
Steps and distance monitor
Inactivity alert with vibration to get up after 55 minutes of sitting and add active break to daily routines
Activity goals offers practical guides for reaching daily goals, break up activities into five intensity levels; resting, sitting, low, medium and high
Track calories burned based on personal data; weight, height, age, gender and intensity of physical activity
Smart coaching offers activity guide to reach daily goals, activity benefit for feedback on daily, weekly and monthly activity, smart calories to show calories burned, training benefit for motivating feedback.
Automatically tracks sleep time and quality and gain insight to sleeping patterns in Polar Flow web service and app
Battery Life: up to 8 days
Smart notifications for incoming calls, messages and calendar reminders
Can be paired with heart rate monitor Polar H7: for energy pointer in smart coach for help to get into shape and current heart rate.
Check Price on Amazon: Polar Loop 2
Also see Polar Loop at the bottom of this article.
Jawbone UP3 Tracker
For the fashion conscious, here is the fitness tracking wristband designed with style. Designed to look more like a piece of jewellery or accessory, the Jawbone UP series hides the fact that it is a piece of fitness tech very well. The step counter works together with the UP app (iOS and Android to show you if you have reached your goals, motivates you to perform better, compares your performance to other users (the UP community) and track your history.
It also monitors your sleep and tells you how much deep sleep you had in the night and how long you've slept for. The wristband can be set to vibrate as a wake up alarm.
Heart Health – advanced bioimpedance sensors automatically track your Resting Heart Rate and Passive Heart Rate for a complete picture of heart health
Advanced Activity tracker – monitor steps, exercise and overall calories burned throughout the day
Advanced Sleep – automatically track your sleep stages—Wake, REM, Light, and Deep. Using this data, Smart Coach gives you suggestions to maximize your sleep and improve the quality of your days
Food Logging – log your meals and track calories in no time with the UP® barcode scanner, restaurant menu search and food database
Smart Coach – motivation and personalized insights you need to reach your goals. It gets smarter over time as gets to know the wearer and offers insight and tips
Battery Life: up to 7 days
Splash-proof – do not submerge in water
Sync wirelessly via Bluetooth Smart for real-time progress report.
Check Price on Amazon: Jawbone UP3 Tracker
Also see Jawbone UP and Jawbone UP2 at the bottom of the article.
OTHER FITNESS & ACTIVITY TRACKER WRISTBANDS
Nike+ FuelBand
FuelBand lets you measure all sorts of activities from your morning workout to your big night out. It does this by measuring whole body movement and uses its own NikeFuel metric (NikeFuel Rate, NikeFuel earned per session) and it calculates not only how much you moved, but also how often and how intense. There is a move reminder and insights on the app to let you know how you are doing as well as connect and share your progress with friends, create and join groups, set a challenge or goal and work on this together to see how gets to the top on the leaderboard. Instead of badges, you collect Nike+ trophies and reach celebratory milestones.
Measures your daily activity (walking, running, dancing, basketball and other activities)
Step counter, monitor calories burned
Set your daily goal and track your progress through the day (red to green indicator)
LED lights up from red to green to indicate that you have achieved your daily goal
Wirelessly sync to Nike + FuelBand app for iOS devices via Bluetooth
Water resistant and ambient light sensor of automatic brightness
Includes USB charging cable, charging stand and sizing tool
Colours Available: Volt, PinkFoil, Total Crimson and Black
Check Price on Amazon: Nike+ FuelBand
Fitbug Orb
One of the affordable fitness tracker, the Fitburg Orb syncs with KiK, your personal digital coach that lets you set weekly step targets, reminders and event sends you encouragements, The device works by sending daily activity stats wirelessly to the Fitbug app. Available in Black, Pink and White.
Check Price on Amazon: Fitbug Orb
Sony Mobile SWR10 SmartBand Activity Tracking Wristband
Sony Smartband works with Lifelog Android App (Android 4.4 or later) to track your daily activity. Yes, not just your fitness and health activities but your social and entertainment life as well. It also notifies you of incoming call and message through vibration alert and lets you 'bookmark' special moments in your day by pressing the Life Bookmark key. The device is waterproof (IPS58 rated) and also works as a media remote (tap function).
Lifelog app and Sony SmartBand tracks not only your physical activity but your social and entertainment moments as well. It tracks where you have been, what pictures you took, where, when and how you communicate with your world.
Steps counter (running or walking), calculate speed,
Sleep monitor (sleep pattern), monitor body movements and calculates and measures the best time to wake you up
Wake up alarm (silent vibration)
Set daily goals, monitor your progress and challenge yourself to perform better.
3 LED indicator lights up to show that the SmartBand is active
Bluetooth Sync and NFC pairing, Micro USB for charging
Three pack colour wrist straps are available as option[Red/Blue/Black – DarkGreen/LightPink/White – Purple/Yellow/Pink ]
Check Price on Amazon: Sony Mobile SWR10
Also see Smart Band 2 with pulse monitor, Heart Rate Variability (HRV), movements and sleep quality.
Sole GO! Fitness Band
Typical features; steps taken, calories burned, distance traveled are all logged on the band. When you go to sleep, it monitors and breaks down your sleep pattern. As with all the other Fitness wristbands featured here, you can set goals (targets) even for steps, exercise, calories burned, distance and even sleep on the device.
There is also a dedicated exercise mode and an alarm to notify you if you haven't moved for a while. Syncing via Bluetooth with a smartphone it also pulls weather information which is quite neat.
Check Price on Amazon: Sole GO! Fitness Band
PREVIOUS GENERATION WRISTBANDS
Here are some of the best previous generation fitness and activity tracking wristbands that are still in the market today.
Garmin vivofit
The Garmin Vivofit Wireless Fitness Wrist Band and Activity Monitor is a stylist, lightweight, comfortable and waterproof (50m) health watchband with over 1 year battery life.
Time
Steps taken, Distance travelled, Calories burned and Activity Tracker
Goal countdown
Inactivity alert (learn your activity level) with red bars appearing if you sit still for too long
Monitors your sleep
Online dashboard
Battery life over 1 year
Colours available: Black, Blue, Purple, Slate, Teal
Assigns a personalised daily goal and monitor your progress, reminds you to move – the longer you are inactive, the more red bars appear). Wirelessly sync Vivofit with Garmin Connect, a free on-line fitness community portal. The online dashboard shows your progress and allows you to track your activity between training sessions. Garmin Connect mobile app is available for iOS and Android devices.
Also available Vivofit with Heart Rate Monitor, the Vivofit can be paired with a heart rate monitor (available to purchase separately) for use when you are taking part in fitness activities.
MisFit Shine
Here is a rather conventional looking wristband in a typical watch profile minus the digital or analogue clock face. Instead, you get a shiny metal disc made from air craft grade aluminium with LED indicators arranged in a circular fashion. The Shine tracks your daily steps, calories used during sports such as swimming, cycling, running and football. Available in Black, Topaz, Champagne and Chrome. Removable from the rubber wrist band, you can also attach this to a necklace as a fashion accessory
Tells the time
Calculate steps, distance travelled, calories burned and sleep monitor (light, deep)
Activity tracker (cycling, swimming, scoccer, tennis)
Water resistant to 50 m
Syncs via Bluetooth to Shine app (iOS and Android) where you can set goals, view stats, trends and insights
Battery life 4 months (coin cell battery)
Fitbit Flex Wireless – Activity Tracker and Sleep Wristband
This is a straight forward wristband with no screen but has a series of LED indicator. It records the steps taken, distance traveled and calories burned. It record the active minutes as well as the sleep hours including the quality of your sleep. You can also set a silent wake alarm to when you are ready to get up and start your day. The band is water resistant so you can take it outdoor. Use the online and mobile tool to set and track your goals as well as interact with others and see how you perform on a leader-board.
step counter, distance, calories burned and active minutes
monitor how long and how well you sleep
silent wake alarm
LED lights show your daily progress against your goals (also notifications and milestones)
Set goals, view progress and earn badges. Share and compete with your friends
Syncs automatically via Bluetooth with mobile devices and computer
Log food, weight, and more on Fitbit website (dashboard) or apps (iOS and Android)
NFC enabled, launches Fitbit app by tapping (Android only)
Colours available: black, slate, lime, navy blue, pink, teal and violet.
Fitbit Flex also works with other fitness apps, Sparkpeople, LoseIt!, MyFitnessPal, MapMyFitness, Runkeeper and Endomondo. Supplied with the actual Flex tracker, one small and one large wristband, charging cable, wireless USB dongle and Fitbit account. You can buy three pack accessory bands in teal, tangerine and navy.
Polar Loop Activity Tracker
Tells the time
Steps counter, distance traveled, calories burned, monitor quality of sleep (restful, restless and percentage restful)
Rest, sitting and daily activities tracker
Inactivity alert with Polar Flow mobile app (iOS and Android)
Syncs to Polar Flow mobile app via Bluetooth or custom USB cable
Keeps 12 days of activity data
Waterproof for swimming
Provides guidance and motivation, Training Diary on Polar Flow web service and app
Battery life: 5 days (rechargeable with USB cable included)
Accessory: H6 and H7 Bluetooth heart rate sensor
Jawbone UP Tracker – Fitness Tracking Wristband
Available in three sizes; small, medium and large and in three colours; Onyx Black, Mint Green and Bright Blue, it does have a certain appeal in its design.
Track your activities: track distance, steps, calories burned, time spend active vs idle
Track your sleep (light vs deep sleep)
Log your food and water intake, take photo of your food, scan a barcode, browse UP gallery or search the database to help track your calories, fats, carbohydrates, protein, sugar, fiber and sodium intake.
Set daily goals, and work towards this, tracking your progress over time.
Wake alarm and Idle alerts
App also provides insight, tips and help to achieve your goals.
Battery Life: 10 days
Our Line-up
Here is a quick look at our line-up again. For the most up to date prices, please click on the links below:
Others:
Previous Generations: