Flagship smartphones from five of the biggest mobile phone makers compared. With the usual thinner, smarter, lighter, bigger, and the usual speed bumps from one generation to the next, how do these flagship smartphones compare with one another.
The 5 Best Smartphones
There is nothing like knowing you have the best smartphone there is in the market from the companies that know how. You are assured of the best build quality, design, performance and cutting edge technology all in the palm of your hand. This is what flagship smartphones are about. They are not only the best the companies have to offer but a showcase of what they are capable of in coming up with the best and to compete with each other.
We take a look at a comparative review based on specifications of the top 5 best smartphones in the industry from smartphone giants; Apple, HTC, LG, Samsung and Sony.
Previously;
Remember to check out the spec by spec comparison below.
The 5 Corner Shootout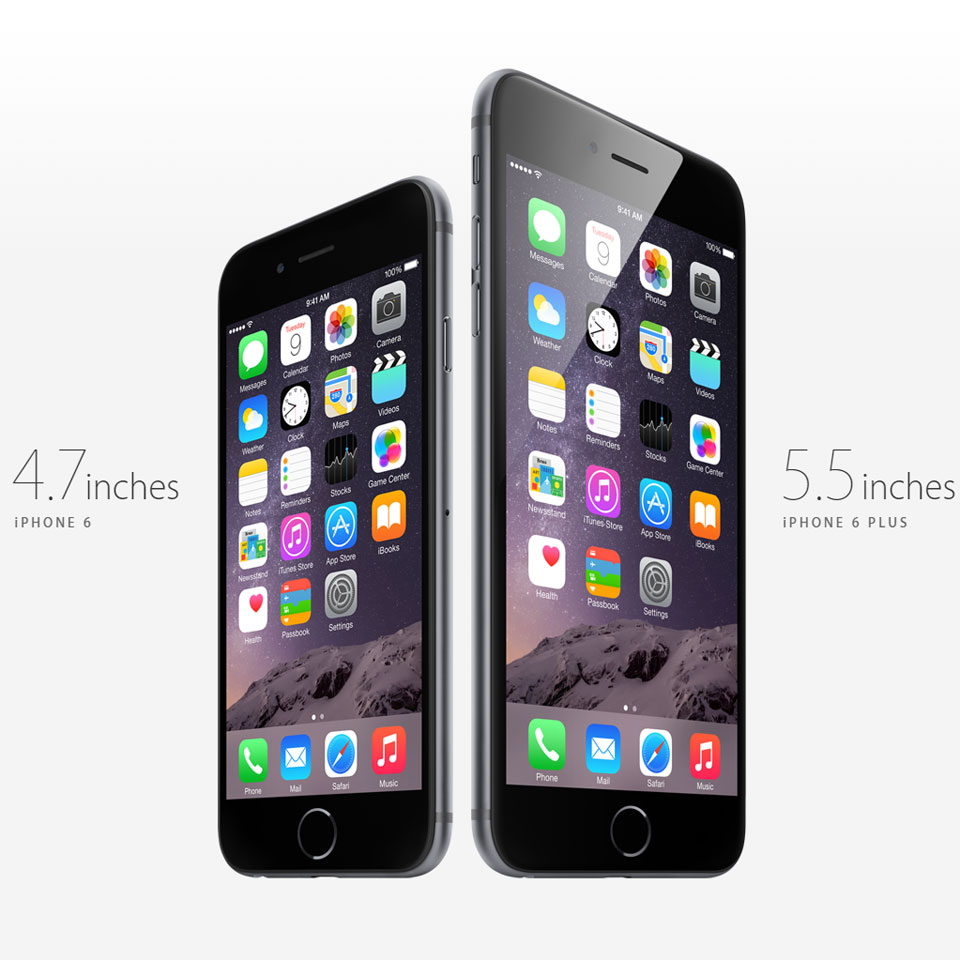 The new iPhone 6 offers two screen sizes, 4.7″ and 5.5″ display. This is the only non-Android phone in our comparison. With its smooth metal surface, rounded corners and edges meeting the new Retina HD display seamlessly. With no more sharp edges as in previous iPhones, the iPhone 6 again, sets a new trend in design, form and function.
The body is slim and weighted. While the smaller iPhone 6 fits nicely in the palm, you would be lucky to work the iPhone 6 Plus comfortably with one hand, not for long anyway.
The only other flagship with 5.5″ display is the LG G3. However, the advantage the LG G3 has over the iPhone Plus is that it has ultra narrow bezels on both sides. It also has a smaller top and bottom bezel making the foot print really small. The iPhone 6 Plus is not ashamed to be huge, it still manages to maintain its slender, ultra slim body at 6.9mm on the iPhone 6 and 7.1mm on the iPhone 6 Plus.
With bigger screens, come more pixels, the iPhone 6 has a 1334 x 750 pixel resolution, while the iPhone 6 Plus has Full HD. The later is to be expected on most new flagship phones.
In true Apple tradition, the new iPhone 6 is also packed with enormous power and technology. With it's 64-bit desktop class processor, the A8 chip is coupled with a Motion Coprocesssor, the M8. M8 processes all information and data collected from the advanced on-board sensors and new barometer.
With that type of processing power together with the iSight camera, the iPhone 6 is capable of new video features such as capturing video at Full 1080p HD at 60 fps. It is also capable of slow motion capture at 240 fps and creating time-lapse video and more.
The Touch ID finger print scanner first introduced in iPhone 5s is now extended to support purchases from iTunes, iBooks and the App Store removing the need for Apple ID password.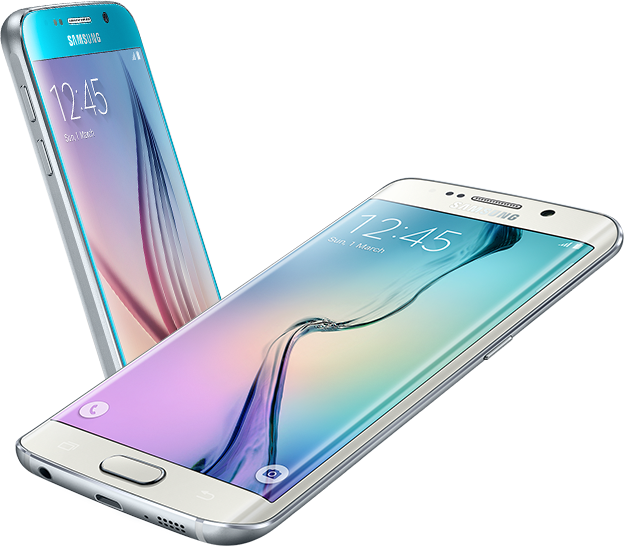 In the usual Samsung fashion, with their "the more the merrier" ethos, they have headed their line of smartphones with not one but two flagship smartphones, the Samsung Galaxy S6 and Galaxy S6 Edge released April 2015. The new Galaxy S6 is a step up from previous generation S5 (in fact all previous Galaxies) in terms of design. It now spots a full metal body instead of just the metal effect surround and plastic back plate putting it on the level playing field with the likes of Apple's iPhone 6 and HTC One M9. Samsung claims the latest flagship is the slimmest they have ever created with the ultra thin S6 and dual curved S6 edge.
Both spotting a 5.1-inch screen using Samsung's incredible Super AMOLED display technology at QHD resolution (2560 x 1440), it crams a blistering 577 ppi. Powered by Samsung's own Exynos 7420, the latest Octa-core processor combining a Quad-core 1.5GHz Cortex-A53 with a super fast Quad-core 2.1GHz Cortex-A57 and together with Mali-T760MP8, it is capable of crunching vast amount of data and rendering graphic intense games.
The only feature it does not have this time is the ability to remove the backplate or to add extra storage in the form of MicroSD cards. Yes, Samsung has removed the expansion slot. Also at the cost of shaving off milimeters of depth from the body and the use of a metal backplate, it has also reduced the capacity of its battery but not enough to impact on the battery life.
Other improvements include the main 16MP F1.9 fast tracking auto focus camera with LED flash. It lets you capture every moment with exceptional clarity and achieve brilliant photos in any light. The Optical Image Stabilisation (OIS) and HDR features are intuitive and it supports UHD 4K (3840 x 2160) @30fps video recording. As with the camera on the iPhone 6, given the number of lense elements, the rear facing camera juts out slightly but such is the price to pay for a super slim body. The front selfie camera has received an upgrade to 5.0MP.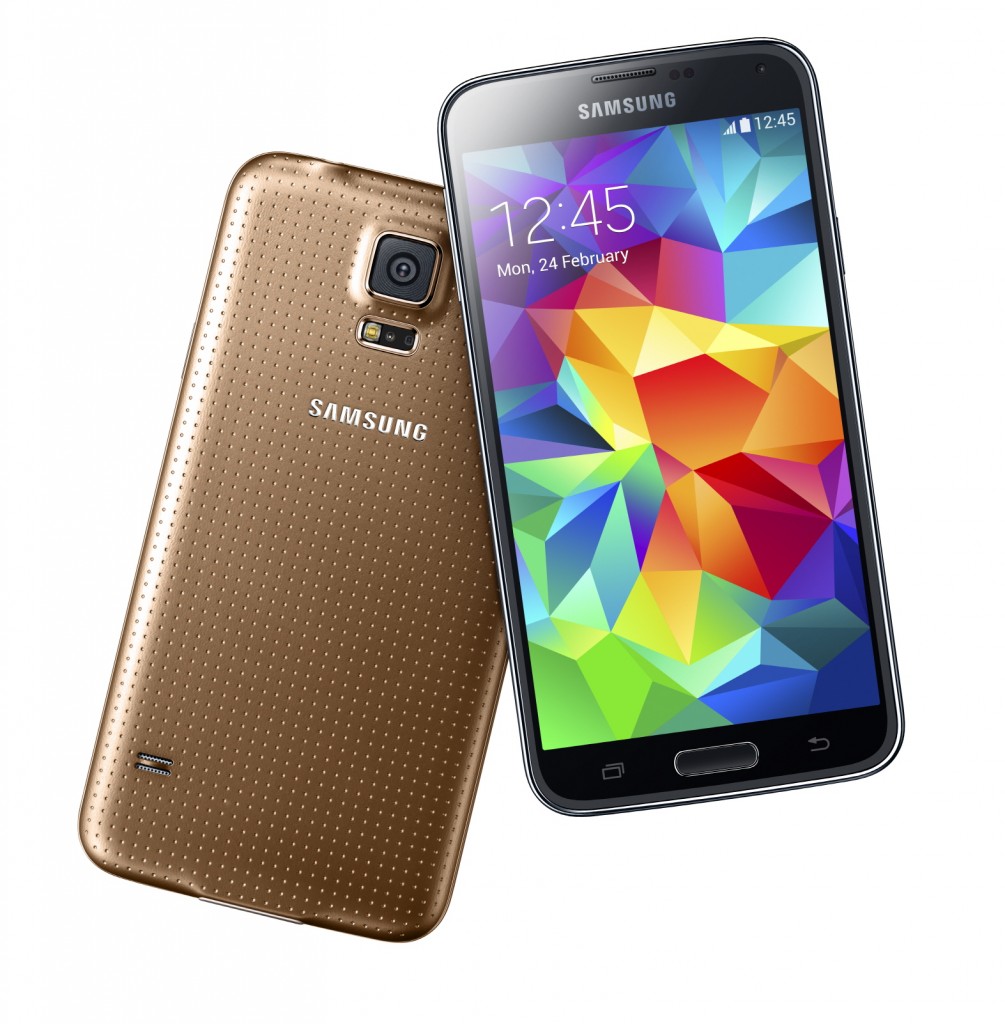 Following on the heels of Apple, the Samsung Galaxy S5 now comes with a finger print reader as a secure biometric screen lock (unlock) and to work with apps such as PayPal to complete online transactions securely. Samsung has also shifted it's focus from packing features (and bloat wares) to making the battery last longer with Power Saving Mode that turns the display to black and white or shuts down unnecessary features to save battery.
The body is also designed to be dust and water resistant. Another clever function is the combination of 4G LTE download speed and WiFi to offer super fast browsing and downloads by enabling simultaneous connection. The 16MP rear camera is dubbed the world's fastest autofocus camera at the time of launch and has features such as Selective Focus so you can decide on the subject to focus on while blurring out everything else.
Lastly, the Galaxy S5 also comes with a heart rate monitor and pedometer built-in and it works seamlessly with Samsung Gear Fit and Gear Neo smart watches.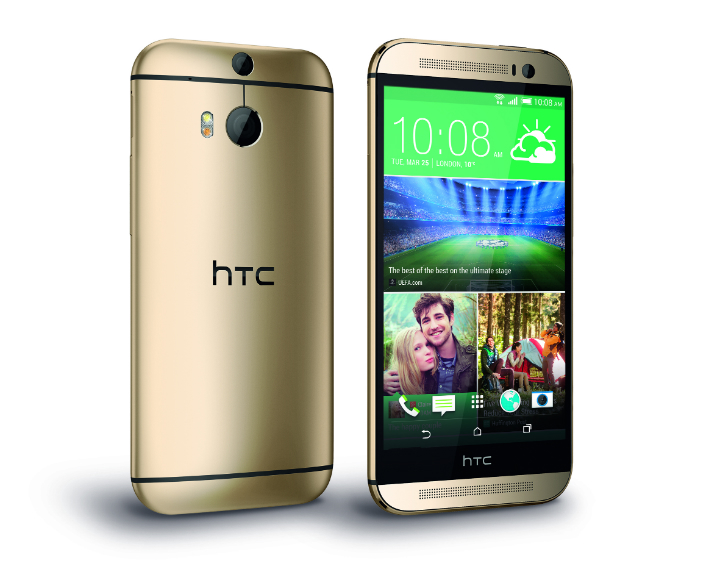 The all aluminium design makes the HTC One stands out. It's the only smartphone with the exception of the iPhone, that uses an aluminium body. Crafted from a single block of aluminium, it is a stunning phone with smooth finish on the edges and brushed aluminium back that curves to fit the palm.
As with all previous HTC phones, the focus on user interface (UI) is evident here. HTC Blinkfeed provides a social and news home screen that includes your favourite content and trending topics in a magazine layout similar to Flipboard.
It also has the highest resolution front facing camera at 5MP on a wide angle lens and self-timer shooting so you don't compromise on quality when taking selfies. The rear camera Ultrapixel sensors, will have no problem shooting in any lighting conditions and the Duo Camera feature takes different layers of the same shot to let you choose where to focus, to soften the backgrounds and add 3D-like effects.
UFocus feature lets you decide what to focus on after you have taken the picture. For ease of control, the Motion Launch lets you wake up the phone with a double tap, swipe up for the last app, left for widgets and right for HTC Blinkfeed even from sleep mode. To take incoming calls, simply lift up your phone to answer.
Lastly, the HTC BoomSound feature provides one of the best sound production on a smartphone with dedicated amplifiers and a pair of front spacing speakers. More on this later.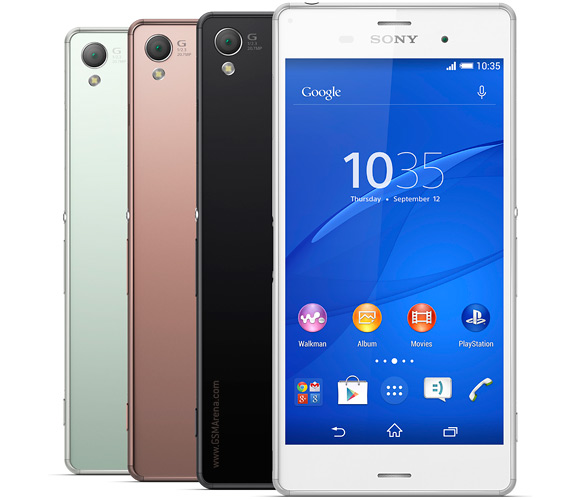 Sony's flagship smartphone has plenty going for it. True to Sony's design and quality, shatter proof, durable, tempered and scratch resistant glass is applied to both the front and back of the phone to give it that premium look and feel.
Sony however, has also done away with corners and sharp edges in favour of a rounded aluminium frame with uniquely designed power button that stands out and give it a premium look. It is only slightly thicker than the iPhone 5 plus at 7.3mm (0.2mm thicker) which is still one of the slimmest phones among other phones here.
It also has a 20.7MP rear camera with a larger sensor 1/2.3″ Exmor RS for mobile, 30% larger than most standard smartphones which makes it on par with Sony's own compact digital camera.
Couple with a wide angle lens that captures more light at 25mm angle compared to the typical 30mm and a super sensitive set up at ISO12800 to capture the best images in low lighting condition.
It is also powerful enough to record 4K  resolution video (ultra high definition) and incorporates Sony's own SteadyShot technology and Intelligent Active Mode that estimates movements and analyses dozens of frames, for smoother and more stable video.
Being able to capture 4K video means nothing if you can not enjoy its true brilliance on the big screen. The Xperia Z3 supports 4K (3840 x 2160) resolution and playback on a 4K TV or projector using the latest MHL 3.0 connector so you can enjoy 4 times the detail compared to a Full HD 1080p video.
The same power and camera technology can also be used to capture high frame rate video (120fps) and using the Timeshift function you can add slow motion effects to your shots. In the sound department, Sony has the advantage again of being the first to include digital noise cancelling technology in their phones.
The other feature that makes the Sony stands out from the rest is in the durability department, the Xperia Z3 is dust and waterproof and can withstand being submerged up to 1.5 m of freshwater for 30 minutes. You can even operate the camera underwater. It can literary go where no phones can ever go, just make sure you have the microUSB port, micro SIM slot and memory card slot covers shut properly.
With all that technology, you would want to enjoy it longer per charge and the Xperia Z3 does not disappoint, with up to 2 days estimated usage time, you won't be caught running short of battery. The efficient Stamina mode can keep your phone going longer with up to 14% or 10 hours more.
LG G3 – Superseded by LG G4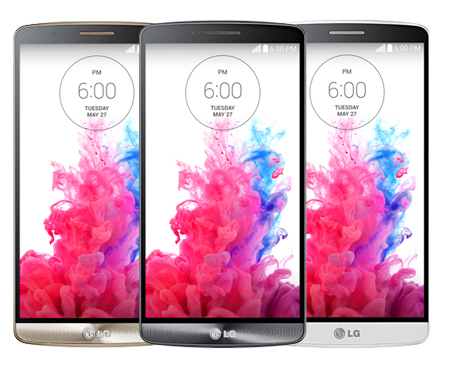 Last of the flagship smartphone in our review launched in 2014, the LG G3 gets the advantage of cramming in the latest in Technology and OS. Complete with Qualcomm's Snapdragon 801 quad-core processor running at blistering 2.5GHz married with 2GB of Memory similar to the one found on Samsung Galaxy S5.
Early reviews have been very positive. Focusing on simplicity and ease of use, the G3 is based on Android 4.4 (Kitkat) with is tweaks, skin and customisation. There is 3000mAh battery user replaceable and supports wireless charging.
It has a 5.5-inch screen running at what LG calls quad HD, four times that of a 720p HD display with 2560 x 1440 resolution. Giving you a pixel density of 534 pixels per inch given its 5.5-inch display.
In the camera department, it has a 13MP rear facing camera with laser auto-focus, O.I.S (Optical Image Stabiliser) and dual LED flash would make smartphone photographers happy.
Internal storage options available at 16GB or 32GB with MicroSD slot that supports expansion of up to 128GB. Other standard features include A-GPS, Glonass BT4.0, NFC and Wi-Fi 802.11 a/b/g/n/ac.
The thin and lightweight metallic design makes for an eye candy with curved surfaces as seen on HTC One making it thinner around the edges.
The real feature that makes is standout from the other smartphone is its intuitive and aesthetic graphic user interface. Taking cues from Apple, LG has simplified the icons and layout, removing unnecessary visual elements to improve the user interface and to give it a fresh look.
Also read: LG G3 vs iPhone 6 Plus: Battle of the Titans
The Five Corner Shootout
Apple iPhone 6 vs HTC One M8 vs LG G3 vs Samsung Galaxy S6 vs Sony Xperia Z3. Here is a look at the spec by spec comparison [IN OUR COMPARISON]:
Processor, Memory, Storage
Only the iPhone 5S has a future proof 64bit processor. Both HTC One (M8) and Sony Experia Z2 shares the same quad-core processor , the Qualcomm Snapdragon 801 running at 2.3GHz. LG has a slightly slower processor at 2.26GHz using the Qualcomm Snapdragon 800 instead while Samsung has a speed topping 2.5GHz Krait 400 from the Qualcomm Snapdragon 801 series.
Previous Generations:
Display
Apart from the iPhone 6 (not iPhone 6 Plus), all smartphones in our list has pretty big screens, 5-inch or bigger. We looked at the Top 5 Best Phablets and 10 Best Phablets in 2015 not too long ago. It has smartphones with screen size up to 6.4-inch, starting from 5.7-inch. These big screen flagship smartphones are not that far behind. Vendors are starting to blur the lines between their smartphones and phablet, with Full HD resolution and super bright and topping the chart with a Quad HD 4K screen on the LG G3 every pixels count.
Previous Generation:
Battery
Most smartphones that we have used to does not last for over a day through active use. Vendors are putting power management features in place to turn off un-used features and notifications, introduce deeper sleep (leaving only minimal phone functions) as well as the ability to turn the colours on the display to black an white to save everydrop of juice on the battery and to maximise the battery life per charge. On the other hand, vendors are also squeezing bigger and higher capacity batteries into the only thin packages.
Previous Generation:
Cameras
Smartphones are already replacing point and shoot digital cameras. With clever camera features, high pixel density sensors, flash, lenses, effects and editing software as well as ease of sharing, it makes sense to use the camera on the smartphone instead of carrying another camera. Features include dual shot, simultaneous HD video and image recording, geo-tagging, touch focus, face and smile detectio, image stabilisation, HDR, Panorama. The iPhone 6 already well known for its camera uses the processing power to support Slo-mo 240 fps capture and Full HD 1080p at 60 fps.  Sony Xperia comes up on top with a 20.7MP rear camera capable of 4K video capture while both LG G3 and Samsung Galaxy S5 have 13MP and 16MP sensors respectively. The HTC chose Dual 4MP Ultrapixel sensor each that can do some pretty clever stuff.  However, the actual output quality of the images my differ as there are other factors at play when it comes to taking a good image such as lense, lighthing and software optimisation.
Previous Generation:
Sound
Previous Generation:
Durability
Simply packing a phone with bigger numbers; faster processors, more memory, bigger storage, bigger screen, more resolution and more sensors are something that every vendor does. So how are vendors differentiating between themselves, in the design of the package itself. From brushed metal unibody aluminium frames, to corning glass in different colours, design is everthing in a premium phone but they are not stopping there. These flagships are also designed to be durable, with some including compliance to IP (Ingress Protection) standards to protect your phone from dust and water.
Note: IP stands for Ingress Protection, IP rating is a test certification to measure a device's resistance levels to both dust and water. The first digit in the two-digit IP rating indicates the level of protection against solid objects, including tiny dust particles. The second digit indicates how resistant the device is to water.
Previous Generation:
Where phones are dust and waterproof, the micro USB port, micro SIM slot and memory card slot must be closed tight in order for this to work.
Connectivity
Apple iPhone 6: 4G LTE, 802.11abgnac WiFi dual band, BT4.0, NFC, lightning port

HTC One (M9)

: LTE, 802.11abgnac, dual band, WiFi Direct, Hotspot, DLNA, BT4.0, microUSB 2.0 (MHL 3.0 TV Out), USB Host, A-GPS, GLONASS,  infrared port, NFC, Stereo FM with RDS
LG G4: 4G LTE, WiFi® 802.11 a/b/g/n/ac, Bluetooth® 4.1 BLE, NFC, 4K Slimport Support, GPS-A, GLONASS, USB 2.0
Samsung Galaxy S6: LTE Cat 6, WiFi 802.11 a/b/g/n/ac, NFC, Bluetooth v4.1, A2DP, LE, apt-X A-GPS, GLONASS, Beidou, NFC, microUSB v2.0, USB Host, Infrared
Sony Xperia Z3: 4G LTE, 3G, 802.11abgnac, NFC, BT4.0, DLNA, microUSB2.0, 3.5mm audio jack with Digital Noise Cancelling (DNC), GLONASS, aGPS
Previous Generation:
Sensors
Sensors are pretty standard on smartphones. Common across all phones include accelerometer, gyro, proximity, compass and barometer. Finger print or biometric readers are available on the iPhone 5S and Galaxy S5, while the Galaxy S5 also comes with a heart rate sensor built-in. With the exception of the iPhone 5S, all phones includes NFC (Near Field Communication). The other feature absent on the iPhone 5S and the Xperia Z2 is the infrared blaster for remote control, while this won't go amiss.
Apple iPhone 6: Barometer, three-axis gyro, accelerometer, proximity ssensor, ambient light sensor, finger print identity sensor, NFC

HTC One (M9)

: Accelerometer, gyro, proximity, compass, barometer
LG G4: Accelerometer, gyro, proximity, compass, barometer, color spectrum
Samsung Galaxy S6: Accelerometer, Barometer, Fingerprint Sensor, Gyro Sensor, Geomagnetic Sensor, Hall Sensor, HR Sensor, Light Sensor, Proximity Sensor
Sony Xperia Z3: Accelerometer, gyro, proximity, compass, barometer,
Previous Generation:
Dimensions & Weight
Previous Generation:
Colours Options
Previous Generation:
Operating System
Previous Generation:
Notable Features
Apple iPhone 6: Touch ID fingerprint identity sensor built into the Home button, free Apple Apps (iWorks, iMovie, GarageBand, iPhoto and others)

HTC One (M9)

: Brushed metal body, wrap-around unibody frame, fits perfectly in the palm of your hand, great sound from front firing stereo speakers
LG G4: Trademark rear button for easy reach and control, interchangeable metal craft, ceramic craft or leather craft backs, laser auto focus rear camera, high resolution front facing selfie camera, improved high contrast and brightness Quad HD display, removable battery and microSD card supporting up to 2TB additional storage.
Samsung Galaxy S6: Quick camera launch time of just 0.7 seconds with Optical Image Stabilisation, fast tracking auto focus and bigger, f1.9 aperture for better low light results. With quick charge, 10 mins charging is enough for 2 hours of HD video playback or 4 hours of use. Wireless charging is also supported removing the need to plug-in. All grown up full metal and glass construction but had to sacrifice removable battery and microSD card slot and some battery capacity to achieve that super sleek, ultra slim profile. Super AMOLED screen on the latest Gorilla Glass is stunning pushing the highest density in pixels, 'real' RGB colours and super crisp images. The fingerprint scanner is not only used for security but is PayPal certified and supports Samsung Pay (Visa and Mastercard certified)
Sony Xperia Z3: Premium design in highest waterproof rating for a smartphone in a super slim body and sturdy aluminium frame, the xperia is both durable and beautiful. The camera incorporates Sony's know how from their line of Cyber-shot and Handycam technologies.
Previous Generation:
Also worth waiting for is the Nokia Lumia 930, Nokia's flagship Windows Phone 8.1 to launch in June 2014. Specifications as below:
2.2GHz quad-core Snapdragon 800 processor
2GB RAM, 32GB storage
LTE, 802.11 abgnac, BT4.0 LE
5″ OLED ClearBlack, FHD 1080p (1920 x 1080), 441ppi
20MP Pure View with Zeiss optic rear camera, 1.2MP wide angle front camera
Aluminium frame with polycarbonate back
Dimension & Weight:  9.81 x 137 x 71 mm, 167g
Battery: 2420mAh, Talktime 11.5hrs (2G), 15.5 (3G), standby 18days
Colours: orange, green, black, white
Final Thoughts
Whichever flagship smartphone you choose, you will not be disappointed. Remember to pick the gold, bronze or copper finish for that bit more class and premium feel to an already excellent phone.
Also, if you can't afford to go with the latest, we have also included above, a handful of information on the previous generation flagship. These are now still available at heavily discounted prices making the decision to go with a flagship albeit last season that bit easier and more affordable. These older generation flagship and still very capable smartphones are as listed below:
Finally, here is our list of flagship smartphones again. For the latest prices, click on the links below: