Ever wondered how people create and share quotes as images. There is definitely value in creating and displaying these quotes in the education context. Here are some tools to help you do that.
How to Use a Quote Picture Generator for Education
Almost all the schools I have been to have in their corridor, motivational and inspirational quotes framed and hung diligently by the school's caretaker and admired by parents, teacher and students.
While these are acquired commercially and only available with quotes for a certain genre, there are many other scenarios I can think of where creating a custom picture quote would benefit the school.
Using the examples I have seen and a little brainstorming with the team, we can already list 10 useful applications for creating these quotes in schools.
Motivational and inspirational quotes (so we don't have to buy them)
Historical events and speeches
English, German, Spanish, French etc for the Modern Languages Department
Lyrics for the Music Department
Famous words from plays for the Expressive Arts (Drama, Dance, Performing Arts)
Equations, Keywords and Terms in Science & Technology Department
Artwork and Artist pairing for the Art Department [Meme Posters]
Mathematical formulas, Maths-Fact of the week
Introduction to the different religions in Religious Studies
Other specialist subject related topics and word bank [Psychology, Sociology, Travel and Tourism etc.]
Imagine the possibilities when you can create and print your own quotes or images from text without any special software or photo editing skills and most importantly it's free.
20+ FREE Web Apps to Create Images from Text
We trawled the web and tried the different web tools that lets you create and save your own picture quotes and meme posters for free. To make it relevant, we even used and shared these on our own websites and social media platforms.
The List
RECITE This
Pinstamatic
Quozio
Pinwords
PixTeller
Chisel
Canva
Quotes Cover
liveluvcreate
QuotePixel
Behappy.me Quote Generator
picfont
ShareAsImage
PicMonkey
Make a Quote Image
Quote4fun
Quotesome
Notegraphy
someecards
Keep Calm-o-Matic
PosterGen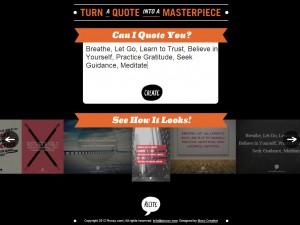 Here is a quick way to turn your quotes into images, literally a two minute job. Features include:
Choose from a handful of templates
See it before you generate the image with live thumbnails
Share your creation straight to tumblr, Facebook, Pinterest, Twitter, StumbleUpon
Download and save a copy of the image
Open and view your creation on piccsy.com (a photo pinning and sharing site similar to Pinterest)
Totally FREE and No login required but you have to live with the RECITE logo and "Made with Love by piccsy.com" print at the bottom.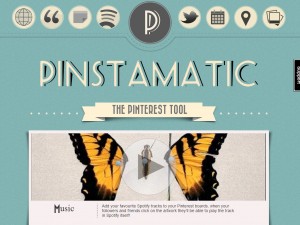 Lets you create great Pinterest boards using just the website, no editing tools or software required. This is a great web tool for those already familiar and making the most of Pinterest. Pinstamatic lets you create and pin notes, quotes and website to your boards. You can even share music on Pinterest. Features include
Integration with Pinterest, create then pin the image directly from Pinstamatic
Create and put quotes on your boards with a selection of fonts
Create a website snapshot by entering the web address
Create a sticky
Add a date
Copy and paste the title of a Spotify track or simply type the name of the track to generate a link to your favourite song complete with album artwork.
Play your songs directly from your board
Add clickable map of the different points of interest
Finally, upload your own image and add caption to the top and bottom of the image [Meme Poster]
No login required, No watermark
Great tool for Pinterest users or businesses trying to break into the Pinterest scene.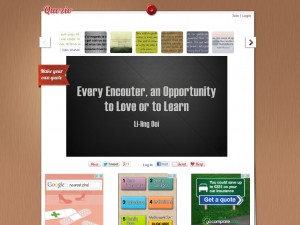 Enter your quote and name, then click the Go button. Then, select from a list of styles (background and font) and watch your picture quote rendered in seconds. Use one of the social media buttons to Pin to Pinterst, Tweet on Twitter, Post on Facebook, Send as attachment in an email or keep the quote with Quozio (login required)
Easy to use
Preset templates (or styles) allows you to quickly select and apply the style for your picture quote
Share on Pinterest, Twitter, Facebook or via email as an attachment
Right click on the image and choose to save this locally
No login required unless you want to keep the quote on Quozio. No watermark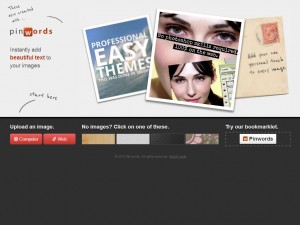 Upload or choose an image to start, then choose the type of text overlay and enter your quote then click Continue. You picture will be ready for Pinterest, Tumblr, Twitter or email in the next page.
Quick and easy to use
Option to upload your own image as background
or Choose one of 4 background images to use
Choose from a selection of fonts type and overlay for your caption
Click on the caption to move or rotate it
No login required, Watermark on the bottom right corner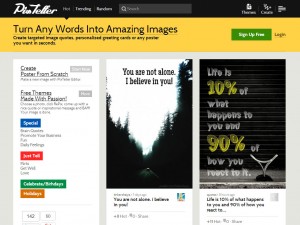 Sign-up for free with either your email, Facebook or Twitter. Once your login is ready, click Create poster, choose a background (size, texture, image), add text (size, type, colour, alignment and more), select an icon and finally, Create image.
Free to sign-up
Upload your own background image or choose solid or gradient colours for background
Tonnes of fonts to choose from for your caption
Move and resize your text on screen
Choose from a vast selection of icons (stamps) to add (here, we have a smiley in the sample below)
It automatically posts the image to your profile page http://www.pixteller.com/username when you generate your image
Browse picture quotes created by others
Use the RePix option to create similar images, very handy
From your Profile page, you can view and share images easily to Facebook, Twitter, Pinterest, Google+, Tumblr and Stumbleupon. You can also leave comments
Login required, watermark at the bottom right
Chisel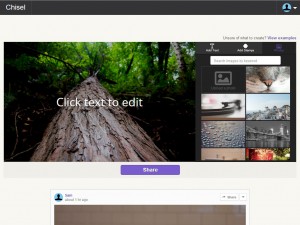 Write your thoughts on photos. Start by uploading your own photo as background or use one from Chisel's library of nearly 4000 images. Add your inspirational quote, or pick from articles or books, or simply use the caption to label the photo with the name of the place or people. When ready, share your creation on Chisel, Facebook, Tumblr, Twitter or other social platform.
Sign up for free account
Choose from a bank of images or upload your own for background
Add as many line of text as you wish and click on the text to edit
Upload and add stamps; we recommend adding a Twitter icon and your handle, a nice touch to get you noticed
Move your text caption up or down by clicking and dragging, no left or right align
Like PixTeller, you get your own personal page http://www.usechisel.com/username
From your personal page, click on the Share button on the top of each image to share to Twitter, Facebook, Tumblr, Pinterest or copy the link to Chisel
To save, simply right click on the image and choose option to save image locally
Login required, no watermark (except for credit to photographer if an image from the library is chosen)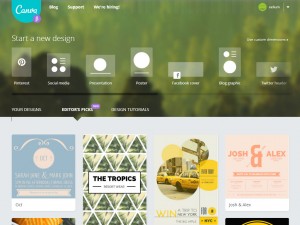 Canva goes beyond creating picture quotes and meme posters. This is a pretty powerful tool yet easy to use.
You will need to sign up for an account, then follow a 23 second guide to create beautiful design in canva. Simply search for a clip art, or browse by category, drag and drop desired image, click on text to add text then click Link & Publish or Share directly to Twitter and Facebook.
There is also a Starter challenge, a get started walk through tutorial to familiarise yourself with the clever interface. Features include:
Sign up for a free account
Friendly drag and drop interface
Templates: Pinterest, Social Media, Presentation, Poster, Facebook Cover, Blog Graphic, Twitter Header, Facebook Ad and more (or use custom dimensions).
Choose from category or use keyword search to find images in the library
Categories include lines, banners, grids, text holders, speech bubbles, shapes, frames, icons, stickers, arrows, infographics, web wireframes, technology, buttons, dress ups, food, animals, hand drawn or travel
Choose a layout, drag and drop images into it to create a collage or choose a background.
Certain articles (images, stamps, backgrounds) are fee based or premium ($1 each), so you will see a watermark on then. These will be removed when you pay at the point of publishing. Still there are plenty of free options available and we like the colourful text badges and bubbles as well as the icons and stamps under the info-graphics category (all free of course) and…
You can also upload your own image or choose a ready made graphic and use the Remix option to make it your own. Premium charges may apply.
When you are ready click on the Link & Publish button to render and download a copy of your image.
Search for quotes, ancient proverbs, greetings and messages or even invitation wordings from Quotes Cover's collection or simply type your own in the Custom wording box.
You then choose an editor suitable for the type of output you wish to create i.e. Viral Status Updates or E-cards, Facebook Cover, Google+ Cover, Twitter Header, Wallpaper or for prints.
No Sign up required
Choose the font combination to use by clicking on the next and previous buttons
Choose the colour combination to use (text and background colours) by clicking on the next and previous buttons
Upload your own photo and insert as background (optional)
Browse Quotes Gallery and use the Redesign tool to tweak and make it your own
Save as JPG or PNG to your computer or simply publish to Facebook using the Facebook button.
No login required, no watermark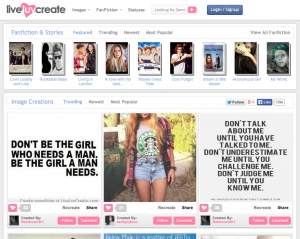 Once you have created an account, you can start to browse the images, fan fiction and statuses that other are sharing to get a feel of what liveluvcreate is about. You will soon find that it is more than just a tool to create picture quotes and meme posters.
The community on liveluvcreate not only create and share images but tell their fan stories on movie, TV show, book, musician or celebrity that they like and publish this under the FanFiction section.
Sign up required
Similar to Pinterest, you are given a profile page where you can pin your own images, post updates, write your story and describe your profile.
You can Follow and leave Comments on other people's pins as well as
Recreate and Share them on your profile
To create an image, go to Images > Create then select a layout
liveluvcreate lets you upload your own images, use pre-made images from their library, connect to facebook and grab images from your album or use a browser plugin to make it easier to upload images.
Login required, watermark at the bottom right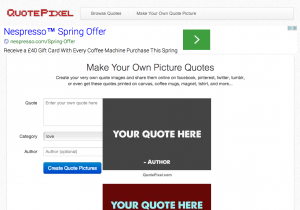 No nonsense, single page picture quote creation site that does just what it says on the tin. Looking to upload your own image, choose your own fonts, background colours, stamps or icons… look elsewhere. Here is a straight forward picture quote generator that is so easy to use, even a five year old can use it. Simply visit Make Your Own Quote Picture, insert your quote and author, choose your category and QuotePixel will generate a bunch of picture quotes for you.
No Sign up required
Small images
Right click and choose to save the image locally them to your computer or use
No login needed, Watermark at the bottom of the quote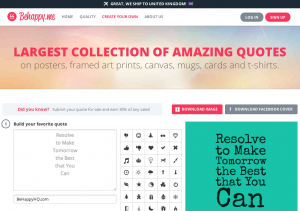 Another single page operator, this web tool lets you create your picture quote quickly and painlessly. Follow the three steps to build your favourite quote starting with the quote, author and icon then choose your font from a list of 20 and finally, pick your background colour. You can then click on the Download Image or the Download Facebook Cover button.
Sign up optional
Select from 20 fonts and 30 background colour combinations
Select static font size or automatically adjusted to fit and option to center text
Download image in standard (square) format or for use as Facebook Cover
No login required, no watermark 

(except on Facebook Cover image where it appears on the bottom right corner)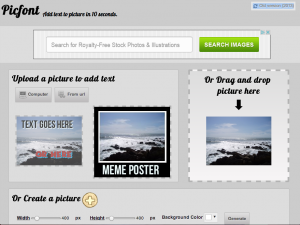 The site's tagline is Add Text to Picture in 10 seconds. It took us a little longer to figure things out. The web app allows you to drag and drop your own image to start or choose to create one with plain background setting the size (width and height) and colour of your background before adding your own text.
It takes a little getting use to and all the controls are set on the top bar. Once elements such as stamps, icons and text are added, you can drag them to move it around.
When you are ready simply click Save and a copy will be downloaded.
No Sign up required
A little basic
Interface not as friendly
No login, no watermark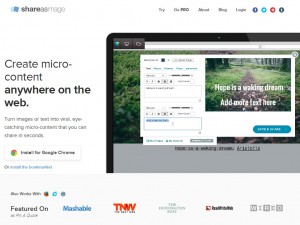 No surprise here, this web tool turns your text into image turning simple text into viral, eye-cathing micro content as they call it to share in seconds.
PRO version for $8 per month is available to include your custom brand, access to the entire image, pattern and filter library.
Install and use the bookmarklet to allow you to capture and send quotes from your web browser directly to ShareAsImage and begin working on your masterpiece.
Sign up required to save image
Choose your background colour or upload your own image (from desktop, facebook, link, instagram or search for a web image)
Enter your text, choose your various font types,
You can also choose from the library of photo or patterns as background with PRO version having access to more
You can choose to apply filters to your images, 6 free filters available with more in PRO version.
Free to create unlimited images Share on Facebook, Twitter, Google+, Pinterest and Buffer
Option to upload and add custom watermark in PRO version
Login required, watermark on the bottom left for basic version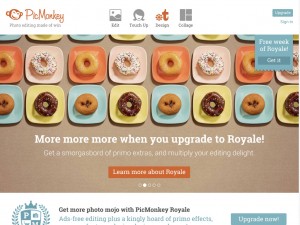 One of our favourite online Photo Editing tool, you can find a review of PicMonkey in the article Free Online Photo Editor where it lists the top 10 online photo editing web apps.
The Overlays (sometimes known as stickers or icons) are grouped in themes like Vampire, Zombies, Witches, Demon, Winterland and Sweethearts. Frames or borders and textures are also available for those would wants more out of their photo.
For the purpose of creating a picture quote, you want to pick a background or upload your own image, hit the Text menu to add your quote, then the Overlays menu where you can add stickers and finally use the Save or Share option to download or push your image to social media (Facebook, Twitter, Pinterest, Flickr, Tumblr or Email)
With so many options, you will need to spend time to familiarising yourself with the tools to make the most of PicMonkey.
Sign up optional
Upload your own image to edit, touch up, design or create a collage
When you finish, download a copy of your creation or
Share on Facebook, Twitter, Pinterest, Flickr, Tumblr or email
Login optional, no watermark with your own image
Make a Quote Image by Pro Writing Aid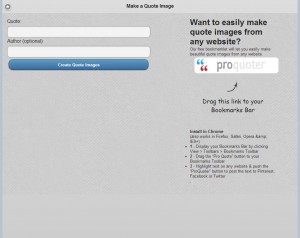 Make a Quote Image by Pro Writing Aid is a simple two step process to generate your image quote. This is what we call a real two second job.
There is nothing else but to complete the quote and author field then click Create Quote Images and that's it.
The web tool will automatically generate a bunch of quote images for you. No uploading, no choosing from a list of fonts, effects or overlay. Just a plain and simple picture quote generator.
The images are small but enough to share online. Click on your chosen image and you will have the option of pushing the image to Pinterest, Google+, Twitter or Facebook.
Picture quote generator doesn't get any better or simpler than this.
No Sign-up required
Share on Pinterest, Google+, Twitter or Facebook
No login required,  No watermark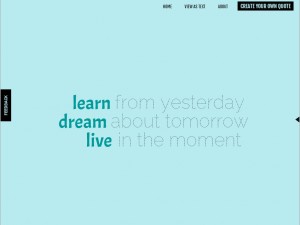 Here is another simple and fun picture quote generator designed to make spreading your quotes, wisdom, fun facts or personal messages easy.
You can start with a blank canvas or choose from a list of images (stickers) and fonts to create your very own quote image.
Add your quote in the text box then choose your settings (font type, size, alignment, bold, italics, colour)
You can also choose to add a new text box. Any editing that you do will be shown in real time. Click and drag to move your text boxes in the image itself.
Then choose the background colour or add an icon and click Submit Quote when you are done.
The following pop up window will give you the option to either Download or Share your image on Facebook, Twitter, Tumblr and Pinterest.
There is also a link to quote4fun showing your image.
Sign up optional
No option to upload your own image
Choose fonts, background colour and add overlays
Download your image or
Share on Facebook, Twitter, Tumblr and Pinterest
No login required, watermark on bottom right
Quotesome
Quotesome is more a web tool to keep your collection of quotes.
You can install a bookmarklet (extension) that lets you highlight and add quotes you come across on the Internet and add this straight to Quotesome from your browser or manually enter your quote on the website.
Once added you can then choose to Share as a Picture, Post the quote directly to Facebook or Tweet.
The Share as a Picture option lets you choose to share the picture quote generated to Facebook, Tumblr, Pinterest or simple download a copy of the image.
Sign up required
Simple options; no font, no background, no image upload and no overlay settings
Login required, watermark present at the bottom center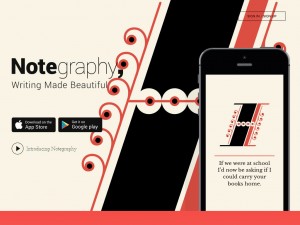 Also available as apps to download for free from the Apple AppStore or Google Play, it lets you create beautiful notes and quotes that you and write, publish and share all from the comfort of your mobile device.
Write your quote or text by clicking on Make a Note, choose from a list of different styles to apply and publish this online to the different social media platforms.
Avenues to publish your work includes Twitter, Facebook, Instagram, Tumblr, Pinterest, Evernote, Google+ and even directly to Facebook Pages.
To download a copy of the image, go to My Gallery, the click to view the picture quote to view. This opens the quote in full page mode. From the sharing bar click on the last option […] and choose Save from the pop-up light box.
You can also check the Private note switch to not share the note you have created.
Sign up required
Your own profile page called My Gallery https://notegraphy.com/username
Cool styles to choose from
Option to link your social media accounts (Facebook, Twitter, Tumblr, Evernote)
Professional looking outputs
Share directly to Twitter, Facebook, Instagram, Tumblr, Pinterest, Evernote, Google+, Facebook Pages and more.
Login required, no watermark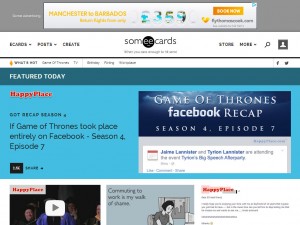 Easily distinguishable outputs, someecards uses the same layout and design for all its output. The purpose of this website is to create ecards but many have used these to send viral messages, jokes, silly greetings and more.
It can be a little confusing when on the sites as the site tries to break in it's blog called the HappyPlace under POSTS.
Click on CREATE link on the top bar to start. All images are black and white clip arts and cartoons, you can pick one from a handful or random selection and dig deeper and sort them by category.
The images when selected goes on the right side of the card while you type directly on the left side of the card.
Add your text, choose an image and a background colour then click Save Card. Before it actually saves your card, it will prompt you to choose a category in a pop-up lightbox. Once done, click Save Card again and you will be shown your card.
From here, you can post your card to Facebook, Twitter, Pinterest, Google+, Email or copy the link for this page.
You can also use the Create Similar action to edit and save another version of the card.
To look at all your cards to go your user profile or My Card where you can also see the cards you received.
Sign-up required
Black and white cliparts also available to sort under pre-determined categories
No font, just background colour option
Right click on image to save a copy locally
Share to Facebook, Twitter, Pinterest, Google+ or email the ecard
Login required, watermark on bottom left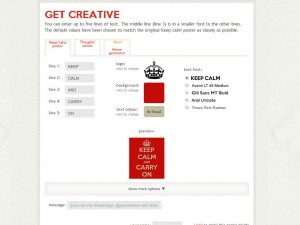 Based on the popular World War 2 poster by the UK Ministry of Information with the message "Keep Calm and Carry On" created during the reign of King George VI, the poster had a single image of the Royal crown on the top and the text in uppercase and white on a red background. You can now create your own Keep Calm message using the tools on this website.
Sign-up required
Create your own private posters
Vote for your favourite posters
Follow other creative users
Get your own personalised Feed
Share on Pinterest, Twitter and Google+
Download as original, PDF, for iPhone 5, iPad 3, Facebook Profile picture, Facebook cover picture, Twitter picture, Widescreen wallpaper or normal wallpaper.
Login required to save and share images, no watermark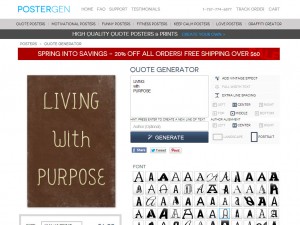 Click on the Create Your Own link to access the Quote Generator page. Enter your text and select from a bunch of font type and settings. When you are ready, click the Generate button. To save, right click on the image and choose "Save image as…" (save image option may be different from browser to browser). This is essentially a poster e-shop that allows you to order custom posters as well as select from existing ones for the shopping cart.
No sign up required
Plenty of fonts to choose from
Text alignment
Page layout; landscape or portrait
Text Colour options
Background Colour options
No login. watermark across the bottom
Feel free to leave us your comments or new web apps that you found online that lets you create picture quotes, posters, text images and meme posters.
We would love to hear from you on your chosen web tool and how you use this to help for your school.
Adapted by the Author for ColourMyLearning. The same article made its' appearance here: