If you are not one for multiple mobile devices, smartphone, small tablet, big tablet, then a phablet may be your thing. Essentially a cross between a phone and tablet, phablets are phones with big screen and tablet-like features.
Typical phablet screen sizes are between 5.3″ to 7″. Most phablets while big are still pocketable (somewhat), if you have a suit or jacket on. There are many advantages for a convergence device such as a phablet; a phone with a big screen means you can leave your tablet at home for your commute and not carry too many devices. It also means you don't have to tether or need a separate contract for your tablet. You would just have the one device, a phablet for everything.
There are many other advantages to merging the phone with a tablet. You can make HD video calls, play games, watch HD movies, do light word processing, photo editing and even be creative and start sketching. It may take a while to get used to the size but once you start to work on it, you will question why you ever needed a tablet and a phone in the first place.
Most phablets while still premium devices, are a small price to pay for a convergence device. Think about the money you save from buying a phone and a tablet separately. Being premium devices means they are packed to the brim with technology, features and come only with high-end specifications.
The Best Phablets Money Can Buy
All prices quoted here are without a phone contract. You can shop around for one with a phone contract and pay a small upfront fee for the phablet, while keeping your mobile connected with a monthly voice and data contract.
Let's look at the comparison between these devices.
The Nokia Lumia 1520 is the only Windows phone in this line up. Notable features are Nokia Music and Microsoft Xbox integration. With Microsoft Phone 8.1, you also get full Microsoft Office and SkyDrive storage built-in great for productivity on the go. The 1080p resolution screen is great for catching up on your TV series or watching your favourite movies.
The camera takes stunning photos at 20MP and you can get up to 4 days battery life on a single charge. Powered by a 2.2GHz quad core processor and 2GB of memory, it will keep up with everything that you can throw at it.
As we use more and more of our smartphones to record videos, the phablet comes with Nokia Rich Recording with its 4 built-in microphones. A first on smartphones, it provides distortion-free, immersive directional stereo recording and improved sound clarity.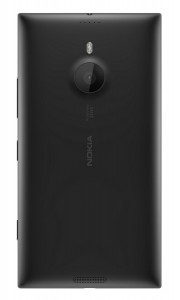 Finally, the phablet also comes with wireless charging built-in, compliant with Qi standard. Let's get down to the specifications:
Processor: Qualcomm Snapdragon™ 800 Quad-core 2.2 GHz
Memory: 2GB RAM, 32GB Storage, MicroSD slot for up to 64GB expansion

[32GB STARTING STORAGE]



Screen: 6-inch IPS LCD Full HD (1920 x 1080) 16:9 ratio, 24-bit (16M) 368ppi super sensitive touch
Camera: 20MP rear facing camera, auto focus with two-stage capture key, 6-lens optics, backside-illuminated image sensor, high resolution zoom 2x, optical image stabilization, PureView. Front facing camera 1280 x 960 pixels capable of HD 1.2 MP wide angle video recording, still image capture and video call.

[HIGHEST RESOLUTION CAMERA]

Battery Life: 3400mAh, up to 4 days from a single charge

[BEST BATTERY LIFE]

Connectivity: WiFi abgnac, BT4.0, NFC, LTE, micro-USB, built-in Qi standard compatible wireless charging, FM radio
Dimension and Weight: 85.4 x 8.7 x 162.8 mm ; 209 g

Available Colours: Red, Black or White
Design: made from a single piece of sturdy, high quality polycarbonate plastic with the screen protruding just slightly outwards, superb built quality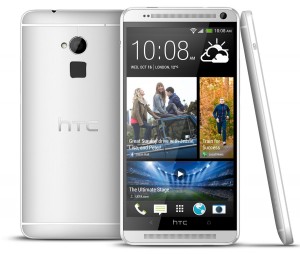 HTC is no stranger in the Smartphone arena. HTC One Max is the phablet edition of HTC's flagship smartphone, the HTC One. The HTC One Max has a full metal body; its all aluminium, Zero gap* construction and tapered edges offer a slim but satisfying grip. HTC's no compromise design and built quality is carried on the HTC One Max.
Notable features include the BoomSound stereo speakers and innovative and secure fingerprint scanner that protects your phone and keeps your documents safe. The great audio system makes it perfect for entertainment and gaming.
You could get better cameras on other smartphone and HTC One Max excels on video captures but not quite up to scratched with stills. The 1.7GHz processor may not be the fastest in the line-up but should be sufficient.
Processor: Qualcomm Snapdragon™ 600 Quad-core 1.7 GHz
Memory: 2GB RAM, 16/32GB Storage, MicroSD slot for up to 64GB expansion
Screen: 5.9-inch IPS LCD Full HD (1920 x 1080)
Camera: Rear camera 4MP HTC UltraPixel Camera, BSI sensor, Pixel size 2.0 µm, Sensor size 1/3′ with dedicated HTC ImageChip 2 on f/2.0 aperture and 28 mm lens and Smart Flash (5 levels of flash automatically set by distance of subject). Front camera 2.1 MP, 88° wide-angle lens with HDR capability with Full HD recording capability.
Battery Life: 3300mAh, up to 3 days from a single charge
Connectivity: WiFi abgnac, BT4.0, LTE, NFC, DLNA, Internal GPS antenna + GLONASS
Dimension and Weight: 164.5 x 82.5 x 10.29 mm; 217 g
Available Colours: silver
Design: All Aluminium Body, zero gap construction and tapered edge
Ultra slim, ultra durable and full HD, Sony Xperia Z Ultra Android smartphone is also waterproof, dustproof and has the biggest, sharpest screen (see Trilumininos display & X-reality for mobile introduction video below) among the phones in this line-up. With a screen that size, it can be mistaken for a small tablet (7-inch) with only a small, 0.6 inch difference. But the small bezel and ultra thin profile makes it a super compact tablet.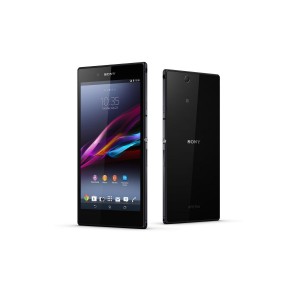 Having a big screen meant the battery drains faster, but with the Snapdragon 800's on-chip power management, and the ability to power down the processor core that is doesn't need, it boast 75% increase in performance compared to previous Snapdragon S4, and 75% more battery run time.
Couple this with STAMINA mode from Sony, the phone detects when you are not using it and powers down functions you don't need while keeping the notifications you want to save some juice. It does this by disabling Wi-Fi and data traffic but you would still receive incoming calls, text and alerts.
When you press the power button again, it wakes up the screen and everything you need will be up and running again.You can still customise the different apps to receive push notifications if you wish.
What is not obvious is the ability of the screen to accept input from a normal pencil or metallic pen. Its highly responsive screen will let you take notes with high accuracy, exact precision and low latency, turning your phablet into a notepad or sketchbook. It even has the old hand writing recognition built-in to optically scan, convert and insert text into any field you are editing. Another productivity feature is it's ability to multitask, as with most phablets here, with pop-up floating windows.
Processor: Qualcomm MSM8974 Snapdragon 800 Quad-core 2.2 GHz and Adreno 330
Memory: 2GB RAM, 16GB Storage, MicroSD slot for up to 64GB expansion
Screen: 6.4-inch TFT LCD Full HD (1920 x 1080), 16 million colours, 342ppi, Sony Mobile BRAVIA® Engine 2, capacitive touchscreen with on-screen keyboard, sensor-on-lens, face unlock, gesture input, STAMINA mode,  TRILUMINOS™ Display with X-Reality for mobile

[BIGGEST SCREEN]

Camera: Rear camera 8 megapixel camera fast-capture camera with Exmor RS, 16x digital zoom, continuous burst mode, HDR for photos and videos, face detection, image stabiliser, object tracking, picture effect, quick launch, scene recognition, self-timer, send to web, smile shutter image sensor, superior auto, sweep panorama, touch focus, touch capture and white balance. Front camera 2.1 MP with Full HD recording capability.
Battery Life: 3300mAh, up to 3 days from a single charge
Connectivity: WiFi abgnac, BT4.0, LTE, NFC, DLNA, Internal GPS antenna + GLONASS
Dimension and Weight: 179 x 92 x 6.5 mm, 212 g

[SLIMMEST]

Available Colours: Black, White or Purple
Design: Glass front and back, scratch resistant, water proof and dust proof.
UPDATE: JULY 14 
Sony's premium phablet, the Xperia Z Ultra can now take advantage of the latest Android OS, the Android 4.4.4 KitKat. The update available from July 2014 brings with it not only improvements to the OS from Google but also features from Sony. These include security enhancements, improved camera functionality, Google voice, Contacts, Music streaming and Google+.
With the update, the good looks, the big screen and the slim lines (even slimmer than Galaxy Note), sleek body with premium feel, waterproof feature (up to 1.5 meters for half an hour) and touscreen that works under water makes the Xperia Z Ultra our favourite
Samsung Galaxy Note 3
Now in it's 3rd generation, the Samsung made a bold move to revive the styli or known here as the S Pen stylus and to carry this on to their tablet range, the Galaxy Note 10.1, Galaxy Note 8 and the latest Galaxy NotePRO 12.2.
While the Samsung Galaxy Note 3 may have the smallest screen in this line up, it's super sharp AMOLED technology makes up for the size. The screen quality produces great colours, brightness and vivid images.
The Pop-up play, Samsung's answer to live preview including videos lets you browse your content and find what you need quickly. Together with the S Pen and multitasking feature (split screen and floating windows), this phablet is designed to be super productive, letting you do things quickly and efficiently.
That's not all, the phablet also has a wearable companion, the Galaxy Gear, a smart watch connects wirelessly to your Note 3 and that lets you answer calls, receive messages, get important notifications and relay this back to you phone, offering seamless communication between the watch and phone.
We made a comparative review between the Galaxy Note 3 and its predecessor the Galaxy Note 2.
Processor: Snapdragon Quad-core 2.3 GHz Krait 400 (N9005, N9002)

[FASTEST PROCESSOR]

, Quad-core 1.9 GHz Cortex-A15 & quad-core 1.3 GHz Cortex-A7 (N9000) depending on region with Adreno 330 GPU (9005.9002) or Mali-T628 MP6 (N9000)
Memory: 3GB RAM, 32/64 Storage, MicroSD slot for up to 64GB expansion

[BIGGEST MEMORY 3GB RAM]

Screen: 5.7-inch TFT LCD Full HD (1920 x 1080), 16 million colours, FHD sAMOLED
Camera: 13MP CMOS BSI Sensor, Auto Focus camera with Smart Stabilisation, LED Flash (High CRI), Zero Shutter Lag and 4K video capture. Front 2MP CMOS BSI Sensor with Full HD recording capability at 30fps. Both cameras can be operated simultaneously with Dual Shot, Dual Recording and Dual Video Call.
Battery Life: 3200mAh, 11 hours internet use, 13 h video playback, 84h audio playback, 21h talktime, 420h standby time.
Connectivity: WiFi abgn, BT4.0, LTE, NFC, DLNA, Accelerometer, Geomagnetic, Gyro, RGB light, Barometer, Proximity, Gesture, Temperature & Humidity, Hall. AGPS, GLONASS
Dimension and Weight: 151.2 x 79.2 x 8.3mm, 168 g

[SMALLEST & LIGHTEST]

Available Colours: Jet Black, Classic White, Blush Pink
Design: faux leather plastic back polycarbonate design complete with stitches on the edge to give it  a premium feel
LG G Flex
Here is a first for phablets and smartphones in general, a mobile device with curved screen using the OLED technology. Unlike the other screens featured here, it is only 720p at 1280 x 720 resolution and not 1080p at Full HD at resolution of 1280 x 1080 like the others. Still, its unique and did we say the first in the market with a curved screen.
The 6.0″ curved OLED screen is designed to fill your field of vision for an immersive, panoramic viewing experience, although on a screen that size, we reckon your field of vision is much bigger than that. You would have to put the screen up close to be immersive. It does offer bright, vivid reproduction and help minimize glare from reflections.
With a curved body, the insides of the phone needs to be curved too. LG designed a high capacity curved battery at 3500mAh that rivals even HTC One Max (3300mAh), Samsung Galaxy Note 3 (3200mAh) and Sony Xperia Z Ultra (3050mAh).
It again sets itself apart from the rest by placing the buttons and keys at the rear of the phone, the LG Rear Key is positioned directly under the index finger give you accessibility and ease of use regardless of wether you are right or left hander.
You can use the buttons as shortcuts as well as volume control. Between the rocker styled buttons is an LED alert system that again can be customised with different colours for different alerts i.e. email, text, incoming call.
Several built-in features and apps worth mentioning are, KnockON – gesture based function to wake up the phone, QuickTheater – lets you access your photos, videos and YouTube again with gestures by holding the phablet horizontally and use two thumbs to 'stretch open' the screen and Dual Window – for split screen function allowing you to access and view two different apps at once for effective multitasking.
There is Fluid Lock Screen that when you tilt your phone, you can a 180 degree view of the image on the lock screen complete with fluid unlock animation and sound effects. SlideAside lets you switch between three different apps at once by sliding three fingers left or right across the screen to navigation between your apps quickly.
Finally, the phone can be bent flat up to 180 degrees for a limited period of time hence the word Flex, a flexible smartphone and the back plate is self healing, another first for smartphones and is said to 'heal' itself from minor scratches.
Processor: Snapdragon 800 Quad-core 2.26 GHz Krait 400 and Adreno 330 GPU
Memory: 2GB RAM, 32GB Storage, MicroSD slot for up to 64GB expansion

[32GB STARTING STORAGE]



Screen: 6.0-inch (1280 x 720) Curved P-OLED capacitive touchscreen, 16M colors, 254ppi on Corning Gorilla Glass 2

[CURVED SCREEN]

Camera: 13MP BSI camera 4160 x 3120 pixels, auto focus, LED flash, simultaneous video and image recording 1080p, geo-tagging, face detection, panorama and HDR. Front camera 2.1MP with HD 1080p video capture capability at 30fps.
Battery Life: 3500mAh 15h talktime, 720h standby time

[HIGHEST CAPACITY]

Connectivity: WiFi abgnac, BT4.0, LTE, NFC, DLNA, Miracast, SmartShare, Accelerometer, Gyro, proximity, compass, barometer, temperature, humidity, gesture, AGPS and GLONASS
Dimension and Weight: 160.5 x 81.6 x 8.7 mm, 177 g

Available Colours: Black, White, Pink, Merlot Red, Rose Gold Black, Rose Gold White
Design: Curved, flexible and tough display and body with a back plate that is durable and heals itself from scratches.
While some might argue that the phablet would not completely replace a full size tablet, we think it is a good mobile device to have as a phone and as a mini tablet (up to 7-inch) and for those who want something more than just a phone.
New smartphones with big screens are blurring the line between smartphones and phablet, going beyond 5″. The new Samsung Galaxy S5 is 5.1″, LG G2 has a 5.2″ screen and the new Sony Xperia Z2 has a 5.3″ screen. The latter is a mere 0.1″ from what we categorise as a phablet. The successor to the G2, LG G3 D855 spots a 5.5″ screen. Other Flagship Smartphones like the new HTC One (M8) and Google's Nexus 5 has 5.0″ screens.
Ratings are correct at time of writing and based on customer feedback and reviews on Amazon and may change according to more customer feedback. We intend to follow up with further updates.
Our Line-up
Here is a quick look at our line-up again. For the most up to date prices, please click on the links below:
Nokia Lumia 1520 6-inch SIM Free Windows Smartphone Check
HTC One Max 5.9-inch SIM Free Android Smartphone Check
Sony Xperia Z Ultra 6.4″ SIM Free Android Smartphone Check
Samsung Galaxy Note 3 with 5.7″ screen Android Smartphone Check
LG G Flex 32GB 6-inch SIM Free Android Smartphone
ALSO CHECK OUT