More and more teachers and educator are starting their own blog to publish education related content from lesson plans, course materials to video tutorials. This provides the students that they teach, access to targeted learning resources. Being on a blog also meant that these resources are available online for other students and schools. This indirectly help raise the teachers' profile both locally and internationally. So, how does one go about starting their own blog online. Here are 8 completely free blogging platforms to get you blogging.
Blogger.com
From the search engine giant Google, comes a blogging platform that is free, easy to setup and use. The platform is user friendly and offers fresh themes and plenty of layout options.
While access to the HTML code and CSS for templates are available, you might want to just stick to changing the format and colours in settings.
Deciding on the layout, template and adding gadgets (small applications) are all done with an intuitive drag and drop interface. The website is also updated dynamically.
Being a Google product meant that Google Analytics come as standard providing live traffic statistics and if you wish, sign up to Google's Adsense and start monetising your blog.
However, this would mean you are limited to Adsense for advertising but most teachers would just stick to Adsense anyway or not monetise their blog at all.
Features such as geotagging, incorporating RSS content and muti-lingual options are readily available along side third party gadgets. Standard gadgets include Google+ Button, Google+ Followers, Google+ Badge, Translate, Follow by Email. Popular Posts, Blog's Stats, Pages, AdSense, Search Box, HTML/JavaScript, Text, Image, Slideshow, Video Bar, Poll, Blog List, Link List, List, Feed, Newsreel, Labels, Subscription Links, Logo, Profile, Blog Archive, Page Header and Attribution.
The platform also sets itself apart from other offerings through integration with Google's own photo sharing site, Picasa. Users can post photos from their Picasa account to their blog seamlessly.
Privacy or reading permissions can be set to make your blog private and visitors by invitation only making it a members only site. Group or team blogging is also available where users can invite other authors to post on their blog.
Blogger lets you add custom domain name to your site by way of DNS redirect. Google's comprehensive how-to guide and support page provides you with all the information you need to buy your own domain name from third party and apply this to your blog.
On the social media front, you guessed it, the platform is closely integrated with Google's own social network, Google+.
Some features of Blogger are listed below:
Blog description up to 500 characters
Each account can have up to 100 blogs
Each post can have up to 20 unique labels, 5000 unique labels per blog
Automatic spam detection to block unwanted comments
Unlimited photos storage for those who signed up to Google+ as long as images are less than 2048 x 2048
Unlimited photos storage for those not signed up to Google+ as long as images are less than 800 x 800 in resolution
Any images bigger than the limits above will count towards the 15GB free storage limit which is also shared between Google Drive, Google+ and Gmail
Unlimited posts
Individual pages are limited to 1MB
Up to 20 stand-alone pages
Up to 100 invited authors per blog, this also applies to private blogs
Custom favicon no bigger than 100KB
Platforms supported: Web, iOS, Android, Windows Phone
LIKE: Completely free, a great way to break into the blogsphere, drag and drop as well as dynamic updates make it easy for users to take full control of their site. Plenty of Storage and ability to use custom domain.
DISLIKE: This may take away your storage allowance for other Google's apps namely Google Docs, Gmail and Google+ but you already know what to do.

SEE: www.blogger.com
WordPress.com
WordPress is easily one of the widest used blogging platform in the world. It is reported that as of August 2013, WordPress forms 18.9% of the top 10 million most popular websites.
The code is available for download from www.wordpress.org for free if you wish to install this on your own server (self-hosting). Most web hosting services provide an installation package that lets you automatically deploy the blog with a single click.
But a good place to start a WordPress blog for free is at www.wordpress.com, WordPress's hosted service where you can sign up for a free myname.wordpress.com blog.
The software is based on template system with plenty of room for customisation and includes a plug-in architecture to add additional features.
In the hosted version on WordPress.com, plugins such as 'site stats' and 'anti-spam' from Akismet is pre-installed out of the box something that self hosting users need to install using the Plugin page.
The difference here is that there is no Plugin page on the hosted version to install additional 3rd party plugins. But, the hosted model does include other features you may find useful such as Sharing, Polls and Ratings.
More advanced features such as AdControl, Email Post, OpenID and Webhooks are all accessible under Settings.
To change the look and feel, simply go to Appearance in the dashboard. There is a handful of free themes among premium (paid) ones, although there is no way of listing it by the free category so get browsing and hunting.
We recommend 'Academica' theme for education. Use the search field to find this. There is a small category called 'Friends of WP.com' that lists a small number of free themes.
After choosing the theme that you wish to go with, you can then customise it. Depending on the theme, wordpress.com gives you some basic controls including uploading your own logo and background image, setting header text colour and background colour, setting a static page as your homepage, setting the site title and tagline and finally putting in theme specific settings.
Our chosen theme, 'Academica' lets us ad links to the different social media platforms.
As with Blogger.com, WordPress.com also offers small apps for sidebars. This is their equivalent of Gadgets in Blogger.com but known in WordPress.com as Widgets. While the self hosted version lets you add your own plug-ins and therefore 3rd party widgets, WordPress.com provides a set of commonly used widgets, nearly 50 of them. Simply drag and drop these widgets into the different sidebars and configure it to work the way you want it to.
For ease of publishing, apart from posting on the dashboard, you can enable post by email and post by voice. You can also invite other bloggers to post on your site or make your blog private and let users in by invitation only.
For premium products, visit the store, where you will will find WordPress.com Premium package which includes domain name and mapping, no ads, VideoPress (HD video playback support), 10GB Space and custom design.The later lets you access to custom theme options to change your font, colour scheme or add custom CSS. You can also get these and other features individually in the store.
For social media, wordpress.com provides connection to Facebook, Twitter, Google+, Tumblr, LinkedIn and Path to automatically publicise your posts. This is found under Settings > Sharing in the Dashboard. You can also connect your Google+ Profile there.
While wordpress.com gives you plenty of control over the settings, template options and customisations for your blog, it makes the process of getting a blog for beginners a little daunting and newbies will need some time to familiarise themselves with the dashboard and multitude of options. However, it does mean that you will find something in there that you need in the future as oppose to not having it at all.
Platform Supported: Web,iOS,Android,Windows Phone
LIKE: Powerful platform for  blogging and website. plenty of options for customisation, and option for growth with upgrades on at the Store.
DISLIKE: I am a little bias and probably the wrong person to ask about dislike for WordPress but if I have to chose one it would be the costs for those looking at the upgrading their WordPress.com blogs. When you look at the individual items in the shop, the $99 per year Premium package seems to make.
SEE: www.wordpress.com
Tumblr.com
Tumblr is a micro-blogging and social networking platform that allows you to post short updates. The world Tumblr comes from tumblelogs or short-form blogs, a form of blogging, only shorter.
Acquired by Yahoo! in May 2013 for $1.1 billion, Tumblr joins the big league
In terms of user base, Tumblr hosts over 139.4 million blogs and more than 62.8 billion posts as of October 2013 making it one of the largest blogging platform out there.
The site is said to be popular among school and college users which can only be good for educators. It is also a social networking platform meaning users can follow each others' blogs or like a post.
Being classed as a social networking website may put it in the filtered category causing it to be blocked in schools. Some blogs on tumblr are age inappropriate and may contain adult content. Please check with your network administrator or school.
The platform is completely free and allow users to create as many blogs as they wish using different sub-domains e.g. myname.tumblr.com
Unlike twitter, there is no limit to the number of characters you are allowed to post and you can post text, images, videos, quotes and links easily via the dashboard with a click of a button.
Platforms such as these dismiss the notion that there isn't enough time in the day to blog by making the publication process really easy.
For social media, the platform integrates with Twitter and Facebook. Once configured and authorised, it will send tweets and status updates there whenever there is a new post.
There is also a schedule or queue posts option to set a published time or delay the posts over several hours or days.
The privacy setting lets you turn the blog into a private site, available only to you.
For the tech savvy users and developers, Tumblr allows you to tinker with the blog's theme giving you access to the HTML code to change the look and feel of their blog. Tumblr also gives you the option of mapping your own domain name.
Platforms Supported: Web,iOS,Android,Windows Phone, Google Glass
LIKE: Quick and easy to setup and use, dashboard allows for posting of updates quick and easy, a drop down menu shows all registered blogs allowing users to switch to the different blogs and push updates there, integration with Google Analytics, ability to customise themes.
DISLIKE: Limited customisation for non technical users.
SEE: tumblr.com
Jux.com
Jux.com is in part a microblog and a showcase or portfolio site. It is more than your standard blogging platform and presents a new and fresh way to publish your content online. Information is presented in a serial format based on published timeline. Each post has it's super sized background image with clever use of typography and font size making it very attractive to visitors.
It also stands out from other blogging platform in that there is no back end or dashboard to the blog. All editing is done on the post pages. To edit a post, simply browse to it and click the Pen button to edit. To add new posts, click on the plus (+) icon to add. It couldn't be easier.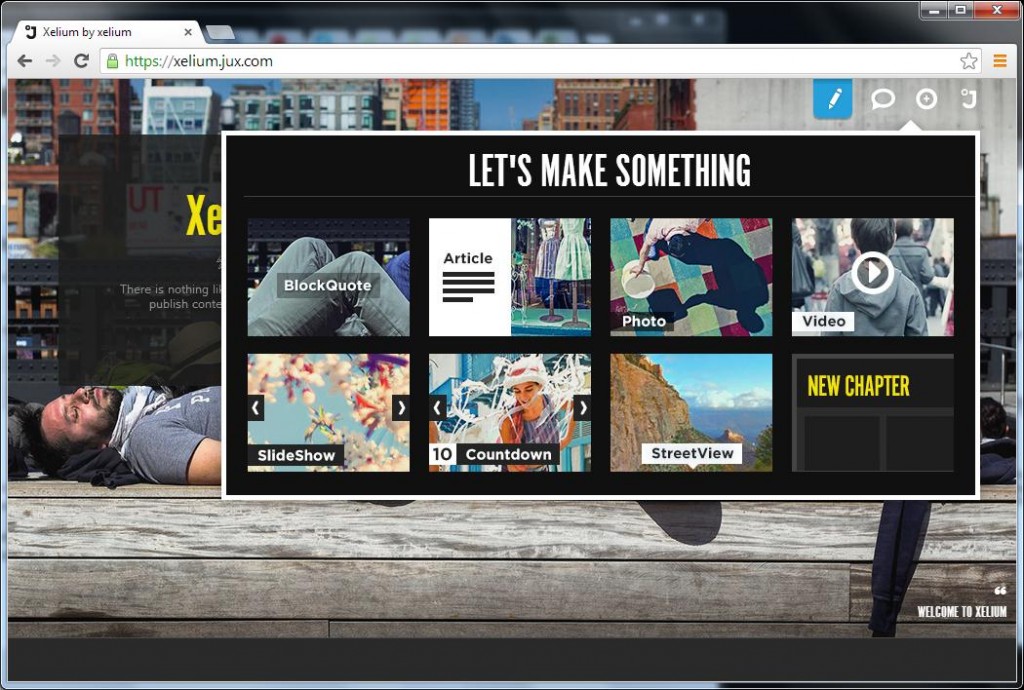 You can use Jux to publish quotes, articles, photos, videos, slideshows, countdowns, streetviews and more. You can use the default image or choose one of your own as background. When choosing your own image, you can upload one from your computer or import from flickr, Facebook, Instagram or using a URL. Jux also lets you set the rights to your image.
It's a great platform to showcase your stories be it photos, words or videos with images that runs from edge to edge of your window and works well on all screens (desktop, smartphone or tablet). When adding new posts, you are presented with some creative styling options for your photo as well as the ability to schedule a future post date, customise byline and turn off the Jux badge.
Adding a 'New Chapter' lets you create what is typically a category in blogging terms. Start by editing a category front page and then proceed to add further posts under the category. Any post published will be showed in descending order (latest first) and follows the category sub folder e.g. myname.jux.com/chaptername/postnumber
Connect to Facebook, Twitter, Instagram and Flickr to share you posts automatically.
LIKE: No ads, no sidebar, no clutter, full screen browsing and responsive, plenty of potential for those looking to start a photo blog, showcase their work (interior, graphic, product designs), travel journal, news and events.
DISLIKE: Not your typical blog format, while there are thumbnails that slide in from the bottom edge to navigate to posts or pages, the edge-to-edge and no sidebar format takes a little getting use to. There is a show 'All Posts' button on the top center but users will need to move their cursor over the top edge in order for it to appear.
SEE: www.jux.com
Postach.io
The blogging platform that is powered by Evernote
Just like Jux, The people at Postach.io have completed rethink the way we publish to the web. This blogging platform actually blogs right out of Evernote so Evernote users rejoice. There is not a quick and easy way to get your thoughts and content out from Evernote to the web. To those new to Evernote, it is an app that lets you save your notes, web clips, images and files and to make this available across multiple devices and platforms. You can see how this will greatly benefit bloggers and teachers whom are already using Evernote for their research or note taking. While the close integration with Evernote meant it will benefit Evernote users greatly, it does limit its use to only Evernote users. So if you want to use Postach.io you will need to get an Evernote account.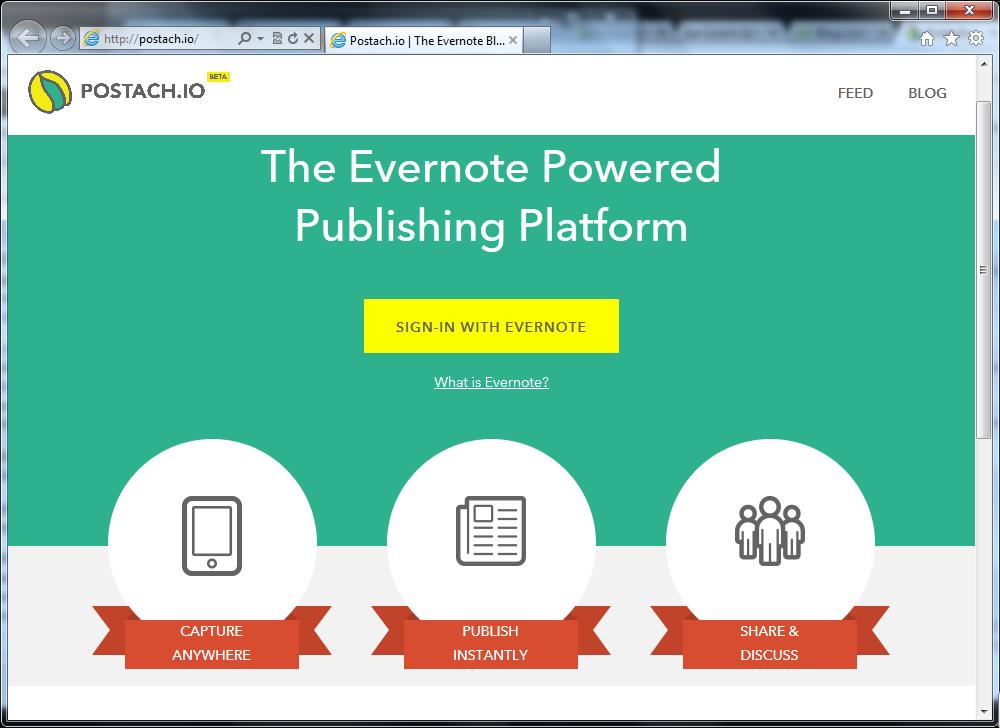 On logging on to Postach.io with your Evernote account it will request for authorisation on Evernote.com to the following:
Create notes, notebooks and tags
Update notes, notebooks and tags
List notebooks and tags
Retrieve notes
However, Postach.io will not:
Delete notebooks and tags
Access account information
Permanently delete notes
Update user account information
Once authorised, you will be sent back to Postach.io to complete the registration process, which includes creating your blog address (yourname.postach.io), your site name, preferred email, author name, author bio and the creation of a new folder on Evernote called Postach.io. You have the option of selecting an existing folder. Users will also be given the option of connecting to social media sites such as Twitter, Facebook, LinkedIn and Google+.
Once setup is complete, you can start blogging by creating new notes or update existing ones in the Postach.io folder and tagging this as Published. Postach.io presents a great way to start a blog for educators without having to log on separately online to push their content. You will however need to log on to Postach.io dashboard to update site details, settings and theme. If you have linked Postach.io to other social media platform, you can tag the notes with the following tags; tweet for Twitter and fb for Facebook.
If you have an existing blog on Blogger or Tumbler you can also choose to link these through Postach.io so that existing posts there can be imported to Evernote and published on Postach.io
It's worth noting that Postach.io does let you create multiple blogs, all manageable from the Postach.io dashboard, the option of adding Google Analytics tracking code, Disqus commenting and share buttons.
LIKE: Easy to publish with Evernote App. Easy to share again via Evernote to Twitter and Facebook while the ability to import from Blogger and Tumblr meant that you can start using Postach.io straight away if you are already on one Blogger or Tumblr. Importing posts into Evernote gives users that extra peace of mind knowing that your posts are also backed up on Evernote
DISLIKE: Cannot update posts online. Need a device with Evernote app installed. Exclusive for Evernote App users only so an account (free) from Evernote is a pre-requisite. Limited themes and customisations. Developers may find the 'Source Code' editor a way to customise the look and feel and add custom features to their blogs.
SEE: http://postach.io
Have you had any experience using these free blogging tools, we would love to hear from you. Leave your feedback and comments below.
Take Your Vote
Let us know which of these are your favourite blogging platform(s), make your vote now.
[polldaddy poll=7614191]