Looking for a budget 7″ tablet to get for school and at the same time, not willing to sacrifice on quality and specifications, here are 5 top small tablets from reputable names that you can count on.
Don't just take our word for it, these are tablets that have been on many users' hands and are happy customers leaving very positive and constructive reviews.
The Budget Tablet for Schools
So, what do we deem as budget? We are not talking about insanely cheap devices from unknown brands or half bake tablets trying to get away with 'archaic' and out of support versions of the tablet OS, low hardware specifications and shoddy quality.
At the rate that hardware and software are changing and constantly moving forward, we are looking at devices with at least 2 to 3 years life span. I am sure they will last longer than 2/3 years and will cope well with specific tasks i.e. video, web browsing, e-reader but something more substantial than say a throw away tablet that might not be around tomorrow.
So here we go, a look at our selection of the top 5 small tablets for those on a budget.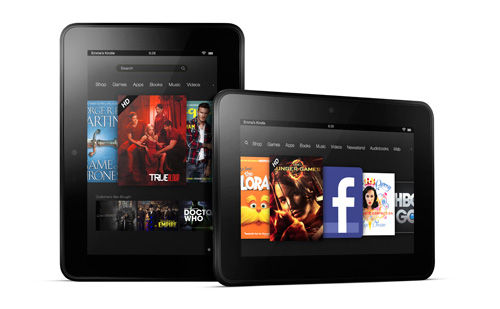 Already a runaway success, the New Kindle Fire HD now with Fire OS 3.0 (Mojito), a forked version of the Android OS with Amazon's own cloud services integrated promises more fluid performance. The device also has smaller bezel, a lightweight design and a keener processor while still keeping a long battery life.
Key Specifications: 1.5GHz Dual-Core processor, HD display at 1280 x 800 resolution (216ppi),  dual band Wi-Fi, 345 grams, 191 X 128 X 10.6 mm, up to 10 hours battery life
Noteworthy: includes Kindle FreeTime, a built in service to control children's screen time. Dolby Digital Plus audio, 1-Tap Archive to free up space by moving items not used recently to the Cloud. This entry Kindle Fire HD however does not come with the new on-device 'Mayday' button, the service that provides you with instant access to technical support. Mayday button is only available on Kindle Fire HDX. No front or rear facing cameras.

First available in October 2013, Asus MeMo is the alternative to Google's first generation Nexus, designed and built in collaboration with the same company, Asus. Comes with MediaTek MT8125 SoC with power-efficient quad-core Cortex™- A7 CPU subsystem with PowerVR™ Series5XT Graphics this tablet will take anything that you throw at it. For a full review of the tablet, visit our favourite review site Anandtech.com. This is a pretty good alternative to Google's first Nexus 7 tablet released 2012 as it comes with MicroSD expansion and rear facing camera that is not present on the outgoing Nexus 7 and at a price still cheaper than Nexus 7 2012.
Key Specifications: 1.2GHz Quad-Core processor, HD display at 1280 x 800 resolution (216ppi),  single band WiFi, 302 grams, 197 x 120.6 x 10.8 mm, up to 9 hours (8.43) battery life
Noteworthy: MicroSD expansion, 5MP rear facing auto focus camera, great battery life with 100 picture continuous burst shooting and 1080p video recording, 1.2MP front facing camera, ASUS SonicMaster audio, GPS, available in white, blue, pink and green back plate.
Storage: 8GB or 16GB

First introduced back in June/July 2013, the third generation Galaxy Tab 7 is based on dual core chip and is one of the smallest and lightest tablet among those listed here. However, the 1024 x 600 resolution screen might not cut it when all the other tablets here are on HD resolution 1280 x 800. But, it does come with microSD slot, front and rear facing camera and in a stylish and lightweight design.
Specifications: 1.2GHz Dual-Core processor, display 1024 x 600 resolution, single band WiFi, 299 grams, 188 x 111 x 10 mm, 7 hours battery life
Noteworthy: MicroSD expansion, 3MP rear facing camera, 1.3MP front pfacing camera, available in white or gold-brown.
Storage: 8GB

Don't let the sub hundred price fool you, Barnes and Noble does have something to offer with the Nook HD. It has the highest resolution screen among the budget tablets listed here. While it does not have front or rear facing cameras, it does come with a microSD card slot and dual stereo speakers offering SRS TruMedia audio. Unlike Amazon's Kindle Fire HD, Barnes and Noble's Nook allow its users access to Google Play store and comes preloaded with Google Play. But what is Nook without it's Books, Magazines and Newspaper from Barnes and Nobles. Access over 2.5 million books to buy and subscribe to your favourite newspaper or magazine right from the device.
Specifications: 1.3GHz Dual-Core OMAP 4470 processor, HD Display 1440 x 900 resolution (243 ppi), single band WiFi, 315 grams, 194.4 x 127.1 x 11 mm, 9 hours of video, 10.5 hours of reading
Noteworthy: Create up to 6 Nook profiles, one for each member of the family, HD Display Built in parental controls to create a kid safe experience. Available in black (Smoke) or white (Snow). SRS TruMedia audio.

It might not get any favours for its camera quality, but it has been recommended for its battery life and high quality screen as well as overall looks. It is the highest performing tablet at this price point with a good quality screen.  You can also access Google Play store for soft content; games, apps, books, movies, music and tv shows. However, it won't be called a Tesco tablet without some customisation, rest assured these customisations are minimal. There is a T (for Tesco) button on the bottom left corner that takes you to the range of Tesco services where you can shop online.
Specifications: 1.5GHz A9 Quad-core processor with Mali 400 Quad core GPU, HD Display 1440 x 900 resolution (243 ppi), dual band WiFi, 370 grams, 192.8 x 128.8 x 9.85 mm, 9 hours video playback
Noteworthy: micro SD expansion support up to 32GB, 2MP front facing and 3MP rear facing camera, micro HDMI port, stereo speakers, Available in Black, Purple, Red and Blue. Micro-HDMI port lets you connect to the big screen HDTV with optional Micro-HDMI to HDMI cable.
Storage: 16GB
All ratings are based on reviews of either Amazon.co.uk or Amazon.com except where stated otherwise. Star rating and number of reviews are correct at time of writing. Please note that prices are for your reference only, see major retailers or online retailers for the latest pricing.