Typically, wireless speakers connect via Bluetooth although most speakers also provide a 3.5mm cable for direct connection using the Line-in socket. Some of the speakers featured here also include a mini USB or USB port and cable. This is used to update the speakers firmware or as a USB Power port to charge your smartphone or tablet. We all know how long smartphone batteries last, the charging port is definitely a bonus. Another useful feature is the answer phone function that lets you take incoming calls using the speakers and its microphone. Let's take a quick look at the technologies behind portable speakers and then on to the speakers.
Bluetooth: This is most common type of connection among portable speakers. It is a personal area network (PAN) connectivity that has matured over the years and used for device to devices, headphones, pointing devices such as mouse and tablet and microphones.
NFC: This provides a quick and easy way to pair up devices. Once connectivity is established, streaming will be carried via Bluetooth.
Battery: Built in rechargeable Lithium Ion battery provides power to the amplifier.
Microphone: some of the speakers here feature a built-in microphone and speaker phone feature that lets you take incoming calls.
The Top 10 Portable Wireless Speakers
Here is a quick look at the line-up.
Rugged Portable Wireless Speakers
This is the smaller of the two wireless portable speakers from Bose, featuring a compact design for ultra portability. The device uses Bluetooth to stream music from smartphones or any Bluetooth enabled devices such as tablets and laptops. The speaker will remember up to 6 recently connected devices with a 9 meter range.. The built-in rechargeable battery provides up to 7 hours of playtime. Charging time from empty takes 3 hours, you can charge by connecting it directly to the power adapter or through the charging cradle using the same power adapter, both included as standard. There is an auxiliary port to connect music source directly and a USB port for software update. Optional soft covers are available separately and comes in blue, green and orange.
Dimensions and Weight: 5.1 x 18 x 5.8 cm, 670 grams
Wireless: Bluetooth | Battery Life: 7 Hours | Charging: No | Speaker phone: No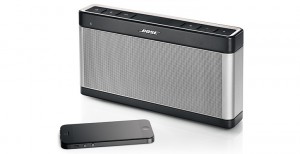 Replacing the SoundLink II is the SoundLink III. The bigger version of SoundLink Mini. the SoundLink III is set at almost the same price point as its predecessor but comes with more power using four drivers and two passive bass radiators and longer battery life. There is also a range of covers to personalise your speaker and you can buy this as a bundle for a bit more money. For that you get a choice of 5 colours (gray, blue, orange, green or pink). Personally we think the case gives the speaker a retro feel.
Connection via Bluetooth is easy, simply press the Bluetooth button on the speaker then choose SoundLink speaker III from your tablet or smartphone. It will remember up to six recently connected devices making it easy to reconnect the different devices. With a fantastic 14 hours battery life and powerful sound performance, there is plenty to like about the SoundLink Speaker III. Only ever so slightly bigger than its predecessor, it still slips easily into a bag and with a metal grill and fingerprint resistant wraparound body, you are assured of its durability. While the unit comes with a fold flat power adapter, an optional 12V car charger is also available for those long trips.
Dimensions and Weight: 135 x 256 x 48 mm, 1.37kg
Wireless: Bluetooth | Battery Life: 14 Hours | Charging: No | Speaker phone: No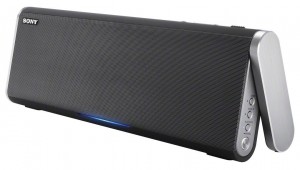 This rectangular dual channel speaker bar with a kick back stand on one side is truly compact and portable. With the stand folded in, you can slip this easily into your backpack between your books and laptop. A soft nylon case is also provided. Connecting to the Bluetooth wireless speaker is made easy with NFC pairing. The built-in rechargeable battery last up to 8 hours. The built-in battery also doubles up as a power source to charge your tablet or smartphones. Simply connect your phone or tablet to the USB power port while listening to your music. That's not all, the speaker can also double up as a speaker phone and lets you take incoming calls with a press of a button, let the built in microphone and speaker does the rest. As with all the other speakers reviewed here, you can plug an audio source directly into the speakers via the 3.5mm stereo socket. Available in black or white.
Dimensions and Weight: 341 mm X 115 mm X 58.5 mm (with side stand closed), approx. 1.6kg
Wireless: Bluetooth | Battery Life: 8 Hours | Charging: Yes | Speaker phone: Yes
The Flip has one advantage over the other JBL speakers, it comes with built-in microphone and dedicated answer button allowing you to take your call from the speaker. The speaker is powered by a dual channel 5W amplifier, two 40mm drivers, a built-in bass port and an acoustic volume of 200cc. The almost circular rod design means you can stand the speaker vertically or seat it on its side, horizontally. While the more expensive JBL portable speakers have its' strengths i.e. JBL Charge comes with high capacity battery and device charging port and JBL Pulse comes with LED mood lights, the JBL Flip has speaker phone feature. The only disadvantage is its poor battery life, only managing 5 hours playtime per charge. You get with the speaker, an AC charge adapter, Neoprene carrying case and a quick start guide. Available in black, white, blue, red and green. There is currently an offer on Amazon offering the speakers at a much reduced price.
UPDATE: A new JBL Flip II portable speaker is now available.
Dimensions and Weight: 63mm x 160mm, 350 grams
Wireless: Bluetooth | Battery Life:  5 Hours | Charging: No | Speaker phone: Yes 

Here is another JBL offering, a portable wireless speaker that as it name says, not only plays your music, but charges your device at the same time. The speaker is driven by a dual channel 2x 5W amplifier with a built in bass port. It streams music wirelessly from your device via Bluetooth so it will work with any Bluetooth enabled smartphone and tablet. But if you need a direct connection, there is an auxiliary or line in port that lets you plug any device in. The rechargeable 6000 mAh Lithium-Ion battery gives you up to 12 hours of play time. A simple three LED indicator shows you the battery level (high or low) and when the device is in Bluetooth listening or pairing mode. You can stand the speaker vertically or seat it horizontally. In the box, you get the speaker, USB adapter, micro USB cable, quick start guide and a Neoprene carry case. Available in black, gray, blue or green.
Dimensions and Weight: 74mm x 175mm (circular rod design), 470 grams
Wireless: Bluetooth | Battery Life:  12 Hours | Charging: Yes | Speakerphone: No
Our third portable speaker from JBL stands out from all the other speakers, the new JBL Pulse comes with 2 high-performance drivers, 2 x 6 watts output and a built-in bass port. But that's now all, the speaker doesn't only give out amazing sound, it also put up a cool light show with its built-in multi-colour LED lights that pulses to the music. There are altogether 64 LEDs inside. Get the JBL app on iOS or Android and start customising your light show. Control the colours, brightness level and use one of the five pre-programmed or downloadable light themes. With all that light and great sound from the speakers, JBL Pulse can still pull off a good 5 hour playtime, if you forgo the light show you can get up to 10 hours of playtime on music only. NFC allows touch pairing to connect devices with NFC to the speaker and start streaming music wirelessly via Bluetooth. It takes 3 hours to recharge the speaker using the USB charger and cable. In the box you get JBL Pulse Speaker, USB charger, USB lead and owners manual.
Dimensions and Weight: 79mm x 182mm (circular rod design)
Wireless: Bluetooth | Battery Life:  5/10 Hours (music+lightshow/music only)  | Charging: No | Speakerphone: No
Grenade shaped ultra portable speaker barrel, the Philips SBT30/00 SoundShooter provides powerful sound supported by wireless music streaming via Bluetooth (range: 10m/30ft), a rechargeable battery for playback anywhere and a built-in microphone for hands-free phone calls. The barrel shaped speaker has a carabiner, to clip onto your belt or bag. The Neodymium speaker driver provides rich and clear sound. The box contains the speaker, a two in one cable for line-in (3.5 mm) and USB charging. Other things inlcude the quick start guide and warranty certificates. The battery provides a good 8 hours playtime however there is no Power USB port to charge your device.
Dimensions and Weight: 67mm x 65mm x 82mm, 138 grams
Wireless: Bluetooth | Battery Life: 8 Hours | Charging: No | Speakerphone: Yes
We reckon this second Philips portable speaker to inspired by camera lens barrel this time. The aluminium body is silver in colour, the top is opening of the barrel is the speaker and a blue LED indicator. As with all the wireless portable speakers featured here, the speaker uses Bluetooth (range: 10m/30ft) to stream music from Bluetooth enabled device. The neodymium speaker drive provides rich and clear sound pumping out 2W RMS of power. There is a button that doubles up as a Bluetooth pairing and phone answering button (with its built-in microphone) and a slide switch that lets you turn on the device and choose line-in or bluetooth operation. The built-in rechargeable battery keeps it going for up to 8 hours on a single charge. You get the 2 in one USB and audio-in cable, quick start guide and warranty certificates.
Dimension: 56.4mm x 81mm (barrel design), 118 grams
Wireless: Bluetooth | Battery Life: 8 Hours | Charging: No | Speakerphone: Yes
Here is a trendy offering from Jawbone, with a cool name like that, it certainly makes people notice. The Jawbone Jambox is about the size of Brazen (featured below) and comes in a multitude of colours. You can customise the speaker by combining different cap and grill colours. There are four artistic grill designs to choose from, Diamon, Dot, Hex and Wave.
The interface relatively straight forward, on the top of the speaker unit, there is the on/off switch, and volume control buttons. The device provides a superb 15 hours of continuous playtime per charge, a remarkable battery life, the longest on any portable speakers we have seen. On compatible devices, you can also see the battery level of the built-in rechargeable Li-Ion battery.
Apart from connecting wirelessly via Bluetooth with a wireless range of 33 feet (10 meters), there is a 3.5mm stereo input socket for direct connection and a microUSB Data Port. These allow for simultaneous multipoint connection, allowing you to connect up to two devices at the same time. The Bluetooth v2.1 supports the following functions:
Advanced Audio Distribution Profile (ASDP) 1.2 for music streaming

Hands-Free Profile (HFP) 1.5 for answer phone

Serial Port Profile (SPP) for data transfers
Both the micro-USB and 3.5mm stereo cables are provided. You also get a wall charge with the speaker.
Dimensions and Weight: 151 x 57 x 40 mm, 347 grams
Wireless: Bluetooth | Battery Life: 15 Hours [BEST BATTERY LIFE] | 

The Jawbone MINI Jambox is the smaller sibling to the Jawbone Jambox. Nearly 100 grams lighter and comes in a tighter package, small enough to fit in your pocket with a ultra slim profile, this Jambox still packs some punch. Like its bigger brother, the MINI lets you take calls with built-in speaker phone feature. The Jawbone app lets you access all your saved and streaming music with one touch. The app is available for iOS and Android platforms. Comes in Silver, Aqua, Blue, Graphite (featured below), Purple and Red with different designs crafted from a single piece of extruded aluminium to provide the best combination of loudness and lightness. With the many different designs to choose form; Silver Dot, Aqua Scales, Blue Diamond, Graphite Facet, Purple Snowflake and Red Dot  there is bound to be one that suits your taste.
Dimensions and Weight: 24 x 154 x 58 mm, 254 grams [SMALLEST & LIGHTEST]
Wireless: Bluetooth 4.0 | Battery Life: 10 Hours
Wirelessly stream audio from bluetooth enabled devices with a range of up to 33 feet (10 meters) . This portable speaker has a built-in rechargeable battery that lasts up to 7 hours playtime. The USB power port allows you to charge mobile devices to keep it topped up even as you stream. There is a line-in socket to connect any device with a standard 3.5 mm headphone jack.
Dimensions and Weight: 267mm (W) * 106mm (H) * 42mm (D), weight: 704 grams
Wireless: Bluetooth | Battery Life: 7 Hours 
In a nutshell, this is an ultra rugged, very portable, bluetooth speaker that is both IPX5 water resistant rated (splash proof) and shock proof capable of withstanding a drop of up to 2 metres with rubberised body. It's notable features are 12 hours battery life, USB power port that charges your smartphone while you are out and about and speakerphone feature with built in noise cancelling microphone perfect for phone calls, Skype, iChat, Facetime or any other voice applications. The 6W dual channel (3W each) output and an amazing 12 hours playtime is unbelievable for a device this size. We have heard the quality of this small and mighty speaker in an open space and we can safely say it delivered. Besides Bluetooth, a 3.5mm audio cable is also included for direct source input and a second 3.5mm port to connect to another BRAVEN speaker. A USB to Micro USB cable to charge the device and Lanyard are also provided. Available in Lava (Black and Orange) or Glacier (Grey and Blue with White trim) design.
Dimensions and Weight: 10.5 x 10.6 x 16.2 cm, 890 gram
Wireless: Bluetooth | Battery Life: 12 Hours
Here is another portable and rugged speaker to rival that of Braven (or at least in looks with its rubberised finish), the i-box Trax. Costing just over a third of the price of Braven, the Trax carries all the features that you have come to expect from portable speakers. Controlling and connecting to the Trax couldn't be easier with Touch Sensitive Control panel, remote music control and NFC contact-free pairing. Using Bluetooth (10 metres range) to connect wirelessly to your smartphone, tablet or music device; it alls you to stream and play music with its rechargeable battery for up to 10 hours. There are two 1.5 full range driver and one passive low end frequency radiator totallying 6W RMS Output. There is a 3.5mm stereo input for and mini USB for charging. While these specs and the price may look like it's a winner, it has yet to impress any of its buyers. We will have to wait and see how this performs.
It's bigger cousin, the i-box Twist have been around longer and received better reviews but lacks the playback time, coming in at 5 hours battery life only.
Wireless: Bluetooth | Battery Life: 10 Hours
Other Portable Bluetooth Speakers Worthy of a Look
Our Line-up
Here is a quick look at our line-up again. For the most up to date prices, please click on the links below:
Rugged Portable Wireless Speakers