While HTC, Samsung, Sony and other vendors have been churning out Android phones left, right and center, Google has been working with the likes LG to come up with their own brand smartphone, the Nexus 5. Successor to the Nexus 4, also manufactured by LG, released a little over a year ago (November 2013). The Nexus 5 promises to be everything an Android smartphone should be in Google's eyes. So where does the new Nexus 5 stand among other smartphones. Find out more here.
While other manufactures may and many have tweaked the Android OS, adding their own user interface, integrated apps and customisations, as with all Google Nexus devices (tablets and smartphones) Google intends to stay true to its original stock OS. Released at the end of October 2013, the device flew off Google Play store's virtual shelf like hot cakes. Let's get the specification highlights out of the way:
Nexus 5 Specifications
The Nexus 5 is a smartphone in the Google Nexus line. It is a step up from the Nexus 4 with a smaller display to that of a bigger one, but it goes beyond just changing the size of the screen.
High Definition display at 4.96″ Corning Gorilla Glass 3 IPS LCD touchscreen with 1920 × 1080 pixel resolution (445 ppi)
Top shelf 2.3 GHz Krait 400 quad-core processor on a Qualcomm Snapdragon 800 SoC (this is a high end offering from Qualcomm)
8 MP rear-facing camera with optical image stabilisation, 1.3 MP front-camera,
2,300 mAh lithium polymer battery
16 or 32 GB of storage options but as usual, no memory card expansion
For connectivity, it supports LTE (4G), wireless charging and 802.11 a/b/g/n/ac Wi-Fi, NFC and Bluetooth 4.0 LE
Dimensions: 8.6mm depth, 138mm height, 96mm width
Nexus 5 Highlights
While the design and finish may not scream pick me up, the focus really is on the Android OS. Don't get us wrong, this is a high end, great quality and well spec-ed smartphone albeit competitively priced, but the thing that catches your attention will ultimately be what's on the screen. Two colours are on offer, black and white, both are visible from the back plate only.
The bezel surrounding the screen is so small you can hardly notice it, coupled with a button less design, this is a minimalistic slate that doesn't want you to be distracted. You just want to pick it up and check out what's inside more than anything. You will want a taste of KitKat.
Camera
Initial reports suggested that the photo quality were sub par. Every review has been comparing the quality of its photo output with that from the iPhone 5 and 5S. This was remedied quickly with a software update.
The Nexus 5 software upgrade meant the Nexus 5 now takes beautiful photos. The still camera with HDR+ feature combines two different exposures (or shots) to give you the best result. The 8 MP rear facing camera is also capable of shooting 1080p video while the 1.3 MP front facing camera is plenty for video calls (Skype or Google+ Hangouts).
Screen
The 4.95-inch displays 1080p high definition with details that will blow most competition out of the water. At 1920 x 1080 pixels, the same resolution as Nexus 7 2013 except squeezed onto a 4.95-inch display instead of 7-inch, you get all the details you need, be it for browsing, watching videos or enjoying the latest games from Google Play.
The screen packs a blistering 445 pixels per inch behind an ultra tough Gorrila Glass 3. It presents everything in deep rich colours and produces plenty of brightness ensures that you never miss a single detail.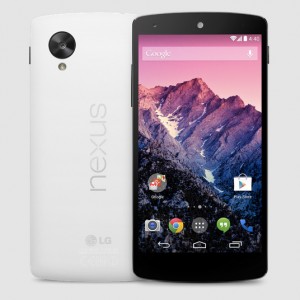 Google Now on Android 4.4 KitKat
An updated Google Now on the lastest Android 4.4 KitKat brings more voice commands and intelligent features. You can trigger Google Now or unlock the phone by saying 'Okay Google' or by sliding your finger from the bottom of the screen. Google Now intelligently brings up all the information that matters to you at that point in time and with geo-location, what's around that matters to you.
You can also use voice commands to control your phone, just like those seen on Google Glasses, starting with simple commands such as take a snapshot, add an item in your calendar, dial a friend or search the Internet.
Close integration with Google's search database and maps also allows you to identify the caller. With each call, Google will cross search the Caller ID with information on Google Maps and list the business and related information even before you pick up the call.
While the price may not be high, it is in essence a flagship class smartphone, very highly specified machine with the lastest Android OS 4.4 KitKat and also upgradeable to the lastest Android OS as and when it becomes available. This is a big plus as some vendors may choose to take the original Android OS and customise this further.
Wireless Charging
Not that it matters too much to the typical end user, as with the previous Nexus smartphone, we know that you can charge the device with via its USB port, eliminating the need to carry another adapter, and that wireless charging is built in as standard. However, there is now a new optional charger coming out soon from Google. But for those eager to get charging wirelessly, check out the Orb.
Price
The phone is also SIM-unlocked so you can use the phone with any network carrier and can then feel free to switch without signing up to lengthy contracts. Simply pay for the phone up front and get on a monthly contract or choose one of the many pay as you go packages that also offers data at a reasonable rate for the occasional phone user.
Google would be selling the Nexus 5 at a loss, but if it goes the way of Kindle Fire has done, Amazon has gone for volume and as a way to get users to buy content from their platform earning their money that way.
This strategy is not going to be far off, Google Play Store is going to benefit from more Android phones on the market. Soon you might even see other retailers slashing prices of the phone when it has reached a certain break-even point.
Final Thoughts
As you can see, Google spared no expense and has delivered yet another wonderful product. We have seen this with Nexus 7 (both 2012 and 2013 edition). The software update (4.4.1) means that the camera output is not going to stand in the way of anyone deciding on this device let alone the price point.
Is this phone for you? If you are in the market for a smartphone and are not looking to burn a hole in your pocket, this is simply the best phone money can buy at the moment. If you have the urge to move away from an iOS device and are looking to get on with a device that is going to be supported with the same hardware updates you've enjoyed with iOS, Nexus 5 is the one for you. If you don't want to be locked into a long contract and have the money to pay for the phone upgrade, and in the long run enjoy significant savings, you know the answer.
Everything is going to add up. With Apple's ex-founder Steve Wozniak preferring the Android device for its configurability and flexibility, Nexus 5 is your answer to having the best of both.
Check the latest price on Amazon.