Amazon's Kindle Fire HDs (both 7″ and 8.9″) have its' successors, the Kindle Fire HDXs. X in HDX refers to 'beyond HD' and here is what's happening across the range. The old Kindle Fire 7″ has been removed from Amazon's virtual shelf. However bot Kindle Fire HDs 7″ and 8.9″ are here to stay but reintroduced with the new Amazon's version of the Android OS rebranded as Fire OS 3.0 codenamed "Mojito". While Google stayed with confectionery for codenames from Jelly Bean to the latest KitKat, Amazon has gone for something stronger. Here is what's happening across the line.
Both existing Kindle Fire HDs have been re-positioned as entry level tablets. But don't let that fool you, they are still every bit as capable, hence their place in our Top 5 Budget Small Tablets. There are now 4 tablets on offer, 2 Kindle Fire HD and 2 Kindle Fire HDX. The thing to note here apart from the screen sizes (resolutions), dimensions, weight and the odd specifications is that each range (Fire HD or Fire HDX) shares the same processor. The Fire HDs use the Dual-Core 1.5GHz while the new Fire HDXs use the same Quad-Core 2.2GHz.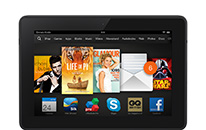 The biggest difference between each range has got to be the on-device "Mayday" button. The Fire HDX comes with a call for support, "Mayday" button on the screen also featured in their advertisement campaign. The "Mayday" button gives users direct access to tech support. This service is available from Amazon around the clock, all through the year and is free with all HDX devices. Users will be able to 'dial-in' and ask their question in real time and have an actual person handle the call, showing you how to work the device right on the screen.
Let's look at how the devices compare base on tablet sizes.
Kindle Fire HD 7″ vs Kindle Fire HDX 7″
Display: First off the Kindle Fire HD 7″ still has a High Definition (HD) display albeit at 720p at 1280 x 800 or 216 ppi but the Kindle Fire HDX 7″ trumps this with a 1920 x 1200 resolution screen at 323 ppi. To put this in perspective, it has nearly 50 percent more pixels per inch (49.5%) than it's predecessor and marginally lower than the iPad mini with Retina display which spots a resolution of 2048 x 1536 on a 7.9″ screen giving it 326ppi.
Processor & Memory: The original Kindle Fire HD has a Dual-Core 1.5 GHz processor, the new Kindle Fire HDX however comes with a Quad-Core 2.2GHz processor based on Qualcomm's top end Snapdragon 800 processor. Amazon reports that the processor is 3X faster That's not the only thing that had a boost, the Fire HDX also has double the memory at 2GB of memory on the same Fire OS 3.0, the HDX is going to do everything much faster, smoother flow, better gaming experience, more fluid and responsive interface, faster rendering of video and multi-tasking.  Kudos to Amazon for once again for not cutting down on specifications and still offering these tablets at competitive prices. – 3X Faster Processor, 2X more memory
Graphics: The Quad-Core 2.2 GHz processor from Qualcomm is mated with the Adreno 330 graphics processor to deliver best frame rate and smooth quality graphics at the super high resolution of 1920 x 1200. Amazon reports a 4x graphics performance increase from the previous GPU on the Kindle Fire HD, the Imagination PowerVR 3D graphics core. – 4X Better Graphics Performance
Dimensions: Amazon manages to shrink the 7″ tablet by 5mm in height and 1.6mm in depth. Both Fire HD and Fire HDX still has the same width at 128mm. The depth of the devices are 10.6mm and 9.0 mm respectively. To give you an idea for comparison, the iPad mini is 7.2 mm and the iPad mini with Retina display is 7.5mm while the new Nexus 7 2013 is 8.7 mm while the Nexus 7 2012 is 10.5 mm. The HDX is also lighter with the WiFi only weighing 303 grams while the WiFi+4G weighs 311 grams. Compare this to Fire HD at 345 grams, that's at least 32 grams. If you are interested, here are the figures for the other tablets; iPad mini (312 g), iPad mini with Retina (341 g), Nexus 7 2012 (340 g) and Nexus 7 2013 (290 g). Suddenly the Fire HDX at 303 g doesn't seem so bad.
Kindle Fire HD 7″: 191 X 128 X 10.6 mm weighs 345 grams
Kindle Fire HDX 7″: 186 X 128 X 9.0mm weighs 303 grams (with 4G at 311 grams) – Lighter and Smaller
Battery Life: Now you think with all that processing power, memory and super high definition screen, something has got to give. Well you will be pleasantly surprised that Amazon has quoted 11 hours battery life on the Fire HDX on mixed use. That's 1 hour more than the 10 quoted for the Fire HD. Being an eBook publisher, Amazon has also taken to publish another battery life figure, not reported by other tablet makers. Only the HDX has this figure and it refers to the tablet being used as an eReader. Thanks to the Fire OS 3.0's ability to power down unused system components automatically when it senses that users are only using the tablet as an eReader, the battery life can be extended to a blistering 17 hours. – Longer Battery Life
Camera: Something that is truly missed on the original Kindle Fire HD are the cameras, both front and rear facing, there are none. No camera on the Fire HD also meant no built-in microphone either so no video or audio calls. This time around, Amazon still haven't done much in this department, only giving the Fire HDX a front facing camera at 720p great for Skype HD video calls or taking selfies to share on Facebook. Only one Kindle Fire HDX has both front and rear facing camera, the Kindle Fire HDX 8.9″ which we will check out in the next section. – Front Facing Camera Available
Storage: Here is where it gets interesting, the Kindle Fire HD with its 8GB or 16GB storage option is rather limited by today's standard. With the Fire HDX however, you have a choice of 16GB, 32GB or 64GB. As these are content consuming devices, it make sense to specify them with more storage, as much as you can afford giving you enough room for your songs, movies, tv shows, books, games and apps. But don't forget the Amazon cloud, music and video streaming services that does not take up chunks of your storage and the new 1-Tap Archive feature on Fire OS "Mojito". The later allows users to free up space on their devices by identifying items that have not been used recently and move them to the Cloud with a single tap. You can still retrieve this later if you wish but it makes sense to let the system manage these for you. 32GB and 64GB Storage Options Available
Connectivity: With the HDX, you get both a WiFi only and WiFi + 4G/3G options. Amazon has partnered exclusively with Vodafone to offer the option of buying a Vodafone 3G data plan which includes 5GB of data over 3G UK that lasts up to 90 days. The Internet Starter Pack also comes with 20GB of Amazon Cloud storage and credit to spend on Amazon Appstore. Upgrading to 4G with Vodafone is optional. Unlike Amazon US offering where Amazon has partnered with AT&T and Verizon to offer 4G LTE, not 3G then upgrade to 4G as per Vodafone UK.
In the WiFi department, both Fire HD and Fire HDX offers dual band connectivity and dual antenna. The Fire HDX takes it a step further by incorporates MIMO technology to boost the WiFi performance even further, something we see in the new iPad Air and iPad mini with Retina display. The technology also allows you to pick up weak WiFi signals and hang on to this or move further away from the wireless router while maintaining connection and speed.
Audio: Amazon blew us away with the dual drive stereo sound system on the Kindle Fire HD with Dolby Digital Plus that creates a virtual surround sound and adapts to the different type of content (film, music or TV shows). It continues to deliver on its promise of world class audio experience again on the Fire HDX, also powered by Dolby Digital Plus and dual stereo speakers.
Prices: These are tablets that are priced to sell and compete with the likes of Google, Samsung and Apple. While certain company chooses to charge a premium for more storage, for a small price you can get your storage memory doubled. For the budget conscious, the HDX still presents a big jump when compared to HDX with equivalent storage. At 16GB the Fire HD is cheaper than Fire HDX but this is a small price to pay for the latest and greatest in processing power, screen resolution, size and weight. Our favourite is the Kindle Fire HDX 7″ with 64GB.
Kindle Fire HD 7″ with 8GB and with 16GB*
Kindle Fire HDX 7″ with 16GB, with 32GB and with 64GB for WiFi only versions. for WiFi + 4G/3G versions with 16GB, with and 64GB
*Please note that these are prices that includes Amazon's Special Offer start screen as screen savers. These personalised offers are displayed on the bottom of the home screen and on the screensaver. You can opt out of these offers even after you have purchased and registered the device by calling the customer service team.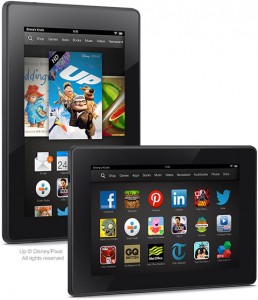 Software: The new Fire OS "Mojito" based on a forked version of Google's Android OS complete with Amazon Silk (a custom web browser optimised with Amazon's cloud for fast browsing), email client that not only lets you read and send emails, it lets you view attachments, group conversations by subject and sync contacts with support for Gmail, Outlook, Yahoo! AOL and more. The tablet is also more closely integrated with social media network i.e. Facebook and Twitter making connecting and sharing information easier. You can now share passages and quotes from your book or photos to Facebook. The Photo and Video app also makes it easier for you to share content via email, Facebook or Twitter. There is also a handy editor built-in so you can down your albums from Facebook or add photos and videos (up to 20 mins) to Amazon Cloud Drive.

While the number of apps on Amazon's Appstore does not come close to Google' Play app store, it does mean that Amazon has taken the extra step of checking the apps and making sure that it is compatible with its Kindles thereby ensuring a good end user experience. One only needs to look at the number of Apps that developers have churned out for a plethora of devices (Android devices of different make and model as well as different Android OS versions) and you will find that there are bound to be Apps that will not work or will crash on certain devices. Amazon introduces its own currency system called Amazon Coins and for starters, it is giving Kindle Fire Owners 400 Amazon Coins to spend on Amazon Appstore to encourage more users to start using the store.
Final Thoughts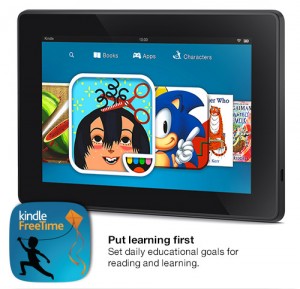 What we are interested is the new Kindle FreeTime, a management system that allows you as a parent or teacher to control the amount of screen time allowed. The Kindle FreeTime is a new service, built in to Kindle to help manage childrens' use of the tablet.
Different profiles can be added for each child and parents or teachers can decide the type of content to allow the children on. FreeTime also appeals to the children as it gives them the feeling that the tablet is personalised for them. They can change the background and fonts to suit them. Only the titles selected for them are show when they log on to their profile. Recently viewed titles are placed on their home screen carousel.
Kindle FreeTime also lets teachers and parents set time limits on a daily basis. These limits are based on a reward system where students will complete a set goals i.e. reading or going on educational apps and only let them on entertainment content when their goals are met. Different time limits can also be set for different days of the week perfect for your reading assignment days, varying use of devices between week days and weekend and making Kindle FreeTime works on the time of day. Amazon is definitely taking Education seriously.
Related Links