Not too long ago, we reviewed a free video converter application from Freemake. It had all the features that you could ever need on a video converter but it was only available for PC. So we scouted around for one that was available on both the PC and MAC and found a video converter very similar if not better than Freemake from Wondershare. (DISCLAIMER: Wondershare provided a complimentary copy for purposes of this review)

I first heard about Wondershare and used their product when I had to recover some data that I  accidentally deleted from my flash memory card, an application they still have in their product portfolio. This worked pretty well apart from the bizarre file naming system. And then, we needed to convert a demo DVD into Flash video and once again, Wondershare came to the rescue with Wondershare DVD to Flash Converter. This was way back in 2007.
Fast forward to today and we see that the number of video products have grown. Wondershare now carries the Video Converter Pro, Video Converter Ultimate, DVD Creator and Video Editor in their portfolio. They also do Digital Photography software in the form of the DVD Slideshow Builder Deluxe and Fantashow.
Wondershare Video Converter Ultimate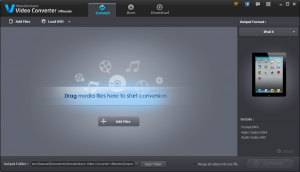 The Video Converter Ultimate allows you to convert videos, copy home DVDs, burn DVDs, carry out simple video editing, create videos that are compatible with different devices and share videos online easily.
When starting the software, it checks for updates before continuing to load the dashboard.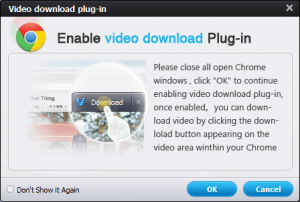 You may also be prompted to install a Chrome browser plugin to add a button to download videos straight from the web. We will look at this in the download section below.
The black and dark color scheme chosen for the user interface creates a serious tone for the application. There are three main tabs on the top of the application window; the Convert, Burn and Download tabs.
There is a secondary top menu beneath the main tabs with options to 'Add Files' and 'Load DVD'. These changes to '+Add URL' when in Download tab.
Converting Video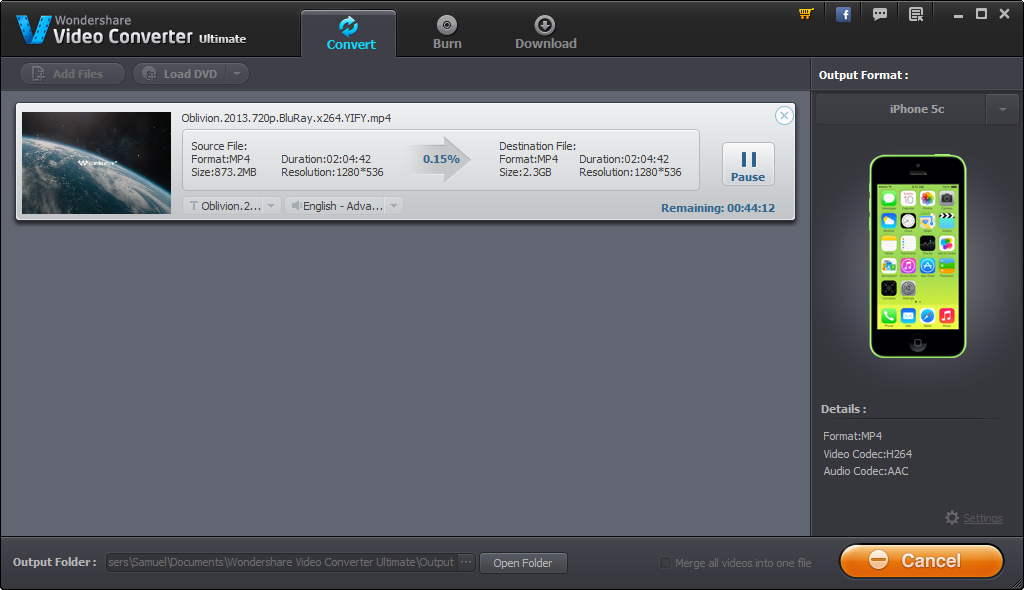 Going back to the 'Convert' tab, clicking on this turns the main area of the dashboard into a drag and drop area. Drag media files into this window ready for conversion.
Using the file finder or file explorer, look for your video file, drag and drop this from your finder or explorer window into the application. Some maneuvering to arrange the windows side by side may be required. You can also use the + Add Files button to achieve the same.
Alternatively, you can use the 'Load DVD' option if you wish to grab videos from your DVD discs. There are three options to Load from DVD, they are Load from DVD folder, Load from ISO files and Load from IFO files.
This is great for converting your DVD disc into digital file format for network storage and streaming. On the right column, you can pick from the many different formats of videos you would like to convert to. The software however, doesn't convert copyright protected DVDs.
Format and Devices Supported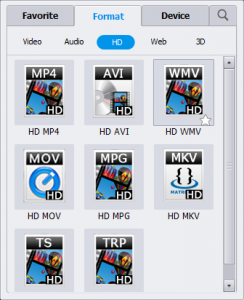 The Output formats available are grouped into three categories, Favorite, Format and Device.
Favorite
tab simply shows the format or device previously used or selected as favorite.
Under the Format tab, there is a sub menu that sorts the diferent output formats available for conversion to Video, Audio, HD, Web and 3D (see image to the right).
Under Video you will find the following formats: MP4, AVI, WMV, MOV, M4V, MKV, XVID, ASF, DV, MPEG-1, MPEG-2, VOB, WEBM, DIVX, 3GP and 3GP2.
Under Audio you have: MP3, M4A, AC3, AAC, WMA, WAV, OGG, APE, MKA, AU, AIFF, FLAC, M4B, M4R
Under HD you get: MP4, AVI, WMV, MOV, MPG, MKV, TS, TRP
Under Web you can convert for FLV, F4V, SWF, YouTube Video, Facebook Video and Vimeo.
Finally, under 3D: MP4, WMV, MKV, AVI, YouTube.
As you have probably figured, you can also use the video converter to rip the soundtrack and save this in one of the audio formats listed under Format > Audio as seen above.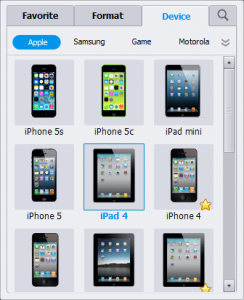 If you are not familiar with the different video formats, you can choose the target device for your video. Once again, under the Output format column on the right, select the Devices tab.
From the sub menu, choose from the list of manufacturers: Apple, Samsung, Game (Console), Motorola, HTC, LG, Nokia, BlackBerry, Sony, Archos, TVs and Others.
Select from one of these manufacturers gives you the list of available devices.
For web designers and developers, you will appreciate the Web formats supported as this would mean that you are able to convert videos to to FLV, F4V, SWF, YouTube Video, Facebook Video and Vimeo.
You will be interested to know that to convert for tablet devices such as Google Nexus, Nook, Amazon Kindle and Android tablets and smartphones, you can find these options under Devices > Others.
Output Format Gallery
Edit Video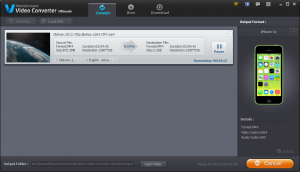 Once your video or videos are listed in the body of the window, you can click on the Edit button next to each video clip to edit the video.
A pop-up window will appear showing the five different edit functions available to you; these are Trim, Crop, Effect, Watermark and Subtitle.
These are self explanatory and you can find each of these edit screens in the gallery below. When you have finished editing the video, click the OK button and you will be sent back to the main window.
Including these simple video editing functions are simply a bonus and allows you edit you videos as well as convert to the different formats or burn this onto DVD.
Video Editing Gallery
Burn Video
You've been out in the fields watching your child play, taking a bunch of video clips with your smartphone or HD camera and thinking how can you get these onto a DVD to send over to the grandparents, here's what you do.
The Burn video function allows you to burn your video or compilation of video clips onto a DVD. Similar to the Convert tab, clicking on the Burn tab allows you to drag media files into the main window, order and edit them, getting them ready for burning.
In the Burn tab, the right column gives you the option of choosing and customizing the DVD Menu template, the DVD label, the drive or folder to use, quality level and aspect ratio.
The 'more options' tab at the bottom of the right column allows you to choose a DVD folder if you wish to create an ISO file or DVD folder instead and the different TV standards, NTSC or PAL.
We found our 720p , 2-hour long video required more space than a DVD5 (4.5GB) could offer so we changed the DVD format to DVD9 (8.5GB).
To change the menu template, click the "Change Template" button. A pop-up window will appear showing you the different templates available including options for you to upload you own custom background picture and music.
When you are ready, click on the Burn button to create your DVD.
Download Video
The third and final tab on the main window is the Download tab. The purpose of this tab is to allow you to download streaming video from the Internet and keep a local copy.
There are two ways in which you can do this. You can either click on the
+Add URL
button on the top left and add a URL or install the Chrome browser plugin. This will then give you a Download button near the video area on the webpage. Simply click on this and it will send the link to the download page of this application.
We tried to download a video from YouTube but instead of caching and recording a local copy of the video, it cached Google's Advert video instead.
Our second attempt was better and managed to cache and download the video but it didn't capture the sound.  This could be how our machine is configured. We will need to attempt the same Download on a different machine to see if it captures the sound.
Performance
Using a full length High Definition (HD) feature film at 720p (1280 x 536) with over 2 hours run time (2:04:42 to be precise) we put the Wondershare Video Converter Ultimate to the test.
As the original video file is in MP4 format and had subtitles, we have chosen to convert this to AVI format retaining the quality of the video and audio but without the subtitle. Yes, you can turn the subtitle on/off on the output video.
The same video is also put through the Freemake Video converter. It took us just over 6 minutes (6:15) to convert the video to AVI with Wondershare while Freemake too well over 24 minutes (24:47) to complete the same task. That's 3 times longer.
The output file from Freemake is also 3 times (3.03x) bigger at 2.65GB from the original file and while the output file from Wondershare is 914MB, only slighly bigger, 4% bigger than its original file size. The numbers and results are shown below:
Original File Size: 873MB
Wondershare Video Converter Ultimate
Conversion Time: 6:15 minutes
Output File Size: 914MB
Freemake Video Converter
Conversion Time: 24:57 minutes
Output File Size: 2.65GB
All things being constant; Video: H.264, 1280 x 536, 2774Kbps and Audio: MP3, 256Kbps, Stereo. Wondershare Video Converter Ultimate is the clear winner in terms of performance.
However, we did notice that changing to different target device on the Wondershare, the software reports a bigger output size. Just looking at Apple's devices, converting to MP4 for iPhone 1-3G and 4, iPad 1, iPod Touch 1-3, 4 and 5 creates outputs which are much bigger and takes a longer time to convert.
Another thing we also noticed is when enabling subtitle, the conversion also takes a longer time. We tried this with our video and it took us 28 minutes and generated a whopping file size of 2.29GB. So if you are not worried about subtitles, we would suggest you turn this off.
Final Thoughts
The Wondershare Video Converter Ultimate is undoubtedly a  fast video converter. The software boasts the use of Wondershare's own APEXTRANS technology to push the conversion speed of up to 30x faster than other converters.
There are plenty of device options and various formats out of the box. An update applied to the software gave us target devices like the new iPhone 5s and iPhone 5c.
Overall the interface is clear cut and adopting the tabbed approach means you select the operating you want from the top menu and move on to the main window or right column for further options and finally to confirm the settings and convert, or burn, you just need to find the bright blue button on the bottom right.
While the core functionality of the software is conversion of the different video formats, and we know it does that very well, Wondershare doesn't just stop there.
The ability to grab videos from DVD and to convert this into a digital video file means you can archive or backup those school recital, dance performance and nativity DVDs to your hard drive for streaming over the network to your TV.
The edit function gives you a quick and easy way to enhance and personalize your video. The application lets you cut, merge, crop, trim, rotate, add watermark and adjust the duration of the video with ease. There are 10 single click effects to apply and adding text, photos and stitching videos together is effortless.
While the burn function lets you compile and create your own home video complete with custom DVD menu. All you need to do is to print your own DVD cover insert and get yourself a DVD case to complete your production.
For those of you who just want to get the job done and done quickly and reliably, Wondershare Video Converter Ultimate is for you.  The Windows version is available at $49.95 while the MAC version is a bit more expensive at $59.
If you need more proof, at the time of writing, the Windows version had over 120 reviews with majority of them 5 stars while the  MAC version had 28 reviews, all of which are 5 stars.
Here are a few hand picked comments that we would like to share from users:
Super fast! For an example 6.6Gb Oblivion (±2hours length) MKV on macbook air was converted in 3 minutes! Thanks for the magnificent program – Dmitry Orel

I love this converter! This is the 4th converter I've tired and this one blows the competition away. I find it very easy to use and I'm not at all good with computers 😛 Also e-mailed them a questioned and they were very quick and super helpful 😀 Very happy with my purchase. – Pamela Painchaud

The speed and quality of compression coming out of this software is nothing short of amazing. We pulled 720p down to 960×540 and it looks fantastic. Compression was very quick, the file reduced from 12.8GB to 200MB, and we were able to meet very tight deadline. Awesome's an overused word, but we were definitely in awe at what Video Converter Ultimate can do! – Dave K.
We leave you with some more information on the Video Converter, its system requirements and supported format and devices list.
System Requirements
Supported OS: Windows NT4/2000/2003/XP/Vista/7, and Windows 8
Processor: >750MHz Intel or AMD CPU
Free Hard Disk Space: 100 MB or more
RAM: 256 MB or above
Supported Formats and Devices
Input File Format Supported
DVD
DVD disc, ISO files, DVD folder, IFO files
Audio
MP3, M4A, AC3, AAC, WMA, WAV, OGG, APE, MKA, AU, AIFF, FLAC, M4B, M4R, MP2, MPA etc
Video
TIVO, AVI, MP4, MPG, MPEG, NUT, H.264, NSV, VOB, MOV, FLV, MKV, MTS/M2TS/TS/TP/TRP(AVCHD, H.264, VC-1, MPEG-2 HD), MOD, TOD, DV, WMV, ASF, 3GP, 3G2, DRM MP4, RM, RMVB, WTV, OGV, MXF, VRO, etc.
Image (watermark)
BMP, JPEG, GIF, PNG
Output File Format Supported
DVD
DVD disc, ISO files, DVD folder
Audio
FLAC, AIFF, AU, MKA, APE, OGG, WAV, WMA, AAC, AC3, M4A, MP3, M4B, M4R etc
Video
3D video formats: 3D MP4, 3D WMV, 3D AVI, 3D MKV, 3D YouTube videoHD video formats: HD MKV, HD TS, HD TRP, HD AVI, HD MP4, HD MPG, HD WMV, HD MOVCommon video formats: ASF, MOV, M4V, MP4-AVC, MP4-XviD, MP4-MC, WMV, MKV, AVI, XviD, DV, MPEG-1 NTSC, MPEG-1 PAL, MPEG-1 SECAM, MPEG-2 NTSC, MPEG-2 PAL, MPEG-2 SECAM, DVD-Video NTSC, DVD-Video PAL, DVD-Video SECAM, FLV, F4V, SWF, 3GP, 3G2 etc
Image (snapshot)
BMP, JPEG
Output Devices Supported
Apple
iPod touch 1-3, iPod nano, iPod classic, iPod Touch 5, iPhone 1-3GS, iPhone 5s, iPhone 5c, iPhone 4, iPhone 5, iPhone 4S, iPad, iPad 2, The New iPad, Apple TV, Apple TV 2, The New Apple TV, iPod Touch 4
Samsung
Galaxy S, Captivate, i7500, Moment, Galaxy Spica, Fascinate, Epic 4G, Mesmerize, Intercept, Mythic, Galaxy Tab, Galaxy S II, Galaxy S III, Galaxy S IV, Galaxy Note, Galaxy Nexus, Focus i917
HTC
Droid Incredible, Desire, Wildfire, Diamond, HTC HD2, EVO 4G, HTC Aria, HTC Surround, HTC HD7, Flyer, Sensation, Vivid, HTC ONE
BlackBerry
Tour series, Storm series, Bold series, Curve 8900, Curve 8500, Curve 8300, Curve 8310, Torch 9800, PlayBook
Motorola
Droid, Droid 2, Droid X, XOOM, RAZR
Nokia
N900, X6, X3, 5800 XpressMusic, E63, 5230, E72, N97, N95, N73, N8, N70, 6300, C6, 5530, Lumia 900
LG
Prime, KP500, Bliss UX700, Dare VX9700, Vu CU920, Incite CT810, Optimus
Archos
101 internet tablet, 5 internet tablet, 43 internet tablet, 70 internet tablet
Sony
XPERIA x10, Xperia X8, Vivaz, SONY Walkman
Game Hardware
GmaeHard, PSP, PS3, PS Vita, XBOX, WII
TV
SONY TV, Samsung TV, LG TV, Panasonic TV
Other
ZEN X-Fi2, Zune, ANDROID OS, Smart phone, Feature phone, Tablets, Kindle Fire, Windows Movie Maker, NOOK Tablet, NOOK Color
Wondershare Player
DVD
DVD disc, ISO files, DVD folder, IFO files.
Audio
MP3, AAC, AC3, WAV, WMA, AIF, AIFF, RA, MP2, MPA, AMR, APE, AU, CDA, DTS, FLAC, M1A, M2A, M4A, MID, MIDI, TAK, TTA, OGG
Video
AVI, MP4, M4V, MOV, M1V, M2P, M2TS, M2V, MP2V, MPE, MPEG, MPG, MPV2, PSS, PVA, TP, TRP, TS, M2T, M4B, M4P, MPEG4, QT, M4V, 3G2, 3GP, 3GPP, 3GP2, ASF, WM, WMP, WMV, RAM, RM, RMVB, RPM, SCM, RP, F4V, FLV, H1V, AMV, BIK, CSF, DivX, DV, EVO, IVM, MKV, MOD, MTS, NSV, OGM, PMP, TOD, VP6, WEBM, XLMV, WV, DAT
You can find Wondershare Video Ultimate on their website.