Spec by spec look at the comparison between Samsung's successful Series 3 Chromebook offering and the new HP Chromebook 11.
Screen
The screen size and resolution are the same except the new HP Chromebook 11 has the upper hand here. We have read many reviews from existing Samsung Series 3 Chromebook users that the screen is just poor quality. HP on the other hand uses super bright and sharp IPS technology (300 nit screen), those found on smartphones and tablets. The wide viewing angle at  at 176 degrees is equal to some of the high end laptops from the likes of Apple. As with all IPS screens, we are expecting vibrant and colourful displays (60% Color Gamut). So in this category, HP wins hands down.
11.6″ display with 16:9 aspect ratio
1366 x 768
Winner: HP Chromebook 11
Inputs
There is not much difference except for design here. Both have chrome keyboard, clickable touchpad and VGA front facing web cam.
Winner: Draw
Ports
Here is where things get interesting. Samsung has 1 USB 3.0 and 1 USB 2.0 port while HP has 2 x USB 2.0 ports. The USB ports on Samsung is located at the back which makes accessing it a little challenging while HP has this on the left side.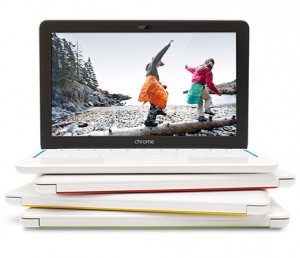 HP differentiates itself here by using a MicroUSB as a power socket, similar to those used on smartphones. You can use the same adapter or cable to charge the device.
In terms of video output, HP uses a SlimPort video output. Users will require an adapter which is not included. While Samsung uses HDMI which is widely available. Both devices have no VGA ports.
In the audio department, both devices opt for Headphone-out and Microphone combo.
Samsung has a multi card slot (3-in-1) for SD, SDHC and SDXC for memory expansion. This is not available on HP.
Winner: Samsung Series 3 Chromebook (with the multi card expansion slot)
Design
HP uses magnesium chassis for strength with hard but gloss white or black plastic shell an a combination of 4 accent colours (blue, red, yellow, green – the Google colours), around the keyboard and at the bottom of the shell. The magnesium structure gives the device a solid feel with little flex. It feels more like a premium product, much like what the white Macbook.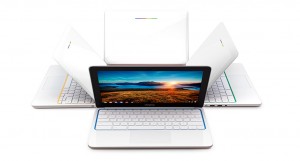 Samsung comes in only one colour, silver. There is nothing to shout about in terms of design. the back of the laptop, around the hinge is rounded. As the ports are sited here, the plastic is mounded to provide access to the sockets. The edges around the socket is a little sharp and if you are on the move and carrying your laptop in one hand with you palm around the rear edge of the laptop, you might feel it getting caught in the ports.
HP has embedded their speakers and left this under the keyboard to allow better spreading of the sound. As for Samsung, the speaker grills can be found under the chassis.
Both devices use fanless design and is therefore silent while HP's have no visible vents.
HP wins hands down in the design department.
Winner: HP Chromebook 11
Size
Not very different in size, the HP Chromebook is slightly longer by 7.4mm but make up for this with a smaller width with a difference of 16.5mm but both have a depth of 17.6/17.5 (HP/Samsung respectively).
HP Chromebook 11: 297 x 192 x 17.6 mm
Samsung Series 3 Chromebook: 289.6 x 208.5 x 17.5 ~ 17.5mm
By calculation, the HP Chromebook has a smaller footprint.
Winner: HP Chromebook 11
Weight
Surprisingly, the winner here is the HP Chromebook 11 at 60 grams lighter eventhough it has alot more going for it in terms of the magnesium structure and hard plastic shell.
HP Chromebook 11: 2.3lb / 1.04kg
Samsung Series 3 Chromebook: 2.42lbs / 1.1kg
Winner: HP Chromebook 11
CPU
Both devices uses the Exynos Dual core processor clocked at 1.7GHz with 1MB L2 Cache.
Exynos 5 Dual (5250) Application Processor
Winner: Draw
Memory
Both devices has the same amount of memory and storage.
2GB DDR3 RAM
16GB Solid State Drive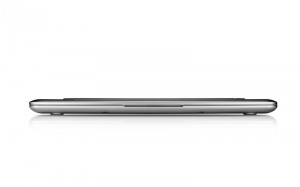 While 16GB looks measly by today's standard but Google gives Chromebook owners 100GB of cloud storage for two years after which a small subscription is required.
Winner: Draw
Audio
Both devices uses the combine headphones / microphone socket just like the ones found on tablet and smartphones. HP's speakers are digitally-tuned as it is integrated underneath the keyboard to port the sound up from there. Samsung's speakers are pretty powerful but a proper sound test is needed to determine which is the best.
Combined headphone / microphone jack
Stereo speakers
Winner: Draw
Battery
Samsung claims a 7 hour battery life, reviews have quoted 6.5 hours. HP on the other hand claims a battery life of up to 6 hours on active use. Both uses 2-cell 30 Wh battery packs.
While 6-7 hours is pretty standard for lightweight laptops or ultrabooks using energy saving CPU but these laptops are using ARM processors, found typically on smartphones and tablets and given the size, this should give users more juice but we are not seeing any great improvement here.
Winner: Samsung Series 3 Chromebook
Network
Both device spots the dual band WiFi 802.11a/b/g/n
For mobile networking option, Samsung includes a HSPA+, EU, Open, Novatel E396UC. While HP's WAN enabled laptop is in the pipeline. A Verizon LTE version is coming on the HP.
HP has Bluetooth 4.0 radio while Samsung Bluetooth 3.0 radio.
In term of number, HP has WiFi and Bluetooth, while the LTE option is yet to be available. Samsung has WiFi and 3.5G WAN, not quite 4G but capable of 4G speeds.
Winner: Draw (for now)
Final Thoughts
Of the 11 categories considered here, HP won on four categories; screen, design, size and weight. Samsung won on ports and battery life. Both drew on Network, Audio, Memory, CPU and Keyboard. The overall winner is HP. However, there are factors such as memory expansion slots and battery life which may tip the scale in favour of Samsung.
UPDATE: HP Chromebook 11 – after its initial problem with the power adapter forcing Google to freeze the sales back November 2013, apparently affecting a small number of chargers causing it to overheat. Sales have seen resumed, in December. HP Chromebook 11 has gone from strength to strength with a good number of customer feedback and gaining a customer rating of 4.7 out of 5 star.
For those who need a quick introduction to Chromebook and its benefits including what it can offer to education, watch the video below.