Here is a quick way to engage your students, a poll or voting system that is easy to set up and provides instant feedback and result, the choice activity in Moodle.
Ideas for Using the Choice Activity in Moodle
So what is the choice activity in Moodle? It allow teachers to post a single question with multiple pre-determined responses in which student will select one answer from the list of choices. There may be no right answer as you can use this to:
get feedback on your course delivery
gauge the students understanding at the end of the lesson
make sure that students are on track
decide on what to do next with feedback from students
get students to vote on what they would like to do
engage and allow student participation
Introduce a before and after lesson questions using choice
as you can limit the number of people choosing a certain choice, you can use this to allow students to sign up to courses or activities with limited seats (first come first serve)
use a video or podcast with the choice activity
election tool, student union election, club election for different posts
selecting a team or group to join, again limiting the number of students can select the team, allows students to form their groups by choosing the team to join.
research tool, post your research question and get instant result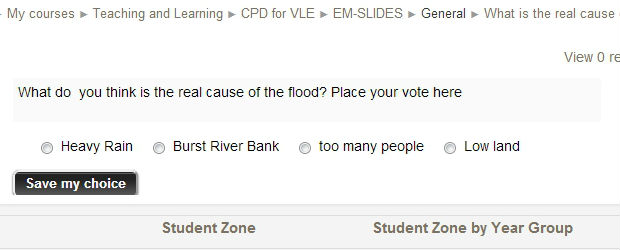 How to setup the Choice Activity
The Choice activity is easy to master and quick to setup.
Login to Moodle and go into your course with Teacher access
Click on Turn editing on
Click on +Add an activity or resource
Double click on Choice under Activities
Add a Choice Name and Description (this is where you ask the question). Choose if you want to limit the number of responses for reasons listed above.
Add the possible responses under Options 1, 2, and so on. If you need more click Add 3 fields to form. If you have enabled limit responses, put a number under each option.
The following options allow you to restrict answering time and the way questions and results are published. Some options are, publish result, anonymous or show name of student in result, allow choice to be updated and show column for unanswered choice.
We leave you with a video on how to use the choice activity