In our book, no visit to Paris is complete without a trip to Versailles.
In hopes that we may actually entice you to extend your visit to Paris simply to spend one whole day, steeped in and absorbing the amazing architecture and stories behind this grand palace.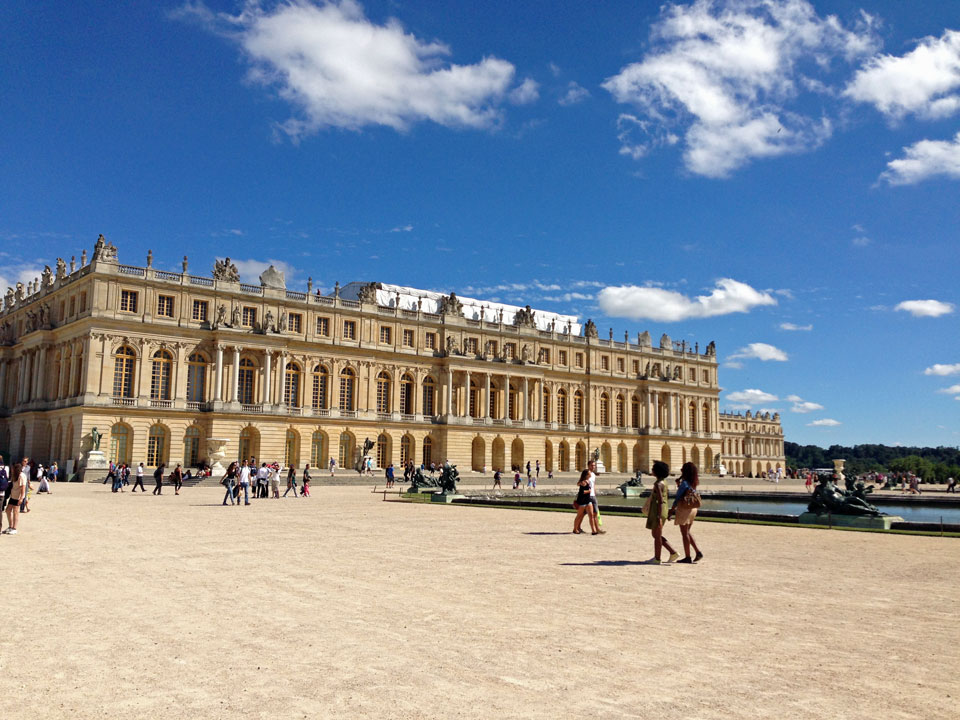 The Story of Versailles
Looking at the Versailles of today, you would be hard pressed to believe that The Palace of Versailles really started life as a simple hunting lodge, built by Louis XIII. The young Louis XIV, loved his grandfather's hunting estate so much that he was instrumental in making Versailles much of what we see today.
The estate was progressively improved upon and developed as Louis XIV's successors continued to use Versailles as the seat of French power until the reign of Louis XVI, with the
French Revolution when came the end of the Ancient Monarchy in France.
Much of Versailles history is written in great depth in the Wikipedia entry.
A very attractive, exciting video of the history of Versailles has been created by the Versailles 3D project which visually takes you through the time and development of the Palace itself.
Getting to Versailles
Versailles is easily accessible both by train and by car if you are driving.
By Train
On the RER Line C and get Tickets for Versailles Rive Gauche (Zone 1-4). The journey takes about 45 minutes to 1 hour.
By Car
The journey by car to Versailles is relatively straightforward and apart from the typical city traffic in Paris, a pleasant journey. Head for the A13 motorway and just a little on the outskirts of Paris you will see signs for Chateau Versailles. Failing that follow the tour busses that are on the same route.
Tickets and Entry
Tickets in to the Palace can be purchased on site when you arrive. However, while it is easy to purchase tickets there, the most challenging part of the trip is the long queues for security checks.
Arriving as early as possible will ensure you beat the queues.
What's there
Versailles itself is an enormous estate of some of the most architecturally spectacular buildings in France, from the Grand Palace to the Grand Trianon, the Petit Trianon and Mari-Antoinette's estate, with vast manicured formal gardens and fountains.
As it is such a large site, there are golf buggies and bicycles for hire. If you are travelling with small children or elderly, a golf buggy is definitely recommended.
Typically you rent the buggy for 1 hour, however, realistically it takes at least 2 hours to see and do almost everything.
If you're planning a visit to Paris, do include Versailles on your must do list, you won't be disappointed. If it'll be a while before you get to Paris, here are some of our favourite views from there.