Samsung announced the launch of their next generation Phablet (a cross between Phone and Tablet), the Samsung Galaxy Note 3 at the IFA show in Berlin yesterday. Samsung also bought the first SmartWatch to the market, the Samsung Galaxy Gear, but let's leave that for another article.  So what are the feature highlights and how does it compare to its predecessor the Galaxy Note 2. Let's dive straight in, for another spec by spec comparison.

Galaxy Note 2 and Note 3 Comparison
What are the differences between the new Galaxy Note 3 compared to Note 2?
Display
While both Galaxy Notes are based on the same Super AMOLED  displays, we get a bigger and higher definition screen on the Note 3. It is 0.2 inch bigger nearly 24pc more in pixels per inch.
Galaxy Note 2: 5.5-inch Super AMOLED 1280 x 720 pixels (267 ppi pixel density) capacity touch
Galaxy Note 3: 5.7-inch Super AMOLED Full HD screen 16M colours 1080 x 1920 pixels (331 ppi pixel density) capacitive touch Bigger Screen & Higher Resolution
Dimensions and Weight
While the Galaxy Note 3 is smaller, it is not much smaller by any count, but any shift towards 'small' is good for any gadget, in my books. The Galaxy Note 3 shaved 1.2 mm (height),  1.3mm (width) and 1.1mm (depth). At 8.3mm this is thinner than the recently released Nexus 7 2013 which is 8.7mm, granted it's a 7″ tablet (find the comparative review here).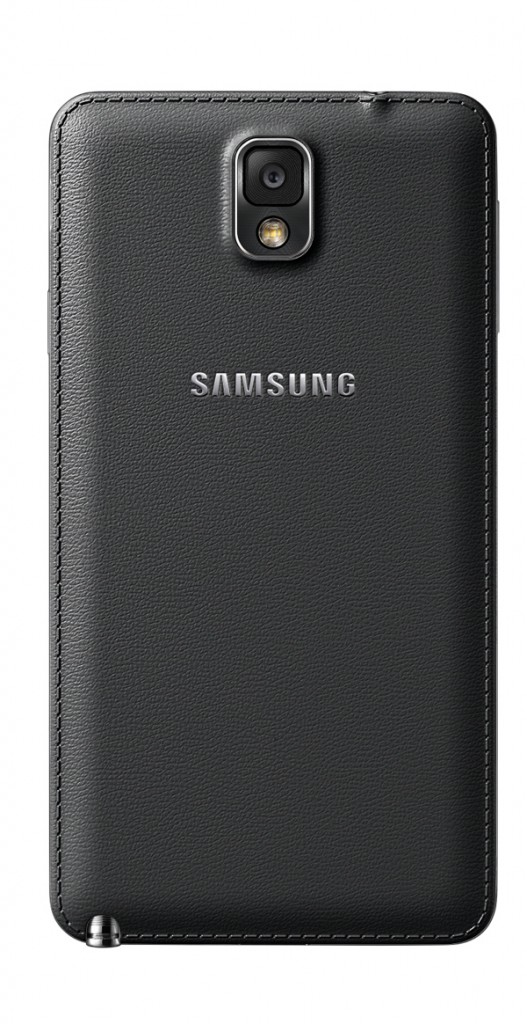 Galaxy Note 2: 152.4 x 80.5 x 9.4 mm weighs 183g
Galaxy Note 3: 151.2 x 79.2 x 8.3 mm weighs 168g Smaller & Lighter
Processor, GPU, Memory, Storage
Depending on the market region, the Galaxy Note 3 comes with either LTE 2.3 GHz Quad-Core Processor or 3G Octa-Core Processor (1.9GHz Quad + 1.3GHz Quad). Be it the Quad-Core of the Octa-Core, it's bound to rock the Phablet. That kind of processing power will go a long way with Ultra High Definition video capture and high screen displays.
Galaxy Note 2: 1.6GHz, quad-core Exynos 4412 Cortex A9, 2GB RAM memory, 16/32/64GB, microSD slot for further expansions
Galaxy Note 3: 2.3GHz Quad-core processor Qualcomm Snapdragon 800, 3GB RAM memory (for the 4G LTE version), 64GB (32GB also available), microSD slot for further expansion up to 64GB. Faster, More Memory, Entry Storage Doubled
Cameras
Forget 720p or 1080p, the new Galaxy Note 3 is capable of 4K video capture at 30fps. 4K is the new Ultra High Resolution (UHD) for video at 3840 x 2160. While there have been a few of these displays in the market, they are the top-end of LED displays and with that, the high price tag.
Now, with the UHD capture capability present, the device can also be scaled back to capture Full High Definition (FHD) at 60fps for smoother recording or to capture High Definition (HD) at 120fps for slow motion recording. Whatever the options, capturing video with the smartphones just reached a whole new level. The extra cores in the processors will come in handy in capturing and rendering videos.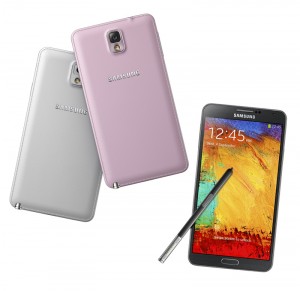 The result has yet to be seen but Samsung has promised better low light performance, more powerful flash, image stabilisation and zero shutter lag. As with the Galaxy S4, the Note 3 comes with dual camera shooting which is used in Dual Shot/Dual Recording or Dual Video Call.
Still image capture benefit from the different camera modes; Drama Shot, Sound & Shot, Animated Photo, Eraser, Best Photo, Best Face,
Beauty Face, HDR (High Dynamic Range), Panorama, Sports, Golf, Surround shot and Live effect.
Galaxy Note 2: 8MP rear-facing camera, 1.9MP front-facing camera
Galaxy Note 3: 13MP rear-facing camera with 4K video capture (UHD) at 30fps, 2.1MP front-facing camera with High CRI LED Flash. Higher resolution cameras
Software
The Galaxy Note 3 shares some of the software application from the Galaxy S4 smartphone. These are S Health, Samsung Smart Scroll, Samsung Smart Pause, the S Pen stylus, the SwiftKey. In the OS department, the Galaxy Note 3 will be released with Android 4.3 Jelly bean. As with all Samsung Galaxies, the company chooses to load their own skin, the TouchWiz user interface. This is not a bad thing, as more and more people have come to love the feature packed UI. If you want a pure Android experience, you may want to look at the Nexus smartphone and tablet from Google.
The S Pen is back again in Note 3, with the usual barrage of apps and gestures that it supports notably Air Command, Action Memo, Scrapbook, S Finder, Pen, Window, Multi Window and Direct Pen input. For more information about the Samsung Apps, check out our write up on Samsung Galaxy S4 and Samsung Galaxy Note 10.1. These apps have been updated and the list expanded once again.
Galaxy Note 2: Android 4.2 with Samsung TouchWiz
Galaxy Note 3: Android 4.3 with Samsung TouchWiz
Connectivity and Sensors
The biggest improvement in terms of connectivity is the addition of 802.11ac bringing the Note 3 up to date with future standards. 802.11ac is capable of throughput of at least 500Mbps.
Galaxy Note 2: 4G, LTE, NFC, 802.11 a/b/g/n dual band
Galaxy Note 3: 4G, LTE, IR Blaster, NFC, 802.11 a/b/g/n/ac dual band
Both Notes sports GPS / GLONASS and Bluetooth® v 4.0 but the new Note 3 included IR LED (Infra Red Light Emitting Diode) for the infrared blaster, to turn the Note 3 into a universal remote and MHL 2.0 to use in conjunction with a HDTV Smart Adapter for HDMI output.
The following sensors appear on both Note 2 and Note 3; Gesture, Accelerometer, Geo-magnetic, Gyroscope, RGB- Proximity, Barometer except for  Temperature & Humidity, Hall Sensor
Battery Life
The Galaxy Note 3 has a slighter bigger charge capacity, 100 mAh more. But what is more important is the power efficiency of the processors and chosen components. Galaxy Note 3 has the upper hand as the SnapDragon processors are well known to be more energy efficient. While the Galaxy Note 2 has been tested to last just under 12 hours battery life based on reviews and standard testing procedure (video playback at full screen with WiFi and 3G switched off and screen brightness set to 50 per cent), we can safely assume that the Galaxy Note 3 is going to exceed this.
Galaxy Note 2: 3100mAh battery
Galaxy Note 3: 3200mAh battery Bigger Capacity Battery and More Effecient
Other features
While most of the features listed below we have seen on the Samsung Galaxy S4, it's worth listing again here for the Note 3 is a different profile and the S Pen and its features does draw it apart from a typical tablet or smartphone.
Group Play: Share Music,
Share Picture,
Share Video,
Share Document,
Play Games- Story Album,
S Translator
Samsung Smart Scroll,
Samsung Smart Pause,
Air Gesture,
Air View- Samsung Apps,
Samsung Hub,
ChatON (Voice/Video Call, Share screen, 3-way calling),
Samsung WatchON- S Voice™ Hands Free,
S Health- Samsung Adapt Display,
Samsung Adapt Sound Auto adjust touch sensitivity (Glove friendly)
Samsung Link,
Screen Mirroring
Safety Assistance,
Samsung KNOX
Final Thoughts
Samsung has ditched the plastic case in favour of another plastic case but this time, layered with faux leather. The soft, leather-like back, with stitches all around the edge, not only looks classy but provides better grip.
Overall package is enticing, and makes a compelling case for upgrade, that is if your current contract for the Galaxy Note 2 is up for renewal or you are in the market for a phablet.
We like to think that while Apple's iPhone and iPad excel because of the multitude of apps available in the AppStore, Samsung does the opposite by cramming their Galaxy with their home grown apps and features.
With the list of optimised apps, S Pen, superfluous hardware and features from Samsung, marry this to Google's Mobile Services apps (Chrome, Search, Gmail, Google+, Maps, Play Books, Play Movies, Play Music, Play Store, Hangouts, Voice Search, YouTube, Google Settings, Play Games and Messenger), you have a powerful combination that I dare say rivals even that of its competition.
Galaxy Note 2: Gray and white on Glossy Plastic
Galaxy Note 3: Black, white, bluish pink on Faux Leather back finish based.
Did we say there is a companion SmartWatch and FlipCovers for the Note 3, checkout the image gallery below.