For many the sole purpose of visiting Paris is to get as close to the Eiffel Tower as possible. For the majority the spectacular view of the bronze steel structure against the romantic River Seine and breath-taking architecture that surrounds, is not enough. The trip to the very top of the Eiffel Tower is almost a given.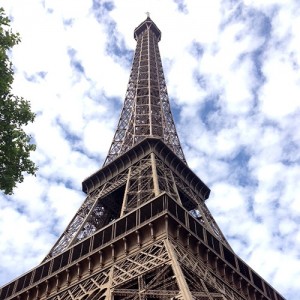 The snaking queues which can sometimes go on for as long as 3 hours do not seem to deter many people, however, if you're like us, and travelling with children, long queues are definitely something to avoid.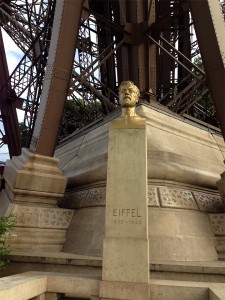 So just how do you do the Eiffel Tower without having to queue, or at least queue for too long?
The trick really is to get there as early as possible.
The first time round, we arrived about an hour before the ticket booths opened (9 am). It was nice and cool in the morning, and there were only about 30 people in front of us.
We got up to the top and almost had the entire tower to ourselves, and by the time we were ready to come down, the queues were really building up.
So if you want an amazingly peaceful, quiet time, at the peak of the Eiffel Tower, try and get there as early as possible.
Hope you enjoy the view as much as we did!
Look out for the history lesson at the top. We leave you with a photo of one of the security notices at the entrances near the pillars.