We recently received an interesting referrer to our article Bring Your Own Device (BYOD) in Schools – Considerations. On closer inspection, we found an article on www.teachthought.com titled '20 BYOD Resources For The 21st Century School' which included a link to our article.
However, we had difficulty opening the site, and one would hope that this is only temporary. A search on Google using the keywords '20 BYOD Resources For The 21st Century School' did yield some results including one on Doug Woods website (www.dougwoods.co.uk) who has curated the post. This was useful since we could not open the original post at the time of writing.
In the spirit of sharing and not to see  a wonderful resource go to waste, here is the article from TeachThought. We hope you will find it useful especially if you are embarking on a similar project for your school or education establishment.
We would like to thank both Terry Heick and Hope Mulholland of TeachThought as well as Doug Woods who curated the article, leaving a trail for us to find the article itself. Please note that some of the 20 BYOD resources in the list points to TeachTought. We can only hope that the site will be back online soon.
20 BYOD Resources For The 21st Century School
by Hope Mulholland, TeachThought Intern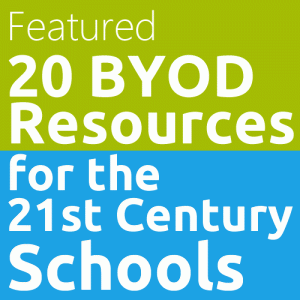 BYOD policies–Bring Your Own Device–allow schools to bring technology into the classroom with a "bottom-up" approach. Such an approach can save money, allow students to use their own devices, and encourage a student-centered approach to learning.
Recently we explained that "digital natives or not, technology dropped into the laps of students in schools isn't always as accessible as it might be. By allowing students to bring in their own devices for learning–rather than insisting that they learn both content and device in school–there is an important opportunity to connect with not just their personal lives, but their natural way of doing things." But when you allow students to bring in hundreds of unique devices into a formerly closed technology setting, chaos can result–which is where, unfortunately, policy can be necessary.
Below is a list of 20 resources to help you get started with BYOD in your school or classroom. We will follow this up with related supporting resources later this week.
This is a curated post, please click here to view full article.
UPDATE: Just our luck, the site www.teachthought.com is now back online. Feel free to click on the link above to open the article there.