Google went from placing their Google Chromebook laptops in the affordable segment to the high-end with Google Chromebook Pixel. Previous, Chromebooks were designed and built with partners such as Samsung, Acer, Lenovo and HP with emphasis on simplicity and affordability. With Chromebook Pixel, Google is moving into Apple's MacBook Air and MacBook Pro territory.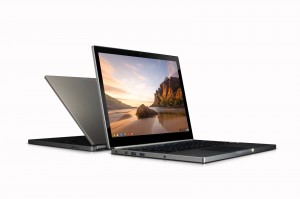 The new Chromebook from Google was announced and unveiled yesterday, 21st February 2013 as their flagship Chromebook. The unveiling has gone viral on the Internet and it's easy to see why.
Most people were relying on Google to come up with quality and affordable products such as their successful line of Nexus tablets and smartphone and their existing Chromebook range brought to the market with its partners.
So naturally, when Google goes and up their game and move into unknown territories, many start questions if it is going to work. Do we really need a high-end chromebook? How will it compete with Apple's MacBooks and the plethora of Windows 8 ultra-books which are beginning to look very much like the MacBook Air.
Let's look at what the fuss is all about
Key Features
The Key Features are as follows
SCREEN: record breaking 4.3 million pixels, the highest pixel per inch (239 ppi) on a 12.85″ screen (nearly 13″) with screen resolution at 2560×1700. Unlike the widescreens on most laptops today at a resolution of 1366 x 768 with a 1.78:1 ratio , Google went for a 3:2 ratio, allowing users to have a better browsing experience. Google boast that it's 'putting every pixels to good use'. The screen also has an extra wide viewing angle at 178 degrees, that's 2 degrees short of being perfect. 
TOUCH SCREEN: Gorilla® Glass multi-touch screen
FINISHING TOUCHES: Backlit Chrome keyboard, Clickable etched-glass touchpad, machined from anodised aluminium, Active cooling with no visible vents
PROCESSOR: Intel® Core™ i5 processor (Dual Core 1.8GHz), Intel® HD Graphics 4000 (Integrated) with 4GB DDR3 RAM
MEMORY & STORAGE: 4GB DDR3 RAM and 32GB Solid State Drive with three years free subscription to Google Drive cloud storage with 1 Terabyte of space

CONNECTIVITY & IO: Combo headphone/mic jack, Built-in microphone array, Integrated DSP for noise cancellation, Powerful stereo speakers tuned for clarity, Dual-band WiFi 802.11a/b/g/n 2×2, Bluetooth® 3.0, 2 x USB 2.0, mini display port, SD / MMC card reader
Enjoy the info video from Google
Are you a Chromebook user? Would you buy the Chromebook Pixel?
Author: Samuel J. Tan
To make sure you continue to receive interesting exciting articles at the forefront of learning with technology, remember subscribe to our updates below and follow @ColorMyLearning on Twitter and Like us on Facebook.
Don't forget to Rate This Article