FREE APP GIVEAWAY
For a limited time only, Numeracy App is available FREE for five lucky winners as a Giveaway.
To participate in the draw scheduled for 1th of February 2013, simply
leave us a comment below and
sign-up for updates on this blog.
For an even greater opportunity to win, Like ColourMyLearning on Facebook too. To learn more about the app, read the review below.
What does it do:
The Numeracy basics App for iPad by Spencer Riley of TeacherLED is a package of six teaching resources most frequently used in class to teach Maths, especially at Primary level.
It consists of
a) 100 square
b) Multiplication grid
c) Magnet numbers
d) Number beads
e) Times tables
f) Interactive clock
These are among the most commonly available teaching aids in Primary schools. On his website, Spencer Riley has digital versions of these same resources available to be used on an interactive whiteboard in class for free.
The app version of the same resources for iPads was created to enable teachers to assist individual students on their iPad without distracting the whole class.
Almost all of the apps work as they might do in physical form, with the added advantage of interactivity and colour, thereby helping a child learn and visualise a lot more easily.
Another very clear plus is the fact that as they are designed for an iPad and will withstand multiple use and tiny fingers much more robustly that their physical paper or card form would.
How the resources work
a) 100 square

The grid of 100 numbers can be set to run from 1 to 100 or from 0 to 99.  Each number can be highlighted in one of 3 colours or totally obscured from view.  Each number can also be set to 'jiggle' for when you really want to make a number stand out.  All buttons can easily be changed to a different colour or made to stop jiggling. Multiple squares can be lit up by simply swiping over them instead of having to tap each individually. This grid can be used to support teaching adding and subtraction. A free downloadable guide and worksheets for use with this resource available here.
Try the 100 Grid on your computer or an Interactive White Board (IWB).
b) Multiplication grid

Similar in use to the 10 square this 12 X 12  multiplication grid allows its numbers to marked out.  In addition this  resource allows rows and columns to be marked in one click to show highlight an entire times table.
Try the Multiplication Grid on your computer or an Interactive White Board (IWB).
c) Magnet numbers
This resource simulates a set of magnetic numbers and maths signs for clearly laying out and demonstrating mathematical problems. With this resource you'll never be a number short again!
Try Magnet numbers on your computer or an Interactive White Board (IWB).
d) Number beads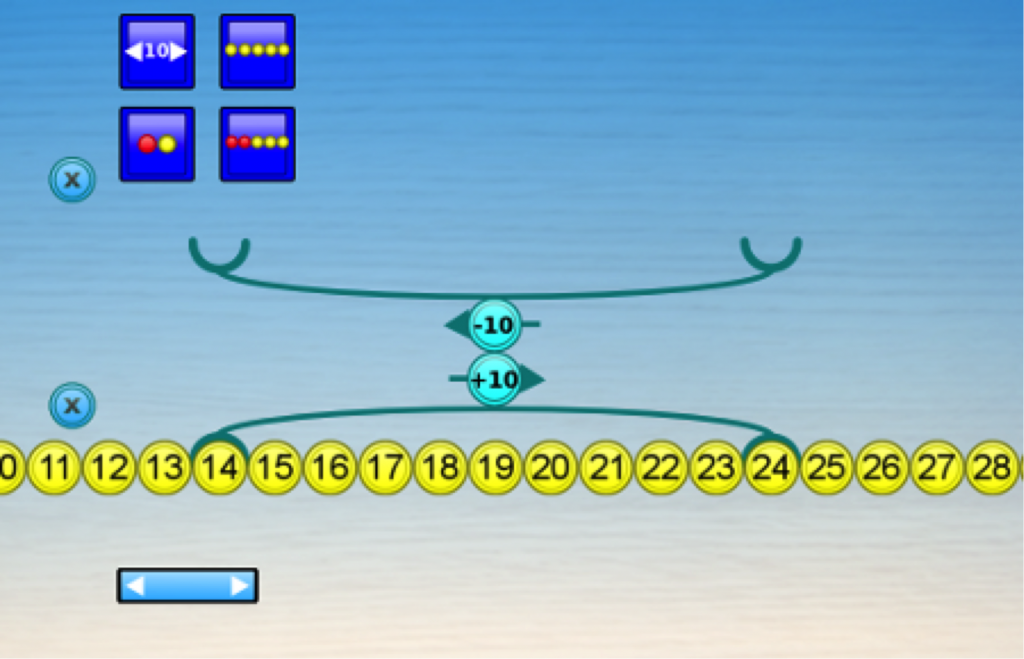 This resource displays two 1 to 100 number tracks.  The top one can be blanked out if needed either in its entirety or just certain numbers.  The bottom track allows you to set numbers bouncing to mark their position. Either track an be hidden.
The tracks can be scrolled to the left or right using the bar at the bottom. Both tracks can be set to show groups of 5 and also distinguish between odd and even numbers.
A guide to adding and subtracting in 10s can also be toggled on or off.
Try Number beads on your computer or an Interactive White Board (IWB).
e) Times tables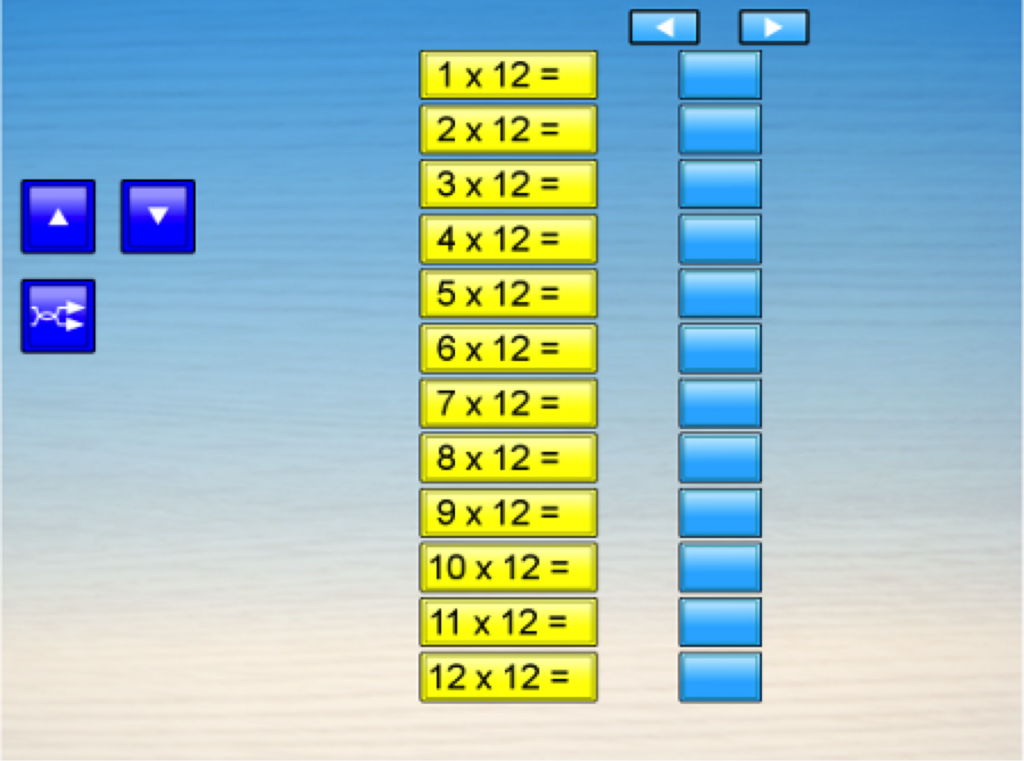 This resource displays each times table in turn with the answers obscured.  The answers are revealed by tapping the cover.
Up to 12 x 12 can be shown.
Each times table can be shown in order or jumbled up.  Also all of the covers can be removed or applied in one go.
This is useful for practising multiplication facts.
Try Times tables on your computer or an Interactive White Board (IWB).
f) Interactive clock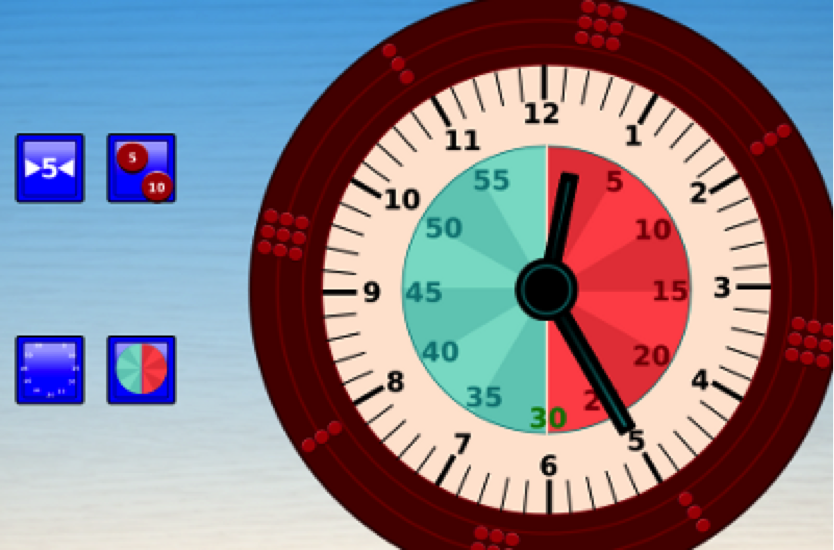 On the Interactive clock, rotating the outer red bevel will change the time or a random time can be selected by giving it a spin.  Using the button marked 5, the clock can be toggled between self correcting to the nearest 5 minutes or not.  The face can also be set to be divided into "to" and "past'.  The 5 minute intervals can also be toggled on or off.
Try the Interactive Clock on your computer or an Interactive White Board (IWB).
What we like / dislike:
For an extremely low price, the app very generously collects together the typical Maths-based classroom resources in one area and makes it easy and convenient to access.
Children will have no problems moving from the traditional printed form to the iPad version given its similarity and outlook.
The colourful appearance and the ability to make numbers jiggle and change colours is something that will appeal to children, even if to simply make numbers more appealing and exciting.
The teaching and learning value in being able to somewhat 'interact' (by changing the colours or running their fingers down to change the colour of a whole row of numbers) is a big step forward compared to the traditional print format of the same resources.
The benefit of the almost exact look and feel of the resources from the website and the app, will allow the children to translate what they see being taught in the front, to their own hands-own experience, via the app on the iPad seamlessly.
For Parents:
Although designed to be used by teachers in the classroom, the app also has the great potential to assist parents in helping their children learn at home with similar and familiar tools that their children will have accessed in school.
Cost:
While on the surface the resources look somewhat basic and could potentially be made to look even more exciting and friendly, it no doubt would have had to cost more than in does now.
At the nominal cost at which this app is sold on the app store, it is almost absurd NOT to be using this in schools in which iPad use is widely distributed. It would cost significantly less to use the app, than to continuously replace the same physical resources.
What we dislike:
The purpose for which the app has been designed, as a supporting resource (if necessary) to Riley's similar website resources means that an assumption has been made, in the app design, that users already know how to use the app and what to do.
How does it work?
It was actually a bit challenging to work out how each bit worked and it would perhaps have helped to have some instructions or even basic guidance on this somewhere within each of the app screens (the instructions are clear and available on the website, also as described above).
Samples and worksheets
There are excellent details, ideas and samples of the 100 grid on the website, available as a downloadable PDF. Similar samples and worksheets for the other resources would be an excellent addition.
As a parent of a Primary-aged child myself, I would be extremely interested in how this app (or the equivalent print versions) are used in school, so that I could help and support my child using familiar tools.
Making these ideas and sample available more directly within the app would have made it an excellent addition to our ever-growing list of iPad apps at home.
Final Thoughts:
The app provides an arsenal of Maths-teaching resources for the teacher. The similarity and familiarity of the resources to already available and currently in use ones in school means that it offers teachers plenty of scope to engage students with familiar tools in a slightly different and more interactive setting.
It would be very easy for the primary school teacher to take the resources in this app and replace all the torn and tattered ones in class.
Every primary school teacher who teaches Maths would find this an invaluable app to have and with a few more additions and instructions, parents looking to help and support their children at home would definitely benefit greatly too.
If you're a Primary School teacher – Get it now!
Oh wait hang on – Spencer Riley has very generously given us 5 free app codes to giveaway to CML readers.
FREE APP GIVEAWAY

Remember to participate in the draw scheduled for
1th of February 2013
, simply leave us a comment below and sign-up to updates on this blog. For an even greater opportunity to win, Like us a on Facebook too.