The first in our series on "100 Free Web Tools for Schools" is one from Google called Hangouts. Google+ Hangouts is a group video, voice and text chat platform that allows up to 10 people to get together online at the same time. This free communication tool is comparable to Skype premium where if you subscribe to one of Skype's premium packages, multi-video chat will be enabled for you instead of the one to one video chat. The difference here is Google+ Hangouts is FREE. Hangouts also has some really interesting features such as Screenshare which allow users to share their screen with others and add on-screen video effects such as facial hair, silly hats, shades and props. So how can schools benefit from this free communication tool?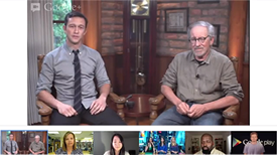 Typical education scenario where one would use Google+ Hangouts would be in a closed group discussion such as students and tutor session, peer to peer communication, student to teachers or even amongst teachers. It can also be used as a one to many or many to many video tool just like any other video conferencing tool. Here are more ideas on how to use Google+ Hangouts for teaching and learning:
10 Ways to Use Google+ Hangouts for Education
Invite an local or international speaker to speak at your school's assembly over hangout
Teachers can conduct a their lesson over hangout to a class of students or better still to more than one class (up to 9 classes) either in the school or remotely
Get together with other schools and set up a Hangouts among classes for a project, to share ideas or take turns presenting on a pre-agreed topic (with up to 9 other schools)
Conduct a distant learning course for a small group of students (with up to 9 learners)
Student to student, students to teacher, student to teachers and teacher to teacher communication tool (up to 10 people in the group)
Use Hangout for tutorial sessions to take questions from students and to discuss topics and lessons further
Collaboratively edit a document as a group work or assignment within Google Drive
Timetable an online drop-in support session over Hangout for students to catch up on their work
Start a hangout with students in other countries for foreign language development and cultural exchange
Share interactive apps over Hangout. There is a growing number of Apps for Hangouts that takes advantage of the platform and designed to encourage collaborative working for example review a YouTube video, use Cacoo for real-time collaborative diagram drawing or SlideShare for presentation.
Start a Hangout

How to start a hangout:
Go to plus.google.com/hangouts and click the Start a Hangout button on the top right side of your screen.
Alternatively, if you are on Google+ Home Page plus.google.com click the Hangouts icon on the left sidebar to go to the hangouts page. This may be at the very button of the sidebar so you may need to click on the "…" more icon.
If you are using a widescreen display, you will get an additional sidebar on Google+ Home Page on the far right for headed by "Start a hangout" button with a list of users currently online.
underneath an interesting post on your Home page to start a hangout about the post.
You can also start a hangout and send and receive hangout invites from other Google properties including:

Google Chat properties (ie. Gmail, Google+, iGoogle, orkut)
Google Calendar
Invite Your Friends to Your Hangout
Once you have started your hangout, you will be taken to an invite screen where you will be able to invite Friends and Participants.
Make sure your mic and camera are working correctly by looking at your video feed at the bottom of the page. You should be able to see yourself in the video feed, and when you talk, you should see a green bar appear at the bottom of your video.
Invite entire circles or specific individuals to join you in your hangout.
There is also the option of Restricting people under the age of 18 from joining your hangout by clicking Hangout Options and selecting the checkbox next to Restrict minors from joining this hangout. Other hangout participants won't be able to invite minors and, the 18+ restriction cannot be changed once the hangout has started. This would be useful for teacher-to-teacher hangouts.
There is more…
Google+ Hangouts also lets you invite phone users, simply use the Add Phone Friends feature and Google will place a call to the users phone. This gives you a Free PC-to-Phone voice chat with your friend.
You can get all this by installing the video chat plug-in for your chosen browser. We tested the plugin on Chrome, Internet Explorer and Safari and the experience is pretty much the same.
Features Overview
instant messaging or text chat
voice chat
video chat with up to ten people at the same time
add phone users for voice chat on the hangout
share your screen with Screenshare
integration with Google Drive access, share and edit Google Drive files collaboratively
add apps for your hangout to share with others
Google+ Hangouts is available for Windows (XP and above), Mac (OS X 10.4 and above) and Linux  as a video and voice plug-in.
Google+ mobile is as an app available for Android (2.3 and above), iOS, Windows Phone
Why now check it out now. Go to Google+ Hangouts using your Internet browser and click the START A HANGOUT button or watch an introductory video from Google.
Talk to us
If you do already use Google+ Hangouts for teaching, we would love to hear more about your thoughts and experiences.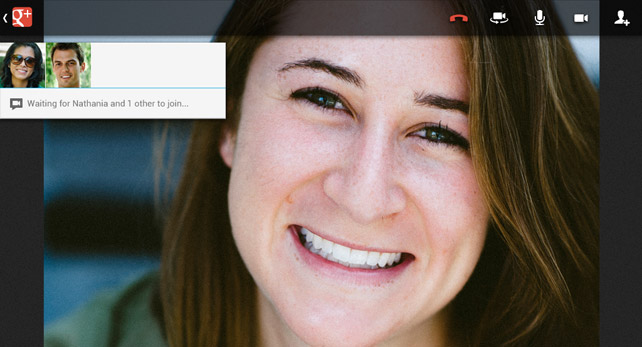 Author: Samuel J. Tan
To make sure you continue to receive interesting exciting articles at the forefront of learning with technology, remember subscribe to our updates below and follow @ColorMyLearning on Twitter and Like us on Facebook.
Don't forget to Rate This Article