We had a look recently at Lenovo Yoga, a hybrid computer based on Windows 8 in a previous post. Here we take a look at another PC innovation brought about by the release of Windows 8.
At the launch event in New York, Steove Ballmer, Microsoft's CEO said
Windows 8 brings together the best of the PC and the tablet. Its perfect for work and play and it is alive with your world. Every one of our customers will find a PC that they will abcolutely love"
Over the past couple of months, laptop manufacturers such as Dell, Lenovo and Sony have churned out hybrid laptops that serve as both a laptop and tablet with touchscreen interfaces. We are beginning to see even better, more interesting innovations in this new segment of computers called Hybrids. Let's take a look at the Hybrid offering from Asus.
In every Windows 8 machine there is a tablet dying to get out… and here is how it's going to come out!

Enters the Hybrid Laptops, laptops that converts into a tablet when you need it to.
ASUS Announces a new hybrid called TAICHI
ASUS a renowned laptop, tablet, computer hardware manufacturer announces the TAICHI, a fusion of laptop and tablet, in other words a hybrid. The difference between this and any other hybrids currently in the market is that it adopts a dual screen approach.
The name TAICHI comes from an ancient chinese martial art still practiced today. Although there is not much we can say about how the hybrid device relates to the art, we can only assume that Asus's use of the name reflects the dual mode operation of the device just as Taichi applies the hard and soft of martial art techniques.
Asus's TAICHI converts between slim multi-touch tablet and fully featured Ultrabook™ with one easy action, by opening or closing the laptop lid.
Annouced on the 23rd of October in New York a couple of days before the official release of Windows 8 by Microsoft, ASUS showcased the sleek and stylish Ultrabook™ with a back-to-back dual-screen design.
TAICHI features a powerful Intel® Core™ processor and two back-to-back Full HD screens. Imagine the possibilities as both screens can be active at the same time. The hybrid machine spots some impressive design features such as a profile that tapers to a mere 3mm and weighs just 1.25kg.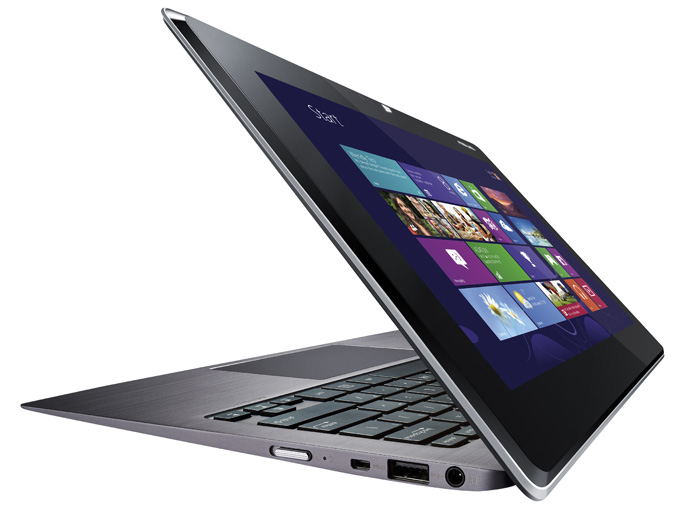 Laptop and tablet in one single, stunning design

The dual mode operation; laptop and tablet relies on the dual-display design and the  black-mirror finish. Open the lid and the TAICHI functions as an Ultrabook™ with a Full HD screen, backlit keyboard and large multi-touch touchpad. With the Lid closed, TAICHI becomes a lightweight tablet, the black-mirror finish 'back cover' turns on, featuring a Full HD multi-touch screen, for easy and intuitive use on the move. Both screens are HD, Multi-touch capable, backlit , frame-less and mirror finished.
Compare this to the Lenovo Yoga, we reviewed in our earlier post, deploying a dual-screen design for a hybrid makes more sense. The Lenovo Yoga with its 360° degrees flip hinge turns the single screen laptop into a tablet but exposes the keyboard on the back of the device in tablet mode.
Apart from the dual mode operation, the dual screen designs offer some exciting new ways to share information on the screen as explained by Asus: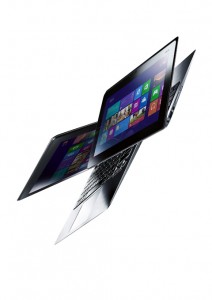 Dual screens for exciting new ways to share information
TAICHI's back-to-back dual-screens can be used both simultaneously and independently for exciting new ways to share information, enjoy multimedia and work with apps.
With the lid open and both screens upright, TAICHI can share a presentation or movie to an audience on both sides, removing the need for a bulky projector or clumsy external display.
IPS display technology also ensures a brilliant image on both screens, with extremely accurate color reproduction and 178° wide viewing angle for outstanding clarity. TAICHI also features a stylus for pinpoint precision with productivity and creative apps.
For seamless interaction and sharing, apart from the laptop and tablet mode, the screens can operate simultaneously in mirror or dual screen mode. The later allows the use of different apps on the screens each with its own separate interfaces. The laptop mode screen gets it's input from the keyboard and touch pad while the lid's back facing screen uses the multi-touch screen and stylus.
Technical Specification
Features highlight: Core i7 3517U at 1.9GHz, 256GB SATA III SSD hard disk, Full HD 11.6″ Screens at 1920 x 1080 pixel resolution with Multi-touch interface, Bang and Olufsen sound system.
ASUS TAICHI™ features a powerful Intel® Core™ i7 or i5 processor with 4GB memory, Intel® HD 4000 graphics and a choice of blazingly fast 128GB or 256GB SSD storage. Dual-band Wi-Fi with Intel® WiDi and Bluetooth 4.0 offer high-performance wireless connectivity, while two USB 3.0 ports provide full support for the latest high-speed external storage devices and rapid mobile device recharging.
ASUS SonicMaster technology, developed with Bang & Olufsen ICEpower®, delivers astonishing sound quality on TAICHI with all kinds of listening material. TAICHI also features a 5-megapixel auto-focus camera with 1080p Full HD video recording and second 720p HD video camera, a noise-suppressing array microphone for crystal-clear video chat in challenging environments and up to 5 hours' battery life (measured with Wi-Fi web browsing).
Processor
Intel® Core™ i7 3517U Processor
Intel® Core™ i5 3317U Processor
Operating System
Windows 8 Pro
Windows 8
Chipset
Intel® QS77 Express Chipset
Memory
DDR3 1600 MHz SDRAM, OnBoard Memory 4 GB
Display
11.6″ 16:9 Full HD (1920×1080) *1
Graphic
Integrated Intel® HD Graphics 4000
Storage
SATA III SSD
128GB RPM
256GB RPM
Card Reader
2 -in-1 card reader ( SD/ SDHC/ SDXC/ MMC)
Camera
HD Web Camera *2
Networking
Integrated 802.11 a/b/g/n
Built-in Bluetooth™ V4.0
*4
Interface
1 x COMBO audio jack
2 x USB 3.0 port(s)
1 x RJ45 LAN Jack for LAN insert
1 x micro HDMI
1 x Docking Connector
1 x Mini VGA Port
1 x Volume up/down
1 x Screen switch
Audio
Bang & Olufsen ICEpower®
Battery
35 Whrs Polymer Battery
*5
Power Adaptor
Output :
19 V DC, 1.75 A, 33 W
Input :
100 -240 V AC, 50/60 Hz universal
Dimensions
30.66 x 19.93 x 1.74 cm (WxDxH)
Weight
1.25 kg
Manufacturer Warranty
1-year limited International hardware warranty. *different by country
1-year battery pack warranty
On-line problem resolution through web interface (BIOS, Driver update)
OS (Windows® 8 ) install/uninstall consultation
Bundled software install/uninstall consultation
ASUS software supporting
Note
*1 Tablet: 11.6″ 16:9 with 10 fingers Touch FHD (1920 x 1080)
*2 Tablet: 5M with Auto Focus 1080P Camera
*3 With Intel WIDI support
*4 External cable supports10/100 Mbps Ethernet
*4 Up to 5 hoursAll specifications are subject to change without notice.
Please check with your supplier for exact offers.
Products may not be available in all markets.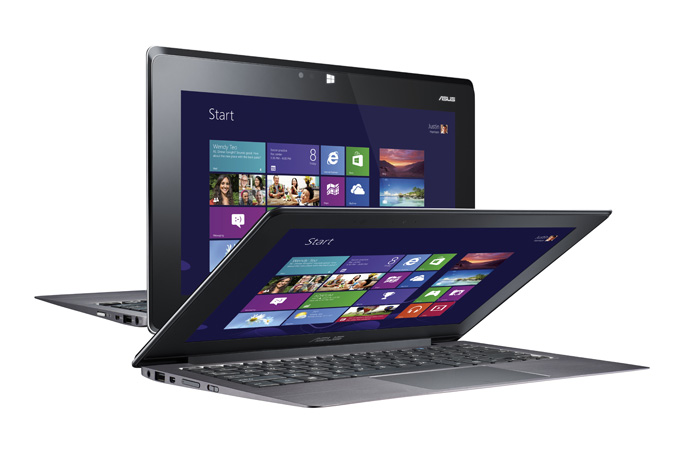 Update: New 13.3-inch Taichi
Asus introduced a second mode, slightly bigger and heavier model, the Taichi 31 AND renamed the Taichi (as featured above) as Taichi 21. Taichi 31 is approximately 300 grams heavier at 1.55kg instead of 1.25kg due to bigger screen at 13.3-inch instead of 11.6-inch, bigger battery that last for 7 hours instead of 5 hours in the Taichi 21. The Taichi 31. Spec by spec, everything else remains the same. You can see the comparison between the two Taichis below:
Model

Taichi 21

Taichi 31

CPU
Intel® Core™ i7-3517U / i5-3317U
Intel® Core™ i7-3517U / i5-3317U
Operating System
Windows 8 / Windows 8 Pro
Windows 8 / Windows 8 Pro
Dimensions / Poids
306.6 x 199.3 x 17.4 mm / 1.25Kg
339.2 x 228 x 17.4 mm / 1.55Kg
Screen
Tablet: 11.6″ 16:9 with 10 fingers Touch
Tablet: 13.3″16:9 with 10 fingers Touch
NB: 11.6″ 16:9
NB: 13″ 16:9
Backlight/Resolution
Tablet: 250 nits FHD (1920 x 1080)
Tablet: 250 nits IPS FHD (1920 x 1080)
NB: 280 nits FHD (1920 x 1080)
NB: 280 nits IPS FHD (1920 x 1080)
Instant on
Always resume in 2 seconds
Always resume in 2 seconds
Interface
8 (mini VGA port / USB 3.0 port /micro HDMI 1.4 (1080p support)/audio jack combo/ volume up or down/ DC Jack/ Screen switch)
9 (mini VGA port / USB 3.0 port /micro HDMI 1.4 (1080p support)/audio jack combo/ volume up or down/ DC Jack/ Screen switch/SD card reader)
USB 3.0
2 Ports (1 for USB charge+)
2 Ports (1 for USB charge+)
SSD Generation
SATA III SSD 128GB/256GB
SATA III SSD 128GB/256GB
BT
Bluetooth 4.0
Bluetooth 4.0
Battery
35Whr (Up to 5 hours)
53Whr (Up to 7 hours)
Mic
Array microphones
Array microphones
Key Board
268 illuminated chiclet keyboard
286 illuminated chiclet keyboard
Camera
Tablet: 5M with Auto Focus 1080P Camera
Tablet: 5M with Auto Focus 1080P Camera
NB: HD 720p Camera
NB: HD 720p Camera
Audio
Built-in B & O ICEpower® audio system
Built-in B & O ICEpower® audio system
Final Thoughts
We are certainly excited at the new dual screen format. The extra screen in the lid without the increase in the overall thickness of the device in both laptop and tablet mode is certainly a break through. The closest we have seen of a dual screen design is one deployed by Acer on their ICONIA 6120 Touch Book for Windows 7 which is pretty bulky and weighs a hefty 2.72kg.
As to be expected the Asus's dual screen hybrid does not come cheap. The 11.6″ Intel Core i7 – 3517U with 256GB SSD and 4GB RAM retails for one and a half thousand at time of writing. The sleek and ultra slim design (3mm at its thinnest point is reminiscent of Apple's MacBook Air),  the dual screens and the super fast processor comes with a penalty on the battery life.
Here is a quick look at some of Asus's Windows 8 offerings from the Asus Taichi to the Transformer Book, to the VivoTab and VivoBook Series.
Source: Asus Press
Author: Samuel J. Tan
To make sure you continue to receive interesting exciting articles at the forefront of learning with technology, remember subscribe to our updates below and follow @ColorMyLearning on Twitter and Like us on Facebook.
Don't forget to Rate This Article