I noticed that some people are still on iOS5 because they don't want to lose Google Maps and YouTube and thought, aren't some of the features compelling enough to upgrade to iOS6. So I did some quick research and came up with a list of what you would get for going to iOS6. If you are on the iPad 2 and anything before iPhone 4S (iPhone 4, iPhone 3GS) there are actually not that many benefits. Yes, iOS 6 is compatible with iPhone 3GS and subsequent iPhones, iPod Touch 4th Generation and subsequent iPod Touch, iPad 2 and subsequent iPads but not all features are available on older models. iPhone 4 or iPod 4th Generation and iPad 2 owners may actually need to decide if upgrading to iOS6 is right for them. 
But first off, before we go any further…
How do you get iOS 6?
A step by step guide on how to get iOS update on your device.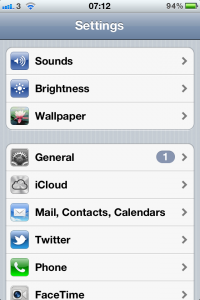 How do you get the iOS update? On the iPhone go to Settings then Scroll down to General. You will see a notification next to General showing you that there is one (1) item waiting.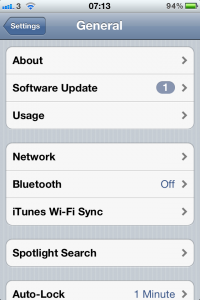 Click on General. In the General screen, look for Software Update. Again, you will see that there is one (1) notification pending next to Software Update.
Don't worry if you can't see this. You can check for updates later.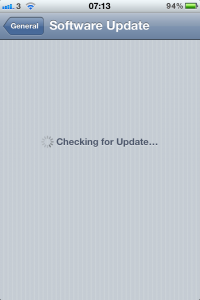 Clicking on Software Update triggers a check for update. If you have not received a notification as previous screen, you should get one now. (Unless you are already on iOS6)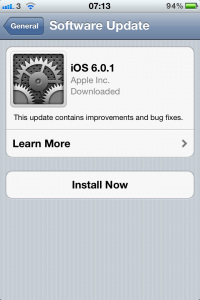 When it is ready, it will show that the following update is available. You may click on Learn More to find out more about the update. Otherwise, click on Install Now to get onto iOS6 BUT read about the update below before taking the plunge.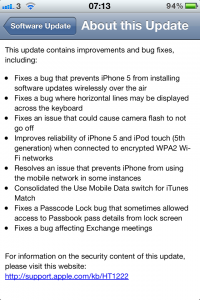 To go back to the Software Update screen click on the back button on the top left. For iPad owners, follow the same menu route as per instructions above to update your device.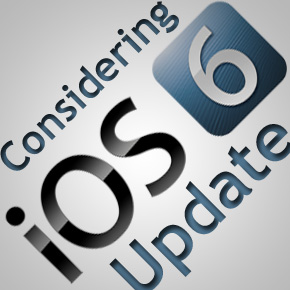 10 Things you need to know about iOS6
Here are the main things you need to know about the upgrade.
If you haven't already heard, you will lose YouTube and Maps by Google.
Maps: Apple replaced previous Maps App (licensed from Google) with its own. This new map, designed by Apple, gives the option of a flyover view of major cities and landmarks from the air, turn-by-turn spoken navigation for directions (a service provided by TomTom), real time traffic updates and generally better visuals. But you may have already heard of the glitches and inaccuracies of Apple's new Map and just how bad it is. NOTE that Turn by Turn and Flyover features are only available on iPhone 4S, iPhone 5, iPad 3th generation onwards. Flyover is available on iPad2 but that's it. So if you have iPhone 4 and iPad2 and want to avoid the headaches of losing a perfectly good Map tool (i.e. Maps by Google), don't upgrade. For those who already upgraded, Apple recommends Maps alternatives. Yes, Tim Cook has issued an apology and highlighted some alternative mapping apps in the App Store. (For the Google Maps faithful, Google is apparently in the process of releasing it's Maps on the AppStore. In the mean time, it is still possible to access Google Maps on Safari.)
SIRI: While Samuel L Jackson has been paid to help convince you about just how good SIRI, the voice activated personal assistance is, the reality is more than a little different from the ads. Apple claims that SIRI understands more languages and works in more countries on this updated version. Apparently you can even use SIRI to update your Facebook (more on this later) and Twitter. However, early adopters of iOS6 have discovered some issues with SIRI. The virtual assistant is also only available on iPhone 4S onwards, iPad 3rd Generation onwards and iPod Touch 5th Generation onwards. So again if you have an iPhone 4, iPad 2 or iPod Touch 4th Generation, this will be a compelling reason not to bother.
Facetime: You can now Facetime over cellular networks. One of the major disadvantages of Facetime in the previous iOS release was that it was restricted to only WiFi. With iOS 6, you can now make and receive calls via Facetime over mobile broadband. Apple still recommends WiFi for Facetime calls. Again, as with Maps and SIRI, you won't have Facetime over mobile broadband if you are on iPhone 4. Obviously, i-devices without mobile data connection will not benefit from this upgrade.
Photo Streams: Finally, something that early iPhone owners (iPhone 4) can use. Photo Streams is embedded in the Photos App and allows you to share your photos with the people you choose.
Passbook: An App that allows you to buy your coffee, check in for a flight, go to the movies or redeem your voucher right out of your iPhone or iPod touch.
Facebook: There is now facebook integration throughout the operating system. Share a photo to Facebook from your camera or Photos App. Update your status with your location from Maps or share a link from Safari. On SIRI capable devices, update your status hands free. Actually, not entirely hands free, you will still need to long press on the home button to trigger SIRI.
Mail: You can now create a VIP list to highlight important messages from the people in your list.
Phone: If you are in a meeting and had to reject an incoming call. iOS6 will let you send an instant message to the caller with preset messages such as "I'll call you back later" or "I am on my way". You can also set a reminder to return the call later.
Safari: Taking advantage of iCloud, Safari now features iCloud Tabs which tracks your pages and allows you to continue browsing on other devices such as from the iPhone to the iPad from where you left off.
Accessibility: There is now an accessibility mode called Guided Access. This helps students with learning disabilities to stay on task and focus while people with vision, hearing and mobility disabilities can also take advantage of the device. It does this by giving parents, teachers and carers the option of disabling the home button, restricting the touch input area on the screen while for the visually impaired VoiceOver screen reader is available together with AssistiveTouch and Zoom.
Other features that have received improvements are the App Store, Find My iPhone and Find My Friends, with the later based on the same technology as Find My iPhone using location based tracking on the iPhone.
For those already on iOS6, the list above should tell you what you need to know to begin to take advantage of the feature. Equally, you may wonder why some of the features mentioned are not available on your device. Check out the compatibility of the features above with your device.
iOS 6 is compatible with the following devices (Note: not all iOS6 features listed above are available on all devices)
iPhone: iPhone 3GS, iPhone 4, iPhone 4S, iPhone 5
iPod: iPod Touch 4th Generation, iPod Touch 5th Generation
iPad: iPad 2, iPad 3th Generation, iPad 4th Generation (comes preinstalled)
So the conclusion is, if you are on one of the older generation i-devices, you may not actually have a compelling reason to upgrade to iOS6 and that is fine. However, if you are already using the latest i-Devices then you would most probably benefit from upgrading to iOS6 with it's many bells and whistles.
Author: Samuel J. Tan
To make sure you continue to receive interesting exciting articles at the forefront of learning with technology, remember subscribe to our updates and follow @ColorMyLearning on Twitter and Like us on Facebook.
Don't forget to rate this article