With the great push towards 1-to-1 devices, Amazon has been keen not to be left out either. The typical challenge of deploying, managing and administering of these devices has even been given significant thought with Amazon's own Whispercast, a cloud based solution that lets schools and businesses manage their Kindle devices and its contents. This comes as no surprise as Amazon has been eyeing the education sector and pushing the Kindle for Schools in the States. Whispercast is definitely going to throw some weight behind the decision whether or not to go with Kindle as the device of choice for schools.
Whispercast being on Amazon's Cloud means that it is scalable and robust in dealing with all the registered Kindle devices potentially millions. Administrators need not worry about supporting extra server hardware or appliances to manage the devices or the extra storage it will need for the content. All these will be handled by the cloud.
As for the cost, Whispercast is offered by Amazon for free. The idea behind Whispercast is to allow schools to procure and distribute content from Amazon and therefore the easier it is to do this, the more content that Amazon is going to sell. The bonus is, it gives schools the ability to group the users, control the settings remotely, create software policies, distribute contents and track all purchases in one place .
Schools that chose to go down the Bring Your Own Device (BYOD) route can still take advantage of the features on Whispercast that allows for configuration of personal devices when on the School's network and distribution of content including documents, books and apps. Let's take a look at some of the features and how it fits with BYOD.
Whispercast Features
Here are the features of Whispercast that Amazon has listed: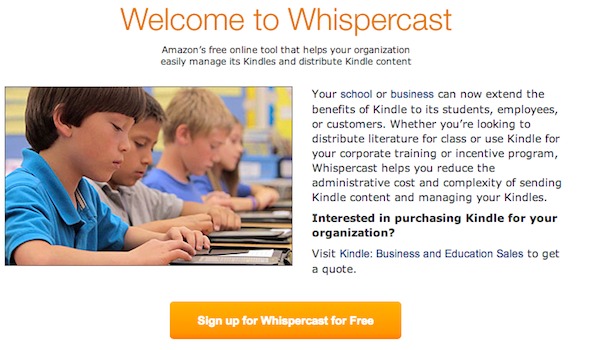 Create accounts for your users
"We've purchased Kindles, so now what?" With Whispercast, your organization can now get started by assigning users to their Kindles all at once. Say goodbye to having to manually register each Kindle one at a time. Simply enter the user e-mail addresses and passwords you wish to use and Whispercast will process them for you.
Organize your users into groups
Whether you use your Kindles or free Kindle reading apps for a specific class, grade level, or training program, Whispercast gives you the ability to assign users into groups. Kindle users can also be assigned in multiple user groups, providing additional flexibility when managing devices and distributing content.
Control device settings, like Wi-Fi and access to the web
We understand the importance of creating a safe and secure experience when accessing the web and digital content. Whispercast allows your organization to configure Wi-Fi connectivity, filter the web through your proxy settings, and restrict access to certain features on their Kindles. You control how your Kindles are used.
Distribute Kindle content to user groups
Whispercast makes it easy for your organization to procure eBooks from the Kindle Store and apps from the Amazon Appstore for Android and distribute them to many users at once. During the purchase process, Whispercast gives you the ability to select which Kindle eBooks and apps goes to which user groups.
Send eBooks to any PC, Mac, iPad, iPhone, Android tablets and more
Have other devices besides Kindle? Whispercast distributes eBooks to a user's account in the Amazon Cloud that can be accessed on any device with the free Kindle app. The Kindle app is available for PC, Mac, iPad, iPhone, Android tablets and phones, Blackberry, PC, Mac, and Windows Phone 7.
Track your Kindle content purchases in one place
Multiple purchasers in your organization? No problem. With Whispercast, organizations can easily track their purchase history and access past order information from a single page.
Bring Your Own Device (BYOD)
Whispercast supports BYOD via a Gift system. Users using their own devices either a Kindle or other devices with free Kindle app preloaded (iOS or Android) can receive books, apps and documents via Whispercast. Here is how it's done according to Amazon:
Gift Kindle books
Whispercast can help you easily gift books from the Kindle Store to your users in a single transaction, providing books to your students, employees, or customers. Once you have gifted an eBook, your user will own the content and can read the book from their personal Kindle or their other devices with the free Kindle app.
Gift Kindle Fire apps
Whispercast also supports gifting of apps from the Amazon Appstore for Android to Kindle Fire tablets. Once you have gifted an app, your users will own it and can use it from their personal Kindle Fire.
Send documents to user groups
Whether you're looking to distribute a course syllabus, conference program, sales collateral, or other documents, you can distribute them to your users' personal devices with Whispercast. Whispercast helps you upload your documents (.pdf, .doc, .docx) and select which groups of users receive your content. Your users can then access these documents from their personal Kindle.
Make connecting to your network easy
Whispercast helps you send your organization's wireless network and proxy settings to your users' personal Kindle devices. Connecting to your private wireless network becomes seamless, without the hassle of entering network names and passwords. Whispercast can send wireless network and proxy settings to all devices in the new Kindle Family, as well as Kindle Keyboard and Kindle.
For an introduction to Whispercast and how this helped with Kindle at School deployment check out the video below:
Author: Samuel J. Tan
To make sure you continue to receive interesting exciting articles at the forefront of learning with technology, remember subscribe to our updates below and follow @ColorMyLearning on Twitter and Like us on Facebook.
Don't forget to rate this article