Telling the Time is no easy task to learn. The combination of having to correctly identify the short hand for hours and the long hand for minutes, and then having to associate each with different numbering values.
We have published a round-up on teaching time resources for schools, but what about learning at home? Apart from the usual methods of familiarity with clock faces, numbers and practise, we came across a Telling the Time app which we feel deserves mention. Created by Australian Company GiggleUp in 2011, the app Interactive Telling Time (ITT) is available for the Apple iPad.
What does it do:
Interactive Telling Time is beautifully illustrated with adorable graphics and encouraging voice-overs. This app sets out to create a kid-friendly environment for young children to explore complicated concepts of time, including:
How to tell the time by reading a clock
How to set the time via interactive clocks with movable hour and minute hands
How to switch between analog and digital clocks
How to use AM/PM, 12 hour and 24 hour clock notation
How to tell between daytime and night time
How to use related terms such as 'o'clock', 'midnight', 'half past', 'quarter past', 'quarter to', 'past', 'to',
This app caters for every stage of the learning process, with 5 difficulty levels to choose from, a score board to keep track of the child's progress as well as a tutorial mode to get them started. Players are encouraged to complete the set tasks in order to earn new items for a 'Virtual Aquarium'.

What we like: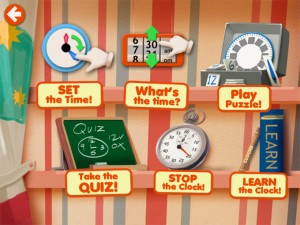 We particularly love the colourful options available within ITT. There are several clock faces to choose from which range from flower to lion that will appeal to both boys and girls. The details on the clocks are progressively removed so that there is a final clock with no numbers.
The vast array of settings options allow parents to customise the app to cater for their child's learning ability, from the basic o'clock function to the minute detail. The five stages do move quite smoothly from one to the next.
We are particularly taken by the multiple language support, what an amazing way to also learn to tell the time in Mandarin, French, German, Japanese and Spanish!
The options for different games allows the children to practise both telling the time, and setting the time (i.e. moving the clock hands).
What we dislike:
Perhaps it's veers more towards a British peculiarity, but there is a need in most UK schools to learn to tell the time in terms of half past, quarter past and quarter to. This is not covered very well within the app.
The day and night function works simply as background pictures and can very easily be ignored. If the language were more overt in pointing out the difference, it may be better recognised.
Final Thoughts:
The ITT available on the Apple App store, is certainly a great way of introducing a child to the concepts of telling time. It's multiple options of configuration, for both adult and child, gives it sufficient breadth to cover a wide range of age groups.
It's colourful interface and gentle encouraging voice-over makes it very appealing to children. And my child is racing towards filling her aquarium up!
And although there is a Lite version (reduced options) available for free, the full version at $2.99, certainly gets our vote.
In App Screenshots
Author: Li-ling, also tweets as DrOoi and is passionate about all things learning.
To make sure you continue to receive interesting exciting articles at the forefront of learning with technology, remember subscribe to our updates and follow @ColorMyLearning on Twitter and Like us on Facebook.
Don't forget to rate this article