After the success of Nexus 7, Google introduced a full sized table, the Nexus 10 as well as a new Smartphone, the Nexus 4 at the end of October 2012. Together, all three devices, the Nexus 4, 7 and 10 complete the Google's Nexus range of devices based on the latest Android 4.2 operating system. Nexus 7 received an update to 4.2 from 4.1 as it was released earlier.
We had a look at how Google defines what a tablet should be with Nexus 7 and why September and October was one of the biggest months in Technology for 2012. The Nexus 7 was designed in collaboration with Asus, and Nexus 4 in collaboration with LG. For the full size tablet, Google has chosen to collaborate with Samsung. So how does Nexus 10, Google's first 10-inch tablet fair?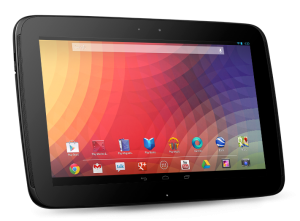 Already a big player in the tablet market, Samsung gave us the original Galaxy Tab and now Galaxy Tab 2 as well as the Galaxy Note series.
We had a look at Galaxy Note II and 10.1 as the use of re-introduction of stylus.
You may also like to take a look at the Comparison between Nexus 10 vs iPad 4.
The Samsung and Google partnership is not new. They have previously collaborated on Android smartphones, Nexus S in 2010 and Galaxy Nexus in 2011.
Google's Nexus 10 Highlights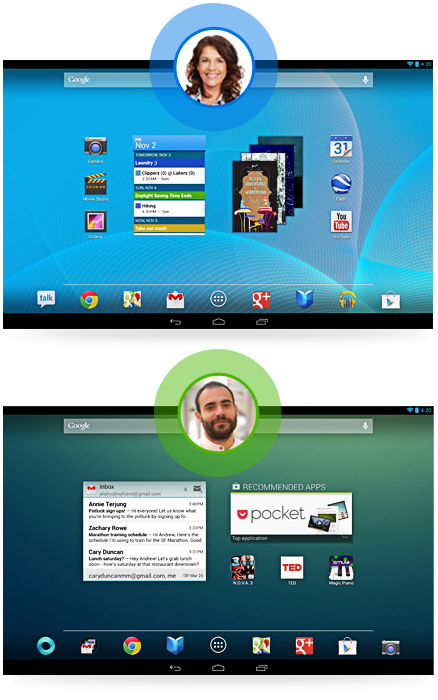 Nexus 10, the newest tablet designed with Google and Samsung's joint efforts is setting the path for other Android tablets to follow. Here is what Samsung has to say about the Nexus 10: The device marries Samsung's best-in-class hardware, the latest version of Android—4.2 Jelly Bean, and the best of Google. Nexus 10 has the world's highest resolution tablet display, all new multi-user support, immersive HD content and the best Google apps.
Nexus 10 packs powerful components inside a surprisingly lean, soft-to-the-touch frame – measuring an incredibly thin 8.9 mm and weighing just 603 grams, it's the perfect couch or coffee table companion. Nexus 10 was created in partnership with Samsung and comes with a blazing fast dual-core A15 processor and advanced MIMO WiFi, giving you web browsing speeds up to 4x faster than normal WiFi.* With the 1.9MP front-facing camera, you'll look great as you video chat with up to nine friends at once with Google+ Hangouts, and so will your friends on the dazzling 10″ display.
Nexus 10 was made for multiple users. Turn on the tablet and tap on your photo to sign in to your own home screen, apps, email, photos and storage. All new multi-user support lets each user have their own separate space, and save their own individual high scores on games, all on the same tablet. With the new Daydream mode on Nexus 10 you can display useful or delightful information on your tablet when it's charging. Choose to show off your photo albums, get the latest news from Google Currents, and more.
Google and Android preloaded Apps: Google Search, Google Docs, Quick Office, Google Chrome Browser, Google Downloads, Google Play Store, Google Play Books, Google Play Movies, YouTube, Google Talk, Google Plus, Gmail, Google Maps, Google Latitude, Google Places, Google Now and Google Navigation.
Nexus 10 Specifications
Network

WiFi only

Processor

1.7 GHz A15 dual-core processor

Display

10" WQXGA (2560×1600, 300 ppi) display

OS

Android 4.2 (Jelly Bean)

Camera

Main(Rear): 5 Megapixel CameraSub(Front): 1.9 Megapixel Camera

Video

Codec: MPEG4, H.263, H.264, VC-1, DivX VP8,Format: 3GP(MP4), WMV(ASF), AVI, FLV, MKV, WebMFull HD(1080p) Playback & Recording @30 fps,

Audio

Codec: MP3, OGG, WMA, AAC, ACC+, eAAC+, AMR(NB,WB), MIDI, WAV, AC-3, Flac3.5mm Ear Jack, Stereo speaker

Google™
Mobile Services

Google Chrome, Gmail, Google Talk, Google Maps for Android, Google Search, Voice Search, Google Now Google+, Gmail, YouTube, Google Currents, Google Play Store, Google Play Books, Google Play Movies, Google Play Magazines

Connectivity

Bluetooth® v 3.0
WiFi 802.11 a/b/g/n (MIMO+HT40)
microUSB,
microHDMI
Pogo pin
Dual Side NFC
GPS+Glonass

Sensor

Barometer. Accelerometer, Gyro, Digital Compass, Light, Opening sensor

Memory

16/32GB User memory + 2GB (RAM)

Dimension

263.8 x 177.8 x 8.9 mm, 603g

Battery

Standard battery, Li-ion 9,000mAh
What We Like
Powerful processor
High definition screen
Value for money
What We Dislike
No 3G or LTE (4G) option
No memory expansion slot
Final Thoughts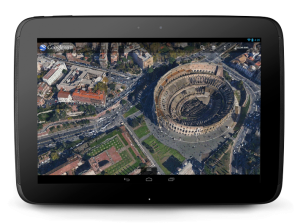 Google's Nexus 10 is definitely a strong contender to the Apple's iPad with Retina Display 4th Generation. It may lack Apple's iconic brushed aluminium design body and unrivaled Apple's build quality. there is certainly a lot going for it. For starters, Android 4.2 is a much more matured operating system and it shows up here as a great operating system for tablet.
The multi-user profile option and fast user switching means the device is shareable and each user can personalise this according to their taste as well as keeping their own apps, email, photos and storage area. The build quality isn't bad either, Samsung's experience in building  It's definitely the greatest 10-inch tablet currently in the market.
While it lacks expansion slot for removable flash memory there is always the cloud. Streaming music and video services is becoming main stream so there is hardly any need to keep large amount of data on the local storage.
We think that the lack of 3G or LTE (4G) option is not a showstopper either. Our logic on this is that everyone has a smartphone with mobile broadband capability and an unlimited data tariff with their provider, so why not tether the tablet to your smartphone and save yourself a bundle.
So for those looking for an iPad alternative, we would recommend you seriously consider the Google Nexus 10.
* Based on theoretical peak speeds. Actual speeds may be lower.
* All functionality, features, specifications and other product information provided in this document including, but not limited to, the benefits, design, pricing, components, performance, availability, and capabilities of the product are subject to change without notice or obligation.
* Android, Google, Google Docs, Quick Office, Google Chrome Browser, Google Downloads, Google Play Store, Google Play Books, Google Play Movies, YouTube, Google Talk, Google Plus, Gmail, Google Maps, Google Latitude, Google Places, and Google Navigation are trademarks of Google Inc.
Author: Samuel J. Tan
To make sure you continue to receive interesting exciting articles at the forefront of learning with technology, remember subscribe to our updates below and follow @ColorMyLearning on Twitter and Like us on Facebook.
Don't forget to Rate This Article
Images property of Google Inc.