Here is another Kindle Fire HD introduced to shake things up again in the ever competitive tablet world, the Kindle Fire HD 8.9″. Available from Amazon it is priced to compete with Apple's iPad mini with hardware specification to rival even the iPad 4.
At these prices, it certainly appeal to schools on a budget and would be a viable solution to get rich education contents and apps to students. School won't be limited to the choices of 7″ tablets currently in the market and can op to go for the bigger 8.9″ tablets instead.
Read our other articles on Amazon Kindle Fire in Education: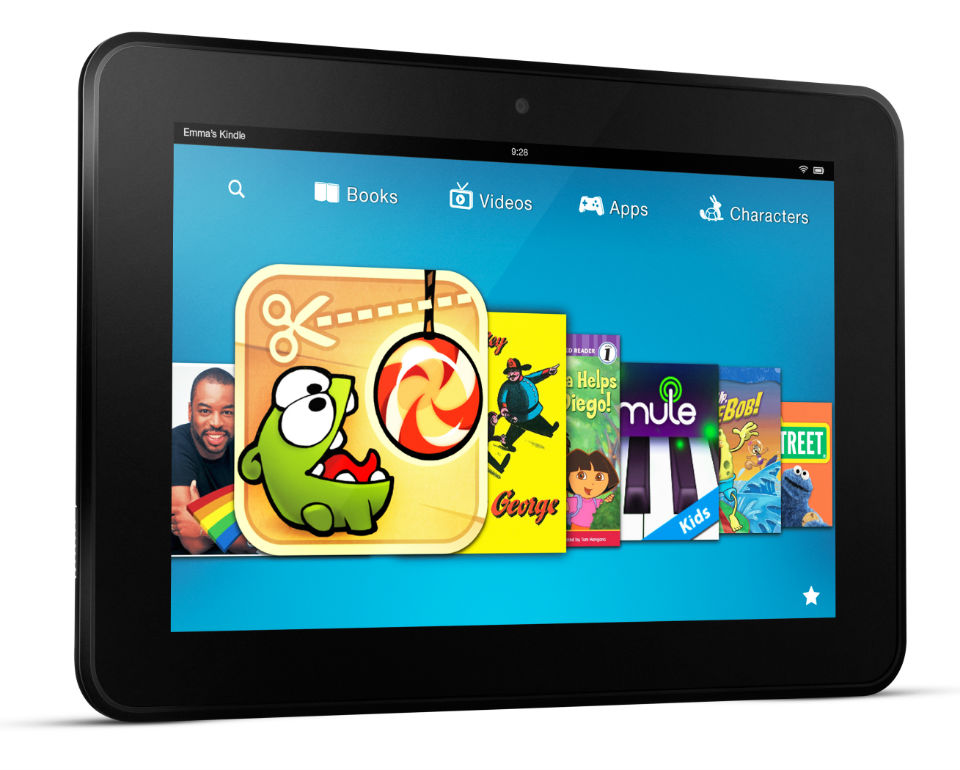 Here is what Amazon has to say about their new Kindle Fire HD…
The Kindle Fire HD Series
Already a much desired 7″ tablet, The Kindle HD comes with a stunning custom HD display, the fastest Wi-Fi, exclusive Dolby audio, powerful processor and graphics engine, and 16 GB or 32GB of storage-all backed by the Amazon's content ecosystem and the best cross-platform interoperability.
Priced to sell, with Amazon's Doctrine –
"We want to make money when people use our devices, not when they buy our devices'.
The Telegraph is even giving it away to subscribers of the newspaper, allowing them access to The Telegraph for Kindle, unlimited access to the website and other mobile apps.
Kindle Fire HD Now With Bigger Screen and 4G Options
With Kindle Fire HD 8.9″,users will get the same advanced technology as the 7″ but on a stunning 8.9″ large-screen 1920×1200 HD display with 254 ppi and a powerful OMAP4 4470 processor and graphics engine. 
The small price difference between the 16GB model and the 32GB model makes going for the bigger 32GB model a no brainer. Compare this to the iPad mini albeit with 7.9 inch screen; it's a whole different story. Apple makes its customers pay a premium for devices with bigger storage. This makes the Kindle HD 32GB model even better value for money.
A higher model is also available to rival that of iPad 4th Generation with a 4G connection. The Kindle Fire HD 8.9″ 4G LTE Wireless and is available in two storage sizes, 32GB and 64GB. However, Amazon customers in this side of the Atlantic won't be getting this for a while.
This is because, Amazon has also introduced a groundbreaking mobile broadband package for the Kindle Fire HD with 4G LTE, a $49.99 a year 4G LTE data package.It would be interesting to see how this can be structured with local 4G providers.
That's $49.99 a year with no monthly subscription to pay. This will appeal to customers and could potentially  could save them hundreds of dollars in the a year compared to other 4G tablets.
But, while users will be able to enjoy the high speed connect while on the move,it will be limited to 250MB of data a month. While 3GB or 5GB monthly plans are available for heavy users.
However, if you are like me and hardly use the tablet on the move, i.e. mostly connected to the WiFi at home or Tethered to the Phone's broadband connection, $49.99 a year for an always connected tablet is not bad.
Here is What's New in the Kindle Fire HD 8.9″
New inventions exclusively on the new family of Kindle Fire devices-X-Ray for Movies, X-Ray for Textbooks, Immersion Reading, Whispersync for Voice, Whispersync for Games, and Kindle FreeTime
The 8.9″ Kindle Fie HD is Amazon's most advanced tablet and here is why:
Stunning custom HD display with in-plane switching, Advanced True Wide polarizing filter and custom laminated touch sensor for 25% less glare with rich color and deep contrast from any viewing angle.
Fastest Wi-Fi of any tablet-dual antenna, dual-band, and MIMO-40% faster downloads and streaming compared to the next fastest tablet.
High-performance processor and graphics engine for snappy and smooth performance.
Dual stereo speakers with Dolby Digital Plus audio-the standard in high-end audio-available for the first time on a tablet.
Kindle Fire HD starts with 16 GB of local storage, enough to accommodate the larger file sizes of HD content.
Exceptional battery life over 10 hours of battery life.
Ultra-fast 4G LTE wireless options, powered by the latest generation 4G chipset, support for all 10 4G bands, and Amazon's breakthrough 4G LTE data package-customers save hundreds of dollars in the first year compared to other 4G tablets.
Front-facing HD camera with custom Skype application for video calling from anywhere in the world.
New Amazon-exclusive features like X-Ray for Movies, X-Ray for Textbooks, Immersion Reading, Whispersync for Voice, Whispersync for Games, and Kindle FreeTime.
"We're taking on the price point for a tablet, $499, but doubling the storage and incredibly, adding ultra-fast 4G LTE wireless,"
said Jeff Bezos, Amazon.com Founder and CEO.
The Kindle Fire HD 8.9″ with 4G LTE Wireless is now available in America from $399 for the 32GB version and $499 for the 64GB version.
"Kindle Fire HD is not only the most-advanced hardware, it's also a service. When combined with our enormous content ecosystem, unmatched cross-platform interoperability and standard-setting customer service, we hope people will agree that Kindle Fire HD is the best high-end tablet anywhere, at any price."
Awesome Specification
Stunning Custom HD Display
The 8.9″ display on Kindle Fire HD features an incredible 254 pixels per inch with a resolution of 1920×1200, with pixels that are indistinguishable to the human eye. The 7″ Kindle Fire HD features a stunning HD display with 1280×800 resolution that delivers deep, detailed contrast and rich, natural color. Kindle Fire HD also uses Gorilla Glass to provide superior strength and reliability.
Most tablet displays are made up of two pieces of glass-an LCD on the bottom and a touch sensor on the top, separated by an air gap. This air gap allows light to come through the touch sensor and reflect off the LCD, which causes added glare for the user. Fire HD solves this air gap problem by laminating the touch sensor and the LCD together into a single layer of glass, creating a display that is easy to view even in overhead light, and reducing glare by 25% relative to the latest generation iPad.
Like many tablets, Kindle Fire HD uses in-plane switching (IPS) to improve color reproduction. But displays that only use IPS still appear washed out at various angles, such as laid sideways in bed, flat on a table, or propped up in a case. Fire HD features an Advanced True Wide polarizing filter that is applied directly to the LCD panel. This results in a display that shows the same deep contrast and rich, detailed color from any angle.
High-End Laptop-Quality Wi-Fi-40% Faster Downloads and High-Speed Streaming
HD content has much larger file sizes than standard definition content-for example, Marvel's The Avengers in standard definition is 785 MB, but in HD, The Avengers is 2.97 GB. Files of this size require the very latest in Wi-Fi technology to download or stream the HD content quickly and reliably-anything else results in buffering, slow downloads and dropped connections.
Many Wi-Fi enabled devices only use the 2.4 GHz wireless frequency. This frequency is crowded since it is used by everything from other tablets to microwave ovens, baby monitors, Bluetooth devices, not to mention the neighbors' Wi-Fi networks. Kindle Fire HD circumvents this congestion with state-of-the-art dual-band Wi-Fi.
Kindle Fire HD can automatically switch between the 2.4 GHz network and the newer, less crowded 5 GHz network, resulting in better range and less interference. In addition, dual antennas and Multiple In/Multiple Out (MIMO) allow for higher bandwidth and longer range.
The new Kindle Fire HD is the first tablet to market with all three of these latest generation Wi-Fi technologies-dual-band support, dual antennas, and MIMO. This is the first time this state-of-the-art Wi-Fi technology has been offered in a tablet, resulting in 40% faster throughput compared to the latest generation iPad.
Latest Generation 4G LTE Wireless
The large-screen Kindle Fire HD is also available with ultra-fast 4G LTE, with download speeds as fast as Wi-Fi. To keep the 4G Kindle Fire HD just 8.8 mm thin, Amazon custom-designed its 4G wireless modem to be just 2.2 mm. Some 4G devices don't support all of the non-4G bands-Kindle Fire HD includes support for 10-bands, so even if a customer doesn't have perfect 4G coverage, the Kindle will fall back to the fastest available 3G speeds.
Amazon's Breakthrough 4G LTE Data Package
The 4G Kindle Fire HD comes with the most affordable 4G tablet data package. Customers will have access to a 12-month data plan with 250MB per month, 20GB of Amazon Cloud storage, and a $10 credit in the Amazon Appstore for a one-time cost of $49.99. In fact, when you combine the cost of the device and the data plan, customers who purchase the Kindle Fire HD 4G LTE will pay over $400 less than latest generation iPad owners in the first year of ownership. Customers can also choose to upgrade to 3 GB or 5 GB data plans from AT&T directly from the device.
8 GB of Storage is Not Enough for an HD Tablet
Customers want to enjoy HD content if they have an HD tablet-and 8 GB of on-device storage isn't enough for the larger HD file sizes. The Kindle Fire 8.9″  is available with 16 GB, 32 GB or 64 GB of on-device storage. This large on-device storage capacity is in addition to the free storage Amazon provides for Amazon digital content in the Amazon Cloud. Amazon digital content is automatically backed up for free in the Amazon Cloud's Worry-Free Archive where it's available anytime.
Powerful World-Class Processor-Snappy and Smooth
An HD display and HD content must be driven by a powerful processor and optimized software. The Kindle Fire HD family features world-class processors and the new Imagination Technologies graphics engine for lightning-fast HD graphics and excellent fluidity. The 8.9″ Kindle Fire HD is powered by the latest generation OMAP4 4470 processor and Imagination SGX544 graphics engine capable of over 12 billion floating point operations per second-50 percent more than Tegra 3, and both Kindle Fire HD 7″ and 8.9″ come with higher memory bandwidth than Tegra 3. Combining the latest generation processors with significant customization of the Kindle Fire software by Amazon engineers results in a snappy and smooth experience for the user.
Dual Stereo Speakers and Exclusive Dolby Audio-The New Standard for Tablet Audio
Customers shouldn't need to wear headphones while watching a movie on a tablet to get excellent sound. Kindle Fire HD solves this by combining dual stereo speakers with the next generation Dolby Digital Plus audio platform–the standard in high performance audio–to offer a world-class audio experience. Dolby's audio suite for Kindle Fire HD includes technology used to adjust volume and deliver easier-to-understand dialogue in movies and TV shows. Kindle Fire HD automatically optimizes the audio profile based on what a customer is doing, such as watching a movie, listening to music, using third party apps like Pandora and Netflix, and also optimizes for headphones versus speakers. All of these pieces combine to create an exceptional audio experience that results in clearer, crisper and balanced sound quality.
Over 10 Hours of Battery Life
The 8.9″ Kindle Fire HD is capable of delivering over 10 hours of battery life while the 7″ Kindle Fire HD delivers over 11 hours of battery life.
Thin and Light
Even with a custom display, a powerful processor, extra speakers and dual-band/dual-antenna Wi-Fi, the new Kindle Fire HD is extremely light and thin. In fact, Kindle Fire HD 8.9″ weighs only 20 ounces and is just 8.8 mm thin.
Connect with Bluetooth and HDMI
Kindle Fire HD supports Bluetooth, enabling customers to connect their wireless Bluetooth headphones or Bluetooth speakers to listen to songs, videos or audiobooks. With Bluetooth connectivity, customers can also easily connect to a wide range of Bluetooth-enabled keyboards. HDMI out makes it easy for customers to connect the Kindle Fire HD to their big-screen TV to enjoy their favorite HD videos and photos.
Stay in Touch with Front-Facing HD Camera
The new Kindle Fire HD features a front-facing HD camera. Skype created a customized app tailored for Kindle Fire HD that is ready to use out of the box for free HD video calls at home and abroad. Kindle Fire HD makes it easy for the over 250 million customers already using Skype to get in touch with friends and family.
Beautiful Leather Covers
Covers for Kindle Fire HD feature a premium textured leather exterior in a variety of colors and a subtle woven nylon interior to provide the lightest and thinnest form of protection. The integrated magnetic clasp ensures the cover remains securely closed while in a backpack, purse, or briefcase. The cover automatically wakes Kindle Fire HD upon opening and puts it to sleep when closed, making it easy to dive right back into whatever content a customer is enjoying.
All-New Features With Amazon
X-Ray for Books
One year ago, Amazon introduced X-Ray on Kindle Touch, and customers loved it. Amazon is extending X-Ray to books on Kindle Fire, making it easier than ever for customers to learn more about the content they love by exploring the "bones of the book." With a single tap, readers can see all the passages across a book that mention ideas, fictional characters, historical figures, places or topics that interest them, as well as more detailed descriptions from Wikipedia and Shelfari, Amazon's community-powered encyclopedia for book lovers.
X-Ray for Movies
"X-Ray for Movies" is a new feature that revolutionizes the movie experience by bringing the power of IMDb directly to movies on Kindle Fire HD, accessible with a simple tap. Without ever leaving the movie, customers can look up any actor in the scene or movie, see what other movies they have been in, and view photos, biographies and more. X-Ray is offered only by Amazon and is exclusive to the Amazon ecosystem. IMDb, an Amazon company for 14 years, is the #1 movie website in the world with more than 160 million monthly unique visitors worldwide.
X-Ray for Textbooks
Glossaries in print textbooks contain the most important information for students, but they're placed inconveniently in the back of the book. And glossaries don't always contain enough information for students working to understand new concepts. X-Ray for Textbooks solves these problems by integrating the glossary directly into each textbook page and by algorithmically assembling related data from Wikipedia andYouTube.
Immersion Reading
Research supports that readers can benefit from listening while reading. Together, Amazon and Audible invented "Immersion Reading," allowing customers to fuse together printed text and professionally-narrated audiobooks, giving readers the ability to experience their reading with two senses-sight and sound. As the reader views the text of their book on Kindle Fire, text is highlighted as it is professionally-narrated, creating a more immersive experience, as well as deeper learning and comprehension.
Whispersync for Voice
Whispersync for Voice allows customers to synchronize their Kindle books with professionally-narrated audiobooks-customers can start reading a book on Kindle Fire and seamlessly switch to listening to the companion audiobook, picking up exactly where they left off. With Whispersync for Voice, customers can continue enjoying books during commutes or any other time their eyes are busy. When they get in the car, customers can effortlessly pick up the story right where they left off reading by listening to the professionally-narrated audiobook using Bluetooth on Kindle Fire HD or with any Audible app on their smartphone.
Ideal for Gaming
Amazon has worked with leading developers to offer new Android games exclusively on Kindle Fire HD, including Activision's Skylanders Cloud Patrol franchise and Crytek's Fibble. In Skylanders Cloud Patrol, gamers will discover a new feature-the ability to purchase physical toys from within a game. Customers will be able to purchase a unique Skylanders character with a single click, andAmazon.com will deliver it to their doorstep. In addition to hardware that's perfect for gaming like stunning custom HD displays, fast Wi-Fi and large on-device storage, the Kindle Fire HD family also offers HD Games, gyroscope and accelerometer for full tilt and turn controls, as well as social gaming features including group leaderboards and achievements.
Whispersync for Games
One of the biggest frustrations of mobile gaming is that when customers switch devices or delete and re-install the game on the same device, they have to start a level over or go back to the beginning of the game. To solve this problem, Amazon extended its Whispersync technology to gaming with Whispersync for Games. Whispersync for Games syncs a customer's place in the game and saves unlocked levels, so even if they get a new device, the progress is backed up in the cloud.
Kindle FreeTime
Amazon today reinvented parental controls with Kindle FreeTime. FreeTime gives parents easy-to-use tools to personalize their children's digital media experience. With FreeTime, parents never have to worry what content their kids will access-parents select all of the content their kids can see and kids can't exit FreeTime without a password. FreeTime also lets parents limit their kids' screen time by content type-they may choose to limit videos and games, for example, but make reading time unlimited. Kindle FreeTime will be available for free on all of the new Kindle Fire devices starting in the coming weeks.
Cloud-Accelerated Silk Browser
The new Kindle Fire family uses a new version of Amazon Silk with the unique "split browser" architecture that leverages the computing speed and power of Amazon Web Services to deliver content faster. The new Amazon Silk browser features an updated core rendering engine and a reengineered transport layer that contribute to faster page loads. Customers can experience full-screen browsing, reading view, and improved browsing with most-visited, trending and recommended sites all available from a single screen.
All-New Email and Calendar
The new Kindle Fire family features world-class Microsoft Exchange integration, with fine-tuned performance on many of the most critical e-mail functions. For example, typical Exchange accounts sync with the oldest emails first, ending with the most recent emails-Kindle Fire instead syncs with newer emails first, then with older emails, getting customers faster access to the most recent emails they are looking for. Kindle Fire also features a new calendar app, making it easy for customers to stay connected and keep track of their schedules. The new e-mail client offers support for the world's email providers-including Gmail, Microsoft Exchange, Hotmail and more.
Photos Brought to Life
Photos come alive in stunning high-resolution on Kindle Fire HD. Fire's mosaic view arranges personal photos beautifully, and customers will be delighted to see their best shots on their TV with HDMI out. Kindle Fire lets customers easily import their photos from Facebook and because their photos are securely stored in Amazon Cloud Drive, they never have to worry about losing their favorite pictures.
Final Thoughts
If you are in the market for tablets, and looking to introduce this in your school without burning a big hole in the budget, Amazon's Kindle Fire HD 7″ or 8.9″ may just be the answer. Backed by Amazon's cloud and content, the high specification of the device, the Parental Control feature, the build quality, a tested operating system enjoyed by a growing user base and a big community of education users, the case for the Kindle Fire HD just gets better and better. With over 4200 user reviews on Amazon.co.uk and over 14,500 reviews on Amazon.com there are plenty of positives from existing owners. If you are already using the Kindle Fire HD in your school, we would love to hear from you. Do share with us your experience here. We leave you with a Kindle Education resource page and School FAQ.