Although more often associated with e-books and personal reading, the Kindle Fire and Kindle Fire HD are actually tablet devices that present exceedingly good value to schools. At present prices you can see how schools can equip everyone in a class with one device each with a bank of 30 or more to share. It was at one of our meetings with a school's management team that the use of the Kindle Fire was brought up. A parent governor who obviously had access to the device was quite keen for the school to consider the use of it. However, the school had already invested in their first 30 iPads; a trolley for secure storage, charging and syncing; an Apple TV to share the iPad screen for presentations and a Mac Mini to manage the devices, so to even propose the Kindle Fire was like throwing a curve ball to the school management. The proposal however did get us thinking…. Would Kindle Fire be any good for education?
What is the Kindle?
Kindle is the chosen name for Amazon's e-Readers. The latest devices from Amazon carrying the Kindle name are the Kindle Fire HD and Kindle Paperwhite (WiFi or WiFi+3G). While all devices in the Kindle family are great e-book readers, there are two distinct lines, the Kindle (including Kindle Paperwhite) and the Kindle Fire (including Kindle Fire HD).
About Kindle
The Kindle is a dedicated e-Reader based on e-Ink. The new Kindle Paperwhite uses Amazon's patented display with build in light. Both are grey scale displays (16-levels), lightweight devices and consumes little power with battery that last up to 8 weeks on a full charge. Kindle Paperwhite owners have the advantage of being able to read in all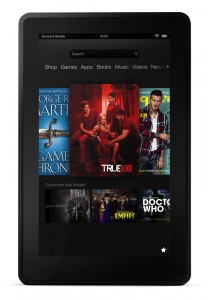 lighting conditions be it in the dark or bright daylight.
What is Kindle Fire?
The Kindle Fire on the other hand, is based on a customised Android OS making it more than just an e-Reader. As Jeff Bezos, CEO of Amazon explained, it is a device that will consume digital content purchased from Amazon. Although the making and selling of the Kindle Fire is not going to make Amazon a lot of money (Amazon is apparently selling the Kindle Fire at cost), selling digital content will.
The Kindle Fire not only opens e-books but full-coloured e-zines (magazine), video, apps, games, audio books and music content are all available through Amazon's content stores.
Which Kindle Fire?
The Kindle Fire was once thought to be a potential iPad killer. Now with the second generation in the market, the Kindle Fire HD is gaining a growing user base and it's fair share of supporters. The differences between Kindle Fire and Kindle Fire HD can be summarised below: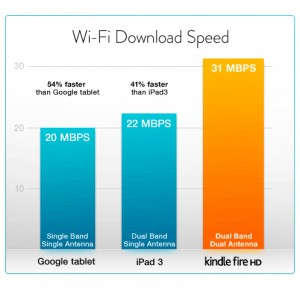 Kindle Fire vs Kindle Fire HD
We know that the Kindle Fire HD is bound to have better specification and performance compared to its predecessor but what are the differences:
Screen

: Both are 7″ screens, Kindle Fire HD has a 720 HD (1280 x 800 pixel) resolution while Kindle Fire has a Standard Definition (1024  x 600 pixel) resolution

Anti-glare

: The screen on Kindle Fire HD has 25% less glare compared to Kindle Fire

Camera

: The Kindle Fire HD has front facing HD camera with Mic. There is no camera on the Kindle Fire (no rear-facing camera on either).

WiFi

: The Kindle Fire HD claims to be the first tablet with dual-band (at 2.4GHz and 5GHz) and dual antenna (with Multiple In/Multiple Out or MIMO technology). The good people at Amazon even prepared a comparison graph to show the bump up in speed.

Storage

: 16GB or 32GB on Kindle Fire HD but only 8GB on the Kindle Fire

Size

: Not very different but the Kindle Fire is smaller at 18.9 cm x 12 cm x 1.15 cm than the Kindle Fire HD. The Kindle Fire HD  at 19.3 cm x 13.7 cm x 1.03 cm also has larger bezel.

Processor

: both have a 1.2GHz Dual-core processor but the Kindle Fire HD has a newer OMAP4460 chip compared to Kindle Fire with OMAP4430. The new OMAP4460 comes with a slightly faster Graphics Processing Unit.

Battery Life

: The Kindle Fire HD has about 3 hours more battery life compared to its predecessor at 11 hours (continuous use). The Kindle Fire comes in at 8.5 hours.

Weight

: hardly any difference between the two with the Kindle Fire HD weighing in at 395 g and the Kindle Fire weighs 400 g.

Sound

: The Kindle Fire HD has an impressive dual fired stereo speakers on either side of the screen to create a virtual surround effect with Dolby Digital Plus Audio system easily the best speakers on any tablet. The Kindle Fire has standard stereo speakers.

Output

: micro-HDMI output connector for watching HD video on HDTV on the Kindle Fire HD. HDMI port is not available on Kindle Fire.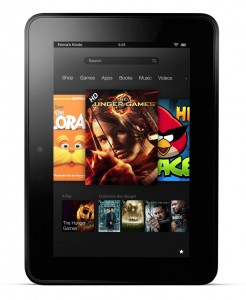 But is Kindle for Schools?
The question to ask here is whether the Kindle Fire and Kindle Fire HD are any good as 1-to-1 access devices or BYOD in the education sector. On paper, with all its bells and whistles and with its current price point, it seems like a good investment but to put it into practice is a different story.
On first look, the Kindle Fire tablets has all the strengths of a content and media consumption device. It's good for e-books, podcasts, music, and audio books. It's GREAT for movies and games but only so-so for basic applications such as email and calendars.
Schools need it to be more than that. For start, access to applications is restricted to Amazon's own store. There is no access to Google Play. While free apps are available, the list is still controlled by Amazon, a company that invented the Kindle Fire to sell more content in this case, than apps. The selection of apps simply cannot compare to that of Apple's App Store or even Android's Google Play.
There is no multitasking so switching apps, opening books, loading movie or even navigating to a new section seems 'laggish'. Students are greeted with adverts on the start screen unless the school pays a fee to have this removed. As for text books, some reviewers are saying that the absence of some text book publishers from Amazon's Kindle Store means limited access to publications. Pearsons, Cengage, McGraw-Hill and Wiley are some of the publishers on Kindle. Check if the text books you are looking for is available on Kindle format.
On the other hand you can…
access out-of-copyright books from Amazon Kindle such as Pride and Prejudice and Gulliver's Travels and read this for free. Using the search box on the top of the page, students can easily find the books they are looking for. This would require teachers to prepare ahead to identify if the books to use are actually available on Kindle as out-of-copyright or available to buy only.
Send your own documents (see supported file formats below) to the devices. When you sign up to Amazon Kindle, you are given an Amazon email address. Sending the documents or files to the email and Amazon will make it available in your Kindle library. Alternatively, there are apps available for PC, MAC, Android, Google Chrome browser and Mozilla  Firefox browser that lets you upload and store personal documents and have this available in your Kindle library to download into the Kindle devices and supported Kindle reading applications.
Supported File Formats for Kindle Library and Kindle App
Documents: PDF (.PDF, Microsoft Word (.DOC), HTML (.HTML, .HTM), Kindle (.AZW, .AZW1), Text (.TXT), Unprotected Mobipocket (.MOBI, .PRC)
Graphics: RTF (.RTF), JPEG (.JPEG, .JPG), GIF (.GIF), PNG (.PNG), BMP (.BMP)
Audible: Audible (.AA, .AAX)
Music: MP3 (.MP3)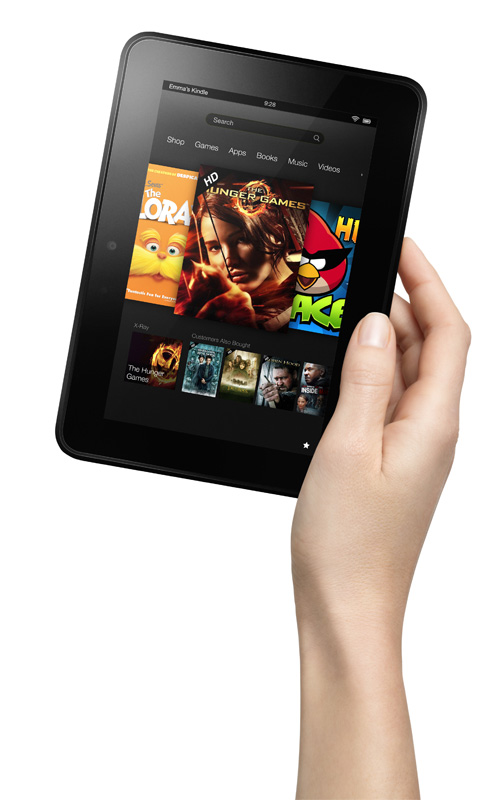 Manage Multiple Devices
Kindle devices come unregistered. Each device can only be linked to one Amazon account. You can have one Amazon account per device. A good example of this is when each student has their own Amazon account if these are dedicated personal devices. Having individual accounts on dedicated device allows the Kindle app to maintain personal notes and bookmarks. Setting up individual accounts will require individual emails so plan forward.
However, with a small cluster of 30 devices in the school for sharing, it is likely going to be a generic account per device e.g. kindle01@myschool.org or even one account for a few devices as multiple devices is supported on one account. The only caveat is, when managing your Kindles, be sure disable Whispersync device synchronisation so that bookmarks or current page on the same book are not synchronised across all devices.
The question than is, how many Kindles can I use to access titles in my library. Most ebooks acquired from the Kindle store by default can be accessed on up to six Kindles (or Kindle apps on different devices) registered with the same Amazon account. Content acquired through subscription can only be downloaded to one Kindle at a time. Procedures to register or deregister devices are available from Kindle Support. Personal ebooks (not purchased from Kindle store) or documents can be downloaded on multiple devices.
You can load content either wirelessly (via 3G or WiFi) or via USB. At present, it is not possible to load content across multiple independent devices at one time; this must be done on each device separately. To manage purchases of content on multiple devices, this will need to be done on one device then remove the method of payment from Amazon account to stop students from buying additional content.
If you are thinking that having Kindle will replace your conventional library with a virtual e-book library, we are still a long way from that. Currently the only lending library on Kindle is one with books for Kindle's self publishers and available to loan for only Amazon Prime members. There is no mechanism to create a local Kindle library where students can check out books without purchasing them.
What about accessibility, are there provisions on Kindle devices for disabled students? The Kindle Fire offers several accessibility features such as Text-to-Speech, Voice Guide, and Large Text sizes. On the PC application, Kindle is available with Accessibility Plugin to download for free.
Let's Think Bigger – School Wide 1-to-1 Deployment
Amazon Whispercast
Enters Whispercast, an online tool that manages multiple Kindles and help with distribution of Kindle content. The tool also allows for registration of the device, sending wireless network and proxy settings to the registered devices, setting an optional password, control access to Facebook and Twitter, including blocking of web browsing or being able to purchase content. Whispercast can block factory reset and device deregistration to render the device useless if it stolen.
As for content management, Whispercast allows schools to procure and distribute Kindle books to registered devices. This also applies to apps purchased from Amazon Appstore. Where students have personal devices each, they can be grouped by class, year group or field of study making it easier to manage devices and distribute contents such as documents (PDF, DOC and DOCX), books and apps via Whispercast.
What we like / dislike:
Pros 
Vast content available from Amazon (books, magazine, movies, music)
Easier to administer and support than compared to laptops and personal computers
Distributing documents, files and apps to group of users/devices is easy via Whispercast
Managing, pushing settings including proxy settings for web filtering and software policy such as to disable social media, web browser or access to store
Affordable
Cons
Limited textbook publishers
No access to Google Play
No multitasking
Comes with adverts on the lock screen (fee based option to remove)
Final Thoughts
The new Amazon Kindle Fire HD offers many good features and is significantly cheaper compared to the iPad, but it does have a way to go yet to catch up with the needs of the teacher and student as a learning device. If perhaps these developments are forth-coming in the newer versions of the Kindle Fire, there may be a possibility that it may prove to be worth a second look. The Whispercast service offered by Amazon is one of the Kindle's serious strengths as a potential device in schools. Read about The Amazon Cloud Hosted Whispercast is The Answer for Kindles in Schools. Until then, the Kindle App is available for the iPad and the Android.
Author: Samuel J. Tan
To make sure you continue to receive interesting exciting articles at the forefront of learning with technology, remember subscribe to our updates below and follow @ColorMyLearning on Twitter and Like us on Facebook.