With the holiday season upon us, it is without a doubt that a tablet (be it Apple or Android) would be at the top of many a Christmas list. How do you decide though which is the best tablet?
Whether you are considering a tablet for your school, your work or home, what are the most important things to look for? Apple iOs or Android, Samsung or Sony? In this post, we break it down to 12 key things to consider if you are in the market for a tablet device.
12 Things to Look for in a Tablet
For those of you looking to get in the tablet game this holiday season or after a new tablet to replace the old one, here are 12 things to look for in a tablet.
1. Processor Speed and Number of Cores
Processor speed and cores are quite important things to look out for when you are in the market for a tablet. The processor speed and number of cores in essence provide an insight in to how fast and how well a device will perform (think Horse Power on a car engine). Processors these days come in single, dual and even quad-core variants. To ensure the longevity of your device, you want to look at tablets with more than a single core.  Naturally, the more cores in a processor, the more powerful they will be.
The other benchmark for a processor is its speed, measured in MHz (MegaHertz) or GHz (GigaHertz). 1GHz is equals to 1000MHz so an 800MHz processor is slower than a 1.6GHz (1600MHz), the latter is twice as fast. Again, the bigger the number, the faster the processor.
2. Operating System
There are currently two main operating systems in the tablet market, iOS from Apple, Android from Google, both of which are competent operating systems for tablets. Due to the proprietary nature of the operating system you would only find iOS  in Apple devices such as the the new iPad, iPad mini and iPad 2 as well as the iPod Touch and iPhone.
On the other hand, you can get Android based devices from a large range of manufacturers namely, Samsung, Asus, Sony, Toshiba, Dell, Lenovo and Archos. These manufacturers are free to customise or skin the different releases of the Android OSes and to bundle it with their tablets, their own custom applications and features.
There are at least six different Android releases on devices currently in the market, from the very old 1.6 to 2.2 and 2.3; to 3.2, 4.0 and 4.1. The latest release is Android 4.2 (code-named Jelly Bean) is available on Google's latest range of nexus tablets and smartphone. So if you are after a particular Android tablet, find out if the manufacturer has an upgrade planned for the device.
Other less popular tablet operating systems are Playbook from Blackberry, the now defunct webOS from HP/Palm and the newly released Windows Surface RT and Windows 8 from Microsoft.
3. Applications
The best way to enjoy your tablet is through its Apps. There are currently 700,000 apps on Apple AppStore (Sept 2012) while Google Play has 675,000 apps (Sept 2012). At 25,000 apps apart, this is hardly going to make a big difference which OS you go with. With the huge number of Android devices out there, it's only time before the gap closes.
There is however one caveat, the AppStore implements a stringent quality control on developer choosing to release their apps through the App Store while Google let's its users decide if an app is good or bad. The situation with Google's Android is further complicated with the different versions of OS and hardware out there (depending on manufacturers) making it difficult for users to have the same user experience particularly if an app is written for newer OSes that may require more resources such as processing power and memory.
4. Mobile Broadband
I personally don't quite understand the relevance of a tablet device with 3G or even 4G capabilities. Most people already have a smartphone and most probably have an unlimited/all-you-can-eat data contract. Simply tether their tablets (via Personal Hotspot, Apple or Mobile AP, Android) and away they go. After all, one cannot be using the smartphone and the tablet at the same time and even if you have to, both devices are capable of going online simultaneously on the same broadband connection.
More and more cafes, libraries, hotels and restaurants are also offering free WiFi connection negating the need, in my opinion, for mobile broadband.
Still, some people may disagree and if mobile broadband on tablet is your thing, splash out and get the top of the range iPad or Android devices with a sim slot (and another data contract). Most Mobile Broadband enabled tablets sit at the very top of the price range.
5. Battery Life
Unlike laptops, we would probably never need to charge our tablet part-way through use on the same day if we start the day with a fully charged devices. In fact the occasional user, would probably only need to charge their tablet once every 5 to 7 days.
Most tablets last for at least 7 hours of continuous use. The iPad mini recorded an astonishing 12 hours while Google's Nexus 7 completed a 10 hours continuous use test. On a test by Cnet, the new iPad, 4th Generation lasts for 13 hours while the 3rd Generation iPad did about 11 hours. Google's Nexus 10 recorded 8.4 hours of continuous use. However, these figures depend heavily on the usage, the type of apps, screen brightness settings and connectivity.
Typically, a high end tablet gives its users approximately 10 hours of continuous use. Anything between 7 to 10 hours is average.
6. Big Screen Entertainment / Presentation
Imagine this, watching your favourite TV show or movie on the tablet during your commute home and then continuing to watch this on the living room's big screen telly. Or, using your Apps or browsing the internet and sharing this on the big screen wirelessly with others. Playing your favourite game, using your tablet as the controls and watching all the action again on the big screen. Showing off your tablet in a meeting or presentation and projecting your slides from your tablet to the, you guessed it, big screen.
Check that HDMI (wired) or wireless screen output is possible with your tablet if you wish to take advantage of this. Apple's iPad when coupled with Apple TV, allows users to mirror their content onto High Definition TV screens connected to Apple TV via AirPlay. Other manufacturers have their own method of sharing or projecting on to the big screen, be it wired or wireless, however, be prepared to spent some money on accessories or adaptors to do the job.
7. Connectivity
Standard connectivity options available on tablets are microUSB 2.0, Near Field Communication (NFC), Bluetooth 4.0, WiFi and mobile broadband. For Apple, there is the proprietary Lightning adapter on the new iPad 4th Generation and iPad mini, while previous iPads, iPods and iPhones use the 30 pin connector. Depending on the make and model, some manufacturers may include a proprietary keyboard connector, micro HDMI, standard size USB or a proprietary power charge connector.
Some devices such as the Archos 101 xS and Asus Transformer
series comes with keyboards. This could be a deciding point for those looking to make more out of their tablet especially in the area of productivity, such as blogging, creating documents, replying to emails and updating their social media statuses. Full size QWERTY keyboard definitely beats the on-screen keyboard any time. It is also worth noting that Asus keyboards be it bundle or optional accessories comes with extra batteries to charge the tablet when docked.
8. Cameras (Front and Rear)
Every time somebody picks up their full 10in tablet to take a picture, it makes me smile. It may not be the best format or device to take photos or videos with, given the shape and size of the tablet but having the camera on-board means they can do this (even if it looks really silly IMHO).
Most tablets comes with front facing camera for video calls, and some come equipped with a rear facing, high resolution camera as well. Rear facing cameras go up to 8 Mega Pixel (MP), capable of capturing high quality images and High Definition (1080p) video at 30 frames per second with audio. Front facing cameras on the other hand are lower resolution cameras at resolutions starting from VGA/SVGA to 1.9MP. The latter usually also has the ability to capture HD (720p) video at 30 frames per second with audio.
9. Screen Size and Resolution
Screen size is probably where you want to start in order to narrow down your choices. There are many different screens sizes and profiles but generally, these can be classed as a 5-inch, 7-inch or 10-inch tablets. Although the actual size of the screen may vary slightly depending on manufacturer for e.g. iPad mini is 7.9-inch while iPad 2, 3rd and 4th generation is 9.7-inch. Google's Nexus tablets on the other hand are closer to the classification we used earlier. Nexus 7 is 7-inch while Nexus 10 is 10.055-inch. Samsung Galaxy Tabs are available at 7 and 10.1-inch, while Galaxy Note 2 Phone Tablet (Phablet) is at 5.5-inch. Asus also has tablets in at 7-inch and 10.1-inch. But there is another parameter that decides the sharpness and details on the screen and that is the resolution.
Measured in pixels per inch or ppi, standard screen resolutions are 1024 x 768 for a 9.7 or 10.1-inch screens and 1280 x 600 for a 7-inch screen. Recently, manufacturers have been squeezing more pixels per inch and making this a major selling point for their devices as the higher the pixels per inch the sharper and more crisp the image and text. Some ppi measurements are shown below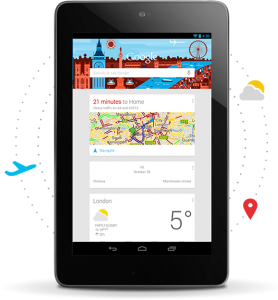 Apple's iPads
iPad 2: 1024 x 768 (132 ppi)
iPad mini: 1024 x 768 (163 ppi)
iPad 3rd and 4th Generation: 2048 x 1536 (264 ppi) Retina Display
Google's Nexus Tablets
Nexus 7: 1280 x 800 (216 ppi)
Nexus 10: 2560 x 1600 (300 ppi)
Amazon's Tablets
Kindle Fire: 1024 x 600 (169 ppi)
Kindle Fire HD: 1280 x 800 (216 ppi)
10. Storage and Memory
Typical storage on tablets are 8GB (GigaBytes), 16GB, 32GB and 64GB. Manufacturers tend to use the storage sizes to price the range in any given model, that and the availability of mobile broadband (3G or 4G). The bigger the storage size, means the more content (documents, ebooks, music, videos) and Apps you can store without having to worry about swapping or deleting files. Unless you are big on videos and music, storage size may not matter so much especially when files can be stored in the cloud or online with the use of DropBox, Apple's iCloud, Google Drive, Amazon Cloud storage.
The other thing which plays a big role in the performance of a device is it's Random Access Memory (RAM) or simply referred to as the Memory. This is not normally reported on the specification so you might have to dig deep online for such information. Apple for instance have a habit of not putting the iPad memory size on their website. These days, devices with 1 GB memory are pretty standard (iPad 2, Asus Transformer, Asus Transformer Prime, Nexus 7, Amazon Kindle Fire HD) while 2GB is available on newer tablets
11. Memory Expansion
Memory expansion is a contentious feature, mainly because manufacturers choose to price their devices based on storage space as described in the previous section. Having an expansion slot for removable memory means you can add more storage space instantly which certainly contradicts the idea of buying an expensive tablet with big storage when you can buy a cheap one and top it up with cheap removable flash memory.
While Apple's iPads do not come with expansion slots, most Android tablets do. These devices take either a standard SD Flash Memory Card
,
mini SD
card or
micro SD
card. SD cards are available in 2GB, 4GB, 8GB, 16GB, 32GB and even 64GB allowing users to expand the storage capacity beyond the built in storage. Imagine having your entire music collection or a small number or High Definition movies videos on one of these cards to take with you on a long haul. Check the maximum storage size supported on the device you are thinking of getting as they do not automatically support the biggest SD card.
12. Gaming
Finally, gaming, who would have thought that the tablet would eat into the portable game consoles' market share, but it did starting with the now renowned Angry Birds and a subsequently led the way to a whole host of addictive games. Most tablets are capable of playing simple games downloadable from the AppStore or GooglePlay. However, there are some really great games available on tablets that make the most of the High Definition screen, graphics engine and touch interface. If you are in to gaming, apart from the processor speed and number of cores, you also need to look for details on the Graphics Processing Unit or GPU. These dedicated graphics engine can be in the form of a Dual or Quad core co-processors (different from the Central Processing Unit (CPU) Cores explained in the first point). These co-processors help with the rendering of 3D animation, colour, shades, shadows and graphics during game play. Apple's 4th Generation iPad comes equip with PowerVR SGX 554MP4, an advanced quad core GPU to support games running at super high resolution, and in this case, the Retina display at 2048 x 1536.
Final Thoughts
So, these are just some things to look for when you're in the market for a new tablet. Typically some of these will be more important to you than others. So while this seems like quite a long technical list, you can limit your choices by first deciding on some key features such as screen size, memory storage, mobile broadband or bundled keyboard. For a quick price comparison guide to some of the major brands check out Tablet Price Comparison and Comparison Charts 3D. Also, read about the new tablet releases announced in Tablet Wars: The Biggest Months for Technology… Ever!
Our last advice to you is, approach the shops and have a good play with the devices before deciding for yourself. Some devices might look good on paper but you won't know how it actually feels until you try them out.
What other things do you look for in choosing the right tablet? Have you had a good look around and decided on a particular make or model that you would like to share with us. Do share your thoughts by leaving your comments below.
Author: Samuel J. Tan
To make sure you continue to receive interesting exciting articles at the forefront of learning with technology, remember subscribe to our updates and follow @ColorMyLearning on Twitter and Like us on Facebook.
You will benefit from a newsletter updates straight to your mailbox from ColourMyLearning on the use of Technology for Teaching and Learning.
Don't forget to rate this article